It's that time of year, for celebrations, parties and gatherings. So how do you stay on plan while not feeling left out from all the delicious goodies that are on offer?
Here are some suggestions of Slimming World Christmas and New Year Party Food Ideas for you to take along to parties or to make for snacks over the festive period.
So let's start with some delicious savoury finger foods.
Serve these Meatballs Marinara Toast Cups and impress all your friend - 2 of these are 1 HEb and ½ HEb or you can have one for 5 syns
Make up a batch of my delicious low syn coronation chicken and serve on these little potato slices for only 1 syn for 4 bites
These are delicious served hot or cold on little skewers or cocktail sticks. They are syn free on their own, or 2 syns per serving if you serve with one of the suggested sauces.
These are delicious just as they are or dipped into some homemade pizza sauce, you can enjoy half of the entire recipe for 1 healthy extra a choice or enjoy 1 bite at 1 syn each.
Whenever I make these, they go pretty fast, cheesy goodness with yummy couscous. They are great on their own, but I love them with the tomato dip. They are 1 HEa per serving or 1 Cheesy Couscous bite for 1 syn.
Everyone will love these, just make sure you make plenty even if you have to double or triple the recipes as these delicious patties are completely syn free.
Serve these delicious meatballs on skewers or cocktail sticks with the dipping sauce on the side. They are 1.5 syns per serving
These little crab and quinoa bites are syn free with the mint yoghurt dip, but are also great served with some sweet chilli sauce for a few syns.
Delicious Syn Free Tandoori Chicken, there is not much else to say
Another great chicken drumstick recipe, which can be eaten hot or cold. These Chicken Drumsticks are 2.5 syns for 3
These are also great served hot or cold at just 1.5 syns for 3 chicken drumsticks
Make mini ones of these, and serve with a dip of choice, some onions caramelized down with balsamic vinegar would be delicious and if you use extra lean ground pork, these patties are syn free
These little Parmesan Zucchini Quinoa Bites are just 1 HEa per serving or 1 syn per bite
These yummy Philly Cheese Steak Toast Cups are 1 HEa and 1 HEb for 2  or 5.5 syns per toast cup when not using your healthy extras.
Who doesn't love an onion bhaji - especially syn free ones.
These oven baked version are just 7 syns for 2 spring rolls (delicious)
These gluten free sausage rolls wrapped in a yummy sweet potato are just 1 syn per mini roll - yum
Yummy mini lasagne cups, everyone will love these and it is just 1 HEa and 1 syn for 3 cups or 2.5 syns per lasagne cup
Delicious with some veggies like baby carrots and sugar snap peas to dip into
and of course you also have to have some sweet treat finger foods to choose from
Delicious hot or cold just as they are - these Cheddar and Apple Quinoa Bites are 1 HEa per serving or 1 syn per bite
These would be great served on mini skewers or cocktail sticks and are only 3 syns per serving
These lovely morsels are just 1.5 syns each and delicious just as they are or with a little low syn custard or cream.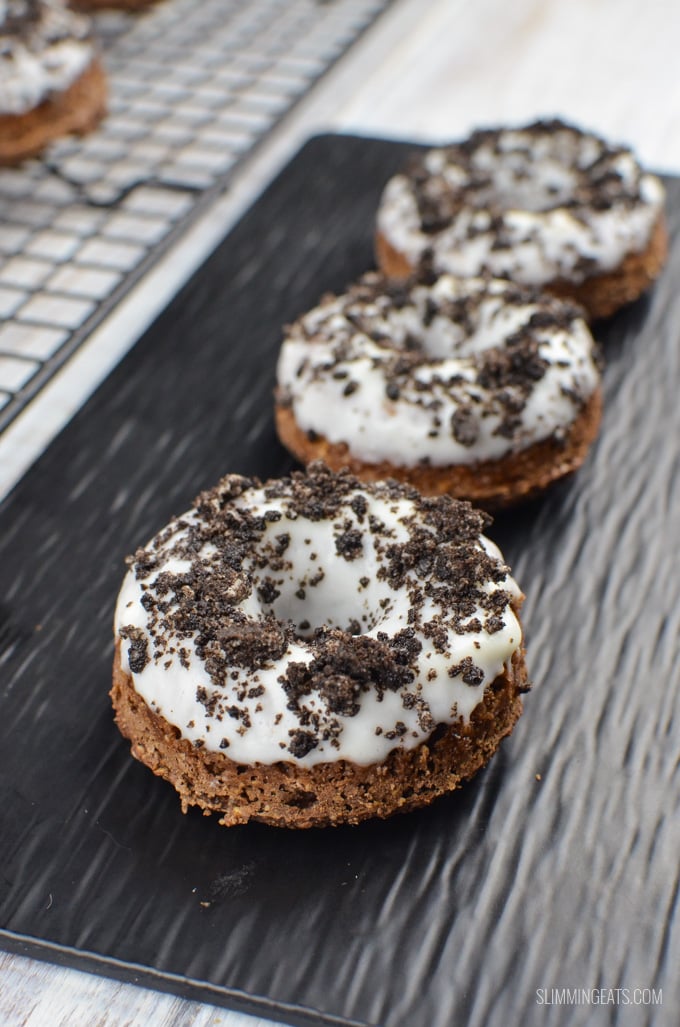 These yummy doughnuts are gluten free and only 4 syns each
Make 16 mini muffins instead of 8 large ones and these will be only 3 syns each
Who doesn't love an oreo, and these mini oreo cheesecakes are just 3.5 syns each
Plus there are all these other amazing dessert recipes to browse through
and if you are in the mood for sharing - check out these awesome sharing plates you could make
These are so good you might not want to share. 1 HEa and 1 HEb for the lot with a small amount of syns depending on the amount of guacamole you have. If you can't get hold of a HEb qualifying pitta bread, make the crispy toasts as per this recipe: Hummus with Crispy Toasts
Double or triple up this recipe to for an ultimate sharing plate
Another great one to double or triple up as a sharing plate
You won't believe how delicious the base is to this pizza, toppings can be anything you like. Make up a couple of bases and various different toppings, for a delicious pizza party night to share.
Everything you love about a big mac meal, all combined for an ultimate sharing plate if you double or triple up this recipe
and last not least a Fakeaway Night - impress your guests with one of these amazing fakeaway nights
5. FISH AND CHIPS FAKEAWAY NIGHT
That's a whole lot of delicious food for you to stay on plan for!!!
Disclosure: This post may contain affiliate links. As an Amazon Associate and member of other affiliate programs, I earn from qualifying purchases. We are a participant in the Amazon Services LLC Associates Program, an affiliate advertising program designed to provide a means for us to earn fees by linking to Amazon.com and affiliated sites." Check Legal section, for Full Disclaimer, Disclosure and Privacy Policy.