Slimming Eats Made in the Air Fryer is Out Now and available to purchase from all major retailers
I've pushed the boundaries to bring you unimaginable creations in your trusty air fryer. It's time to take our cooking adventures to the next level! 🚀 On August 31st, 2023, my air fryer cookbook will be unleashed, packed with over 80 exclusive recipes that will blow your taste buds away.
Don't miss out on these flavour-packed recipes! Be one of the first to experience the magic by pre ordering your copy now through the links below. Get ready to savor every bite of this mouthwatering sensation! 🍽️✨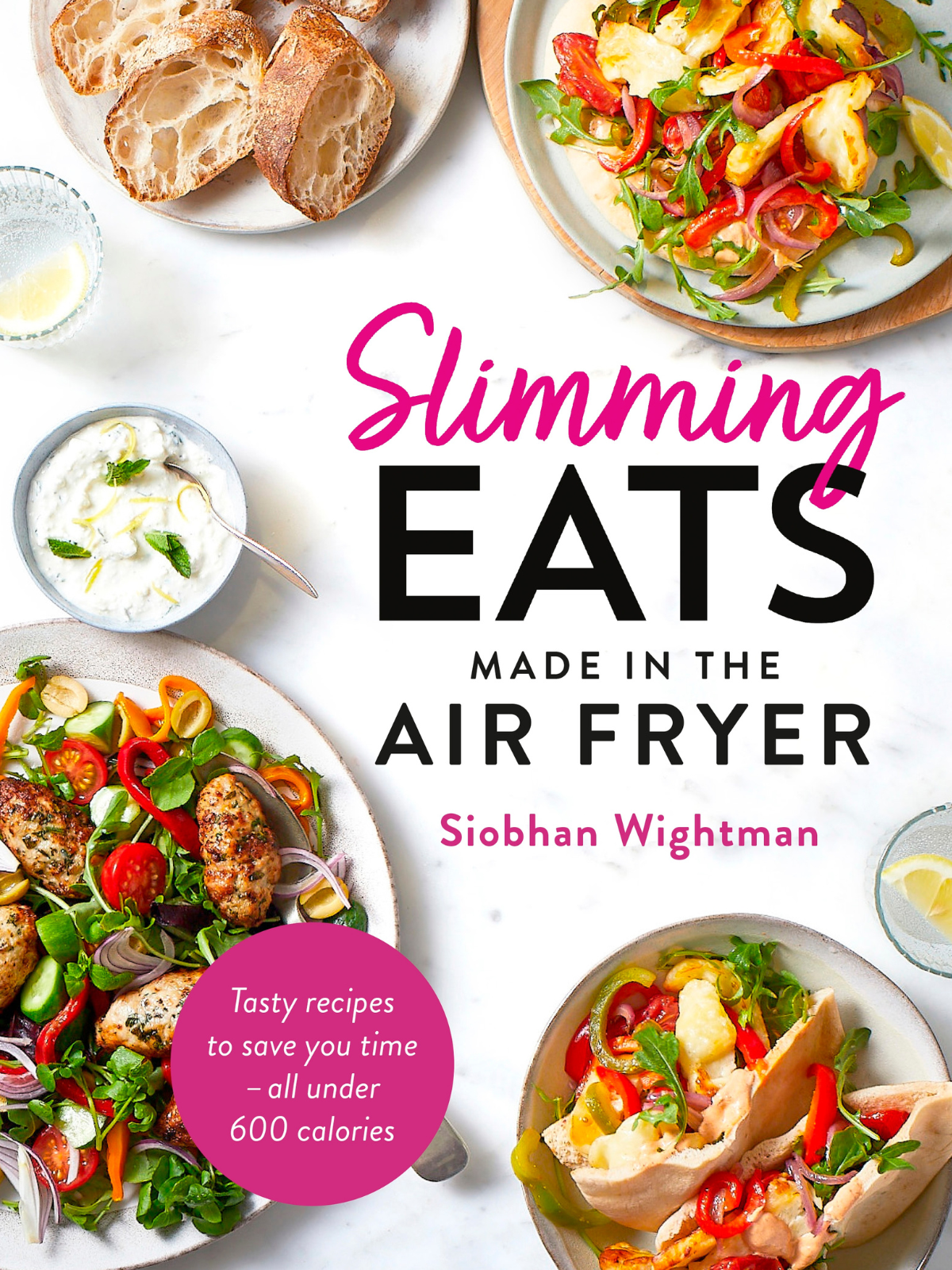 Jump to:
About the Book
Introducing "Slimming Eats Made in the Air Fryer" 📚🌟
From the Sunday Times bestselling author of Slimming Eats comes an exciting new cookbook that will revolutionize your air fryer experience. "Slimming Eats Made in the Air Fryer" is packed with over 80 mouthwatering recipes, all under 600 calories, and guaranteed to tantalize your taste buds.
Get ready to explore a world of culinary delights on August 31st when this long-awaited cookbook hits the shelves. I've spent months testing and perfecting these recipes, ensuring that each dish is both healthy and bursting with flavor. From delectable mains to irresistible desserts, there's something for everyone in this comprehensive collection.
But what sets this cookbook apart is its emphasis on the versatility of the air fryer. Say goodbye to your oven because this kitchen superhero can do it all. I'm thrilled to show you just how easy and convenient it is to create extraordinary meals with minimal effort.
You can purchase now through the link below,. Thank you so much for your continued support, and I can't wait for you to join me on this culinary adventure with "Slimming Eats Made in the Air Fryer!"
Book Description
This cookbook is packed with over 80 delicious recipes, all under 600 calories, so you can enjoy guilt-free meals that are both healthy and flavorful. I've made sure to include plenty of variety, so you'll never run out of delicious options to try in your air fryer.
Here is some featured recipes
One of the things I'm most excited about is the opportunity to show you just how versatile your air fryer can be. With my tested and perfected recipes, you'll be amazed at the incredible meals you can whip up in your air fryer, without even needing to turn on your oven. It's a game-changer for busy households, and I can't wait for you to experience the convenience and deliciousness of cooking with an air fryer.
Slimming Eats Made in the Air Fryer Recipe List
Wondering what recipes are featured in the book before you buy? Here is a list of the recipes:
POULTRY:
Greek Turkey Kofta Sala
Chicken Tacos with Mango Salsa and Lime Crema
Easy Chicken Pad Thai
Gruyère and Asparagus Stuffed Chicken Breasts
Chicken Caesar Burgers
Lemon Chicken and Artichoke Bake
Soy Ginger Chicken
Chicken Tetrazzini
Hot Nashville Chicken with Creamy Ranch Coleslaw
Creamy Red Pesto Chicken
Turkish Chicken Kebabs with Orzo Pilaf
Turkey Tikka Masala Meatballs
Spanish Chicken, Chorizo and Potato Bake
General Tso Chicken
Cuban Mojo Chicken
Monterey Chicken Pasta Bake
Indian Chicken and Turmeric Rice

PORK:
Warm Bacon, Halloumi, Sweet Potato and Chickpea Salad
Sausage, Beans, Tomato and Egg Tart
Chinese Five Spice Pork with Fried Rice
Ham and Brussels Sprouts Bubble and Squeak Cakes
Cheddar Pesto Eggs with Potatoes and Bacon
Honey and Mustard Sausages with Butternut Squash
Smoked St Louis BBQ Pork Steaks
Sausage and Gnocchi Bake
Thai Green Pork Curry
Garlic Bread Sausage Rolls with Marinara Sauce
Caramelized Vietnamese Pork
Pork with Rich Mushroom and Onion Gravy
Bacon, Cheddar and Sweetcorn Fritters
Cajun Pork with Sweet Potato and Apple
Cumin-Roasted Pork Steaks with Garlic Green Beans
Mini Nduja Pork Burgers with Fennel, Tomatoes and Seasoned Potato Wedges
Detroit-Style Supreme Pizza

BEEF AND LAMB:
Peri Peri Steak with Rice
Creamy Courgette-Stuffed Pasta with Beef and Pesto
Korean-Style Corn Dogs
Rendang-Style Beef Curry with Potatoes
Mongolian Beef Meatballs
Greek Lamb with Orzo
Beef, Chorizo and Sun-dried Tomato Ragù with Pappardelle
Ras El Hanout Lamb Chops with Sweet Potato and Chickpeas
Peanut Butter and Jalapeño Raspberry Jam Burgers
Chilli Coffee Steak with Rice
Beef Noodle Stir-Fry
Seasoned Steak with Chimichurri Sauce and Garlic Wedges
Fire Meatballs with Cheese
Chipotle Beef Macaroni
Montreal Steak Bite Skewers
The Ultimate Cheeseburger Chimichangas
Persian-Style Lamb Hotpot

FISH AND SEAFOOD:
Coconut Panko Prawn Salad with Louisiana Remoulade
Spicy Tuna Grilled Cheese Bites with Cucumber Salad
Tuna Lasagne Pie
Butter Salmon and Asparagus Pasta
Caribbean Prawn and Pineapple Skewers with Coconut Rice
Sweet Chilli Salmon Bites with Sesame Garlic Broccoli
Hibachi Prawns with Fried Rice
Bombay Potato-Topped Prawn and Fish Pie
Fajita Stuffed Salmon
Cheesy, Creamy Cod Gratin with Herby Crushed Potatoes
Peruvian Spiced Fish with Cauliflower

VEGETARIAN:
Breakfast Tortilla Parcels
Feta, Vegetable and Rice Bake
Gamji Jorim (Korean Braised Potatoes)
Sweet Potato and Chickpea Curry
Halloumi Flatbreads with Roasted Veg, Harissa Sauce and Rocket
Loaded Sriracha Fries
Cauliflower Katsu Curry
Cauliflower and Black Bean Nachos
Rainbow Vegetable Pie
Pasta Primavera
Broccoli, Courgette and Sun-dried Tomato Frittata
Roasted Tomato and White Bean Gnocchi
Cheesy Marmite Stuffed Mushrooms
Texan-Style Veggie Fusilli
Vegetable Lentil Casserole

SWEET TREATS:
Cinnamon Sugar Twists with Dark Chocolate Drizzle
Air-Fried Oreos
Peach Raspberry Streusel Custard Toasts
Orange, Cranberry and White Chocolate Scones
Biscoff Tortilla Cannoli with Raspberries
Maple-Glazed Banana Cake
Apple and Sultana Cake
Jam Coconut Sponge
Pineapple Caramel Crumble
(As an Amazon Associate and member of other affiliate programs, I earn from qualifying purchases)
A huge thank you!
Creating Slimming Eats Made in the Air Fryer has truly been a joyous journey. My family, friends, and neighbours eagerly played the role of taste testers as each delicious dish emerged from the air fryer. I sincerely hope that you find as much delight in them as they did.
I want to take a moment to express my heartfelt gratitude for your incredible support. It's almost surreal to think that I now have not just one, but three cookbooks published. None of this would have been possible without each and every one of you.
Your daily messages of encouragement mean the world to me. What truly warms my heart throughout this journey is witnessing your enjoyment of the recipes I craft.
Please continue to spread the word, as it's your word of mouth that has transformed Slimming Eats into what it is today.
With love, Siobhan xxx
FAQ - Slimming Eats Made in the Air Fryer
How many recipes are included in the book?
There are 86 recipes in total in the book
Are calories included in the book?
Absolutely! Every page of each recipe features a thorough nutritional breakdown, enabling you to effortlessly assess which meals are in line with your daily dietary requirements at a glance. These calculations have been meticulously done by a certified nutritionist. Nonetheless, slight variations may occur due to the use of different brands of ingredients.
Do the recipes use hard to find ingredients.
There might be a couple of ingredients you may not be familiar with, but I have ensured that the book includes readily available ingredients. These few ingredients are what contribute to a recipe's uniqueness, authenticity, and flavor enhancement.
Do the recipes contain lots of ingredients?
While certain recipes might seem to contain a lengthy list of ingredients, the majority of these components consist of seasonings. I personally favour crafting my own combination of spices for the most exquisite flavor, rather than relying on pre-made spice blends. Additionally, some recipes encompass the equivalent of 2-3 individual recipes, such as a main dish along with a side and a sauce or dressing/dip, thus offering an even wider array of choices
Do all recipes include a picture?
Yes every single recipe in the book includes a picture of the finished dish.
Are the recipes new?
All recipes in the book are brand new and exclusive.
What type of recipes are included in the book
You can find a complete recipe index above. I've made an effort to provide a diverse range of recipes, pushing the limits of what you can create in your air fryer.
What air fryer did you use for testing the recipes?
All the recipes underwent rigorous testing in an Instant Pot 5.7-liter Vortex Air Fryer equipped with a transparent clear cook window. Following this initial testing, they underwent a second evaluation by our dedicated photo shoot team and experienced professionals to ensure their accuracy and adherence to the provided recipe.

I opted to conduct the testing using a single-basket air fryer instead of a dual-basket model to encompass a broader range of air fryer types. While dual-basket air fryers allow for easy division of ingredients, adapting recipes tested with split timing and temperatures to a single-basket air fryer would be less straightforward.

The majority of air fryers operate on similar principles, differing primarily in capacity and basket design. It's worth noting that older models like the Actifry may not be suitable for these recipes. While it's impossible to account for every make and model of air fryer on the market, I have made every effort to ensure that the recipes are compatible with the most common types available.

About the Author
Slimming Eats was created in 2009 as a place to record my thoughts and recipes while on my own weight loss journey and to help keep me accountable - you can read my full story on my About page.
I am not a trained chef, I just love home style cooking and creating healthy meals for my family using real ingredients. I never imagined when I started Slimming Eats, that I have would have the amazing support I do today. I smile every single day when I see my readers sharing a picture of one of my recipes they have made by posting a lovely comment on here or my Facebook Support Group
The Slimming Eats Made in the Air Fryer Cookbook is out now at all Major Retailers!
Where to Buy
United Kingdom
Ireland
US/Canada/Australia
Slimming Eats Made in the Air Fryer will be Releasing January 2024 in US/Canada and Australia and can be pre ordered from Amazon and all major retailers in those locations.
More Slimming Eats Cookbooks
Disclosure: This post may contain affiliate links. As an Amazon Associate and member of other affiliate programs, I earn from qualifying purchases. We are a participant in the Amazon Services LLC Associates Program, an affiliate advertising program designed to provide a means for us to earn fees by linking to Amazon.com and affiliated sites." Check Legal section, for Full Disclaimer, Disclosure and Privacy Policy.