My first cookbook Slimming Eats is out now and available at all Major Retailers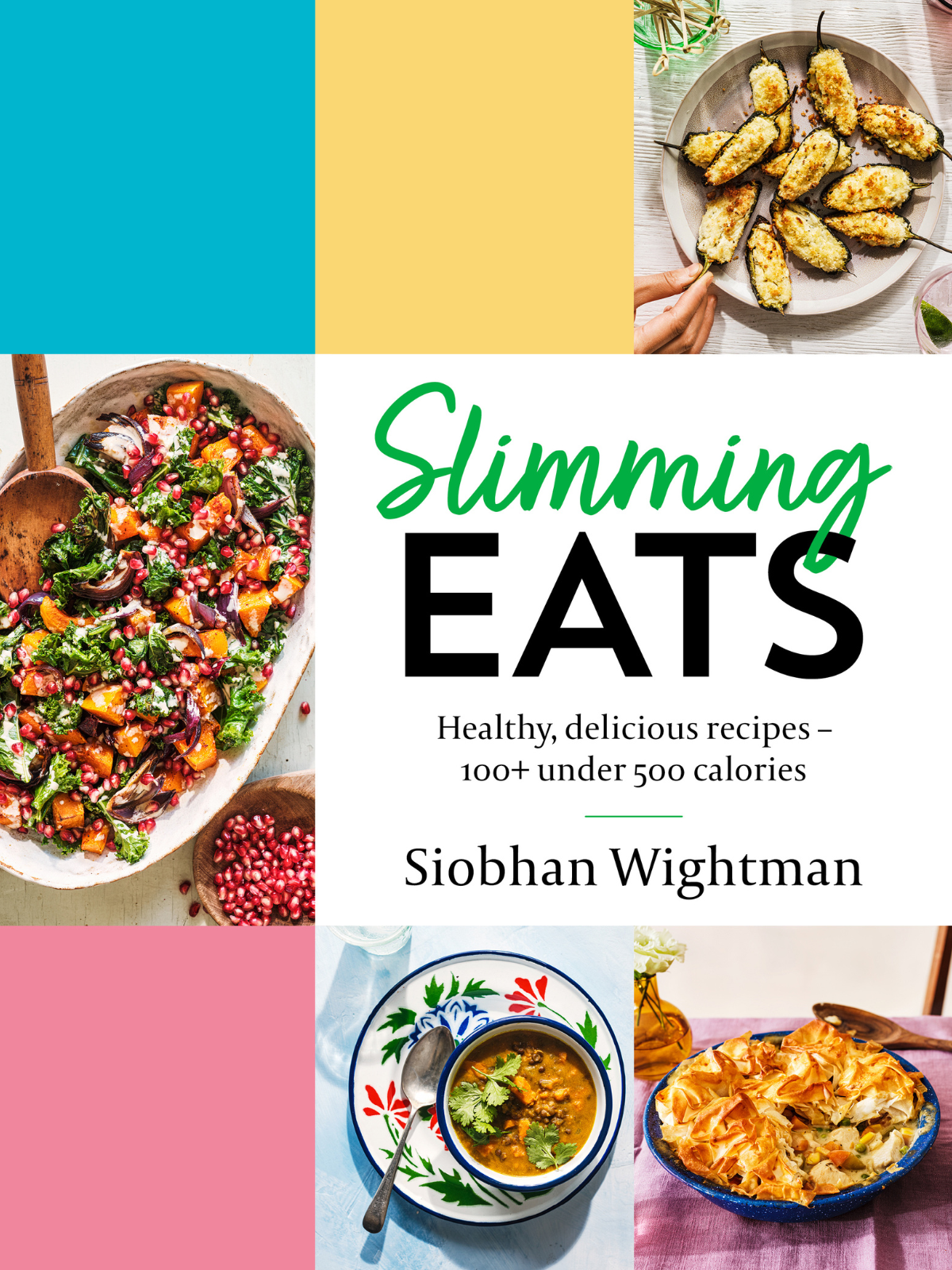 Slimming Eats- The Cookbook
Everyday recipes you will make time and again - flavourful, simple, slimming and so satisfying.

From wildly popular blog SLIMMING EATS comes a stunning collection of 100 brand new recipes plus 15 blog favourites. This is an everyday cookbook for everyone. Siobhan's homely recipes are delicious and really work, plus over 100 are under 500 calories.

You will find life-long family favourites, with recipes for breakfast, lunch and dinner, meals to feed a crowd, kid-friendly dishes, quick fixes, low calorie sides and recipes to satisfy any cravings. This is slimming food and delicious food - there's absolutely no scrimping on flavour here!

Every recipe is made to help you achieve your goals, featuring:
* a nutritional breakdown with a calorie count
* helpful pointers for vegetarian, gluten-free and dairy-free diets
* suggestions for swapping in low-calorie sides

Siobhan shares information on key ingredients and useful items to keep in your kitchen, plus a lot of motivation to keep you on track. Slimming Eats will be your ultimate kitchen companion for eating well every day.
(As an Amazon Associate and member of other affiliate programs, I earn from qualifying purchases.) See below for more retailers.
The Slimming Eats Cookbook
Over many years since starting Slimming Eats, I have been approached by publishers to do a cook book, but at those times it just didn't feel right for various reasons.
I am quite an introvert so despite having a food blog, I don't actually like lots of attention and because I suffer with anxiety, being in the public eye and on social media can often have its downsides.
Also, I always wanted my recipes to be available through my website only, but now with a huge database of over 900 recipes and the fact that many of my amazing and supportive readers keep asking if I will please do a cookbook and with the amazing support of friends and family I felt now was the right time.
Slimming Eats Cookbook Recipe List
Wondering what recipes are featured in the book before you buy? Here is a list of the recipes:
Breakfasts
Fruity Chia Pudding with Vanilla Greek Yoghurt
Mushroom and Spinach Skillet with Eggs
Make-ahead Sausage, Egg and Cheese English Muffins
Breakfast Quiche with Sweet Potato Hash Brown Crust
Poached Egg Breakfast Bowls with Homemade Everything Bagel Seasoning
Breakfast Hash Brown Roll
Baked Oats
Cheesy Scrambled Eggs with Avocado and Tomatoes
Overnight Pumpkin Steel-cut Oats
Healthy Granola
Huevos Rancheros with Chorizo-style Minced Pork
Blueberry Cream Cheese-stuffed French Toast
Soups and Salads
Turmeric Chicken and Cauliflower Soup
Garlicky White Bean, Orzo and Spinach Soup
Curried Sweet Potato and Lentil Soup
Pasta e Fagioli Soup
French Onion Soup
Chicken Corn Chowder
Ham, Vegetable and Pearl Barley Soup
Spicy Turkey Meatballs and Rice Soup
Chicken Dill Pickle Salad
BLT Pasta Salad
Tuna Niçoise Salad
Bacon, Peach and Fennel Salad
Poultry
Creamy Cajun Chicken
One-pot Chicken, Tomato and Fennel Orzo
Chicken Ramen
Hunter's Chicken Meatloaf
Garlic Mayo Chicken Traybake
Braised Chicken Casserole
Healthier Chicken Pot Pie
Huli Huli Chicken with Spicy Grilled Pineapple
One-pot Firecracker Chicken Rice
Butter Chicken Lasagne
Creamy Red Pepper Penne with Chicken
Umami Chicken Traybake
Chicken Greek Gyro Bowls
Chilli Lime Chicken and Rice Bake
Orange Chicken
Meat
Thai Basil Pork
Cheeseburger Meatzza
Steak Fajita Bowl
Thai Sweet Chilli Pork Burgers
Philly Cheesesteak Fries
Sesame Ginger Beef with Noodles
Sloppy Joe Pie
Brunswick Stew
Mediterranean Beef Meatballs with Olives
Ćevapi with Flatbreads and Ajvar
Million Dollar Spaghetti
Slow Cooker Beef and Apricot Tagine
Maple Balsamic Pork Tenderloin with Roasted Broccoli and Sweet Potato
BBQ Bacon Sweet Potato Sliders
Lamb Balti Curry
Fish and Seafood
Basil and Cherry Tomato Cod Tray bake
Creamy Tuscan Halibut
Salmon Tikka Traybake
Easy Prawn Laksa
Smoked Salmon Poke Bowls
Bang Bang Cod Bites
Szechuan Prawns with Vegetables
Oven-baked Salmon with Creamy Butter Sauce
Coconut Fish Curry
Tuna Melt Sweet Potatoes
Easy Seafood Paella
Vegetarian
Pizza Calzones
Honey and Garlic Tofu Stir-fry
Mushroom Carnitas Bowl
Lemon, Garlic, Cauliflower and Courgette Pasta
Creamy Sweetcorn and Leek Risotto
Garlic Mushroom, Onion and Jalapeño Filo Tart
Easy Indian Paneer Stir-fry
Peanut Lentil Curry
Chickpea, Tomato and Feta Traybake
Chickpea Sweet Potato Buddha Bowls
Butternut Squash and Ricotta Bake
Sweet Potato and Kidney Bean Burgers with Curried Dip
Taco Veggie Pasta Bake
Slimming Eats Blog Favourites
American-style Oat Pancakes
Leek and Potato Bake
Chicken Singapore Noodles
Chinese Chicken Curry
Sweet and Sticky Chicken
Best-ever Spaghetti Carbonara
Sweet Chilli Beef
Pizza Chicken
Ricotta and Spinach Stuffed Pasta Shells
Salt and Pepper Chicken
Chilli Con Carne
Chicken, Bacon and Tomato Pasta Bake
Balsamic Braised Beef
Yummy Beef and Sweet Potato Lasagne
Lemon Chilli Chicken
Sides
Lemon Dijon Potato Wedges
Garlic Sauce
Hummus 3 Ways
Cauliflower Rice 3 Ways
Cauliflower Cheese
Potato Latkes
Sumac-roasted Butternut Squash with Tahini Dressing
Jalapeño Poppers
Smashed Cheddar Broccoli with Ranch Dip
Creamed Spinach
Rustic Kale and Leek Potato Mash
Indian Roasted Cauliflower Pilau Rice
Desserts
Coconut and Lemon Muffins
Raspberry, Pear and White Chocolate Pies
Chocolate Cake
Strawberry Jelly Chocolate Ice Lollies
Apple Berry Cream Cheese Filo Tart
Hot Banana Pudding Custard with Cookie Crumb
Peanut Butter Jelly Banana Bread
No-bake Strawberry Cheesecakes
Chocolate Orange Rice Pudding
Oaty Apple Crumble
Cinnamon Sugar Pecan-baked Bananas with Greek Yoghurt
Get it here:
or from any major retailer
(As an Amazon Associate and member of other affiliate programs, I earn from qualifying purchases)
About the Author
Slimming Eats was created in 2009 as a place to record my thoughts and recipes while on my own weight loss journey and to help keep me accountable - you can read my full story on my About page.
I am not a trained chef, I just love home style cooking and creating healthy meals for my family using real ingredients. I never imagined when I started Slimming Eats, that I have would have the amazing support I do today. I smile every single day when I see my readers sharing a picture of one of my recipes they have made by posting a lovely comment on here or my Facebook Support Group
The Slimming Eats Cookbook is available now at all Major Retailers!
Where to Buy
United Kingdom
Ireland
United States
Canada
Australia
New Zealand
More Slimming Eats Cookbooks
Disclosure: This post may contain affiliate links. As an Amazon Associate and member of other affiliate programs, I earn from qualifying purchases. We are a participant in the Amazon Services LLC Associates Program, an affiliate advertising program designed to provide a means for us to earn fees by linking to Amazon.com and affiliated sites." Check Legal section, for Full Disclaimer, Disclosure and Privacy Policy.