Homemade Doner Kebab Fakeaway Recipe - a delicious homemade version of a popular fakeaway dish, complete with garlic and chilli sauce. It's delish!!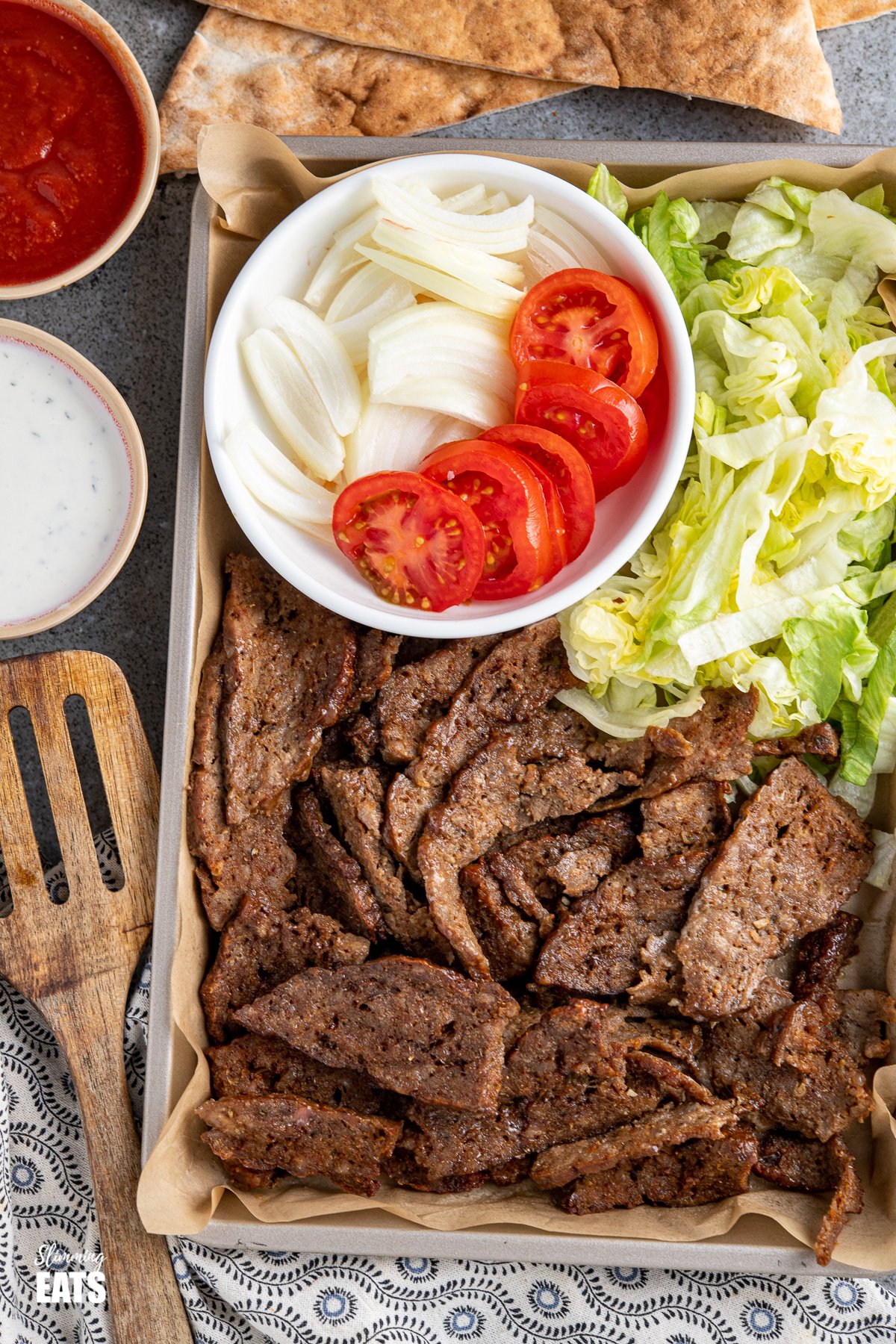 Homemade Lamb Doner Kebab
Most people won't admit that they actually like kebabs, it's the kind of thing most of us have ordered on a drunken night out. It is not something one tends to order sober or so they say.
However I do love that lamb doner meat (especially homemade), served over a warm pita and drizzled some lighter garlic mayo and chilli sauce. It's the perfect serving platter for a family.
My kids love it when I make this for dinner and serve all the trimmings on a tray so they can build their own kebab by picking which salad items they want and drizzling with their preferred perfect amount of garlic and chilli sauce.
Beef for Doner Kebab
Traditionally for doner kebabs it is ground lamb that is the preferred choice of meat, but it can be hard to find an extremely lean cut of this, so if you really want to bring down the calories even more you may be wondering if you can use extra lean ground beef (mince) which is only 5% fat.
If that is what you prefer, then you can certainly make the substitute. However for that true authentic taste lamb is always the better choice and I find a slightly high fat percentage in ground meat just yields a better final results. Plus it's not a huge amount of extra calories when divided up into servings.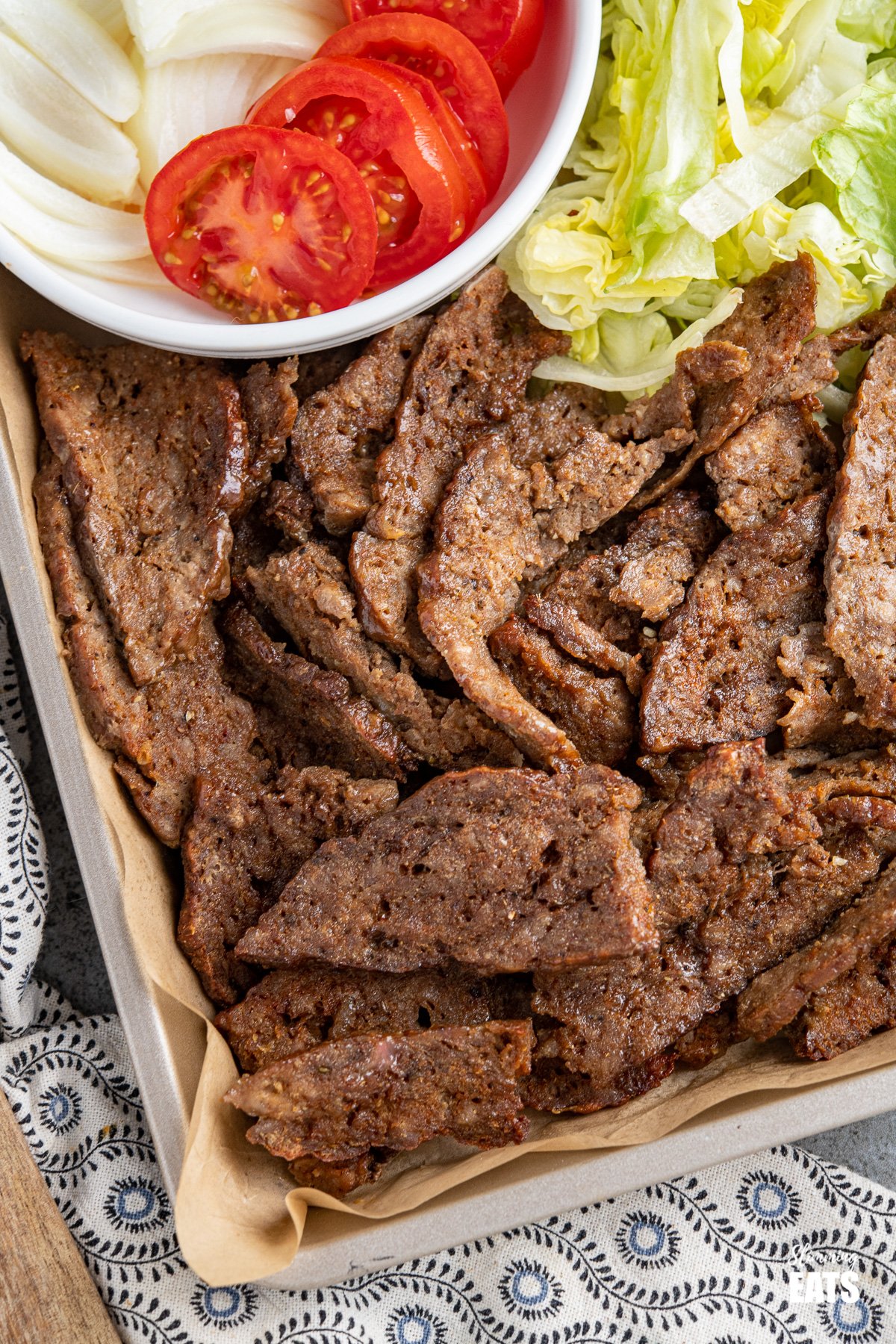 Garlic and Chilli Sauce for Kebabs
No Doner Kebab is complete for me without some garlic and chilli sauce, both of which can be completely different from one Kebab shop to the next.
My variations on these sauces are based on what we like, a garlic mayo type sauce and a sweet spicy tomato chilli sauce, they compliment the dish really well and of course how much or little you drizzle on yours is totally up to you.
If you want to skip the effort and use a ready made sauce then of course you can do that too, but these homemade versions are totally worth it. Any you have leftover is then perfect for adding to other dishes. I love the chilli sauce with eggs (don't knock it you try it) and the garlic sauce is perfect with all kinds of proteins.
Best Pitta Bread for Doner Kebabs
If you are following Slimming World there are only a couple of pitta breads that qualify as a Healthy Extra B choice, so you may want to use one of those if you are trying to save your syns.
We have a couple here in Canada/USA that qualify, but unlike the UK where pitta's are oval in shape ours are round, a lot thinner in texture and some much bigger (bonus). So what I tend to is just cut in half, although the round ones can be used like a wrap too, to add all your filling and wrap up just like you would a tortilla wrap.
However you can use any pitta bread you like if you are not doing Slimming World, but the lower in calories the better the option.
If you want to try a homemmade bread to pair with the doner kebab meat, I have 3 great options you can use:
Cooking Homemade Doner Kebab
To cook the doner kebab, I form into a flattened meatloaf shape, then bake in the oven until cooked through, remove and let it rest before slicing thinly with a meat carving knife. Make sure the knife you use is nice and sharp so you can get really thin slices of meat.
Then I spread the slices out on a baking tray and place until broil (grill) for a few minutes to brown the pieces, it gives it that more authentic kebab taste with no huge faffing with skewers of meat etc.
Can you freeze the Doner Kebab Meat?
You may be just making this for two people and wondering if you can freeze the leftover doner meat and you'll be pleased to know this freezes fine. I recommend freezing after the slicing stage (don't do the grill part), that way you can just do the grill part when reheat after defrosting.
The chilli sauce also freezes fine. Just pop in a freezer container and place in the fridge and take out and defrost as and when you want it.
More Fakeaway Recipes
Looking for some more Fakeaway Recipes? Check out these:
or head on over to the FULL RECIPE INDEX where you will find over 900 delicious Slimming World and Weight Watchers friendly recipes all fully searchable by meal type, ingredients, syn value and smart points etc
---
LET'S CONNECT!!
Doner Kebab Fakeaway
Doner Kebab Fakeaway Recipe - a delicious homemade version of a popular fakeaway dish, completel with garlic and chilli sauce. It's delish!!
Ingredients
For the Doner Meat:
455g (16oz) of lean ground lamb (mince) - 13.5 syns
½ teaspoon of baking soda
1 tablespoon of water
1 teaspoon of salt
1 teaspoon of ground coriander
1 teaspoon of ground cumin
1 teaspoon of paprika
½ teaspoon of oregano
½ teaspoon of mild chilli powder
½ teaspoon of garlic powder
½ teaspoon of onion powder
¼ teaspoon of black pepper
4x2oz Wholewheat Pitta Breads
Mixed Salad - cucumber, crisp lettuce, tomatoes and red onion
For the garlic sauce:
8 tablespoons of fat free plain Greek Yoghurt
3 tablespoons of light mayonnaise (5 syns)
2 cloves of garlic, minced
1 teaspoon of dried parsley
juice of half a fresh lemon
pinch of salt
1 teaspoon of granulated sweetener (this is optional)
For the chilli sauce:
1 cup (240ml) of passata (or can use crushed tomatoes)
1 tablespoon of tomato paste
1 teaspoon of granulated sweetener
1 tablespoon of white wine vinegar
¼ tsp of cayenne pepper
½ teaspoon of onion powder
½ teaspoon of garlic powder
pinch of salt
Instructions
For the chilli sauce:
Add ingredients to a small saucepan, bring to a boil, cover, reduce heat and simmer for about 10 minutes.
For the garlic sauce:
Add the ingredients to a bowl and mix to combine. This is best left to sit for about 30 minutes for the flavours to develop.
If you want to make this even lower calorie, you can skip the mayo and use all yoghurt, but the mayo just gives it a more creamy taste.
For the Doner:
Add to a bowl the ground lamb and seasonings and mix to fully combine. (this can be mix the night before if you prefer).
Preheat oven to 180c, fan 160c, 350f or gas mark 4
Place a sheet of foil on a baking tray add the doner mixture and form into a flattened meatloaf shape approx 5x7 inches, then wrap the foil up all around it so that the meat is fully covered.
Place in the oven and bake for approx 35-40mins, meat should be cooked through.
Remove from oven and allow to rest for 10 mins.
Using a sharp carving knife, slice the loaf into thin slices (you want them nice and thin)
Place back on a tray and place under the grill (broil) at a medium heat for a few minutes until slightly charred on edges.
Serve with the salad, warmed pitta breads and the garlic and chilli sauce.
Enjoy!!!
Notes
This recipe is gluten free, dairy free, Slimming World and Weight Watchers friendly
Below is for doner meat with pitta, sauces and salad:
Slimming World - 1 HEb and 5 syns
WW Green Smart Points - 12 per serving
WW Blue Smart Points - 12 per serving
WW Purple Smart Points - 12 per serving
Gluten free - use a gluten free Pita Bread
Dairy Free - use dairy free yoghurt for the garlic sauce

Sauces - the sweetener is optional it just cuts the tang of he yoghurt and acidity of tomatoes)
Meat Swap - swap the lamb for extra lean ground beef (5% fat) to make the doner meat syn free
Nutritional Info: the calories listed before is for 1 serving (¼ of the doner meat, 1 wholemeal pitta, sauces and salad)

SUITABLE FOR FREEZING - The doner meat and chilli sauce are perfect for freezing. I recommend freezing the doner meat before the grilling stage.
If you wish to share this recipe, then please do so by using the share buttons provided only.
DO NOT COPY AND/OR PASTE FULL RECIPES OR SCREENSHOTS OF ANY CONTENT FROM SLIMMING EATS TO ANY SOCIAL MEDIA, IT IS STRICTLY PROHIBITED.
ALL IMAGES AND CONTENT ON SLIMMING EATS ARE COPYRIGHT PROTECTED.
Nutritional information, syn values, points etc are an estimate and is to be used for informational purposes only. Ingredients can vary greatly from brand to brand and therefore it would be impossible to give accurate information. It is always advised that you calculate by the ingredients you use.
It is the responsibility of the Reader to assure the products or ingredients they use in any recipes from Slimming Eats are allergen-free (gluten-free, egg-free, soy-free and/or dairy-free, for example). Slimming Eats assumes no liability for inaccuracies or misstatement about products, opinions or comments on this site.
Check Legal section, for Full Disclaimer, Disclosure and Privacy Policy.
Recommended Products
As an Amazon Associate and member of other affiliate programs, I earn from qualifying purchases.
Nutrition Information
Serving Size

1 Doner Kebab
Amount Per Serving
Calories

468
Total Fat

21.9g
Saturated Fat

9.6g
Cholesterol

0mg
Carbohydrates

37.7g
Fiber

5.9g
Sugar

7.5g
Protein

31.1g
Disclosure: This post may contain affiliate links. As an Amazon Associate and member of other affiliate programs, I earn from qualifying purchases. We are a participant in the Amazon Services LLC Associates Program, an affiliate advertising program designed to provide a means for us to earn fees by linking to Amazon.com and affiliated sites." Check Legal section, for Full Disclaimer, Disclosure and Privacy Policy.