Sweet Potato Flatbread - dip it, dunk it, spread it or you can even use it as a base for pizza. The possibilities are endless.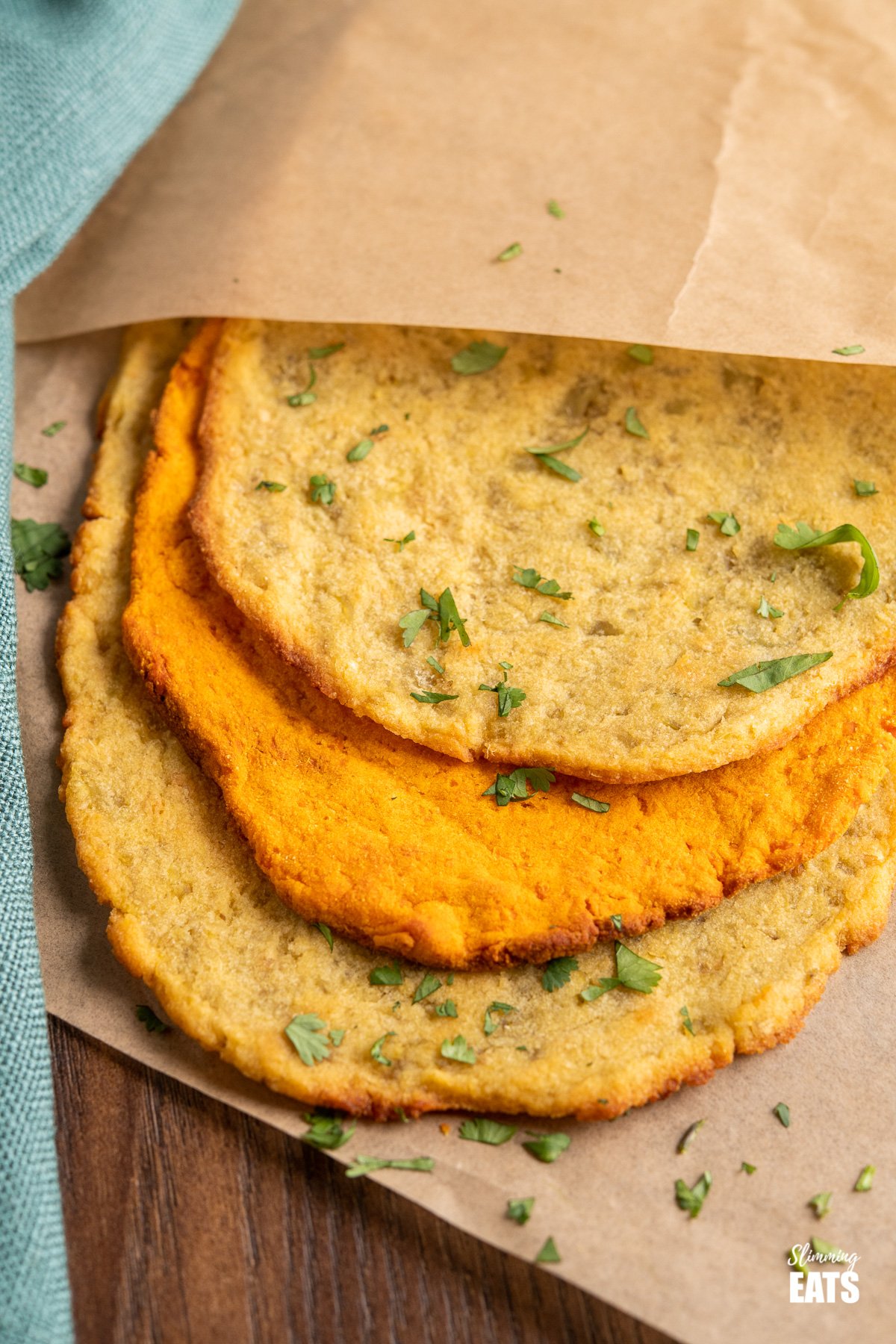 Gluten-Free Flatbreads
Often I see requests for those who can't have gluten or dairy, looking for a bread that they can enjoy on Slimming World, there are not many options out there and those that are can be pretty high in syns.
Then a good neighbour of mine was on a very restrictive diet, and she was desperate for some kind of thin flatbread she could use for wraps or a pizza base etc, one that didn't involve any cauliflower. So I promised her I would come up with a delicious recipe for her.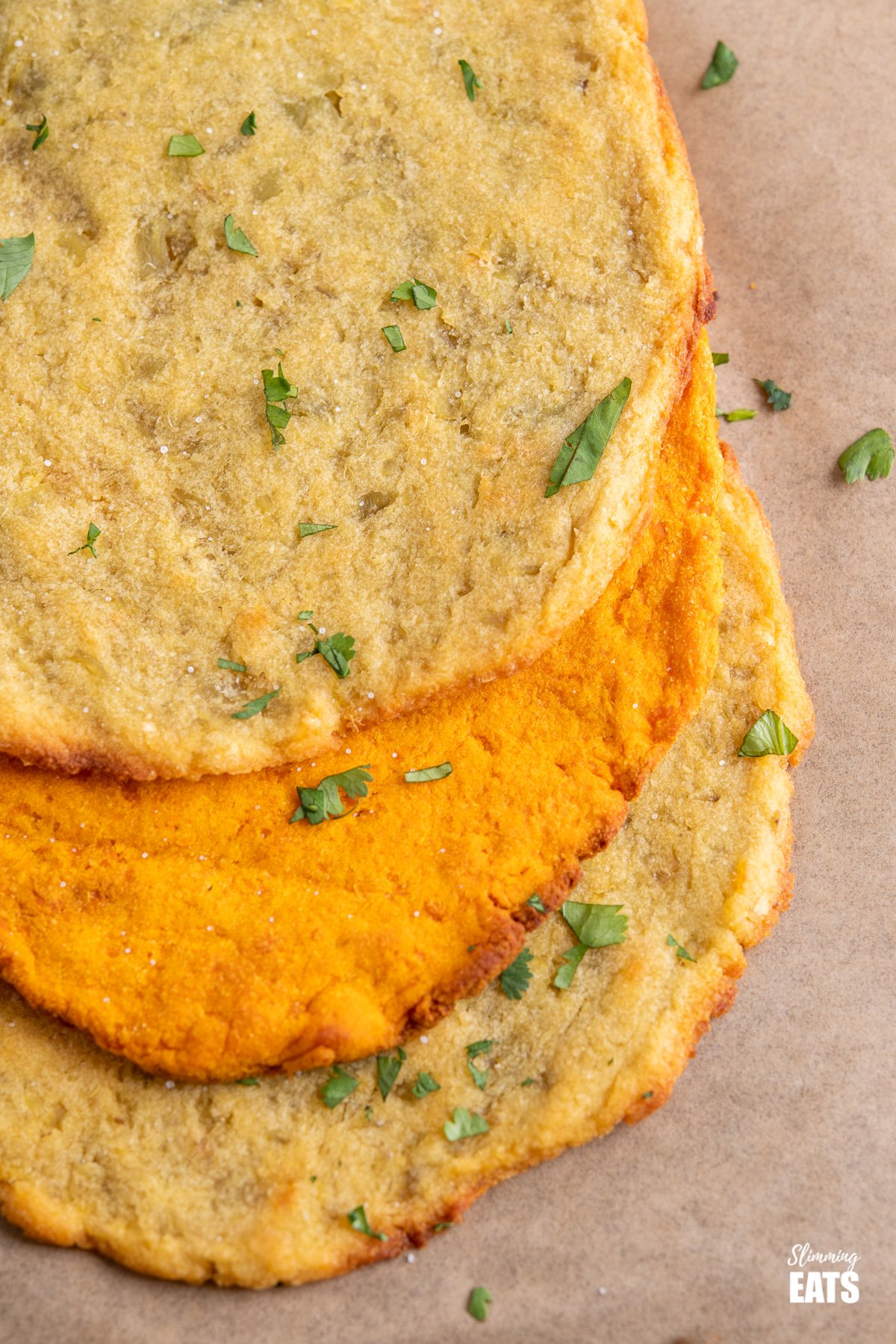 Gluten-Free Flours
Having done a short stint of Paleo and Whole30 in the past, I was quite used to using different flours such as coconut flour, tapioca and arrowroot.
Coconut flour on its own however can be a bit odd in texture, but when you combine it with a starch like arrowroot, tapioca or even cornstarch (if you are okay with using that), it can yield awesome results.
I have also tried all 3 starches - arrowroot, tapioca and cornstarch and all work fine, so use whichever of those you are happy with.
The coconut flour you use is quite important, you want a fine coconut flour, as some out there can be a bit grainy and have a weird taste. My favourites brands to use are Bob Mills and Trader Joes.
Sweet Potato Pizza Base
I already have had great success with sweet potato as a pizza base in this yummy Sweet Potato Pizza Crust, where you use this recipe to make one pizza base, and then add toppings after the initial bake and add bake into the oven, for the base to go nice and crisp on the edges. It's so good.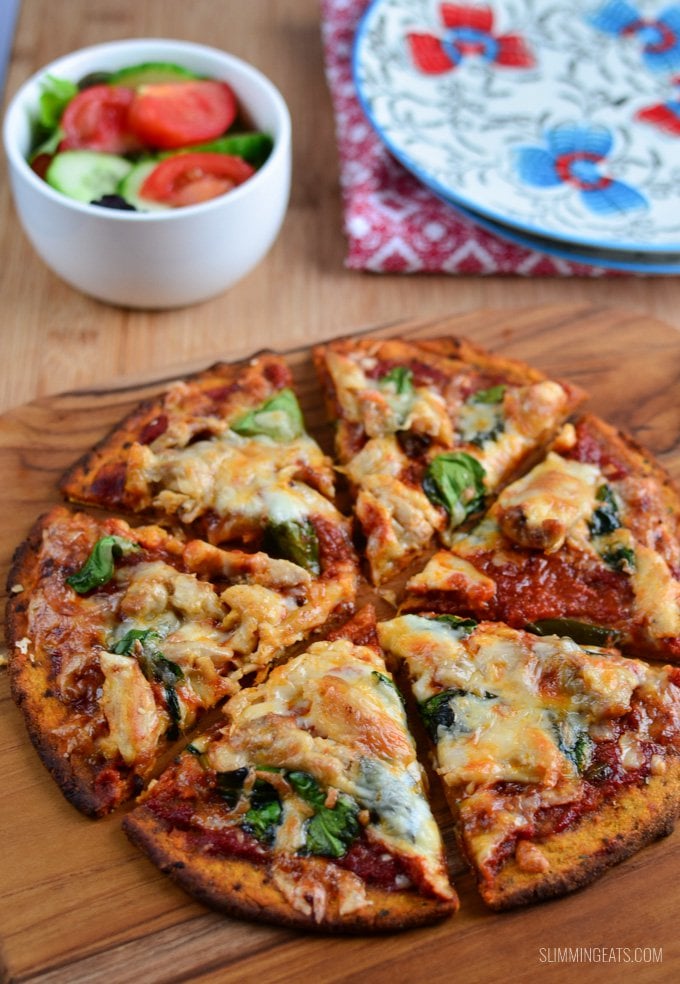 Sweet Potato Bread
So I wanted to take that one step further and come up with naan bread or flatbread type recipe, as I often enjoy curry and wanted something that was perfect for scooping up some of the sauce of curries and soup etc.
Wow, the result was perfect and my neighbour was really happy with how it turned out. This recipe yields 2 decent sized flatbread, or one large (great for a pizza crust), or 3 to 4 small which would be perfect for tacos. You could even make this flatbread as normal, cut into triangles and then bake again to crisp up to use as nachos. Really the list is endless.
To cook the sweet potato, I just pierce a large sweet potato with a knife and place in the microwave for 5-8 mins, start at 5 and check for doneness. Then once cooled, you can scoop out the flesh and mash. Easy as that!!!
or if you don't own a microwave you can cook in a steamer basket until fork soft.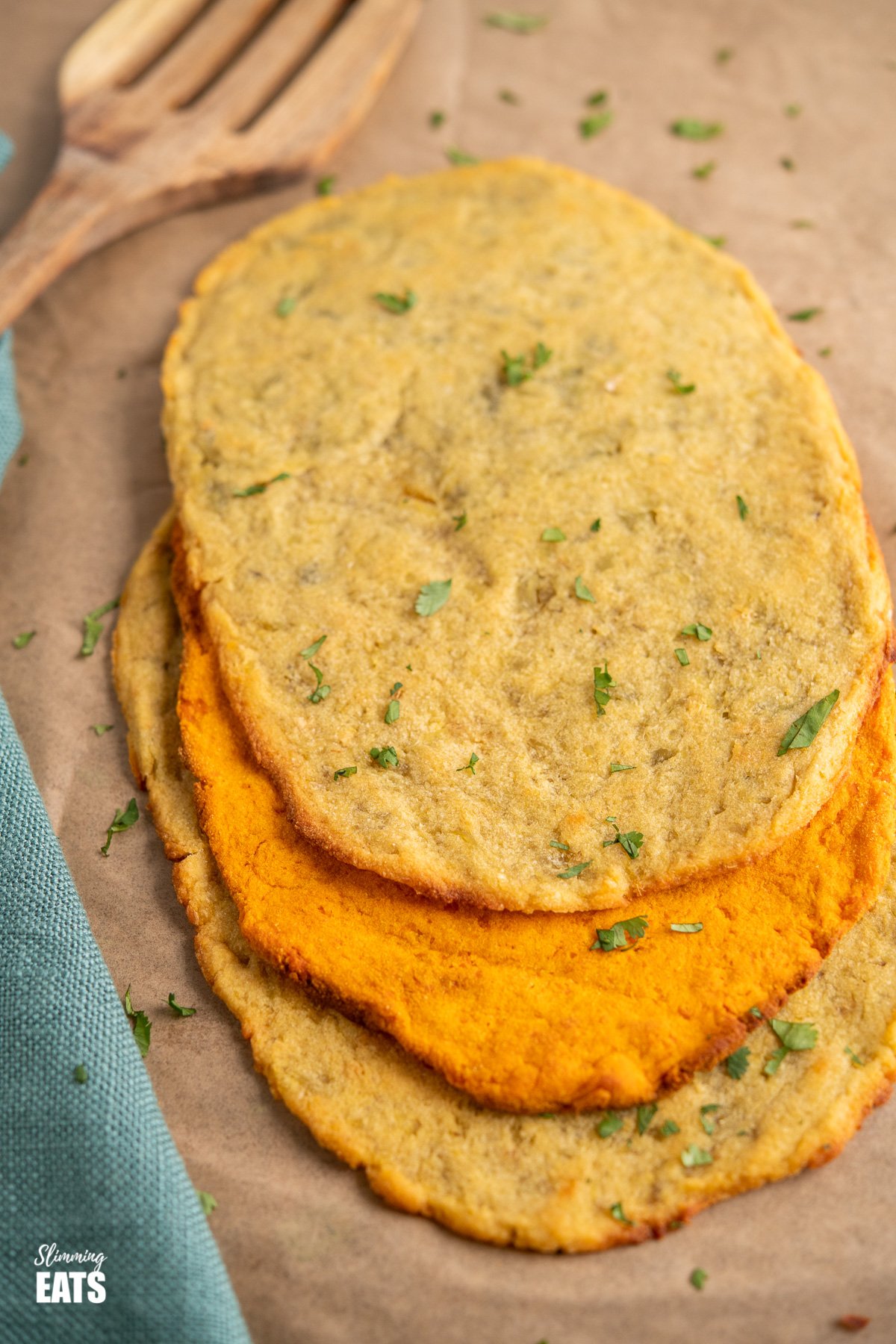 Different Types of Sweet Potato
There are various different types of sweet potato varieties out there. I have made this recipe a few times now and it works well with regular sweet potato or the Japanese white sweet potato. If you can get hold of the Japanese variety, it is a little bit more starchy and so yields a slightly crispier flatbread which is amazing and of course is more like flatbread in appearance because it's white a not orange. Not always easy to find though.
Can I use regular potato?
Some may not like the sweet taste of sweet potato, but honestly, it's not over sweet in this recipe because of the seasoning and how it is enjoyed.
However, if you want to try it with regular potatoes, I am sure it will work and do let me know if you give it a try.
Cooking Sweet Potato Flatbreads
You can either use Parchment paper or one of these handy Silicone Baking Mats to spread the mixture out for baking. Make sure you flatten the Sweet Potato Flatbread well into an even layer, not too thin though or they will burn and not too thick or they won't crisp up. Then once ¾ of the way baked, carefully slide a spatula underneath and flip. If the spatula doesn't slide under easily, leave it in the oven for a few more minutes as it means it's not quite ready.
If you have issues with the sweet potato flatbread sticking to the paper, double-check you are using proper parchment paper, nothing sticks to this, so there should be no issue with it sticking.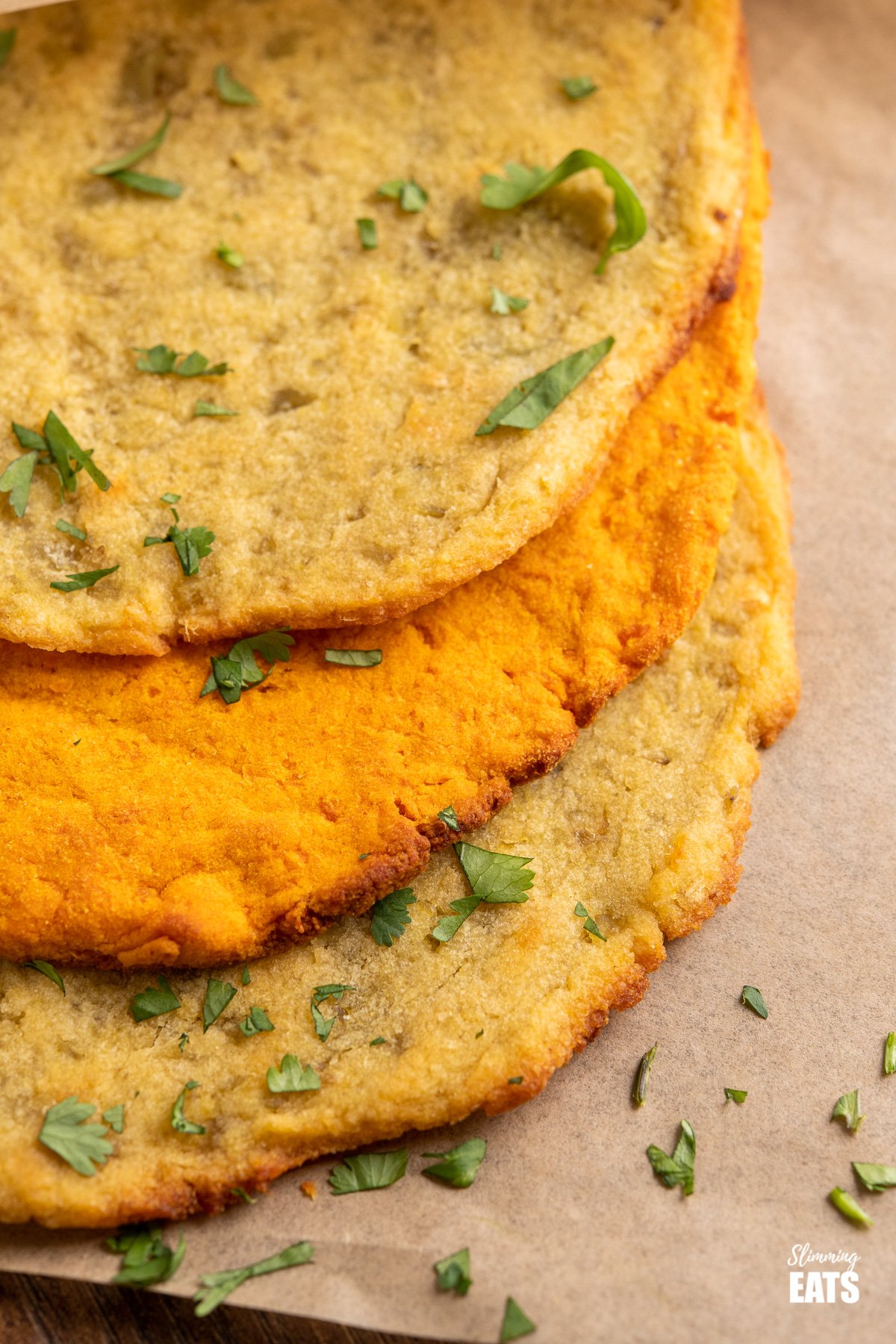 Can I use regular flour?
In short no, you won't get the same final result with regular flour, the reason being is that coconut flour is very fibrous compared to other flours so you need a much small amount.
To get the same result with regular flour you would need to increase the amount quite a bit.
Freezing Flatbreads
These flatbreads freeze perfectly, so if you want to double or even triple up the recipe so you have more on hand, then these are great for that.
I recommend placing sheets of wax proof paper in between each flatbread before freezing, this will make it easier to just take out one from the freezer and use as you wish. Just warm up in the oven for a few minutes until heated through or you can warm on a pan over a very low heat.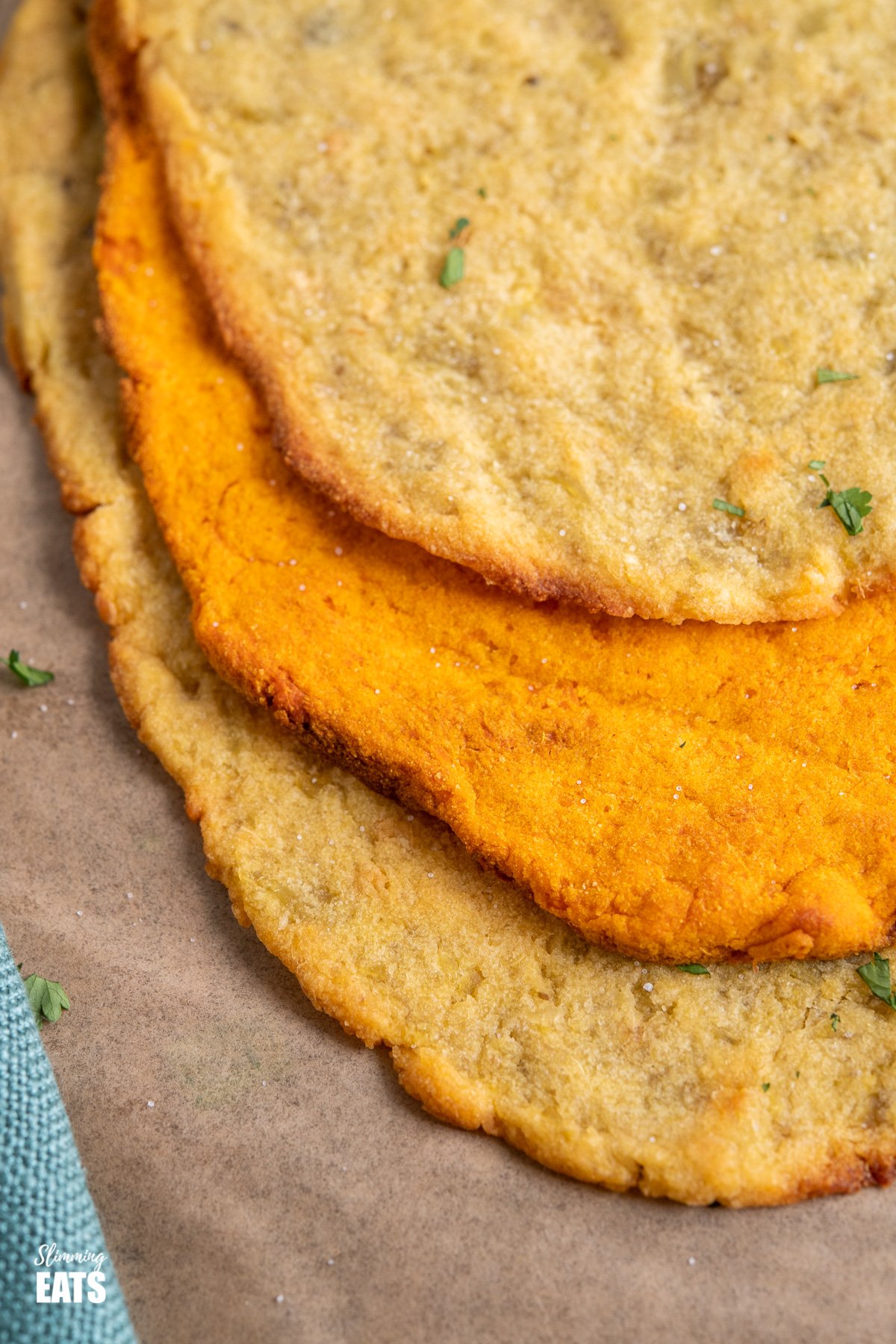 Recipes to serve with Sweet Potato Flatbreads
Wondering what to serve with these flatbreads? here are some of my favourites:
or head on over to my Full Recipe Index with over 900 delicious Slimming World and Weight Watchers friendly recipes all fully searchable by meal type, ingredients, syn value and smart points etc
This recipe was originally posted on 28th of February 2016 and updated on 12th March 2020
---
LET'S CONNECT!
Find me ON FACEBOOK | INSTAGRAM | PINTEREST | TWITTER | and YOUTUBE, come and follow me TO MAKE SURE YOU KEEP UP TO DATE ON ALL NEW RECIPES.
You can also subscribe to Slimming Eats so that you never miss any new updates.
IF YOU TRY THIS RECIPE, LET US KNOW! LEAVE A COMMENT, RATE IT AND TAG US IN YOUR PHOTOS @SLIMMINGEATS ON INSTAGRAM
See the handy Pinterest image below if you wish to pin this for later 🙂
Gluten Free Sweet Potato Flatbread
Yield:
Recipe makes 2 Flatbreads
Sweet Potato Flatbread - dip it, dunk it, spread it or you can even use it as a base for pizza. The possibilities are endless.
Ingredients
double up ingredients below if you want to make 4 flatbreads
1 cup (240ml) of plain mashed sweet potato (approx 325g/11.5oz raw weight) - can use regular sweet potato or white Japenese sweet potatoes
¼  cup (4 tbs) of water
2 tablespoons of coconut flour (3 syns)
2 tablespoons of tapioca starch (can use arrowroot or cornstarch) (3 syns)
pinch of garlic powder (optional)
pinch of onion powder (optional)
pinch of sea salt
cooking oil spray (I used avocado)
Instructions
Preheat oven to 190c or 375f (gas mark 5)
Add the mashed potato to a bowl with the coconut flour, tapioca starch, salt, garlic powder, onion powder.
Add the water one tablespoon at a time, until the mixture easily comes together (not too wet or too dry).
Divide the mixture into two equal-size balls.
Line a baking tray with parchment paper and spray over the top with cooking oil spray, this just helps it to lift off when you flip.
Place each ball of the dough-like mixture onto the tray and flatten down with your hands forming into a flatbread type shape (or round shape if you prefer). Keep doing this until it is flatbread thin and even all over about ⅓ inch in thickness
Spray over the top with more cooking oil spray
Place in the oven and bake for approx 30-40 mins until golden.
After about 20 to 30 mins of the way through cooking time, you should be able to carefully slide a spatula underneath to flip them over for the remainder of the cooking time, flatbread should feel firm and lightly golden and crisp on the edges.
I like to serve with some chopped parsley or coriander depending on what I am serving them with.
Enjoy!!
Notes
This recipe is gluten free, dairy free, vegetarian, paleo, Slimming World and Weight Watchers friendly
Slimming World - 3 syns per flatbread
Green WW Smart Points - 7 per flatbread
Blue WW Smart Points - 7 per flatbread
Purple WW Smart Points - 2 per flatbread
Paleo - use tapioca or arrowroot flour
SUITABLE FOR FREEZING
To get make the mashed potato, I just pierce a large sweet potato, place in the microwave for 5-8 mins. Then once cooled, you can scoop of flesh and mash. 
If you wish to share this recipe, then please do so by using the share buttons provided.

Do not screenshot content or post recipe or content in full. All images and content on Slimming Eats are copyright protected.

Nutritional information, syn values, points etc are an estimate and is to be used for informational purposes only. Ingredients can vary greatly from brand to brand and therefore it would be impossible to give accurate information. It is always advised that you calculate by the ingredients you use.

It is the responsibility of the Reader to assure the products or ingredients they use in any recipes from Slimming Eats are allergen-free (gluten-free, egg-free, soy-free and/or dairy-free, for example). Slimming Eats assumes no liability for inaccuracies or misstatement about products, opinions or comments on this site.

Check Legal section, for Full Disclaimer, Disclosure and Privacy Policy.
Recommended Products
As an Amazon Associate and member of other affiliate programs, I earn from qualifying purchases.
Nutrition Information
Yield

2
Serving Size

1 flatbread
Amount Per Serving
Calories

180
Total Fat

0.9g
Saturated Fat

0g
Sodium

160mg
Carbohydrates

41.7g
Fiber

7.5g
Sugar

6.3g
Protein

3.4g
Disclosure: This post may contain affiliate links. As an Amazon Associate and member of other affiliate programs, I earn from qualifying purchases. We are a participant in the Amazon Services LLC Associates Program, an affiliate advertising program designed to provide a means for us to earn fees by linking to Amazon.com and affiliated sites." Check Legal section, for Full Disclaimer, Disclosure and Privacy Policy.