Yes this really is the Best Ever Low Syn Fish and Chips you see right before your very eyes.
You know those days when you really just fancy a bag of good ole fish and chips? well now you can make it in your own home and still be on plan.
There is already a recipe for fish chips on here using breadcrumbs as the coating, but to me when I fancy fish and chips, bread crumbs just don't cut it.
I was determined to  come up with a batter that coated the fish just like you expect it to do. Obviously to get it really crispy, it is deep fried and well if you are going to do that, you may as well just go to the local chippy.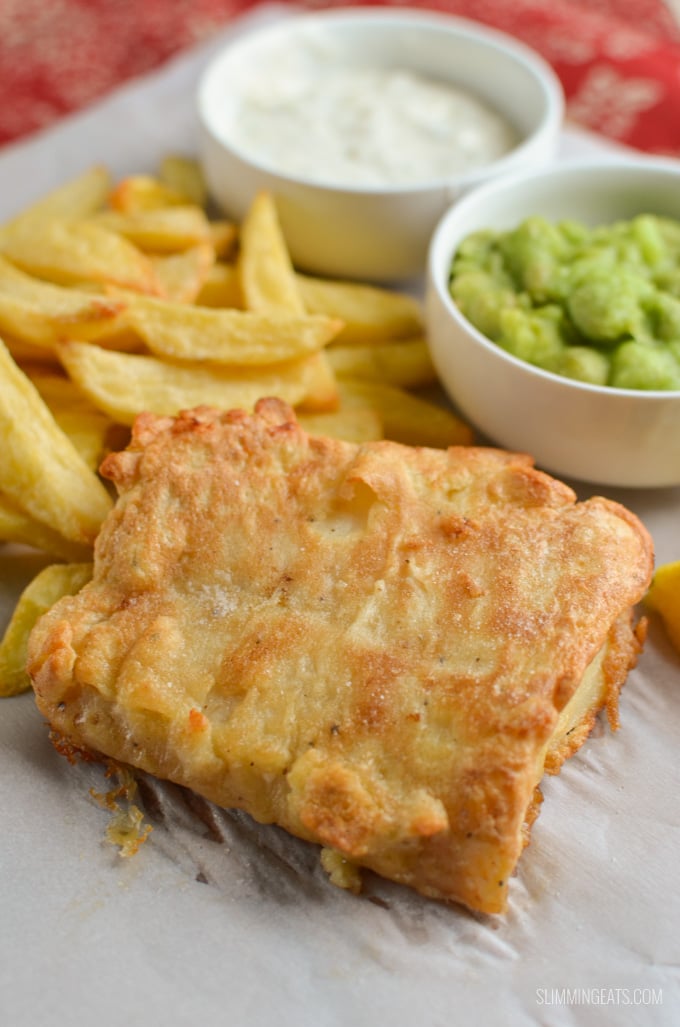 Instead to get this delicious Best Ever Low Syn Fish and Chips. I shallow fry in minimal oil and then transfer to the oven to crisp it up. It really hit the spot and was just like Fish and Chips Should be.
I also recommend a good non stick pan, because you are using far less oil. I like ceramic non stick pans and have two different sizes of the ones from greenpan like this:
Click here to see the GreenPan Non-Stick Hard Anodised Frying Pan, Ceramic, Grey, 24 cm on amazon
Watch the heat too, many people have a tendency to turn the heat up too high, to try to cook quicker, but you are better off with a medium high heat otherwise again things will stick and burn.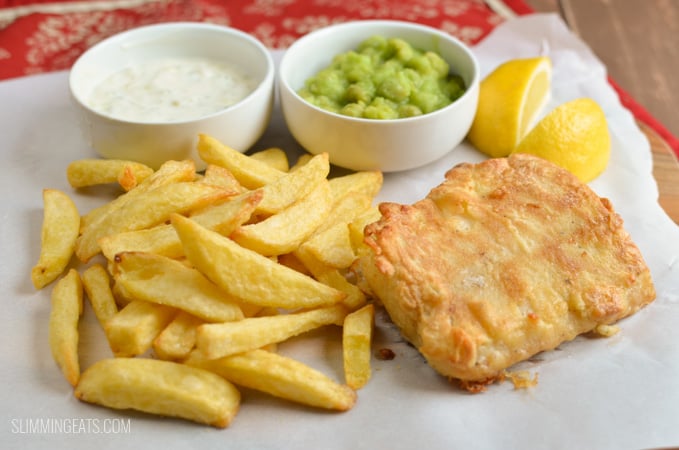 Now will you just look at these chips, how amazing do they look? and just like chips from the chips shop.
Normally when I make my syn free chips - I use my Perfect Syn Free Chips recipe. But to get these like chip shop chips I use a different kind of potato, the best tasting one ever in my opinion - Yukon Golds!! - they have these amazing buttery taste to them and are perfect for syn free chip shop chips and they don't need any parboiling. If you get Yukon Gold Potatoes where you are, I recommend a waxy (not floury) yellow or gold type of potato. As these work best for chip shop chips.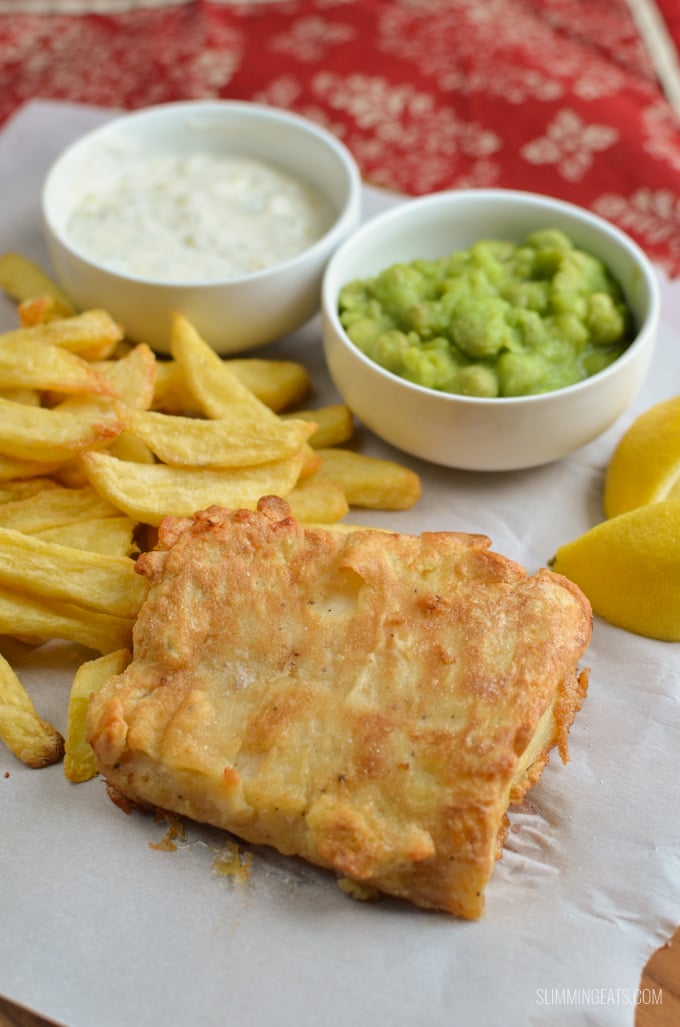 No fish and chips is complete without mushy peas and tartar sauce. I was lucky to spot some mushy peas in the British section of my local grocery store a little while back, so of course had to grab some. It was one of the things that made me crave good ole British Fish and Chips, as although we have fish and chips shops here in Canada they don't have all those perfect components that you need to make this meal complete.
The tartar sauce is so easy to make in your own home, low syn. I use yoghurt, low fat mayo, dill, lemon zest, pickles, shallots and that's pretty much it, it taste so fresh and is great with the crispy coated fish.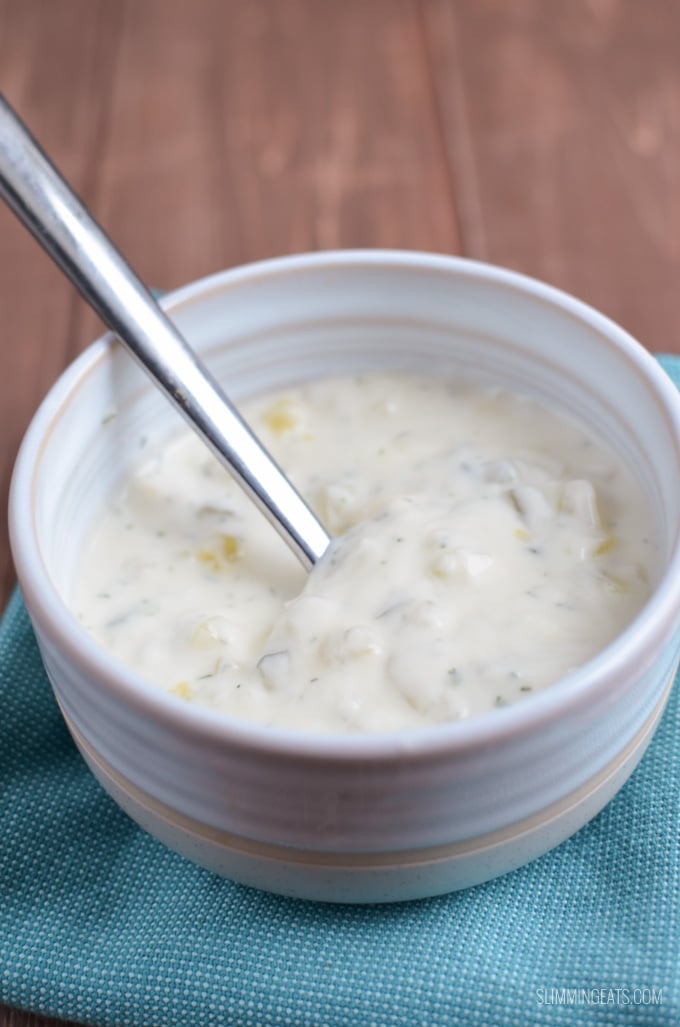 Once you make this, you will want it again within the same week - it's sooo good.

Best Ever Low Syn Fish and Chips Fakeaway Night
This recipe is gluten free, dairy free, Slimming World and Weight Watchers friendly

Extra Easy - 5 syns per serving
WW Smart Points - 15
Gluten Free - use all cornstarch instead of plain flour (batter will be slightly different)
Dairy Free - omit tartare sauce
Ingredients
2 white fish fillets (approx 175g/6oz per fillet)
2 tablespoons of cornstarch (or arrowroot, tapioca flour) - 3 syns
2 tablespoons of plain flour - 3 syns
1 tablespoon of sparkling water
1 large egg white
salt and black pepper
1 tsp of oil - 2 syns
Spray oil
For the chips
500g of yukon gold potatoes (or similar waxy Yellow/Gold potatoes), sliced into chips
Spray oil
Sea Salt
Vinegar
For the tartar sauce
3 tablespoons of fat free plain yoghurt
1 tablespoon of light mayo - 2 syns
1 pickle (gerkin), chopped
1 shallot, chopped
little bit of lemon zest
pinch of dill
1 tin of mushy peas
Method
In a bowl add the cornstarch, flour, egg white, sparkling water and season well with salt and black pepper, whisk till a smooth batter consistency.
Set the batter aside for 30 mins, I find it makes the batter much better.
Preheat oven to 200c/400f (gas mark 6)
While the batter is set aside
Spread the cut potatoes out on a tray lined with parchment, spray over the top with spray oil
and place in the oven to bake for 40 mins till golden, turning over half way through cooking time (if you have an actifry, feel free too cook those in that instead)
Add the batter to a shallow dish
Pat the fish fillets dry with kitchen paper
Add to the batter and coat thoroughly in the batter mix.
Heat a good quality non stick frying pan over a medium high heat.
Add the oil and once it is hot, add the battered fillets and fry till golden on both sides
Transfer to a baking tray lined with parchment paper.
Spray over the top with spray oil and season with salt.
Place in the oven for about 10 mins, till lovely and golden all over.
For the tartar sauce
Mix the yoghurt, low fat mayo, pickle, shallot, lemon zest and dill together in a bowl.
Serve the fish with the chips, mushy peas and tartare sauce
Don't forget to add plenty of salt and vinegar to those chips!!
Enjoy!!
Notes
Note: Want this to serve more? Just double up on ingredients.
Nutritional Info and values given are for 1 piece of fish, serving of chips, mushy peas and tartare sauce.

All images and content on Slimming Eats are copyright protected.

If you wish to share this recipe, then please do so by using the share buttons provided. Do not screenshot or post recipe or content in full.
Nutrition Information
Serving size:
1
Calories:
617
Fat:
14.6g
Saturated fat:
0.6g
Carbohydrates:
74.8g
Sugar:
6.6g
Sodium:
1375mg
Fibre:
11.2g
Protein:
46.5g
Cholesterol:
3.3mg
Disclosure: This post may contain affiliate links. As an Amazon Associate and member of other affiliate programs, I earn from qualifying purchases. We are a participant in the Amazon Services LLC Associates Program, an affiliate advertising program designed to provide a means for us to earn fees by linking to Amazon.com and affiliated sites." Check Legal section, for Full Disclaimer, Disclosure and Privacy Policy.