One Pot Cheeseburger Pasta - the best pasta dish you will make this year PERIOD!!
The Best Ever Cheeseburger Pasta
One pot dishes are my favourite thing at the minute, anytime I can create less washing up the better. If you have a family of 4 like me, washing up plates and cutlery is bad enough, but add to that several pots and pans too, and it's a chore.
Some of the mess is instantly taken away with one pot dishes like this Cheeseburger Pasta and I love it.
So you may be wondering what exactly is cheeseburger pasta, well it's exactly what it says, all the best part of a cheeseburger turned into a delicious pasta dish that the whole family is just gonna love.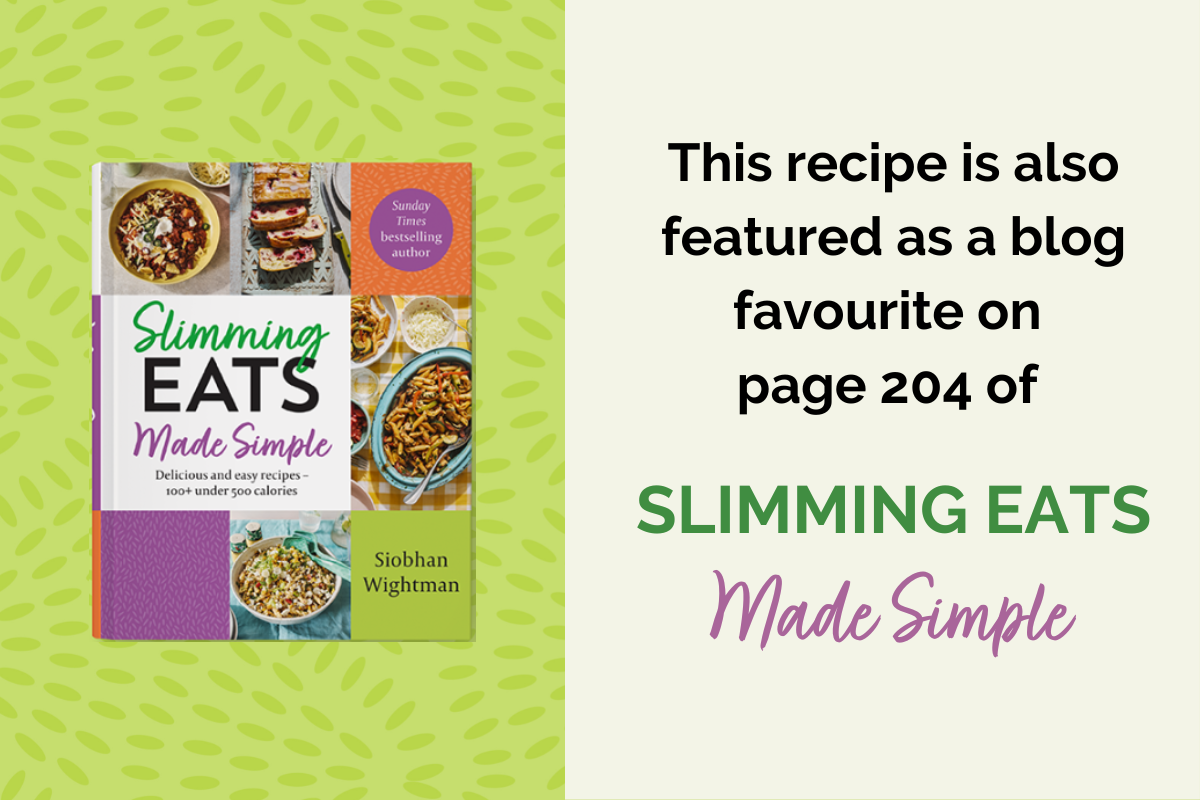 This recipe is also found in the Slimming Eats Made Simple cookbook as one of the 15 bonus blog favourites. You can get it from all Major Retailers including Amazon
As an Amazon Associate and member of other affiliate programs, I earn from qualifying purchases.
Cheeseburger Recipes
It may not be much of a surprise that we love cheeseburgers in my house. I've already brought you these amazing recipes below:
That list just wouldn't seem complete without adding to it a Cheeseburger Pasta recipe.
It's actually a pasta recipe that's pretty popular this side of the Atlantic and this is my healthier, delicious take on it.
The Perfect Cheeseburger
First, no cheeseburger would be complete without the burger part and for that, I use extra lean beef, we also have to have some onion and good seasoning, plus the ultimate ingredients - Worcestershire Sauce.
Usually a Cheeseburger has ketchup, but we want this slightly healthier, so instead, I use fresh chopped tomatoes (I recommend fresh as they just taste so much better to canned which tend to be slightly acidic) and then some tomato paste.
To get that little bit of sweetness, I add a little bit of sukrin gold (you can use any sweetener of choice if you don't have this, or omit altogether if you prefer).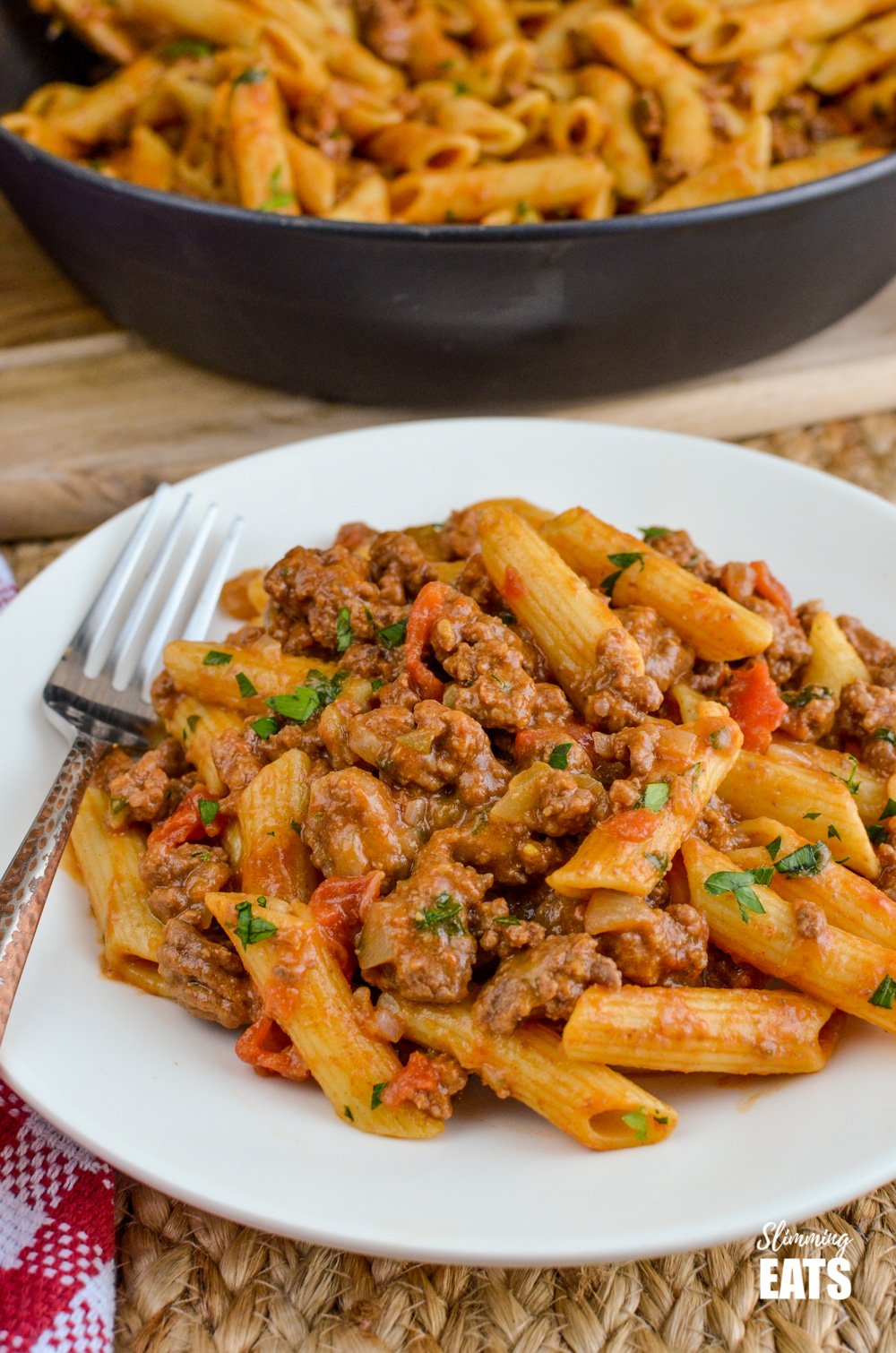 One Pot Pasta Recipes
Pasta is usually cooked in a large saucepan of boiling hot water, but as this is one-pot Cheeseburger Pasta, we are adding the pasta straight into the pan with the beef and for flavour, I add chicken stock, rather than water.
Ensure you do not have the heat to low, the idea is for the liquid to bubble and as the pasta cooks, the liquid is evaporates into a sauce that just coats all the ingredients. If you have the pot on too low a heat, the pasta will just sit in water and not do anything.
Best Cheese for a Cheeseburger
Usually this side of the Atlantic or in any popular fast food chains, the cheese you get on a burger is a highly processed cheddar cheese slice.
I prefer to use real cheddar in this recipe. However most of our cheddar here in Canada is colour with Annatto to give it that orange/yellow colour. My favourite brand is Baldersons Extra Old Cheddar which I get from costco.
The cheddar once added does something magical. One it starts to melt, along with the starch from the pasta in the same pan, it coats everything in a velvety kind of creamy sauce that is just delicious.
If you want the more orange/yellow colour you might want to swap for a cheese like Red Leicester instead.
Pickles (Gherkins) on a Cheeseburger.
You just can't have a Cheeseburger without some pickles (gherkins), don't be put off adding them to this dish, they really do give it an amazing flavour.
Of course if you really do hate them, by all means, leave them out, but personally, those pickles are so darn good in this.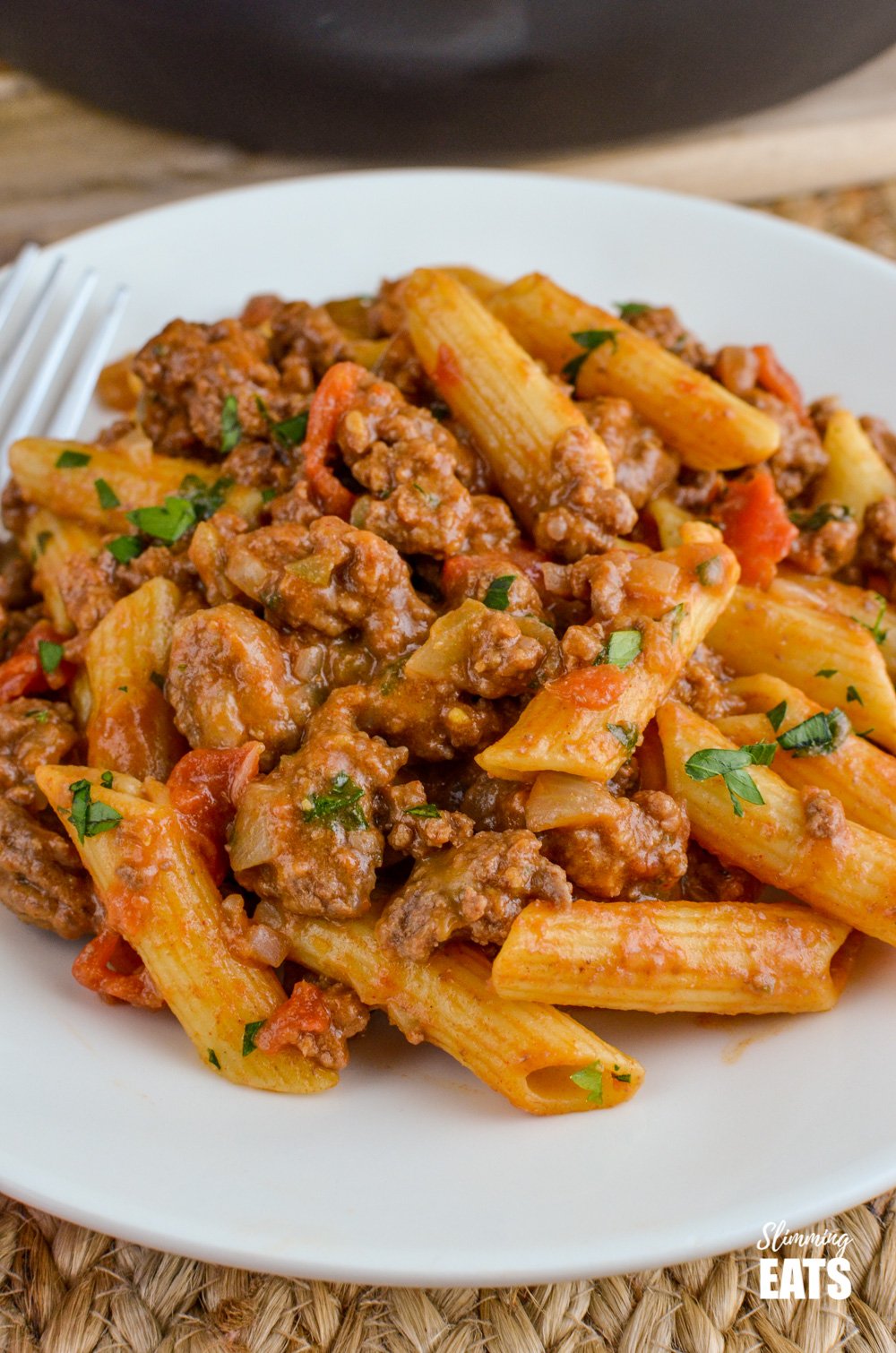 Love One Pot dishes? Check out these other amazing recipes:
or head on over to my Full Recipe Index with over 850 delicious Slimming Eats and Weight Watchers recipes all fully searchable by meal type, ingredients etc.
How can I add a more vegetables to this Cheeseburger Pasta?
I pair this up with a mixed salad, just a big bowl of whatever salad items I have in the fridge and serve it up in the middle of the table for everyone to help themselves to.
Baby greens, spinach, crisp lettuce, cucumber, tomatoes, radishes, shredded carrots, beetroot, onion, peppers, whatever you have is perfect for a salad.
and if you really don't fancy anything else with this, that is perfectly find to. Ideally we should add a ⅓ speeds where possible to our meals, but it isn't compulsory, just make sure you balance out the rest of your meals instead.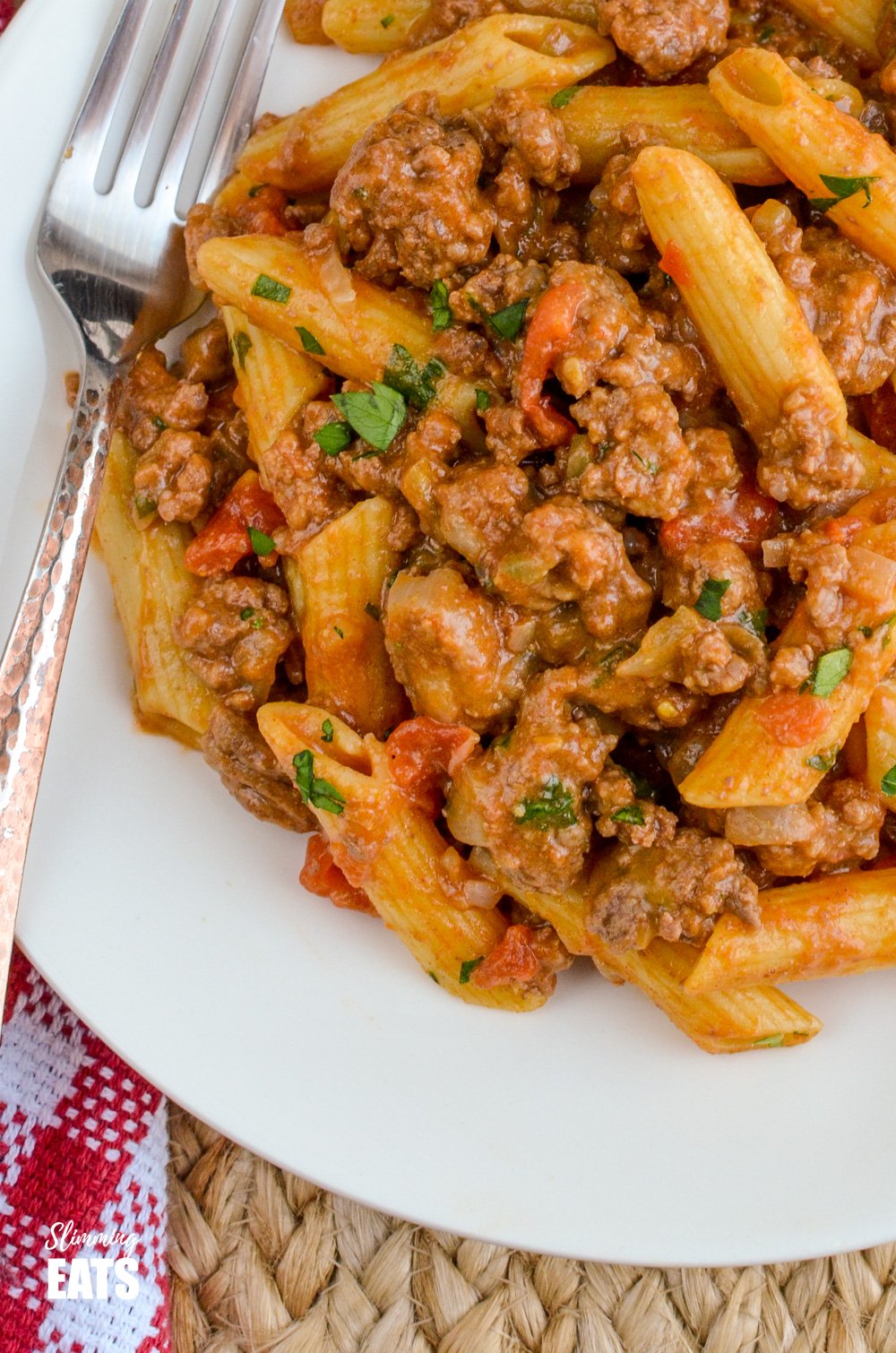 ---
Let's Connect!
One Pot Cheeseburger Pasta
One Pot Cheeseburger Pasta - the best pasta dish you will make this year PERIOD!!
Ingredients
455g (1lb) of extra lean ground beef
1 onion, finely chopped
2 medium fresh tomatoes, peeled and chopped
2 tbs of tomato paste
1 tsp of paprika
½ tsp of onion powder
½ tsp of garlic powder
½ tsp of mustard powder
pinch of salt and black pepper
½ tbs of Worcestershire sauce
1 tbs of sukrin gold (or another sweetener of choice)
300g (10.5oz) of uncooked penne pasta (or other pasta of choice)
3 cups (720ml) of chicken stock + 1 additional cup (240ml)
2-3 tbs of chopped pickles. 
120g (4oz) of cheddar (4xHEa's) - reserve a little for sprinkling on top once cooked
fresh chopped Italian parsley
Spray oil
Instructions
Add to a small bowl the paprika, garlic powder, onion powder, mustard powder, salt and black pepper and mix to combine.
Spray a frying pan over a medium-high heat with spray oil, add the ground beef and onion and cook until brown.
Add the spices, tomatoes, tomato paste, Worcestershire sauce and sukrin and mix to coat.
Stir in the penne pasta.
Add the stock, bring to a boil, reduce heat slightly and allow to bubble for approx 12-14 minutes until pasta is cooked (add in more stock from the additional cup of stock if needed).
Add chopped pickles and cheddar and stir until sauce is velvety and coats everything in the pan.
Sprinkle with fresh chopped Italian parsley and the reserved cheddar.
Enjoy with a side salad and some of my yummy burger sauce from my Big Mac Fakeaway
Notes
Please see below for full nutritional info and additional details about recipe:
Calories - scroll down to nutritional info box
WW Points and other Slimming or Weight Loss programs -   due to plans regularly changing and updating, we recommend calculating with the official tools you get as a member to those plans to ensure accuracy of values. 
If you wish to share this recipe, then please do so by using the share buttons provided at top of this post.
DO NOT COPY AND/OR PASTE FULL RECIPES OR SCREENSHOTS OF ANY CONTENT FROM SLIMMING EATS TO ANY SOCIAL MEDIA OR WEBSITE, IT IS STRICTLY PROHIBITED.
ALL IMAGES AND CONTENT ON SLIMMING EATS ARE COPYRIGHT PROTECTED
Nutritional information etc are an estimate and are to be used for informational purposes only. Ingredients can vary in values from brand to brand and therefore it would be impossible to give accurate information. It is always advised that you calculate values yourself by the ingredients you use and the tools provided to you as a member of the programme you are following.
It is the responsibility of the Reader to assure the products or ingredients they use in any recipes from Slimming Eats are allergen-free (gluten-free, egg-free, soy-free and/or dairy-free, for example). Slimming Eats assumes no liability for inaccuracies or misstatement about products, opinions or comments on this site. 
Check Legal section, for Full Disclaimer, Disclosure and Privacy Policy.
Recommended Products
As an Amazon Associate and member of other affiliate programs, I earn from qualifying purchases.
Nutrition Information
Yield

4
Serving Size

1 SERVING
Amount Per Serving
Calories

596
Total Fat

17.9g
Saturated Fat

9.4g
Cholesterol

97.8mg
Carbohydrates

60.6g
Fiber

6.3g
Sugar

6.7g
Protein

45.1g
Nutritional information is an estimate and is to be used for informational purposes only. Ingredients can vary greatly from brand to brand and therefore it would be impossible to give accurate information.
Disclosure: This post may contain affiliate links. As an Amazon Associate and member of other affiliate programs, I earn from qualifying purchases. We are a participant in the Amazon Services LLC Associates Program, an affiliate advertising program designed to provide a means for us to earn fees by linking to Amazon.com and affiliated sites." Check Legal section, for Full Disclaimer, Disclosure and Privacy Policy.