This recipe is gluten free, vegetarian, Slimming World and Weight Watchers friendly
Slimming Eats Recipe
Extra Easy - 1.5 syns plus 1 HEa per serving
Green - 1.5 syns plus 1 HEa per serving
Mushroom Risotto
Ingredients
1 onion, finely chopped
4 cups (960ml) of chicken or vegetable stock
270g (9.5oz) of Arborio Rice
200g (7oz) of mushrooms (I used baby portobello mushrooms), finely chopped
1 small package of dried Porcini mushrooms
1 tablespoon of butter (5 syns)
2 cloves of garlic (crushed)
thyme
salt and black pepper
120g (4oz) of Parmesan Cheese(4 HEa's)
Instructions
Add the dried porcini mushrooms to a small bowl, cover with boiling hot water and allow to soak for 20 mins.
Drain and reserved liquid
Place all the stock in a small saucepan, along with the liquid from the dried porcini mushrooms with a sprinkling of fresh thyme and keep on a low heat.
Finely chop the porcini mushrooms
Melt the butter in a frying pan and add the onion, garlic and mushrooms (including porcini mushrooms) and cook until softened and golden. Add a little of the stock if needed to prevent from sticking. Season with some black pepper.
Add the Arborio rice and mix thoroughly with the onion, garlic and mushrooms.
Add 1 ladle of stock and continuously stir making sure you scrape all the flavouring from the bottom of the pan as you do so, as the stock reduces, add another ladle of stock, and repeat the process. until stock is almost gone.
Before adding the last couple of ladles of stock, stir in ¾ of the parmesan cheese and mix thoroughly.
Serve among 4 plates and top each serving with the remainder of parmesan cheese.
Enjoy!!
The recipe above has been calculated for Slimming World, however for those of you following the Weight Watchers plan or another calorie controlled type diet. Below is the approx. nutritional information (using calorie count recipe analysis)
Approx. NUTRITIONAL INFORMATION

per serving

Calories

407

Fat

2.5g

Saturated Fat

6.3g

Total Carbohydrate

62.1g

Dietary Fibre

3.3g

Sugars

2.8g

Protein

              17.0g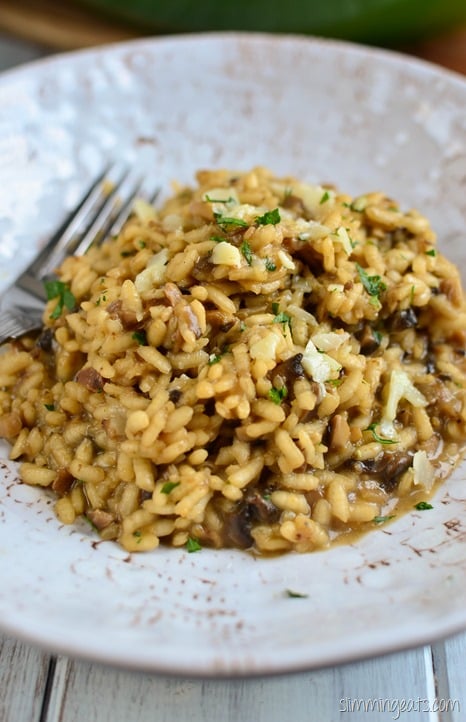 Disclosure: This post may contain affiliate links. As an Amazon Associate and member of other affiliate programs, I earn from qualifying purchases. We are a participant in the Amazon Services LLC Associates Program, an affiliate advertising program designed to provide a means for us to earn fees by linking to Amazon.com and affiliated sites." Check Legal section, for Full Disclaimer, Disclosure and Privacy Policy.