A delicious fresh and homemade Chicken, Feta and Strawberry Salad - a perfect meal for a hot summers day
Salad's do not need to be boring. Long gone are the days, when a salad involved a bowl of greens and not much else. While greens are healthy, fresh and delicious. They are not exactly inspiring on their own, right?
When I was younger, a salad would involve iceberg lettuce, cucumber, tomatoes and salad cream and that was it. Certainly wouldn't be my first choice now, if that is all a salad had to offer. Don't get me wrong, there is nothing wrong with all those ingredients, and occasionally I will still have something like that as a side to a main meal. But if the salad is my meal, I want it to be delicious, with lots of different ingredients, a flavour explosion in each mouthful.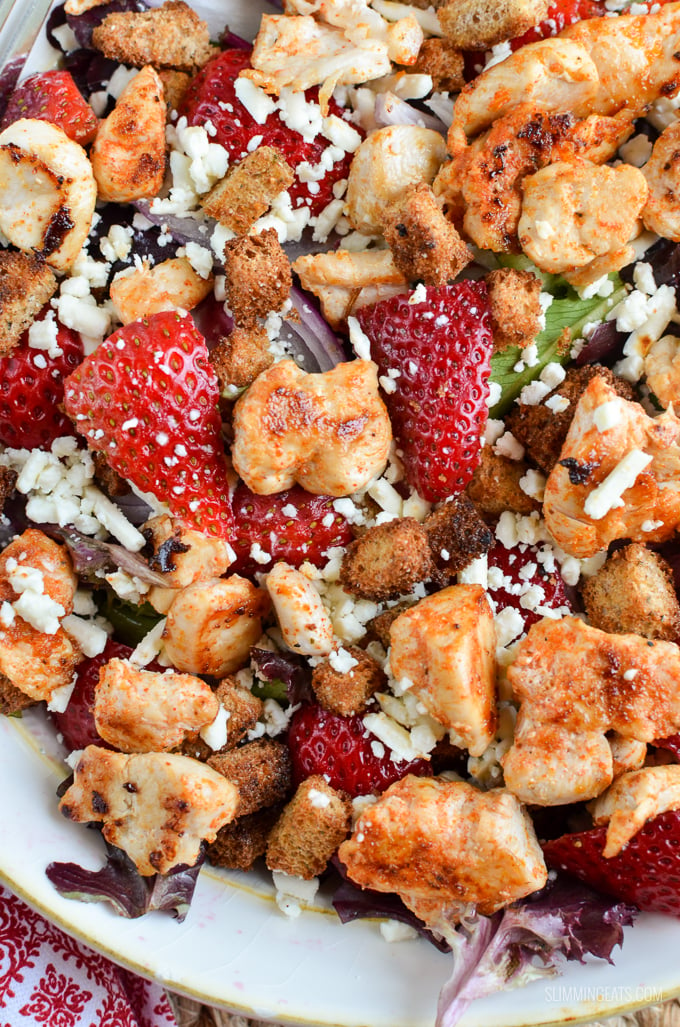 This Chicken, Feta and Strawberry salad is just that - a complete meal, with lots of little different bites of yumminess, It is salads like this that I LOVE.
Seasoned chicken breast, homemade whole wheat croutons (using my HEb), ripe strawberries, delicious feta cheese and red onion with some baby lettuce leaves. If all those ingredients don't sound good enough, there is even a homemade raspberry vinaigrette - a perfect combination in this Chicken, Feta and Strawberry Salad.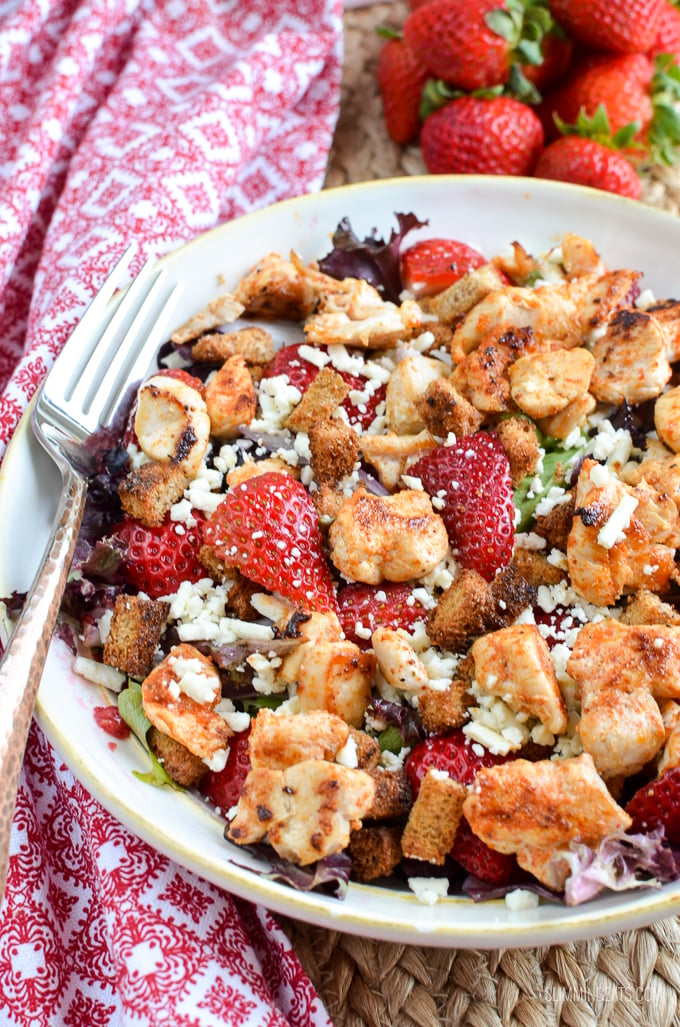 I think this salad covers every taste bud going. Nothing boring or uninspiring here, just fresh, delicious ingredients. You have the protein, the sweetness, the crunch, the cheese and the healthy greens, what more could you ask for?
This Chicken, Feta and Strawberry Salad would be perfect to make the night before to take to work for lunch in a tub, make the dressing and add into a little separate container and you can then add to the salad when ready to eat to keep it nice and fresh. Double or triple the recipe and this would be perfect to take on days out or for a picnic to share with some other great picnic food.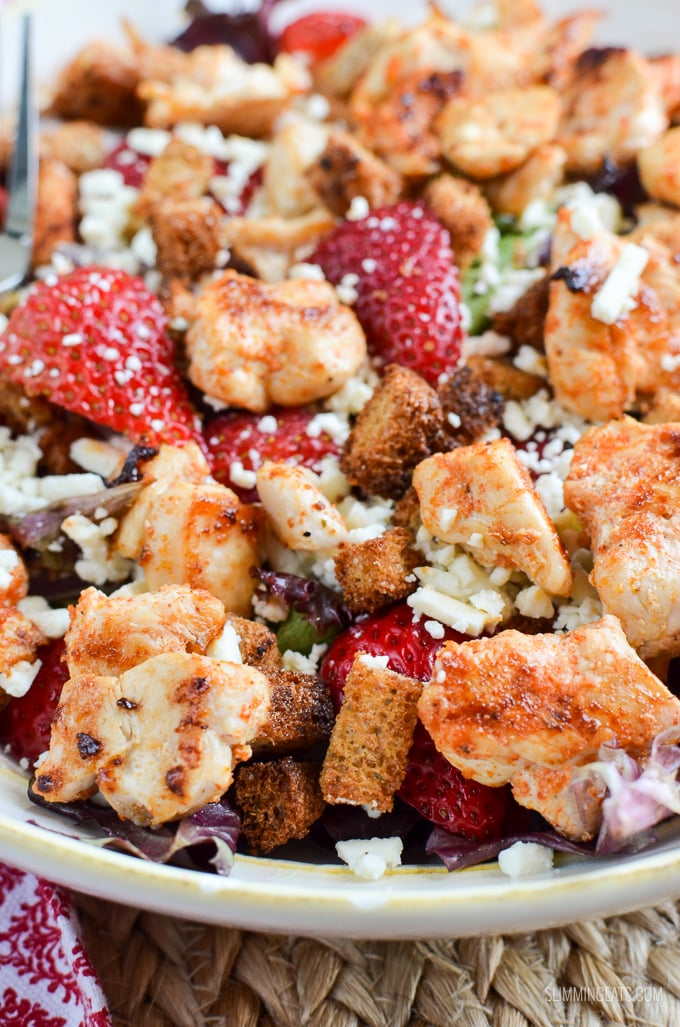 ---
Looking for some other delicious Salad recipes to enjoy? Check out these:
With many more delicious recipes to be found in my full Recipe Index
---
How beautiful are all the colours in this Chicken, Feta and Strawberry Salad?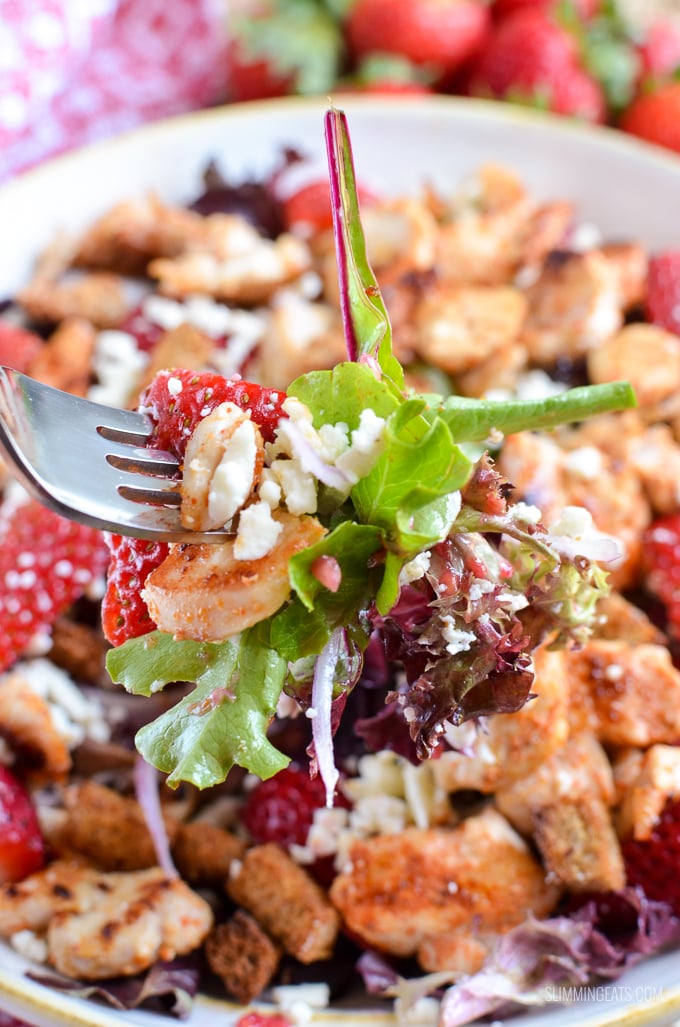 Chicken, Feta and Strawberry Salad
This recipe is Slimming World and Weight Watchers friendly
Extra Easy - 1 HEa, ½ HEb and 2.5 syns 
Original/SP -  1 HEa, ½ HEb and 2.5 syns 
WW Smart Points - 12
Ingredients
1 chicken breast, uncooked and sliced into small strips
½ tsp of paprika
salt and black pepper
approx 12 Strawberries,
approx 4 cups of mixed spring greens (baby greens)
1 small red onion, sliced
90g/3oz of Feta Cheese, cubed (2xHEa's)
60g of crustless wholemeal bread (1xHEb), chopped into small cubes
Pinch of garlic powder
Pinch of salt
spray oil
For the dressing
⅓ cup of raspberries (1 syn, because they are mashed/pureed)
1 tbs of maple syrup -  2 syns (or use honey - 3 syns)
3 tbs of raspberry vinegar (or use a red wine vinegar if you cant get this)
1 tsp of extra virgin olive oil - 2 syns
a little salt and black pepper
Instructions
Preheat an oven to 200c or 400f
Add the cubed wholemeal bread to a bowl, with the pinch of salt and pinch of garlic powder, spray with spray oil, spread out on a baking tray and place in the oven and bake till crisp and golden (it doesn't taken long, so keep an eye on this - approx 6-8 mins)
Add the chicken strips to a bowl with the paprika and and some salt and black pepper, toss to coat in the seasoning.
Spray a frying pan over a medium high heat with spray oil and fry till golden and cooked through, remove and set aside.
Add the raspberries, vinegar, maple syrup, and extra virgin olive oil to a large bowl, season with a little salt and black pepper and mash with a fork until you have a smooth dressing. (or you can add to a mini blender if you prefer)
Add in the baby mixed leaves and toss to coat in the dress.
Add the baby leaves to a two bowls.
Scatter each bowl with croutons, red onion slices, strawberries, the cooked chicken and the feta.
Serve and enjoy!!
Notes
Healthy Extra A servings of cheese can vary from the UK to the USA, so adjust accordingly. 
Nutritional information is an estimate and is to be used for informational purposes only.
Ingredients can vary greatly from brand to brand and therefore it would be impossible to give accurate information. Also double check syn values of sinned ingredients as different brands can vary. 
All images and content on Slimming Eats are copyright protected.
If you wish to share this recipe, then please do so by using the share buttons provided. Do not screenshot or post recipe or content in full
Nutrition Information
Yield

2
Serving Size

1 serving
Amount Per Serving
Calories

469
Total Fat

17.4g
Saturated Fat

8.6g
Cholesterol

40.1mg
Sodium

795mg
Carbohydrates

42g
Fiber

10.8g
Sugar

15.5g
Protein

40.6g
Disclosure: This post may contain affiliate links. As an Amazon Associate and member of other affiliate programs, I earn from qualifying purchases. We are a participant in the Amazon Services LLC Associates Program, an affiliate advertising program designed to provide a means for us to earn fees by linking to Amazon.com and affiliated sites." Check Legal section, for Full Disclaimer, Disclosure and Privacy Policy.