Load this Syn Free Healthy Potato Salad on your plate. It's a perfect side for barbecues, picnics and more.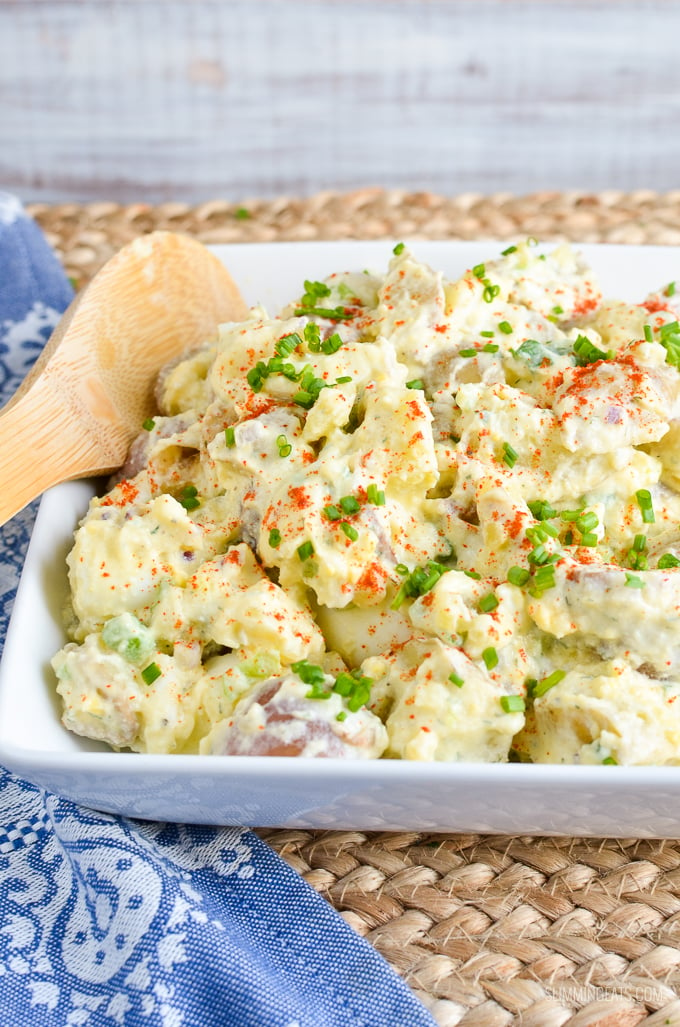 Potato Salad is a must have dish in the summer. It  goes with anything or if you are like me, you will eat potato salad just as it is from a bowl.
Skip back a few years and any potato salad I would make would consist of lots of creamy mayonnaise and while I still make it like that and syn a small serving, occasionally you want a guilt free version that you don't have to worry about using your syns on and this low syn healthy potato salad ticks all the boxes.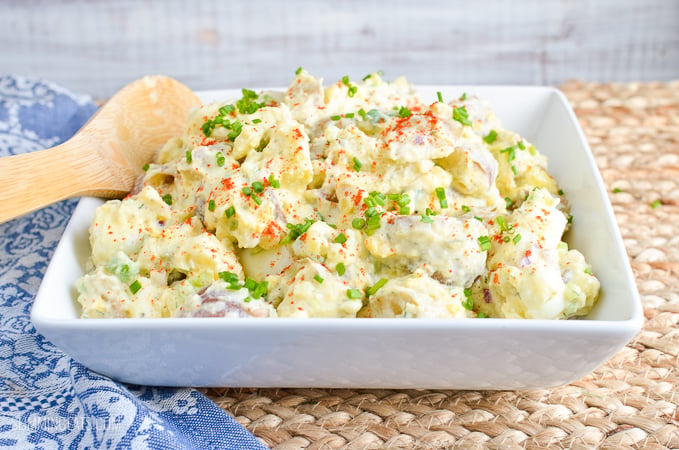 When creating a syn free version, it was very important that it tastes good, sometimes syn free versions of dishes are lacking something and just don't have that taste you expect and the most important part was getting that kind of creaminess to the dish.
Yoghurt just didn't cut it for me, and neither did quark, but cottage cheese on the other hand, has a much creamier flavour to it when blended.
Now first let me add, I am not a fan of cottage cheese as it comes, I think it is those curds that put me off, although I have fast become accustomed to Poutine since moving to Canada and that contains cheese curds, except those ones are cheesy melty goodness.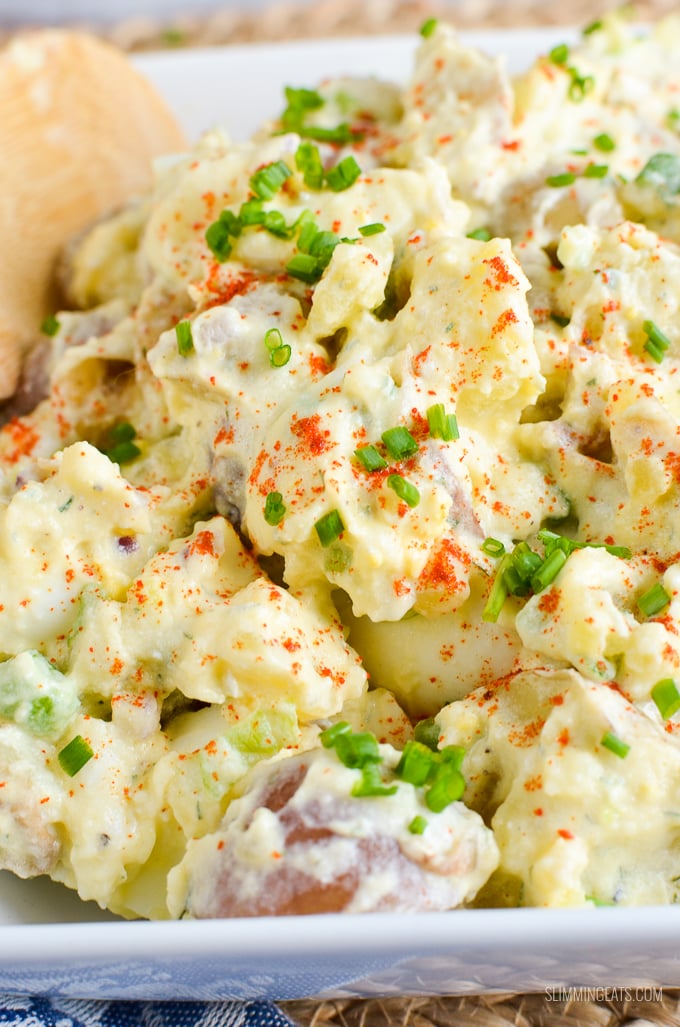 As well as the blended cottage cheese, you need to get a good balance of seasoning and I loved the flavour this potato salad with the addition of some mustard, onion and garlic powder, plus a little sukrin:1 to balance the little bit of tartness from the lemon juice. Sukrin is my first choice of natural sweeteners, mainly because it has no after taste.
Once made up, keep in a lidded tub and this should keep for a couple of days. Although when I have made this it has been gone in a day, especially in the summer when we are barbecuing, perfect with grilled meats and some corn on the cob - yum!!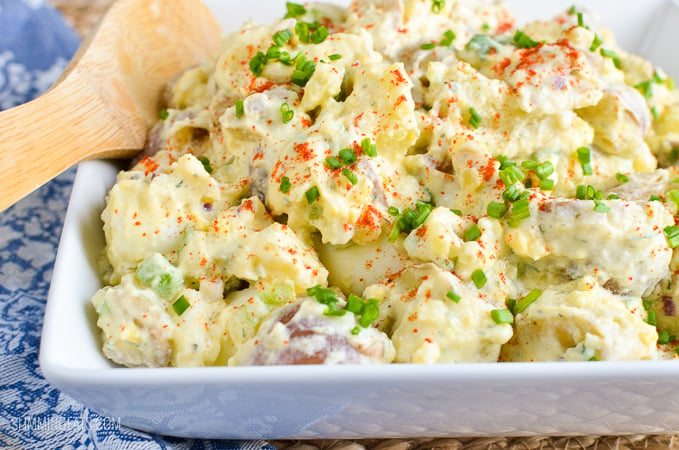 Looking for some other salads like this for the summer, picnics or barbecues? Check out these: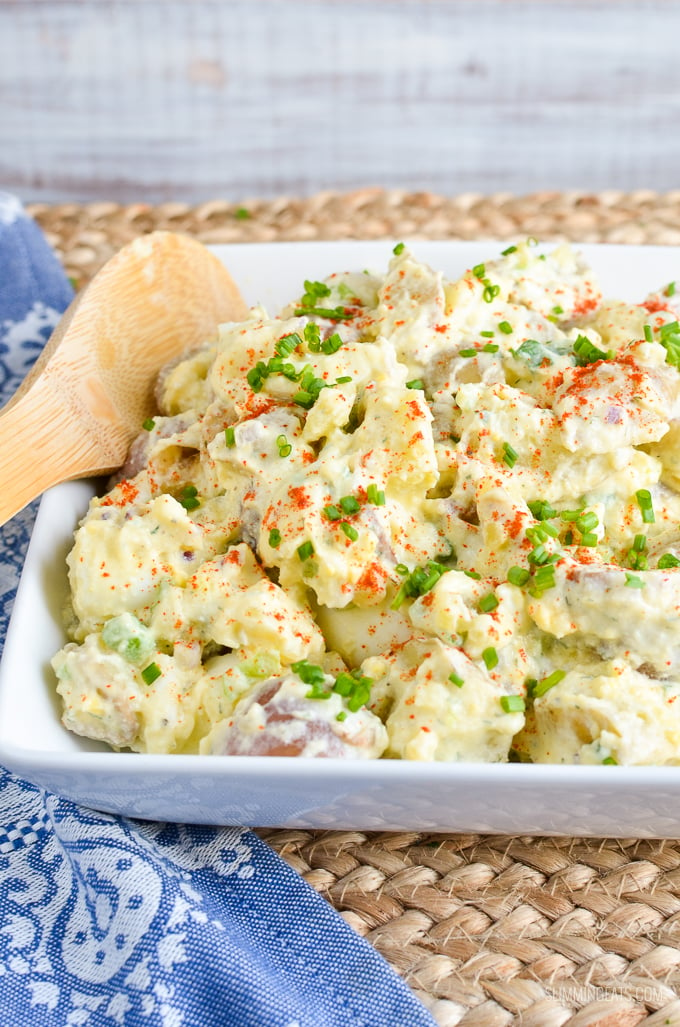 Print
Syn Free Potato Salad
Yield 4-6 servings
This recipe is gluten free, vegetarian, Slimming World and Weight Watchers friendly
Extra Easy - syn free per serving
Green/Vegetarian - syn free per serving 
WW Smart Points - 3
Ingredients
450g (1lb) of baby potatoes, halved (I used yellow fleshed)
olive oil spray
3 hard boiled eggs, peeled and quartered
1 cup of fat free cottage cheese
½ small red onion, sliced
2 spring onions, chopped
juice of half a lemon
1 tbs of sukrin:1 (or other sweetener of choice)
½ tsp of salt
½ tsp of mustard powder
¼ tsp of onion powder
¼ tsp of garlic powder
¼ tsp of dill
¼ tsp of black pepper
pinch of paprika
fresh chives
Instructions
Cut the potatoes in half and add to a saucepan of  salted water, bring to the boil and simmer until tender. You want them to still have a slight bite to them.
Drain the water, and set aside to cool.
Add the cottage cheese to a blender and blend till smooth (can use a tall jar and immersion stick blender)
Add the cottage cheese to a large bowl, add the lemon juice, sukrin, salt, mustard powder, garlic powder, onion, dill and black pepper and whisk to combine.
Spray the potatoes with olive oil spray and then add the potatoes (peel if you don't like the skins, I like to leave them on), chopped boiled egg, onion and spring onions in the cottage cheese mix and toss all together.
Season with more salt and black pepper if needed.
Sprinkle with a little paprika and some chopped chives.
Enjoy
Notes
Nutritional information is an estimate and is to be used for informational purposes only.
Ingredients can vary greatly from brand to brand and therefore it would be impossible to give accurate information. Also double check syn values of sinned ingredients as different brands can vary. 
All images and content on Slimming Eats are copyright protected.
If you wish to share this recipe, then please do so by using the share buttons provided. Do not screenshot or post recipe or content in full
Nutrition Facts
Serving Size 1 serving
Amount Per Serving

Calories 147

% Daily Value

Total Fat 3.6 g

6%

Saturated Fat 1.2 g

6%

Cholesterol 142 mg

47%

Sodium 557 mg

23%

Total Carbohydrates 14.5 g

5%

Dietary Fiber 5 g

20%

Sugars 3.5 g

Protein 13.9 g

28%
* Percent Daily Values are based on a 2,000 calorie diet. Your daily values may be higher or lower depending on your calorie needs.
Disclosure: This post may contain affiliate links. As an Amazon Associate and member of other affiliate programs, I earn from qualifying purchases. We are a participant in the Amazon Services LLC Associates Program, an affiliate advertising program designed to provide a means for us to earn fees by linking to Amazon.com and affiliated sites." Check Legal section, for Full Disclaimer, Disclosure and Privacy Policy.