Treat yourself to a Mini Carrot and Orange Cake - a perfect treat and not to many syns.
Occasionally I fancy cake, and when I do, it becomes a bit of an experiment in the kitchen.
First I grab a few ingredients that I think might work together and then I jot down some combinations and work out the syn value of what a serving would be, before I attempt to make it. The reason I do this, is there is nothing worse than making cake only to discover the syn value is way too high for a serving and then you do not feel like you can even enjoy it.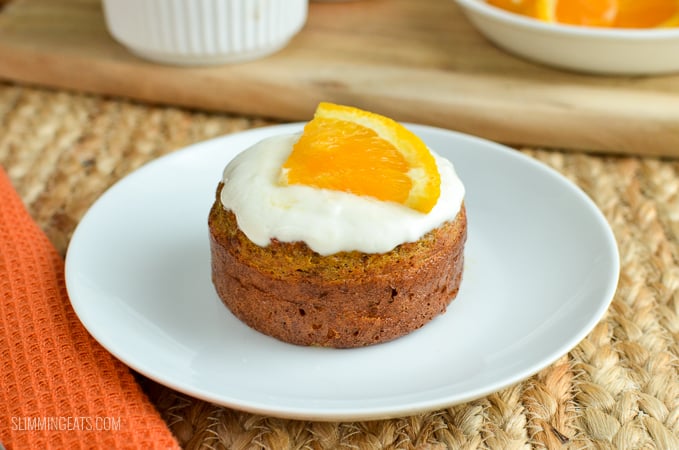 I must admit right here, that these experiments don't always work. When you are testing and trying out new recipes as a food blogger, there are times when recipes fail and of course I will not post anything on here that hasn't passed the taste test of my family.
Creating Slimming World friendly cakes can be really hard, because often when trying to keep syns low, they just do not taste very good. I have definitely had more fails with sweet dishes than I have savoury let me tell you.
This Carrot and Orange Cake however was perfect, it hit the spot and tasted good and most importantly the texture was like cake and not eggy like some low syn cakes can be.
From various experimenting with cake recipes, I have started to got used to whether the cake batter looks right before baking, if it doesn't look right I can almost always tell it needs something else. So those fails are becoming a lot less frequent which is great.
I can't tell you the amount of eggs and ingredients I wasted when I first started my Slimming World journey back in 2009 trying to make a low syn cake. It was very disappointing.
So when the craving hit me today, I knew I wanted carrot cake of some description - carrot is a speed food after all and that the led me to the oranges in the fruit bowl. Carrot and Orange Cake just seemed like a perfect combination and so that was exactly what I made.
Sukrin Gold was my choice of sweetener for these Carrot and Orange Cakes, it is natural and has no aftertaste. Feel free to use another sweetener of choice, but obviously these only past the taste test with sukrin, I haven't tried with any other sweeteners.
Next was the flour base. I wasn't making an kind of cake that was just eggs. So I settled on some All Bran I had in the pantry and some coconut flour. Coconut flour, is such a great ingredient for cakes and you need much less of it compared to a regularly flour, because it is so fibrous. I personally don't like it as a flour on it's own, as I find it makes the cake texture a bit odd, but combined with something else, it is perfect.
Test a few different Coconut flours till you find one you like, some can taste a bit strong or can be grainy. Bob Mills, Trader Joes or Sukrin are my preferred brands of coconut flour, some can have a texture that is too grainy or the taste is not comparable. Coconut flour, can be purchased at most grocery stores nowadays or Amazon so it is readily available.
Then once baked and cooled, I just think cake has to have a topping, so I add a bit of vanilla Greek yoghurt mixed with low fat cream cheese and orange zest and it makes a perfect frosting for these Carrot and Orange Cakes. They look so pretty with a little slice of fresh orange.
---
Love low syn cakes and would like some others to try? Check out these recipes:
and don't forget to check out my FULL RECIPE INDEX with over 500+ delicious Slimming World Recipes
---
Carrot and Orange Cake
This recipe is vegetarian, Slimming World and Weight Watchers friendlyExtra Easy - 3 syns per cakeOriginal/SP - 3 syns per cake (use quark instead of yoghurt for topping)WW Smart Points - 3
Ingredients
70g (2.4oz) of finely grated carrot
30g (1oz) of All Bran 
1 tbs of Coconut flour 
¾ tsp of baking powder 
4 tbs of hot water
juice and zest of 1 orange 
½ tsp of cinnamon
pinch of nutmeg
2 tbs of sukrin gold (or other sweetener of choice)
2 eggs
spray oil
For the topping
5 tbs of vanilla yoghurt (or quark)
1 tbs of low fat cream cheese 
little zest of orange
Instructions
Preheat oven to 200c or 400f
Add the all bran to a bowl, pour in 4 tbs of hot water and leave for a few minutes to soften.
Add in the cinnamon, nutmeg, sukrin gold, baking powder and coconut flour
Whisk in the eggs, carrots, and juice and zest of orange.
Spray 3 ramekin dishes with spray oil.
Divide the mixture equally into each dish.
Bake for 30 mins, until a skewer entered into the centre of the cake comes out clear.
Allow to cool.
Mix the yoghurt and cream cheese in a bowl, top each cake with the topping and a small slice of fresh orange.
Enjoy!!
Notes
If using quark for topping you will need to sweeten with your choice if sweetener.
Low Fat Cream Cheese (I use Philadelphia), but other brands can vary in syns, so check the syn value of the one you use. 
Nutritional information is an estimate and is to be used for informational purposes only.
Ingredients can vary greatly from brand to brand and therefore it would be impossible to give accurate information. Also double check syn values of sinned ingredients as different brands can vary. 
All images and content on Slimming Eats are copyright protected.
If you wish to share this recipe, then please do so by using the share buttons provided. Do not screenshot or post recipe or content in full
Nutrition Information
Yield

3
Serving Size

1 cake
Amount Per Serving
Calories

119
Total Fat

4g
Saturated Fat

1.3g
Cholesterol

125mg
Sodium

227mg
Carbohydrates

12.8g
Fiber

4.9g
Sugar

2.2g
Protein

7.7g
Disclosure: This post may contain affiliate links. As an Amazon Associate and member of other affiliate programs, I earn from qualifying purchases. We are a participant in the Amazon Services LLC Associates Program, an affiliate advertising program designed to provide a means for us to earn fees by linking to Amazon.com and affiliated sites." Check Legal section, for Full Disclaimer, Disclosure and Privacy Policy.