What to you do when you have a sad and lonely ripe banana sitting in the fruit bowl, wanting to be used? Make these Low Syn Banana Chocolate Chip Muffins - that's what - They are delish!!
Now matter how much we try and get through all the bananas before one over ripens, we are always left with one that sit's in the fruit bowl and no one wants to eat.
I have tried all the tricks in the book to stop them ripening too fast and it doesn't matter, I am always left with one. So usually it gets used up into some kind of cake or muffin, because one thing my kids love, is banana bread or muffins.
I already have this yummy Banana Chocolate Chip Loaf and these Mini Banana and Raisin Loaf, as well as this Banana Baked Oatmeal and Banana Doughnuts But this time I wanted to make some handy portable muffins.
Remember any time fruit is cooked, pureed or blended it becomes syns, as fruit only in raw form is syn free. The banana I used was 100g which is ? syns.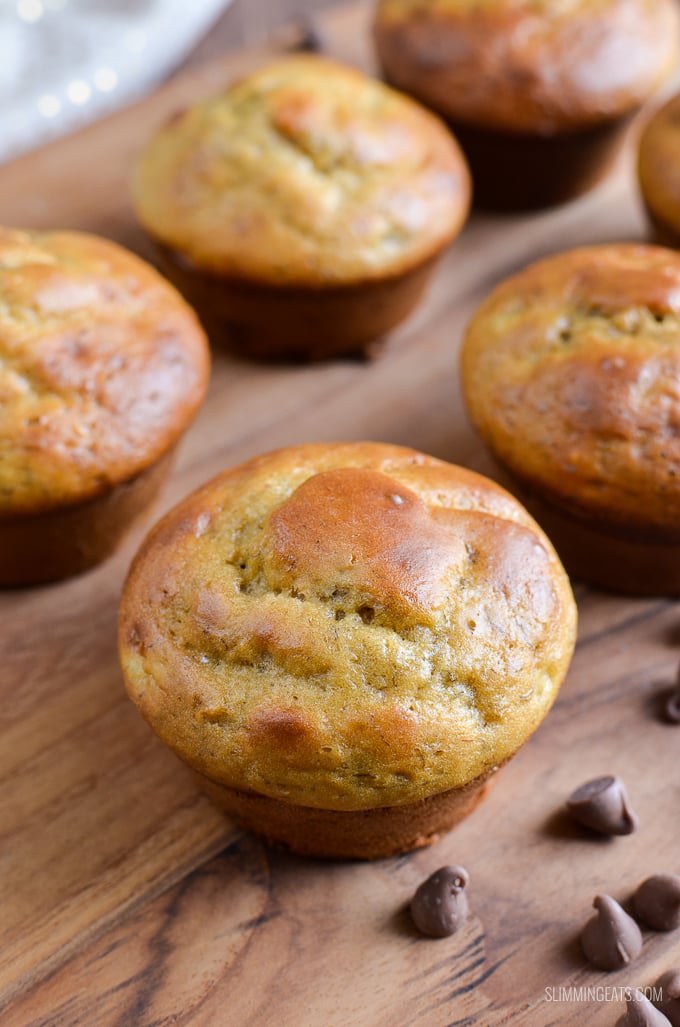 To sweeten the Banana and Chocolate Chip Muffins I like to use Sukrin: 1 which is a great natural tasting sweetener that can be ordered on can be ordered on Amazon. I have tried many different types of sweetener in the past trying to find one that is natural and tastes natural and I think this is it. I usually just use some syns on honey or maple syrup, but it's nice to know I can now use this and reduce the syns even further. Instead of sukrin you can use any sweetener of choice But I can't recommend sukrin enough, it tastes so good in baked goods and is by far the best tasting natural sweetener I have found.
Usually when using more than a tablespoon of sweetener it should be syns at 0.5 syns per tablespoon as per the new guidelines about sweeteners from Slimming World. However as 1 muffin has less than a tablespoon, I haven't synned the sweeteners in this recipe.
These are great with a cuppa, they should freeze fine too.  I usually just pop anything like this into a freezer bag and take one out as I want it, if they ever make it to the freezer that is.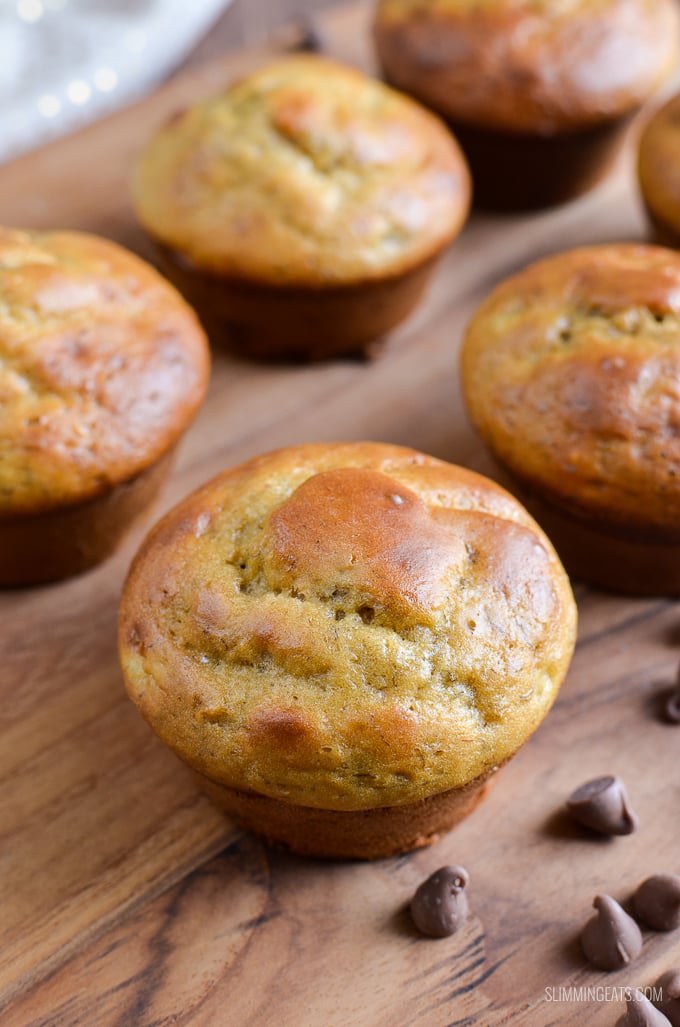 Print
Low Syn Banana Chocolate Chip Muffins
Yield 9 muffins
This recipe is vegetarian, Slimming World and Weight Watchers friendly
Extra Easy  - 3 syns per muffin
Green/Vegetarian - 3 syns per muffin
WW Smart Points - 2
Ingredients
100g (3.5oz) of plain flour - 17.5 syns
100g (3.5oz) of ripe banana - 4.5 syns
15g (1 tbs) of milk or dark chocolate chips - 4 syns
1 tsp of vanilla extract
½ cup (8 tbs) of sukrin: 1
1 tsp of baking powder
½ tsp of baking soda
3 eggs
spray oil
Instructions
Preheat oven to 180/350f (gas mark 4)
Add the flour, baking powder and soda to a bowl and mix to combine
In a separate bowl mash the banana, add the sukrin:1 and mix together. Whisk in the eggs
Add the wet ingredients to the dry ingredients and mix till all combined.
Add the chocolate chips and mix
Spray a muffin tray with spray oil
Spoon the mixture into 9 compartments of the baking tray.
Place in the oven and bake for 25 mins, muffins should be golden and skewer entered into the centre should come out clean.
Enjoy with some fruit and a cuppa. 
Notes
The syns for the baking powder and soda are negligible at less than 0.5 syns for them both and are covered in the rounding up of syns. 
Nutritional information is an estimate and is to be used for informational purposes only.
Ingredients can vary greatly from brand to brand and therefore it would be impossible to give accurate information. Also double check syn values of sinned ingredients as different brands can vary. 
All images and content on Slimming Eats are copyright protected.
If you wish to share this recipe, then please do so by using the share buttons provided. Do not screenshot or post recipe or content in full
Nutrition Facts
Serving Size 1 muffin
Amount Per Serving

Calories 82

% Daily Value

Total Fat 2.3 g

4%

Saturated Fat 0.9 g

5%

Cholesterol 62.6 mg

21%

Sodium 171.3 mg

7%

Total Carbohydrates 23.2 g

8%

Dietary Fiber 0.5 g

2%

Sugars 2.5 g

Protein 3.5 g

7%
* Percent Daily Values are based on a 2,000 calorie diet. Your daily values may be higher or lower depending on your calorie needs.
Disclosure: This post may contain affiliate links. As an Amazon Associate and member of other affiliate programs, I earn from qualifying purchases. We are a participant in the Amazon Services LLC Associates Program, an affiliate advertising program designed to provide a means for us to earn fees by linking to Amazon.com and affiliated sites." Check Legal section, for Full Disclaimer, Disclosure and Privacy Policy.