Bread and Butter Pudding - this popular delicious British pudding, made slightly healthier with less sugar and wholemeal bread.
Traditional Bread and Butter Pudding
Traditional bread and butter pudding is pretty steep on the calories - and it's not surprising with all that bread, butter, sugar, raisins (sultanas), with eggs and cream or milk.
I remember the local bakery where I lived in Kent, had the most amazing bread and butter pudding you ever tasted. All the cakes would sit on display in the window, tempting you in. How could anyone resist?
Lighter Bread and Butter Pudding
So I decided to create a lighter version I can enjoy occasionally using wholemeal bread, yoghurt and eggs with a few other ingredients and it worked perfectly and totally satisfied the cravings.
It makes a pretty decent sized serving too, so if you want to lighten the calories even further, you could easily make this as a serves 2 and serve with a little light squirty cream. Yum!!
Can I use plain fat free yoghurt?
If you want to use plain fat free yoghurt and add some flavouring yourself, you can totally do that too. You may need to increase the granulated sweetener though to get that sweet taste and I recommend upping the vanilla extract a little bit. You can try it with different flavourings too if you want to experiment.
Best Wholemeal Bread to use for bread and butter pudding?
Definitely opt for a bread that is a few days old, otherwise it will be far too soft and fresh and disintegrate in the egg/yoghurt mixture.
You definitely want to opt for a low calories wholewheat/wholemeal bread too, some wholemeal bread can be over 100 calories for 1 slice which will really up the calories on this recipe. Aim for a loaf that is no more than 140 calories max for 2 slices of bread which is usually 60g of less.
Best dish for baking bread and butter pudding
I use a ceramic round oven dish that is approx 5inches in width, it's the perfect size for this bread pudding.
But it doesn't need to a round dish, you can use any shape so long as it is around a similar size for all the ingredients.
Certain dishes you may want to line with a sheet of parchment if you find food sticks. Just screw the parchment up into a tight bowl and it will make it easier to the line the shape of your dish. You can mist the parchment with a little spray oil too.
What to serving with Bread and Butter Pudding
Bread and butter pudding is one of those desserts you can enjoy just as it is with a nice cuppa (tea or coffee).
But it's also great with a little custard or light squirty cream (obviously these will add more calories so it's something to be mindful of). Like I mentioned earlier though the recipe makes a decent serving, so if you prefer it with something like icecream, cream or custard enjoy a smaller serving (½ of the bread pudding) which will really bring the calorie down for you.
More Slimming Eats desserts
Looking for some more desserts? Check out these:
or if you would like more recipe ideas - head on over to the FULL RECIPE INDEX where you will find over 900 delicious recipes and can search by ingredients, course, diet and more.
All with estimated calories and Slimming Eats and Weight Watcher Smart Points values.
---
LET'S CONNECT!!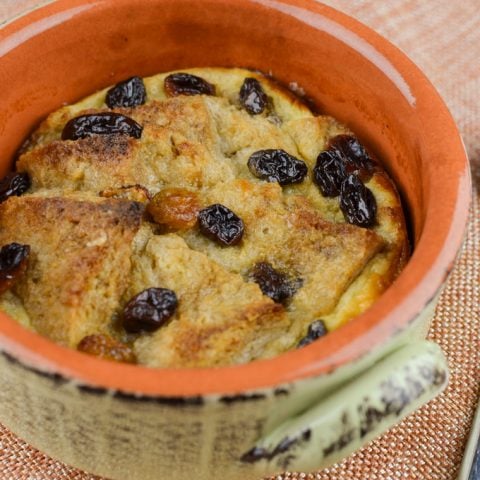 Wholewheat Bread and Butter Pudding
Bread and Butter Pudding - this popular delicious British pudding, made slightly healthier with less sugar and wholemeal bread.
Ingredients
60g (2oz) of low calorie whole wheat bread (couple of days old is best)
2 medium eggs
½ cup (120ml) of fat free Vanilla Yoghurt
½ tsp of vanilla extract
little lemon zest
10g (0.4oz) of sultanas or raisins
1 tablespoon of brown granulated sweetener (I use Erythritol)
Spray oil
Optional - pinch of cinnamon (add to egg mixture if using)
Instructions
Cut each slice of bread into 4 triangles
Place them in an oven proof dish overlapping.
Whisk together the eggs, yogurt, vanilla, lemon zest and ½ tablespoon of brown granulated sweetener
Pour this over the bread and leave to soak for about 20 mins until the bread absorbs the egg mixture.
Preheat oven to 180c, 160c fan, 350f (gas mark 4)
Sprinkle the soaked bread with the sultanas (or raisins), sprinkle with the other ½ tbs of brown granulated sweetener.
Spray over the top with spray oil
Place in the oven and bake for approx 30-40 mins, until nice and golden on top.
Enjoy!
Notes
Please see below for full nutritional info and additional details about recipe:
Calories - scroll down to nutritional info box
WW Points and other Slimming or Weight Loss programs -   due to plans regularly changing and updating, we recommend calculating with the official tools you get as a member to those plans to ensure accuracy of values. 
If you wish to share this recipe, then please do so by using the share buttons provided at top of this post.
DO NOT COPY AND/OR PASTE FULL RECIPES OR SCREENSHOTS OF ANY CONTENT FROM SLIMMING EATS TO ANY SOCIAL MEDIA OR WEBSITE, IT IS STRICTLY PROHIBITED.
ALL IMAGES AND CONTENT ON SLIMMING EATS ARE COPYRIGHT PROTECTED
Nutritional information etc are an estimate and are to be used for informational purposes only. Ingredients can vary in values from brand to brand and therefore it would be impossible to give accurate information. It is always advised that you calculate values yourself by the ingredients you use and the tools provided to you as a member of the programme you are following.
It is the responsibility of the Reader to assure the products or ingredients they use in any recipes from Slimming Eats are allergen-free (gluten-free, egg-free, soy-free and/or dairy-free, for example). Slimming Eats assumes no liability for inaccuracies or misstatement about products, opinions or comments on this site. 
Check Legal section, for Full Disclaimer, Disclosure and Privacy Policy.
Recommended Products
As an Amazon Associate and member of other affiliate programs, I earn from qualifying purchases.
Nutrition Information
Yield

1
Serving Size

1 SERVING
Amount Per Serving
Calories

329
Total Fat

10.6g
Saturated Fat

3.5g
Cholesterol

377mg
Sodium

443mg
Carbohydrates

35g
Fiber

3.4g
Sugar

13.6g
Protein

21.9g
Disclosure: This post may contain affiliate links. As an Amazon Associate and member of other affiliate programs, I earn from qualifying purchases. We are a participant in the Amazon Services LLC Associates Program, an affiliate advertising program designed to provide a means for us to earn fees by linking to Amazon.com and affiliated sites." Check Legal section, for Full Disclaimer, Disclosure and Privacy Policy.