Blueberry Oat Crumble Bars - delicious oats bars with a yummy blueberry filling, perfect as they are for a healthy snack or take them that little bit further topped with some light cream or custard.
Blueberry Oats Bars
I had a huge container of blueberries sitting on my counter that I picked up from Costco, that I hadn't got round to using and were close to becoming squishy and spoilt if I didn't turn them into something fast. Usually I use them for my blueberry BBQ sauce (which is amazing btw), but I already had some of that in the freezer, so figured I'd make up a sweet treat instead.
I often make these delightful treats called peanut butter and jelly oat bars for the kids, far too naughty and high calories for me to enjoy on a regular basis, but really really delicious and figured surely I can make a healthy alternative with some blueberries and these blueberry oat bars turned out perfect.
Why are the blueberries synned?
On Slimming World, any fruit not eaten in its raw form should be synned, this is because cooked, pureed and blended fruit doesnt have as much filling power as fruit in its raw state. It's also easier to eat a lot more fruit when it is cooked, pureed or blended
That said, one bar is really only a small amount of cooked fruit so you could say "Do I really need to syn the cooked fruit?". To make the values of these accurate I have included cooked fruit in the syn value, but if you don't want to syn the cooked fruit for the reason that it's not really much in a bar, then you can enjoy 1 bar for 5 syns instead of the 6. Not really much difference in syns either way.
Cutting the calories
When trying to cut the calories in treats but still ensure they taste amazing it can be a hard one to achieve, it's those ingredients like real butter and sugar that make a baked treat taste delicious, so it can be hard to keep things tasting good when you are replacing with low calories alternatives. Sometimes it's best to just use the real ingredients and enjoy a small piece that you are going to enjoy.
I try not to use too many sugar free, low fat alternatives in my recipes, because most are not healthy and this is a lifestyle change not a short term fix. Anything in moderation is perfectly fine.
So for this recipe I use real butter and some brown sugar, but do cut the calories a little but replacing some (not all of the sweetness) with an erythritol based sweetener (sukrin or swerve are some well known brands). It's a good compromise.
I don't like to use margarine or low fat spreads, I always just use real butter if I am going to use any kind of spread at all. Plus is just tastes so much nicer.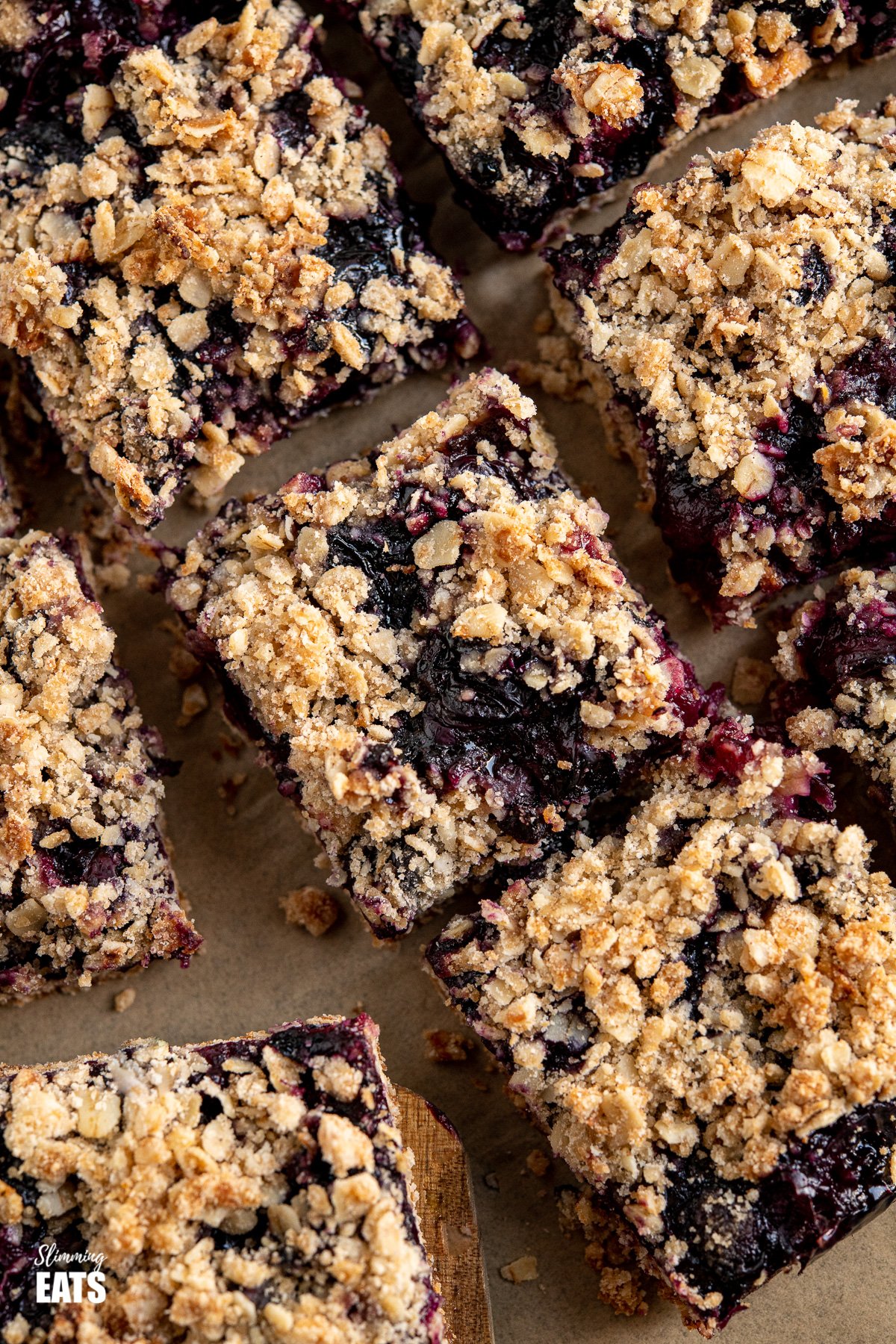 Can I use an alternative sweetener?
As mentioned I use an erythritol based sweetener combined with real brown sugar to make these oat bars, it gives the right sweetness while not compromising the taste.
If you want to use a different type of sweetener, it's going to be a case or trail and error, not all sweeteners are equal in taste or the amount you should use, so if you are using a different one to the kind I use, just be aware that you may need to use more or less and the taste/texture may be different.
Can I use another fruit?
I used blueberries as I had quite a few of them on hand, so this is the only fruit I have tested this recipe with. If you want to use another berry or fruit, then by all means try, but just be aware that certain fruits may release too much liquid and affect how the base cooks.
So to ensure you get the correct bake, I recommend sticking to the blueberries a least for the first try.
Can these Oat Bars be frozen?
This recipe makes quite a few oats bars, and I am sure you don't want to be tempted to eat them all, so a common question is probably going to be, can these be frozen? and you will be pleased to know they certain can.
I let them cool and then frozen what we were not eating by placing sheets of wax paper in between each bar to prevent them from sticking together. You can then take out one or two as you want them. I pop them in the oven from frozen to warm up and enjoy with a bit of light cream. Delicious!!!
More Treat/Dessert Recipes
Looking for some other healthy treats to try? Check out these recipes:
or head on over to my Full Recipe Index with over 900 delicious Slimming World and Weight Watchers friendly recipes all fully searchable by meal type, ingredients, syn value and smart points etc
---
LET'S CONNECT!
Find me ON FACEBOOK | INSTAGRAM | PINTEREST | TWITTER | and YOUTUBE, come and follow me TO MAKE SURE YOU KEEP UP TO DATE ON ALL NEW RECIPES.
You can also subscribe to Slimming Eats so that you never miss any new updates.
Need extra Support? Come check out my amazing Facebook Support Group
IF YOU TRY THIS RECIPE, LET US KNOW! LEAVE A COMMENT, RATE IT AND TAG US IN YOUR PHOTOS @SLIMMINGEATS ON INSTAGRAM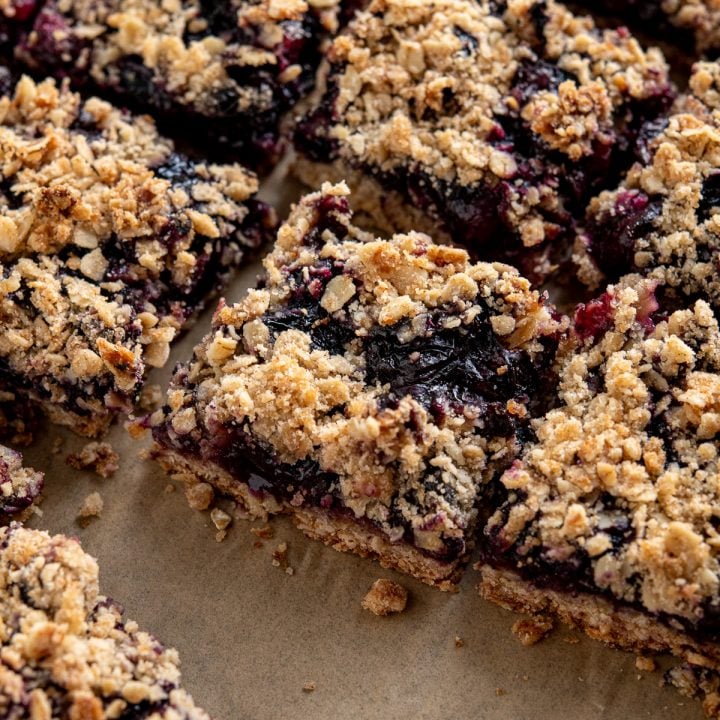 Blueberry Oat Crumble Bars
Blueberry Oat Crumble Bars - delicious oats bars with a yummy blueberry filling, perfect as they are for a healthy snack or take them that little bit further topped with some light cream or custard. 
Ingredients
120g (4.2oz)rolled oats
140g (4.9oz) of plain (all purpose) flour
Pinch of cinnamon
6 tablespoons (96g) of butter, cold and slice into small pieces
6 tablespoons of Sukrin or Swerve brown sugar replacement
2 tablespoons (24g) of demerara brown sugar
1 egg white, beaten
400g (14oz) blueberries
cooking oil spray (I used coconut)
Instructions
Preheat oven to 200c/180c fan/400f or gas mark 6
Reserve 2 tablespoons of the sukrin/swerve brown sugar replacement.
In a bowl add the remaining sukrin/swerve brown sugar replacement, demerara sugar, pinch of cinnamon, oats and flour.
Add the butter, and using your fingers, combine all together, by rubbing finger tips together when picking up bits of the mixture until you have a crumble type mix.
In a bowl add the blueberries and reserved 2 tablespoons of sukrin or swerve brown sugar replacement and roughly mash/squish all together. You can use the back of a wooden spoon or fingers for this.
Reserve about a ⅓ of the crumble mix.
Then add the beaten egg white to the remaining ⅔ of the crumble mix and mix until combined.
Line a 8 inch square baking tin with parchment paper and spray with cooking oil spray to grease.
Add the ⅔ of the crumble mix to the tin and press down firmly. Spray over the top with cooking oil spray.
Add the crushed blueberries in an even layer and then roughly scatter the ⅓ crumble mix to the top.
Place in the oven and bake for approx 35-40 minutes, blueberry should be jam like and crumble topping golden.
Allow to cool slightly, then slices in 16 equal sized squares.
Enjoy!!
Notes
This recipe is vegetarian, Slimming World and Weight Watchers friendly
Slimming World - 6 syns per bar
WW Green Smart Points - 4 per bar
WW Blue Smart Points - 4 per bar
WW Purple Smart Points - 3 per bar
SUITABLE FOR FREEZING
If you wish to share this recipe, then please do so by using the share buttons provided.
DO NOT COPY AND/OR PASTE FULL RECIPES OR SCREENSHOTS OF ANY CONTENT FROM SLIMMING EATS TO ANY SOCIAL MEDIA, IT IS STRICTLY PROHIBITED.
ALL IMAGES AND CONTENT ON SLIMMING EATS ARE COPYRIGHT PROTECTED.
Nutritional information, syn values, points etc are an estimate and is to be used for informational purposes only. Ingredients can vary greatly from brand to brand and therefore it would be impossible to give accurate information. It is always advised that you calculate by the ingredients you use.
It is the responsibility of the Reader to assure the products or ingredients they use in any recipes from Slimming Eats are allergen-free (gluten-free, egg-free, soy-free and/or dairy-free, for example). Slimming Eats assumes no liability for inaccuracies or misstatement about products, opinions or comments on this site.
Check Legal section, for Full Disclaimer, Disclosure and Privacy Policy.
Recommended Products
As an Amazon Associate and member of other affiliate programs, I earn from qualifying purchases.
Nutrition Information
Serving Size

1 BAR
Amount Per Serving
Calories

122
Total Fat

4.9g
Saturated Fat

2.9g
Carbohydrates

17.5g
Fiber

1.4g
Sugar

4.2g
Protein

2.3g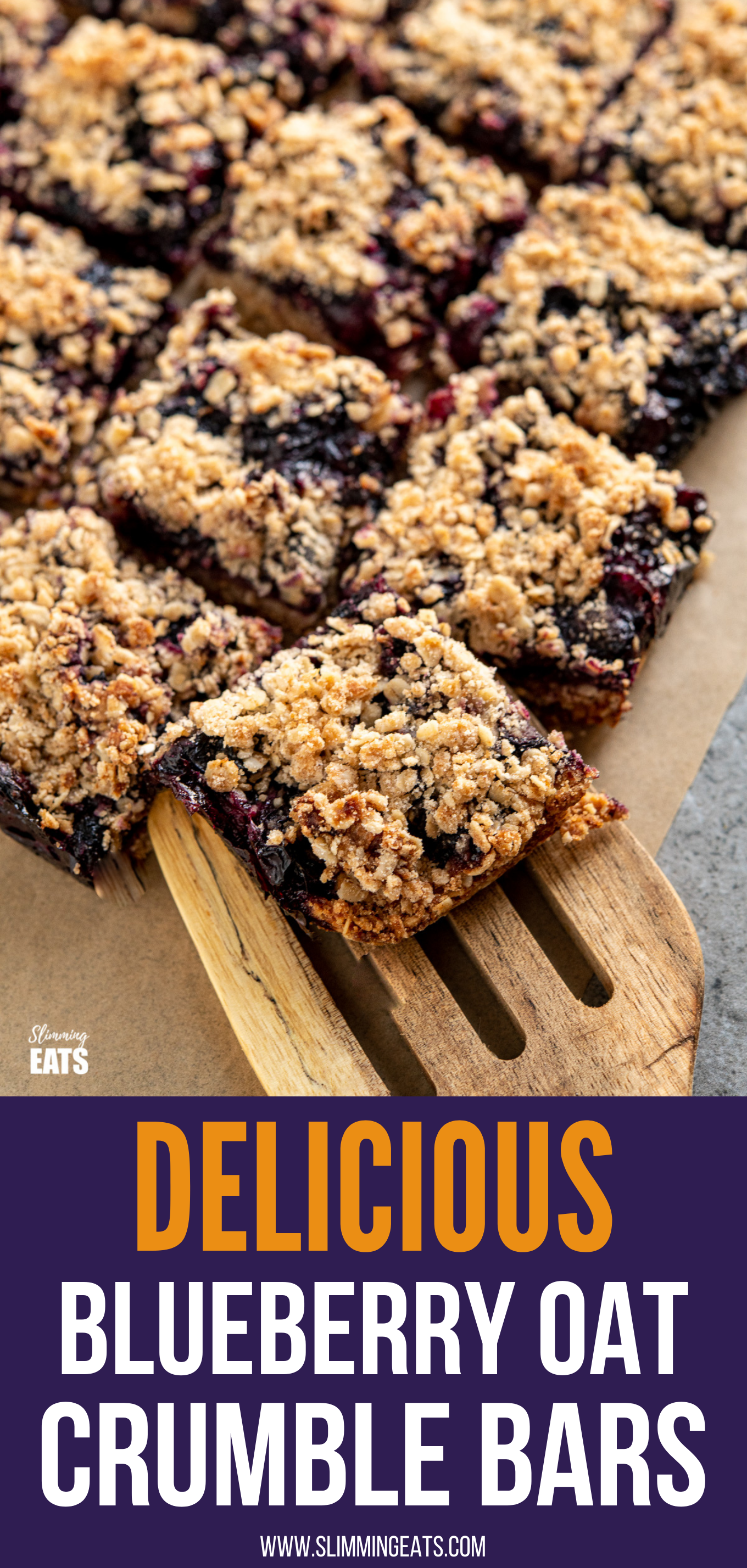 Disclosure: This post may contain affiliate links. As an Amazon Associate and member of other affiliate programs, I earn from qualifying purchases. We are a participant in the Amazon Services LLC Associates Program, an affiliate advertising program designed to provide a means for us to earn fees by linking to Amazon.com and affiliated sites." Check Legal section, for Full Disclaimer, Disclosure and Privacy Policy.