Delicious Lemon Poppy Seed Mug Cake in just 2 minutes - perfect for when you are craving cake.
I've been meaning to have a go at a low syn mug cake for a while. I already make this yummy Quick Breakfast in a Mug, when rushed for time and wanted a yummy cake recipe, that I could make quickly whenever a cake craving hits me.
I have various oat cakes and baked oatmeal recipes on the blog which are amazing for when you fancy cake for a low amount of syns, such as:
But the baked oatmeal recipes can take up to 40 minutes to cook and sometimes when you want cake, you want it right away, otherwise, you can grab for something you should.
So using the basis of some of my other recipes I had a go at this amazing Lemon Poppy Seed Mug Cake - which I have to say is one of my fav cakes ever.
I was so happy with the result, it worked perfectly. I also topped with a spoonful of lemon curd for pure perfection. Look how amazing this looks!!
All for very little syns too when using your Healthy Extra B allowance. Perfect just as it is with a cuppa or some yoghurt or light cream if you are happy to spend a few additional syns.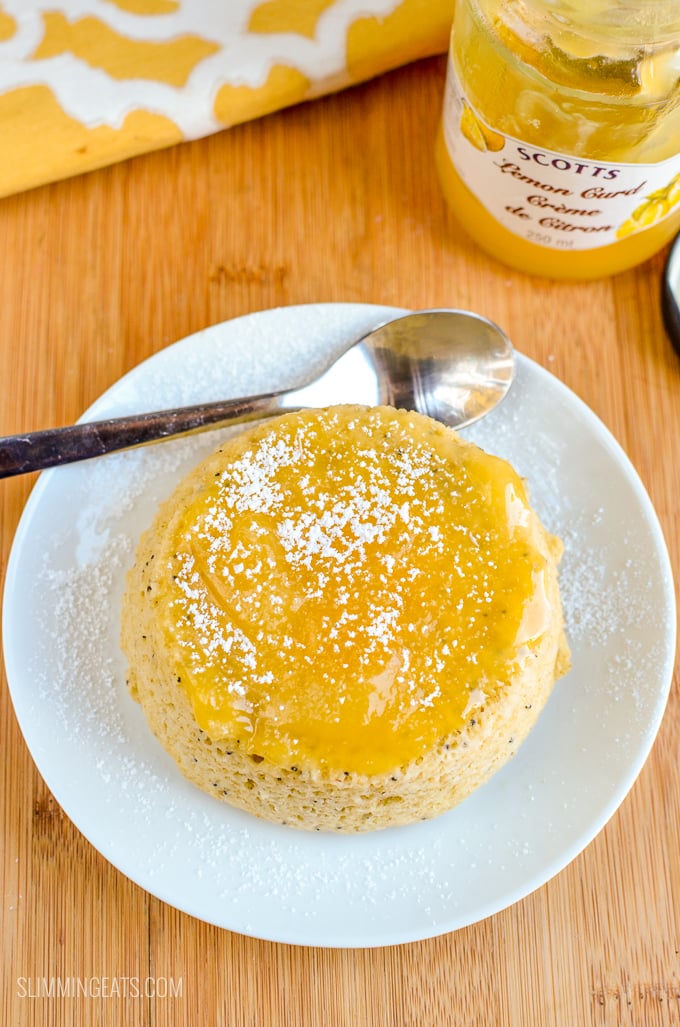 I am so happy I can now enjoy one of these Lemon Poppy Seed Mug Cakes in literally minutes and am looking forward to trying some other variations. Watch this space for those.
To grind the oats, I use my Nutri Ninja Blender with Auto IQ and one of the blender cups that come with it. This blender is amazing. The auto IQ technology feature, mean it blends to a set pattern depending on what it is you are making. There is also an optional add-on for a food processor bowl, which is perfect for chopping and grating vegetables. It's perfect for grinding the oats in this recipe and because I don't need to use the full-size jug, it's easier to wash up too.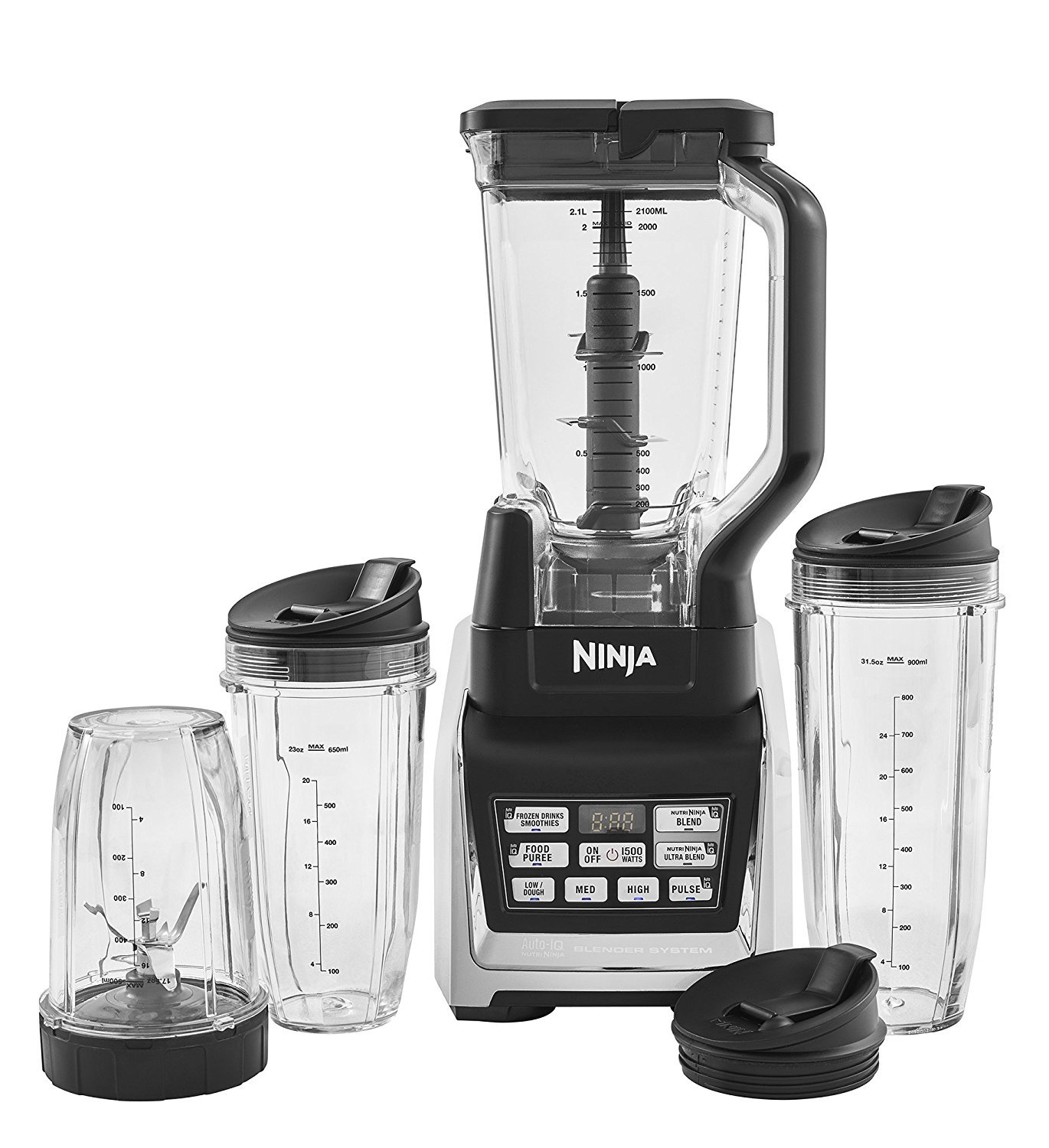 Click here to view the Nutri Ninja Blender with Auto IQ Technology on Amazon
Don't worry though, you don't need a fancy high-tech blender like mine above, any blender will work, even a good old immersion stick blender like the Koölle Electric Powerful 3-in-1 800 Watt Hand Stick Blender. Just place the oats in the tall cup, and use the stick blender to grind the oats.
I see many comments, worried that blending oats is a tweak on Slimming World, but you will be pleased to know that it isn't the case. Oats are a measured amount as part of your healthy extra A choice, therefore they can't be over consumed like free foods. A tweak applies to free foods, when it is used to make a food item that isn't free, like using lasagne sheets for nachos for example.
Time for cooking can vary depending on microwave, so I suggest trying it different times until you get the perfect timing for your microwave. I cooked this for 2 minutes and it was perfect. Can you believe it? A yummy cake all ready to eat in less than 2 minutes.
Make sure you use a mug of dish large enough for the mixture to rise, otherwise it will over flow as it cooks, the cake mixture should not be more than half the volume or whatever you use to cook it in, that should give it plenty of space to rise.
If you use gluten-free free oats and baking powder, then this recipe is also suitable for those who do need to avoid gluten.
I recommend adding the lemon curd for that little bit of decadence in this Lemon Poppy Seed Mug Cake. Omit if you want to reduce the syns, but it's not really going to have that amazing lemony flavour if you do.
---
Want some other dessert of cake recipes? Check out my Dessert and Cake recipe section where these yummy recipes below are just some of the ones to choose from:
and don't forget my FULL RECIPE INDEX with over 500+ delicious Slimming World recipes.
---
But in the mean time, you have to try this yummy Lemon Poppy Seed Mug Cake.
---
What Kitchen items do I need to make this Lemon Poppy Seed Mug Cake?
Microwave Safe Mug of bowl
Low Syn Lemon Poppy Seed Mug Cake
Delicious Lemon Poppy Seed Mug Cake in just 2 minutes – perfect for when you are craving cake.
Ingredients
4og (1.5oz) of oats - 1 HEb
2 tbs of vanilla or lemon fat free Greek Yoghurt
little lemon zest
½ tsp of lemon extract
1 tbs of sukrin: 1 (or other sweetener of choice) - 0.5 syns
1 egg
½ tsp of baking powder
¼ tsp of poppy seeds
spray oil
to serve:
20g of lemon curd (2 syns)
1 level tsp of icing sugar (0.5 syns)
Instructions
Place the oats into a blender or food processor and blitz till really fine.
Add to a bowl a stir in the baking powder and poppyseed
Whisk the yoghurt, egg, lemon zest, lemon extract, sukrin together and then fold into the blended oats..
Add to a large mug (large enough for mixture to rise otherwise it will overflow) and cook for 2 minutes in the microwave (check for doneness)
Allow to cool slightly and then top with the lemon curd and sprinkle with icing sugar.
Enjoy!!
Notes
This recipe is gluten free, vegetarian, Slimming World and Weight Watchers friendly.
Extra Easy - 1 HEb and 3 syns per cake
Green/Vegetarian - 1 HEb and 3 syns per cake
Original - 1 HEb and 3 syns per cake
WW Flex/Free Style Smart Points - 9Gluten Free - ensure oats and baking powder is gluten free
I do not syn the baking powder or poppy seeds, as it less than 0.5 syns for the amount used.
Check the syn value of the lemon curd you use, as syns can vary.
All images and content on Slimming Eats are copyright protected.
If you wish to share this recipe, then please do so by using the share buttons provided.
Do not screenshot or post recipe or content in full.
Nutritional information is an estimate and is to be used for informational purposes only.
Ingredients can vary greatly from brand to brand and therefore it would be impossible to give accurate information.
Check Legal section, for Full Disclaimer, Disclosure and Privacy Policy.
Nutrition Information
Yield

1
Serving Size

1 mug cake
Amount Per Serving
Calories

289
Total Fat

9.3g
Saturated Fat

2.5g
Cholesterol

187mg
Sodium

323mg
Carbohydrates

37.7g
Fiber

3.8g
Sugar

10.4g
Protein

13.1g
Disclosure: This post may contain affiliate links. As an Amazon Associate and member of other affiliate programs, I earn from qualifying purchases. We are a participant in the Amazon Services LLC Associates Program, an affiliate advertising program designed to provide a means for us to earn fees by linking to Amazon.com and affiliated sites." Check Legal section, for Full Disclaimer, Disclosure and Privacy Policy.