Serve pasta for dinner with the delicious flavours in this super quick Sausage, Tomato and Spinach Pasta -  a perfect family meal.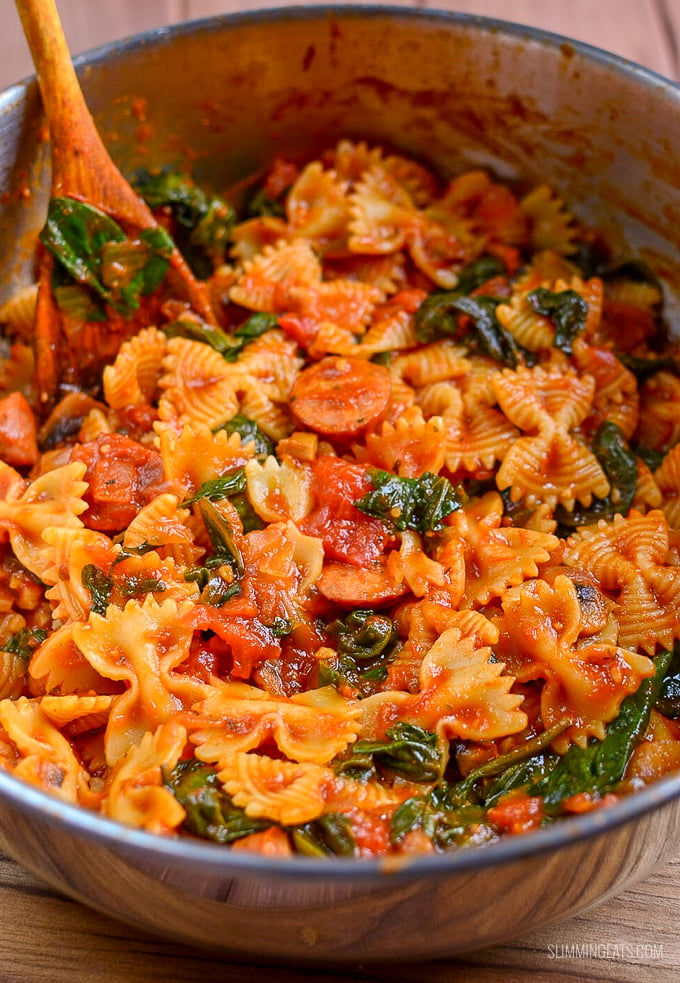 When I am short on time for dinner and the kids are hungry and demanding some food, this is one of my go-to meal combinations to make.
Most kids love sausages and combined with the lovely flavours of fresh tomatoes, garlic, and some healthy green spinach, it's a true winner.
When I make any kind of tomato-based pasta sauce, I will always, always use fresh tomatoes. Either using just fresh tomatoes or in combination with some passata (crushed tomatoes) or canned tomatoes, like I have used in this Sausage, Tomato and Spinach Pasta.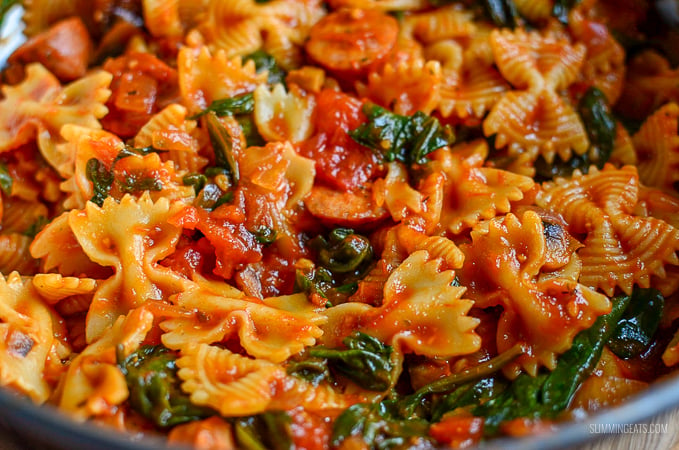 Fresh tomatoes make such a nicer sauce, with their natural sweetness, whereas canned tomatoes tend to be slightly acidic because of how they are preserved and most kids (and adults for that matter), can find the taste a bit off unless you add some kind of sweetness to counteract that acidity. With fresh tomatoes, you don't need it. They are naturally sweet and delicious all on their own.
It can sometimes be a bit daunting when you think of using fresh tomatoes, as you don't want bits of skin in your sauce, and the last thing you want to have to do when you want a quick dinner is score, blanch and peel fresh tomatoes.
But there is actually a much quicker way to peel the skins and get them in the pan as quickly as possible for that lovely pasta sauce and that is by using a special Kuhn Piranha Peeler.
Piranha Peelers are similar to a regular potato peeler, but instead have little sharp teeth along the blade, that grip the skin of soft fruits and vegetables to peel them effortlessly. I love mine for removing the skin of tomatoes for my pasta sauces or removing the skin of fruit like kiwi for a fruit salad.
For the sausages, I used a low syn chicken sausage that is available here in Canada, but any low syn sausage will work, you could even use Slimming World Syn Free Sausages if you prefer and then this Sausage, Tomato and Spinach Pasta will be totally syn free. You gotta love a syn free recipe, right?
The type of pasta you use is totally up to you, my kids love the little farfalle (bow) pasta shapes. It's all about making the food fun and enjoyable for the whole family, which is one of the beauties of Slimming World. All those amazing Free Food are items that everyone can eat.
---
If you love simple pasta dishes like this Sausage, Spinach and Tomato Pasta, check out some of these:
and if that's not enough to choose from, don't forget my FULL RECIPE INDEX with over 500+ delicious Slimming World Recipes.
---

HOW CAN I ADD A ⅓ SPEED FOODS TO THIS RECIPE?
Some of the veg added to this Sausage, Tomato and Spinach Pasta will count towards your ⅓ speed foods. But to up your speed foods you could either serve with a salad or some steamed vegetables of choice.
You will love the simple flavours and ease of this Sausage, Tomato and Spinach Pasta. If you have a Healthy Extra A spare, take this one step further with some shavings of parmesan or even cheddar.
Without the cheese, this recipe is dairy free and can be made gluten free, by using a gluten free pasta and sausage of choice.
WHAT KITCHEN items do I need to make this sausage, tomato and spinach pasta?
Don't forget to subscribe to Slimming Eats to keep up to date on all new recipe.
IF YOU TRY THIS RECIPE, LET US KNOW! LEAVE A COMMENT, RATE IT AND DON'T FORGET TO TAG US IN YOUR PHOTOS @SLIMMINGEATS ON INSTAGRAM AND DON'T FORGET TO FOLLOW SLIMMING EATS ON FACEBOOK | INSTAGRAM | PINTEREST | TWITTER | and YOUTUBE TO MAKE SURE YOU KEEP UP TO DATE ON ALL NEW RECIPES 🙂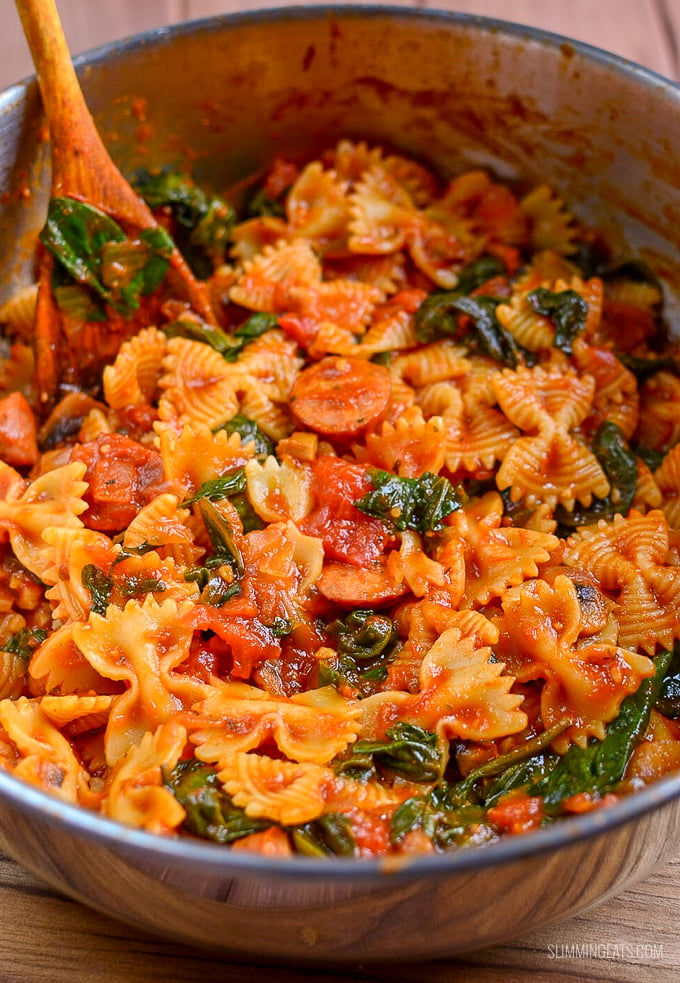 Sausage, Tomato and Spinach Pasta
This recipe is dairy free, gluten free, vegetarian, Slimming World and Weight Watchers friendlyExtra Easy -  0.5 syns per serving (but adjust syn value to the sausages you use)Green/Vegetarian - use a vegetarian sausage - syns depend on sausage that is usedWW Smart Points - 8Gluten Free - use gluten free pasta/sausages*suitable for freezing 
Ingredients
1 onion, finely chopped
2 cloves of garlic, crushed
2 fresh medium tomatoes, peeled and chopped
4 mushrooms, chopped
1 cup/240ml of passata (or crushed tomatoes)
1 cup/240ml of chicken or vegetable stock
4 sausages, sliced - I used chicken sausages (2 syns in total)
3 handfuls of spinach
225g/8oz of pasta (can use gluten-free)
splash of balsamic vinegar
salt and black pepper
spray oil
Instructions
Spray a frying pan over a medium-high heat with some spray oil
Add the onion and fry until softened.
Add the garlic and mushrooms, and sausage and fry for a further few mins, till sausage is lightly browned.
Add the chopped fresh tomatoes and cook until the tomatoes, start to break down into a sauce
Add the passata (crushed tomatoes), a splash of balsamic and stock and bring to a boil.
Reduce heat, cover and simmer for 15 mins.
In the meantime add the pasta to a saucepan of boiling hot water and cook until al dente.
Drain and stir in the sauce with the spinach.
Season as needed with salt and black pepper.
Enjoy
Optional: add some grated parmesan as part of your HEa choice.
Notes
The only syns are from the sausages used. So if you use syn free sausages, this recipe will be syn free. 
For WW Smart Points, the recipe is 6 smart points without the sausages I used, so just add on the points for the sausages you use. 
Nutritional information is an estimate and is to be used for informational purposes only.
Ingredients can vary greatly from brand to brand and therefore it would be impossible to give accurate information. All images and content on Slimming Eats are copyright protected.
If you wish to share this recipe, then please do so by using the share buttons provided. Do not screenshot or post recipe or content in full
Nutrition Information
Yield

4
Serving Size

1 serving
Amount Per Serving
Calories

339
Total Fat

4.1g
Saturated Fat

1.2g
Cholesterol

50mg
Sodium

639mg
Carbohydrates

54.1g
Fiber

5g
Sugar

6.3g
Protein

15.9g
Disclosure: This post may contain affiliate links. As an Amazon Associate and member of other affiliate programs, I earn from qualifying purchases. We are a participant in the Amazon Services LLC Associates Program, an affiliate advertising program designed to provide a means for us to earn fees by linking to Amazon.com and affiliated sites." Check Legal section, for Full Disclaimer, Disclosure and Privacy Policy.