This bang bang chicken pasta just might be the best Slimming World Recipe of 2018.
But what is bang bang chicken or bang-bang anything for that matter? Traditionally it is a Chinese street food of the schzehuan region of China. The bang bang term comes from the tenderizing of meat with a heavy wooden stick. Bang bang Chicken is also recognized by it's spicy sauce.
You will find a huge variety of different recipe for this dish from how the protein part of the dish is made to how the sauce is made,  some using shrimp or fish or even vegetarian options, others served with rice, salad or pasta and if you have ever frequented a Cheesecake Factory it is one of their most popular dishes on the menu.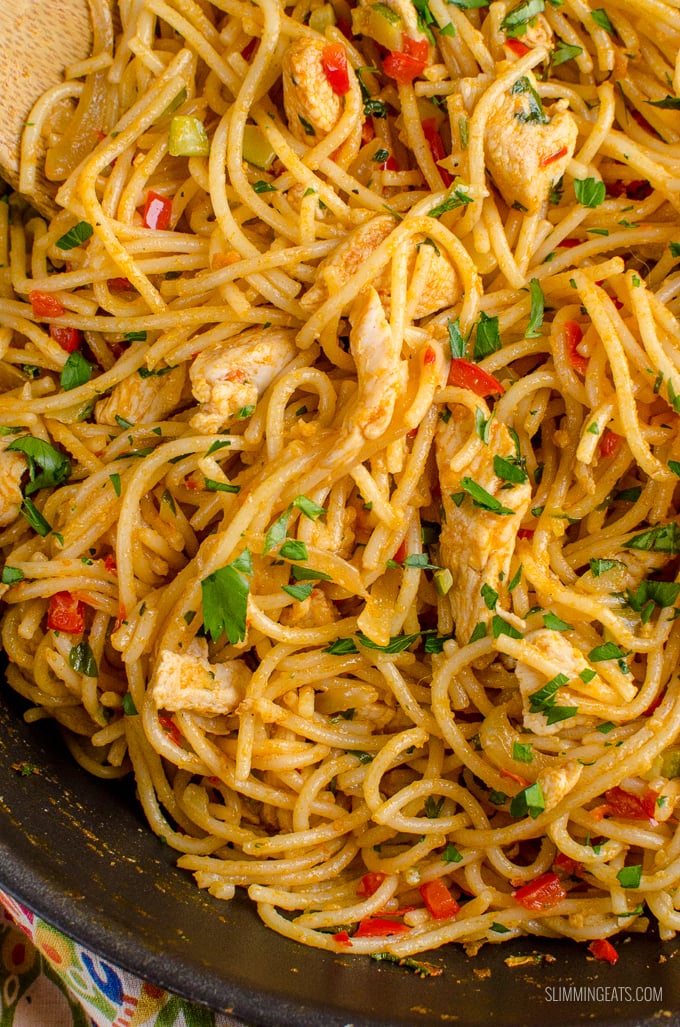 When ever I think of bang bang, it's always the spicy kick that first enters my mind. I don't do any pounding of meat with a big wooden stick in this recipe. I do slice the chicken quite finely though so it is almost shredded. I find this the perfect method for using Chicken breast, as it means each piece of chicken takes on as much flavour as the sauce as possible.
For me it just has to be pasta for my version of Bang Bang Chicken, mainly because for some strange reason I hadn't eaten pasta for a while and was done on the whole rice and noodles thing.
Now onto the sauce. Let me just say this sauce uses such simple ingredients, but oh my when you combine it with everything else, it's  an explosion of flavour. I can honestly say it's one of my most favourite recipes right now, which is why I am confident in saying, it may just be the best Slimming World recipe of 2018.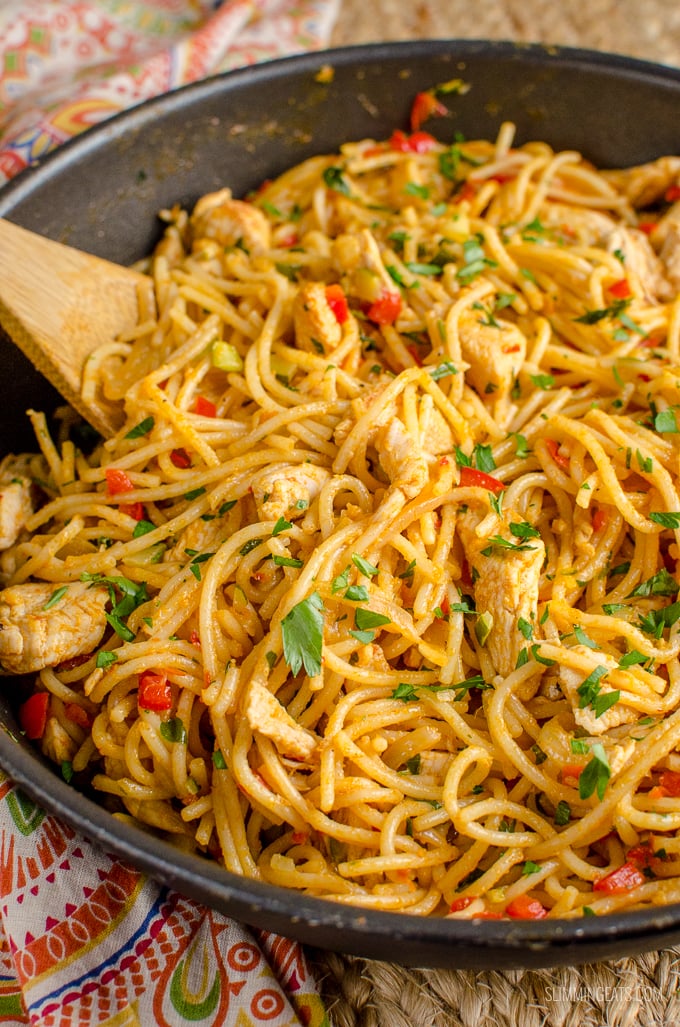 Of course, there is bound to be the one (or two that dislike it), it's impossible to please everyone, but for the most part, I know most will love it. If you don't, you can always bring your plate of food to me and I'll demolish it for you.
Actually typing this up right now is making me crave this bang bang chicken pasta all over again. You can guess what I am adding to my meal plan this week, right?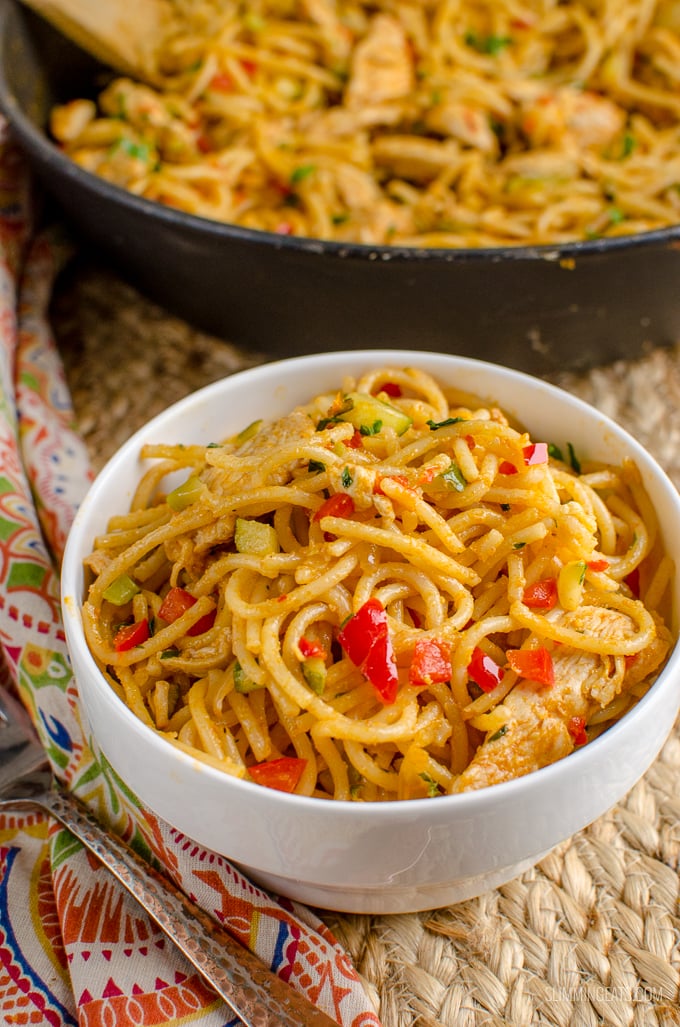 So what are the ingredients in this bang bang chicken pasta?
The main ingredients obviously being chicken and pasta. I use chicken breast in this, slicing into really thin strips, so it gets covered in that lovely flavour.
For some speed foods, I add some finely diced zucchini (courgette) and red pepper, as well as the onion and garlic.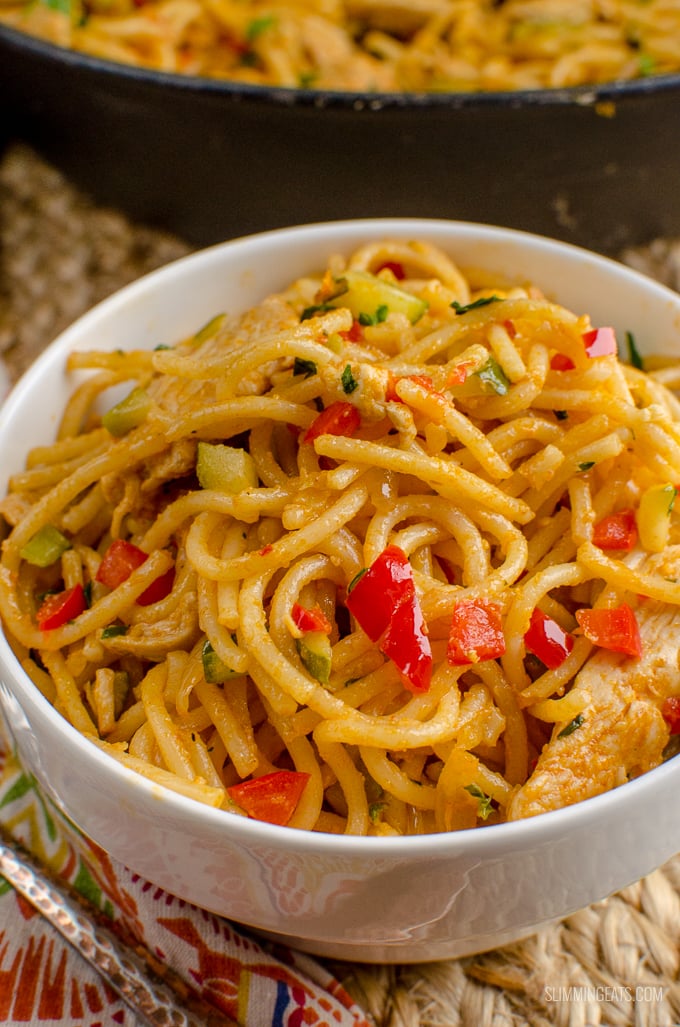 The sauce is added right at the very end - lovely and creamy, that makes a meal the kind of dish you don't want to ever finish. I use some low-fat cream cheese (I know I could use quark which is free, but it just isn't as creamy), sweet chilli sauce, sriracha (for the extra spicy kick) - this is called bang bang chicken, after all, it has to have that kick in my opinion.
Sriracha you will find at most grocery stores. It's a chilli sauce, popular in Asian style cooking.
You can use any shape pasta of choice. I go for spaghetti, as it likes noodles, so just is perfect for this dish. Plus the kids love good ole spaghetti.
Don't fancy chicken? Feel free to replace with shrimp or another protein of choice. Hey! you don't even have to serve with this pasta. It would be great over some rice or just with some additional stir fried veg.
HOW CAN I ADD A ⅓ SPEED FOODS TO THIS RECIPE?
Some of the veg added to this dish will count towards your ⅓ speed foods. But to up your speed foods you could either serve with a salad or stir fry some vegetables to even out your plate. I love buying little bags of kale slaw, they are perfect for dumping in a pan with a little spray oil and seasoning for quick speed foods.
---
Love dishes like this? Why not check out some of these other amazing recipes:
and if that's not enough to choose from, don't forget my FULL RECIPE INDEX with over 500+ delicious Slimming World Recipes.
---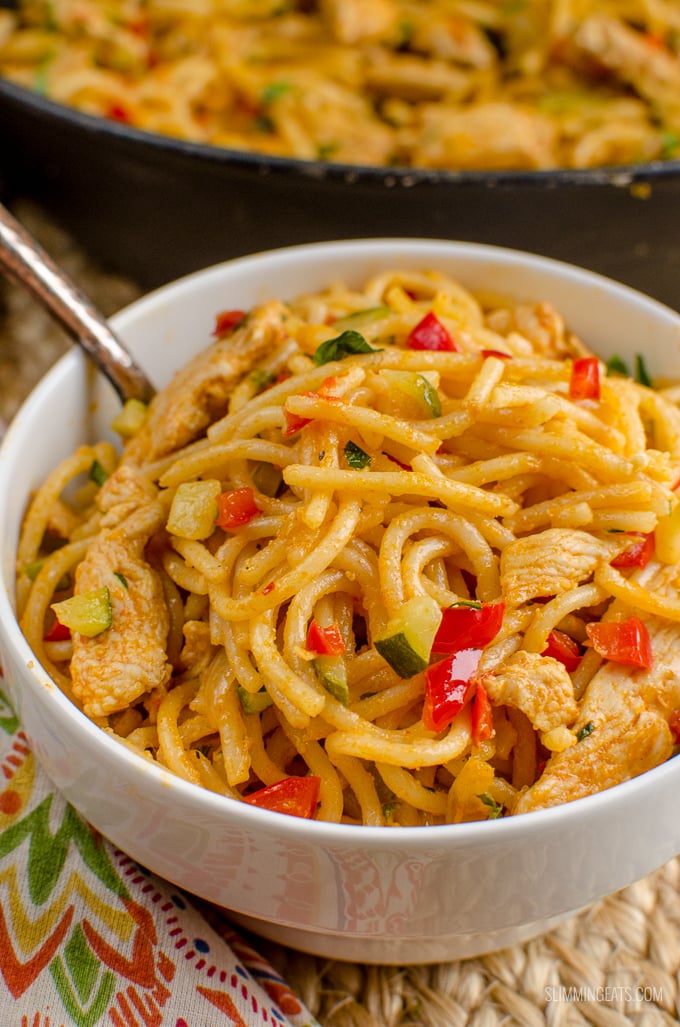 WHAT KITCHEN ITEMS DO I NEED TO MAKE THIS BANG BANG CHICKEN PASTA?
Don't forget to subscribe to Slimming Eats to keep up to date on all new recipes. 
IF YOU TRY THIS RECIPE, LET US KNOW! LEAVE A COMMENT, RATE IT AND DON'T FORGET TO TAG US IN YOUR PHOTOS @SLIMMINGEATS ON INSTAGRAM AND DON'T FORGET TO FOLLOW SLIMMING EATS ON FACEBOOK | INSTAGRAM | PINTEREST | TWITTER | and YOUTUBE TO MAKE SURE YOU KEEP UP TO DATE ON ALL NEW RECIPES 🙂
How to Make Bang Bang Chicken Pasta: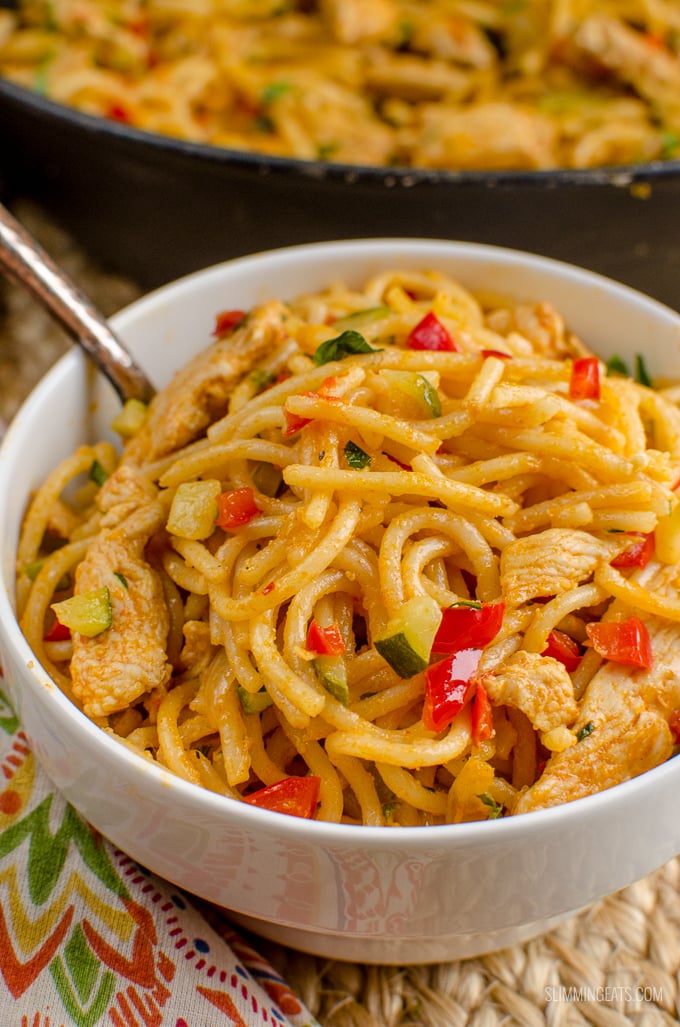 Print
Bang Bang Chicken Pasta | Slimming World
Yield 4 servings
This recipe is Slimming World and Weight Watchers friendly
Extra Easy - 2.5 syns per serving
WW Smart Points - 11
*suitable for freezing (but best eaten on the day of cooking)
Ingredients
500g (17.50z) of chicken breast (raw), sliced thinly
1 tsp of paprika
½ tsp of garlic powder
½ tsp of onion powder
salt and black pepper
spray oil
1 small onion, halved and sliced
2 cloves of garlic, crushed
1 small zucchini (courgette), diced
1 red pepper, diced
1 cup (240ml) of low sodium chicken stock
2 tsp of sriracha sauce (0.5 syns)
¼ cup (4 tbs) of Sweet Chilli Sauce (5.5 syns)
¼ cup (4 tbs) of low-fat cream cheese (4 syns)
300g (10.5oz) of uncooked spaghetti
fresh chopped parsley or cilantro (optional)
Instructions
Spray a deep frying pan over a medium-high heat with spray oil.
Add the chicken, paprika, onion powder, garlic powder, salt and black pepper
Fry until lightly browned, remove and set aside.
Spray the frying pan with some more spray oil
Add the onion and a little bit of the stock to deglaze the pan.
Fry the onion until translucent and softened.
Add the garlic and continue to fry for a further 1 min.
Add the zucchini and red pepper. Stir to combine
Add back in the chicken and stock and simmer to reduce down a little.
In the meantime cook the pasta according to package instructions until al dente and drain.
Add the sriracha sauce to the chicken and vegetables, stir to combine.
Add the pasta, cream cheese and sweet chilli sauce.
Toss till combined and the sauce is lovely and creamy and velvety (couple of minutes).
Season with salt and black pepper to taste if needed, stir through some chopped parsley or cilantro (optional).
Serve and enjoy!!
Notes
Syns in sweet chilli sauce and low fat cream cheese can vary, so be sure to double check the syn values for the one you use. 
Nutritional information is an estimate and is to be used for informational purposes only.
Ingredients can vary greatly from brand to brand and therefore it would be impossible to give accurate information. Also, double-check syn values of synned ingredients as different brands can vary. 
All images and content on Slimming Eats are copyright protected.
If you wish to share this recipe, then please do so by using the share buttons provided. Do not screenshot or post recipe or content in full
Check Legal section, for Full Disclaimer, Disclosure and Privacy Policy. 
Nutrition Facts
Serving Size 1 serving
Amount Per Serving

Calories 473

% Daily Value

Total Fat 2.9 g

4%

Saturated Fat 0.6 g

3%

Cholesterol 76 mg

25%

Sodium 628 mg

26%

Total Carbohydrates 72 g

24%

Dietary Fiber 3.3 g

13%

Sugars 12.7 g

Protein 38.2 g

76%
* Percent Daily Values are based on a 2,000 calorie diet. Your daily values may be higher or lower depending on your calorie needs.
Disclosure: This post may contain affiliate links. As an Amazon Associate and member of other affiliate programs, I earn from qualifying purchases. We are a participant in the Amazon Services LLC Associates Program, an affiliate advertising program designed to provide a means for us to earn fees by linking to Amazon.com and affiliated sites." Check Legal section, for Full Disclaimer, Disclosure and Privacy Policy.