Fajita Chicken Pasta - all the great flavours of chicken fajita's in this amazing pasta dish that the whole family will love.
I love fajita's - I think it is all the different components - the seasoning and flavours, the grilled meat, onions and peppers, then all the amazing toppings from soured cream, to cheddar and cilantro.
But then there are the flour tortillas that are not exactly Slimming friendly. There are some tortillas/wraps that are low calorie, but let's face it, one tortilla is never going to cut it for me when I fancy fajitas, so this Fajita Chicken Pasta is a perfect way around that.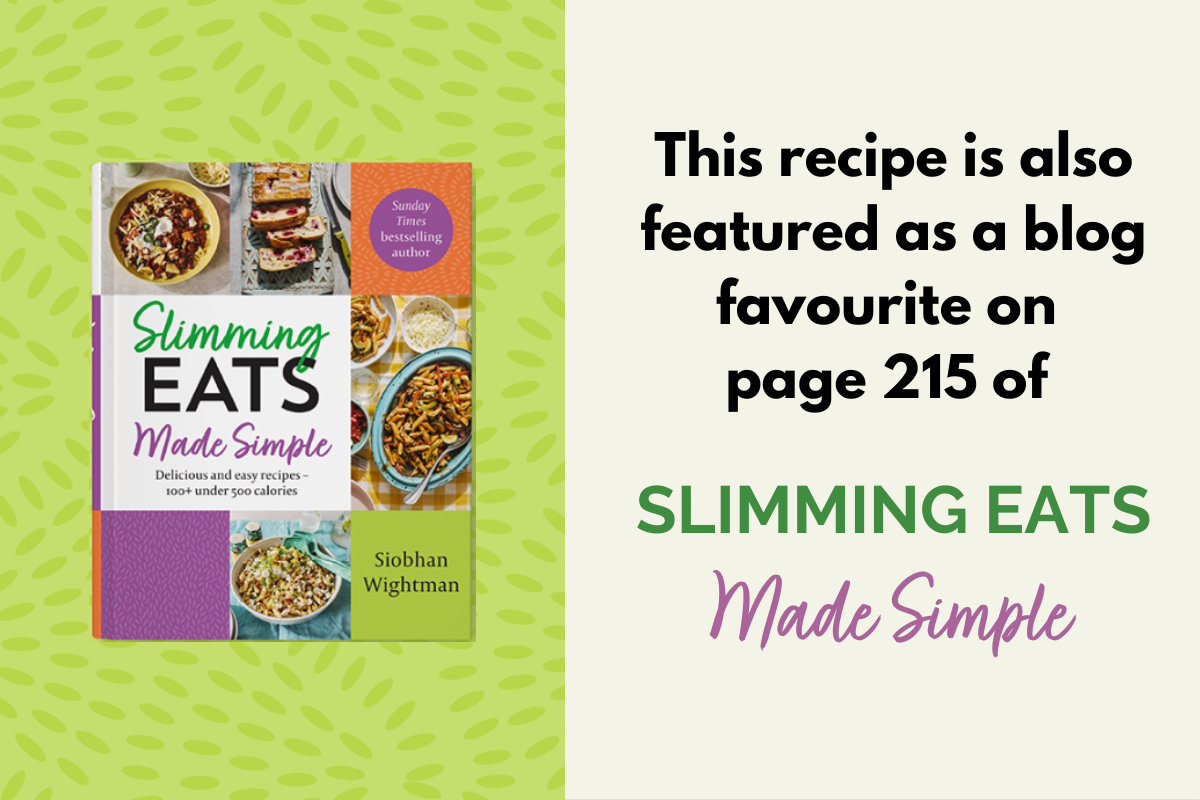 This recipe is also found in the Slimming Eats Made Simple cookbook as one of the 15 bonus blog favourites. You can get it from all Major Retailers including Amazon
(As an Amazon Associate and member of other affiliate programs, I earn from qualifying purchases.)
Serving with pasta is a great way to enjoy this dish without the guilt. You still get to have some of those amazing toppings, but without breaking the daily syn bank. Actually, I enjoy this just as much, if not more.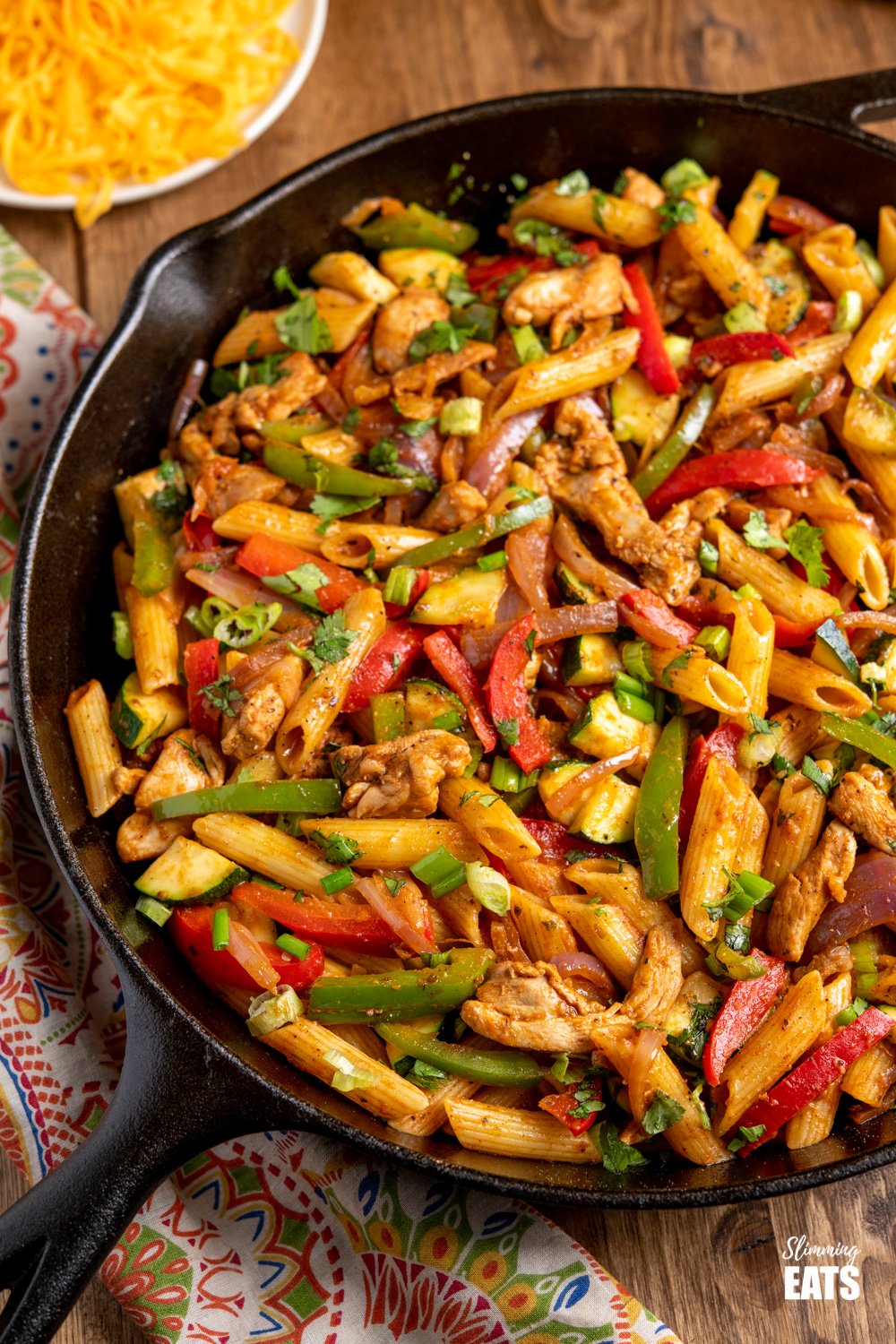 For this Fajita Chicken Pasta - I have used chicken thigh, as that's what I had at the time, but chicken breast, beef strips or even shrimp (prawns) would work just as well, or if you are vegetarian, just a delicious mix of vegetables with the seasoning would be perfect too.
The first part is the seasoning for the chicken. I add all the spices to my Cuisinart Mini Food Processor, so it makes an amazing Fajita Paste, using olive oil for the paste or spray oil if I really want to keep this syn free. I also add a little bit of sukrin gold (a natural sweetener with no aftertaste).
Once the paste is made, add it to a bowl with the chicken (or other protein of choice) and mix to marinate well and then I cover and refrigerate for a few hours, for the flavours to really get absorbed into the meat. You could make this up in the morning, and then it will be ready to cook at dinner time, or even prepare the night before and leave it marinating until ready to be cooked.
Hey, that paste is great for all kinds of protein just on their own, especially skewers of meat for a barbecue.
Love this pasta dish? check out some of these delicious pasta recipes:
or if you would like more recipe ideas - head on over to the FULL RECIPE INDEX where you will find over 900 delicious recipes with calories and you can search by meal type, ingredients, course, diet and more..
All recipes on Slimming Eats have estimated nutritional information for your convenience.
How can I add extra vegetables to this Chicken Fajita Pasta?
This pasta dish is packed with veggies already: peppers, onion and zucchini (courgette) all great for bulking out any dish to make more filling while not adding a huge amount of calories.
As well as the veggies that come packed in the dish. I like to serve this as a fajita pasta bowl with some crisp shredded romaine or iceberg lettuce.
A fajita dish of any kind is never complete without a little avocado, sour cream (or use greek yoghurt for a lighter option) and some cheddar. But this pasta dish is also really delicious and packed with flavour just on its own. My kids love this and so it's a perfect all-around family meal. 
Kitchen Items that I used for this Chicken Fajita Pasta:
---
LET'S CONNECT!!
Fajita Chicken Pasta - Slimming Friendly
Fajita Chicken Pasta - all the great flavours of chicken fajitas in this amazing pasta dish that the whole family will love.
Ingredients
260g (10.5oz) of uncooked penne pasta (can use a gluten-free​ option) - reserve ½ cup of the pasta water (120ml)
500g of chicken thighs (or can use chicken breast, beef, shrimp or pork)
juice of a small lime
1 tablespoon of ground cumin
1 tablespoon of paprika
2 cloves of garlic crushed
1 jalapeno pepper,​ finely chopped (seeds removed)
1 teaspoon of oregano
1 tsp of salt
2 teaspoon of sukrin: gold
1 teaspoon of olive oil (2 syns) - or use spray oil to make this completely syn free
¼ tsp of cayenne (optional) - omit if you don't like it too spicy
1 red onion, sliced
1 red pepper, sliced
1 green pepper, sliced
1 courgette (zucchini), halved lengthways and sliced
2 tablespoons of tomato paste
avocado spray oil
freshly​ chopped coriander (cilantro)
Instructions
Add to a mini food processor the lime juice, cumin, jalapeno, cayenne pepper, paprika, oregano, sukrin gold, salt, olive oil (or spray oil), crushed garlic and a little salt and blitz a few times until you have a paste. Add to the chicken and mix to coat thoroughly. Refrigerate for a few hours to marinade.
Cook the pasta until al dente, drain and set aside (reserving some of the pasta water)
Spray a frying pan with some avocado spray oil, over a medium high heat. Add the marinated chicken mixture and cook stirring occasionally until the chicken is browned and cooked through, remove the chicken and set aside.
Add the peppers, onion,and courgette (zucchini) and stir constantly until the vegetables are nice and tender, but still crisp.
Add the chicken back to the pan
Add the tomato paste and the reserved pasta water.
Add the cooked pasta and mix together thoroughly, until the sauce lightly coats all the pasta and is heated through.
Season as needed with salt and black pepper and top with some fresh chopped coriander.
Serve with your choice of sides/toppings
Enjoy
Notes
This recipe is gluten free, Slimming World and Weight Watchers friendly
Slimming World - syn free per serving (or 0.5 syns when using olive oil)
WW Flex Freestyle Smart Points - 7 per serving (use chicken breast)
Gluten Free - use gluten free pasta of choice
*suitable for freezing
This can be made totally syn free using spray oil, or just 0.5 syns per serving if you use the olive oil. ½ a syn isn't really anything to try and skimp on, but if you just can't do without a syn free recipe, then feel free to make that adjustment.
For a syn free alternative to soured cream - mix some fat free Greek Yoghurt with a little fresh lemon juice and salt.
Remember to syn any toppings you decide to add which are not free, and count any healthy extra's if you add cheese.
If you wish to share this recipe, then please do so by using the share buttons provided.
Do not screenshot or post recipe or content in full.
Nutritional information is an estimate and is to be used for informational purposes only. Ingredients can vary greatly from brand to brand and therefore it would be impossible to give accurate information.
All images and content on Slimming Eats are copyright protected.
Check Legal section, for Full Disclaimer, Disclosure and Privacy Policy.
Recommended Products
As an Amazon Associate and member of other affiliate programs, I earn from qualifying purchases.
Nutrition Information
Yield

4
Serving Size

1 SERVING (without toppings)
Amount Per Serving
Calories

446
Total Fat

6.6g
Saturated Fat

1.4g
Cholesterol

93mg
Sodium

922mg
Carbohydrates

55.4g
Fiber

8g
Sugar

8.3g
Protein

37.1g
Disclosure: This post may contain affiliate links. As an Amazon Associate and member of other affiliate programs, I earn from qualifying purchases. We are a participant in the Amazon Services LLC Associates Program, an affiliate advertising program designed to provide a means for us to earn fees by linking to Amazon.com and affiliated sites." Check Legal section, for Full Disclaimer, Disclosure and Privacy Policy.