Corned Beef Hash Skillet with peppers, onion and golden potatoes for an easy family friendly recipe that is perfect for breakfast, lunch or dinner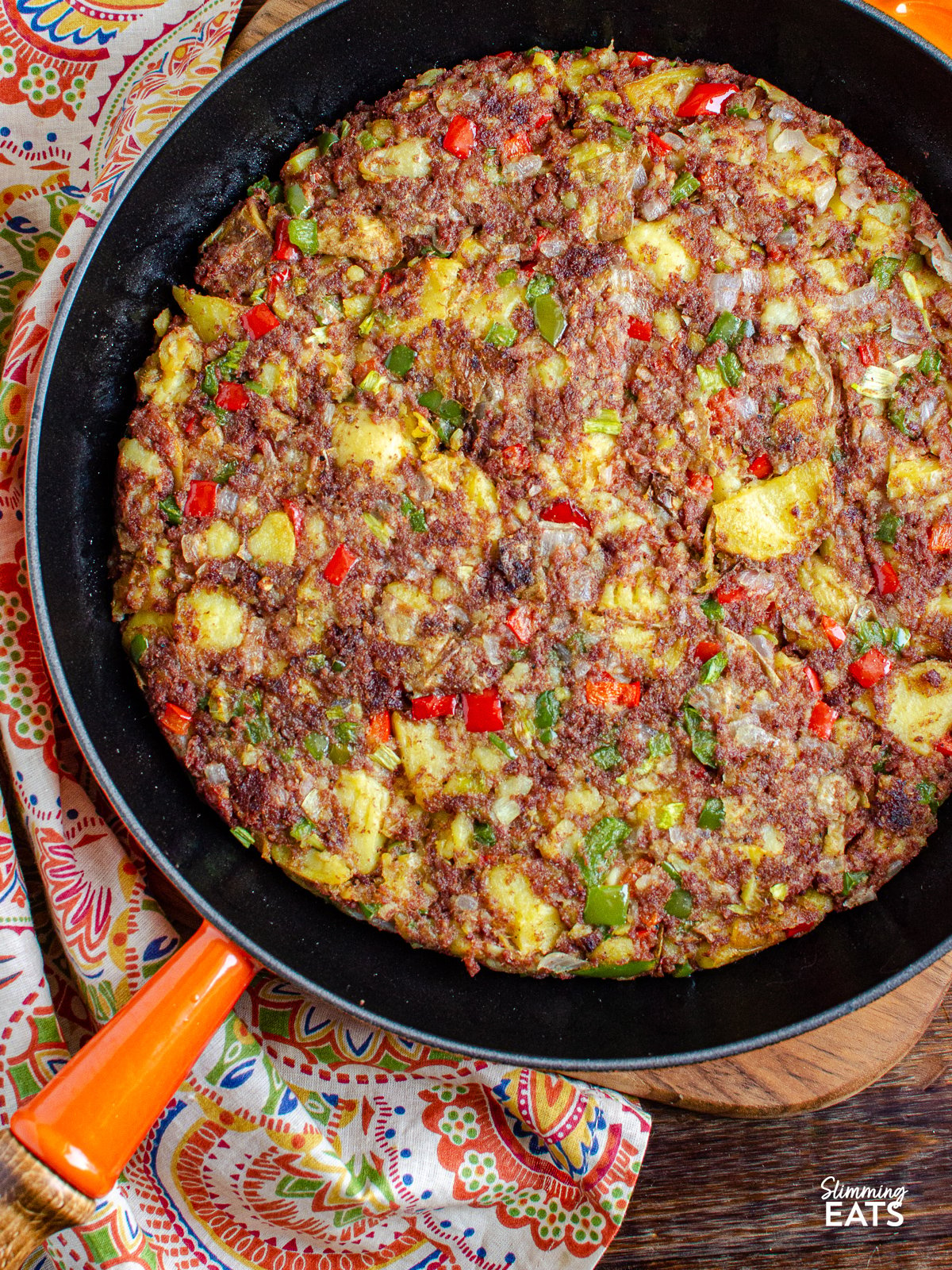 Keep overlooking that can of corned beef sitting in your pantry? It's time to dig it out and knock up this delicious Corned Beef Hash Skillet.
This recipe is also found in the Slimming Eats Made Simple cookbook as one of the 15 bonus blog favourites. You can get it from all Major Retailers including Amazon
As an Amazon Associate and member of other affiliate programs, I earn from qualifying purchases.
Corned Beef Potato Skillet
When you think of Corned Beef Skillet there are probably 100s of different recipes to choose from.
It can be hard to know which one to make or if it is even going to be low calorie friendly.
Corned Beef can come with quite a few calories (especially if you don't use the lean stuff). However, once divided up into portions with all the other ingredients, it's not too bad calorie wise for this yummy filling meal.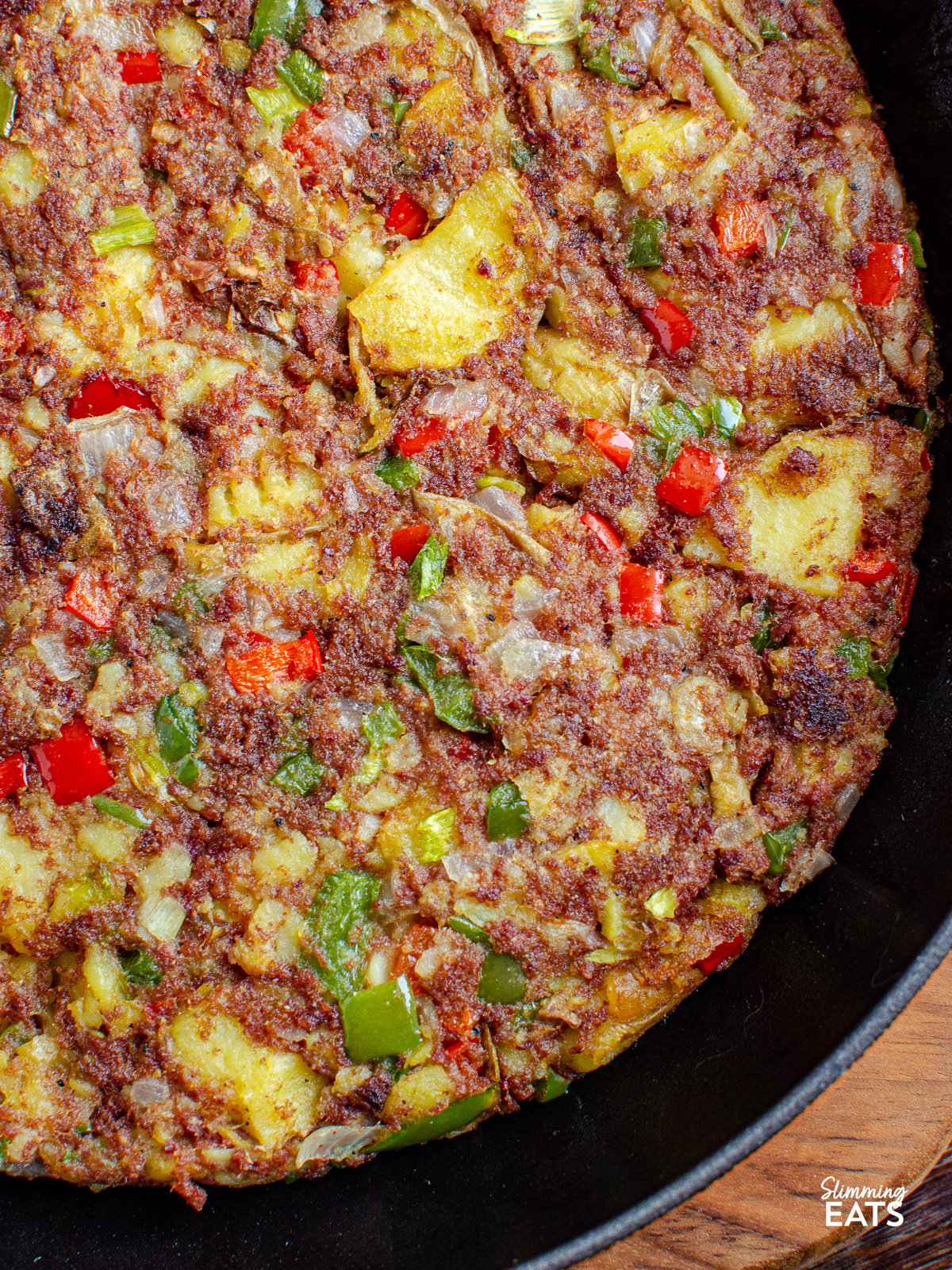 Best Potatoes For Corned Beef Hash
Potatoes are a regular choice in Corned Beef Hash and it can be hard to choose the right variety of potatoes.
I like to use a yellow flesh potato (red skinned are the best) or yukon golds, these are more waxy type of potato rather than floury and have a lovely buttery taste.
Ensuring Potatoes are Cooked in a Hash Skillet
If you par cook the potatoes first in a saucepan before adding into the hash, you can be sure they well be cooked through and won't still have a hard bite to them. Ensure you choose a waxy potato will ensure the wont disintegrate once cooked and will brown nice in the hash skillet.
I prep often the potatoes the night before which means when I am making the Corned Beef Hash the next day it's a super quick throw all in one pan kind of meal.
Other Vegetables in Corned Beef Hash
As well as the usual potato and onions, I also love to add some green and red peppers into my Corned Beef Hash, it gives a lovely fleck of colour through the hash.
The only seasoning I use is some simple sea salt and lots of black pepper, it really doesn't need anything else.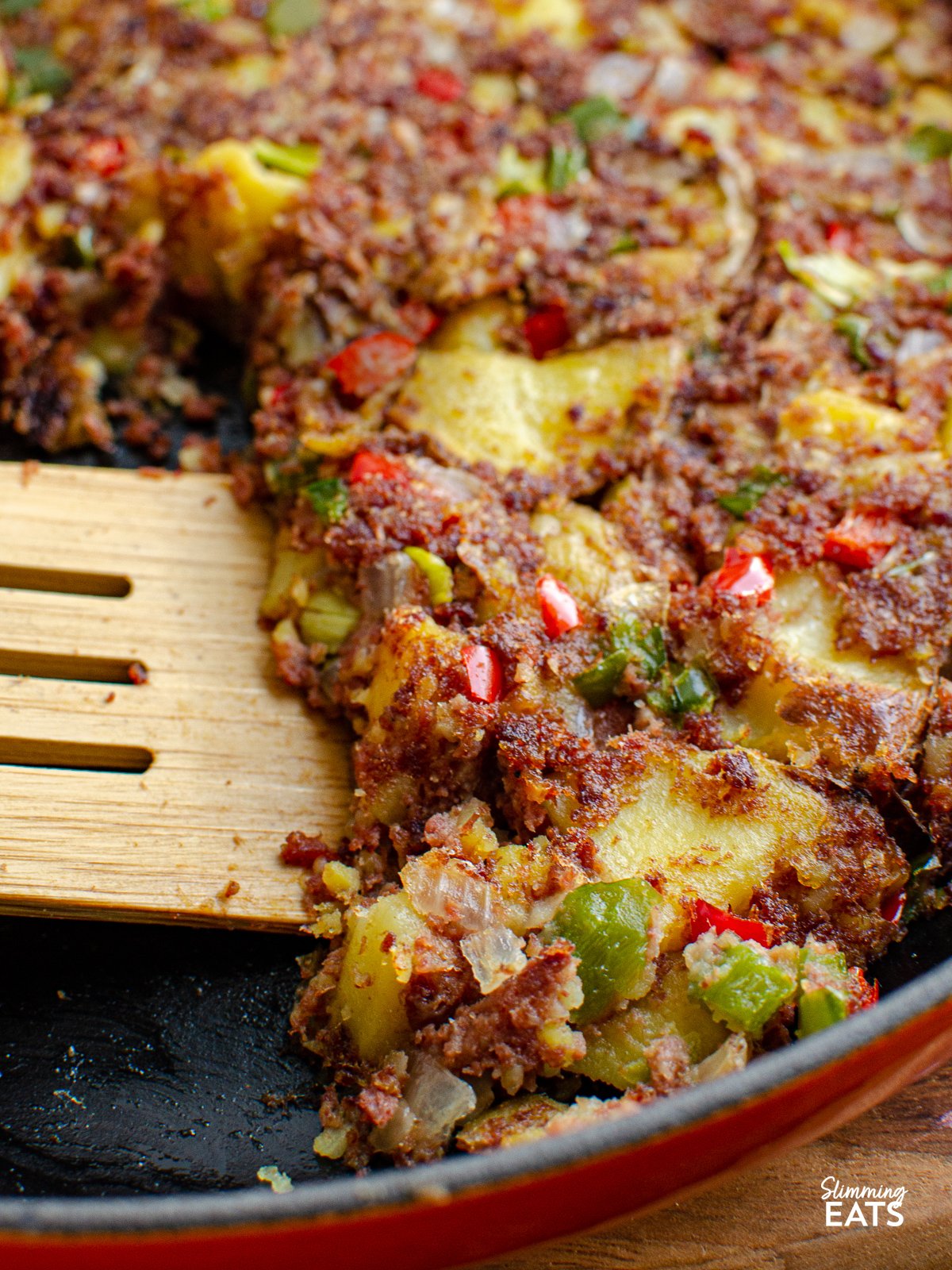 How to Serve Corned Beef Hash
My perfect way to serve Corned Beef Hash has got to be with eggs, either fried or poached with a soft yolk of course. It's just the perfect combo.
As well as the egg I like to add a few ripe chopped baby roma (grape) tomatoes seasoned with salt and pepper.
What can I do with Corned Beef Hash Leftovers?
Got some Corned Beef Hash leftover that you are wondering what to do with? Turn it into a frittata, seriously it's heavenly.
Just add the leftover hash to an ovenproof skillet and lightly warm up, spreading out evenly on the bottom of the pan.Whisk some eggs, season well and pour into the skillet, let it set underneath and then transfer to the grill to cook the top till lightly golden.
Slice and serve!! A yummy filling frittata.
More Hash Recipes
Looking for some other hash style recipes? Check out these:
or if you would like more recipe ideas - head on over to the FULL RECIPE INDEX where you will find over 900 delicious recipes with calories and you can search by meal type, ingredients, course, diet and more..
All recipes on Slimming Eats have estimated nutritional information for your convenience.
---
LET CONNECT!!
Corned Beef Hash
Corned Beef Hash Skillet with peppers, onion and golden potatoes for an easy family friendly recipe that is perfect for breakfast, lunch or dinner
Ingredients
600g (21oz) of yellow flesh potatoes, in skins (halved or quartered if really large) - I used yukon golds
1 onion, diced
1 green pepper, diced
1 red pepper, diced
225g (8oz) of corned beef, canned
salt and black pepper
4 spring onions, sliced
low calorie spray
Instructions
Preheat oven to 200c, 180c fan, 400f (gas mark 6)
Add potatoes to a saucepan, cover with water, bring to a boil, then turn off heat and leave in water for 5 mins.
Drain, pat dry and place on a baking sheet, spray with low calorie spray, season with sea salt and bake in the oven for about 25-30 mins until lightly golden. Remove from oven, using the back of a fork, roughly flatten down all the potatoes, set aside.
Spray a large frying pan with low calorie spray, add the onion and fry for a couple of minutes until translucent.
Add the corned beef and peppers and break up the corned beef into smaller chunks with a wooden spoon, and fry for a couple of minutes.
Add in the potatoes and spring onions, season with salt and black pepper, and flatten down all the mixture in the pan.
Reduce heat and allow to brown underneath for about 4-5 minutes. Then place under a grill, and grill until the top is golden.
Divide into 4, serve and enjoy!!
Notes
Please see below for full nutritional info and additional details about recipe:
Calories - scroll down to nutritional info box
WW Points and other Slimming or Weight Loss programs -   due to plans regularly changing and updating, we recommend calculating with the official tools you get as a member to those plans to ensure accuracy of values. 
If you wish to share this recipe, then please do so by using the share buttons provided at top of this post.
DO NOT COPY AND/OR PASTE FULL RECIPES OR SCREENSHOTS OF ANY CONTENT FROM SLIMMING EATS TO ANY SOCIAL MEDIA OR WEBSITE, IT IS STRICTLY PROHIBITED.
ALL IMAGES AND CONTENT ON SLIMMING EATS ARE COPYRIGHT PROTECTED
Nutritional information etc are an estimate and are to be used for informational purposes only. Ingredients can vary in values from brand to brand and therefore it would be impossible to give accurate information. It is always advised that you calculate values yourself by the ingredients you use and the tools provided to you as a member of the programme you are following.
It is the responsibility of the Reader to assure the products or ingredients they use in any recipes from Slimming Eats are allergen-free (gluten-free, egg-free, soy-free and/or dairy-free, for example). Slimming Eats assumes no liability for inaccuracies or misstatement about products, opinions or comments on this site. 
Check Legal section, for Full Disclaimer, Disclosure and Privacy Policy.
Nutrition Information
Yield

4
Serving Size

1 SERVING (¼ of hash)
Amount Per Serving
Calories

251
Total Fat

6.7g
Saturated Fat

3.3g
Cholesterol

30.7mg
Sodium

484mg
Carbohydrates

26.8g
Fiber

5.4g
Sugar

7g
Protein

18.4g
Nutritional information is an estimate and is to be used for informational purposes only. Ingredients can vary greatly from brand to brand and therefore it would be impossible to give accurate information.
Disclosure: This post may contain affiliate links. As an Amazon Associate and member of other affiliate programs, I earn from qualifying purchases. We are a participant in the Amazon Services LLC Associates Program, an affiliate advertising program designed to provide a means for us to earn fees by linking to Amazon.com and affiliated sites." Check Legal section, for Full Disclaimer, Disclosure and Privacy Policy.