Love a slice of guilt-free cake? Check out this delicious low calorie chocolate cake topped with nutella spread, crumbled lotus biscoff cookies and fresh raspberries.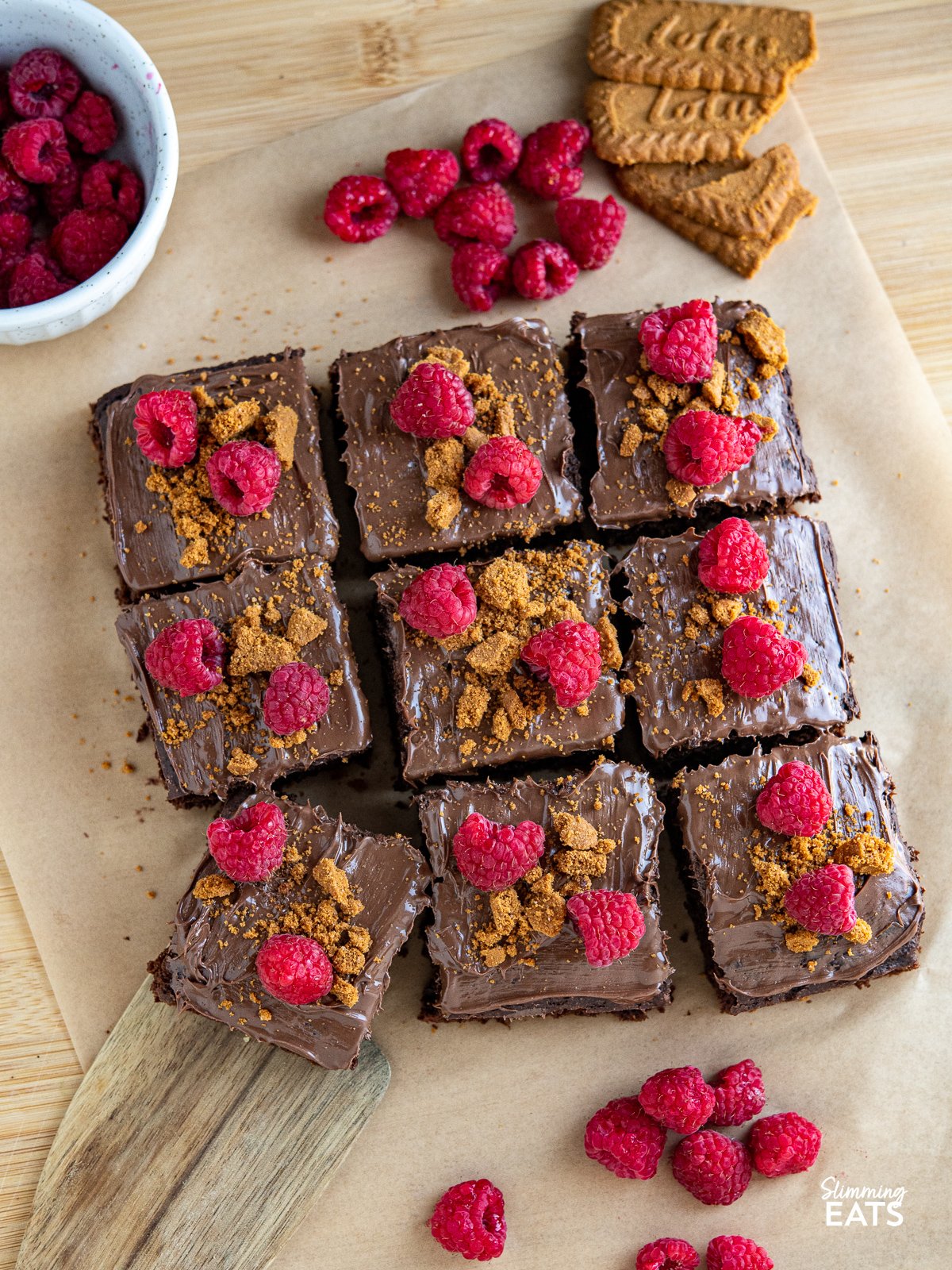 With its rich chocolate sponge cake and decadent toppings, this cake is the perfect treat for anyone looking for something to satisfy their sweet tooth without going over your daily calorie allowance. Grab a slice with your favourite cuppa and enjoy all the deliciousness.
Jump to:
Calories in Raspberry Nutella Chocolate Cake
This decadent cake makes 9 decent slices and is 158 calories per slice, which is great for a delicious chocolatey treat to enjoy any time of day
There are lots more recipes around this calorie value in my 100-200 calorie recipes section.
If you are using these recipes as part of a calorie controlled diet or healthy eating plan, you can calculate your daily calories by using a calorie calculator, as this will vary per individual depending on various factors.
Ingredients for Raspberry Nutella Chocolate Spread
for this raspberry nutella chocolate cake you need the following ingredients.
plain flour
cocoa powder
baking powder
baking soda (bicarb of soda)
pinch of salt
granulated sweetener
unsalted butter
oat chocolate milk (or any chocolate milk of choice)
egg
vanilla extract
nutella chocolate spread
lotus biscoff cookies
fresh raspberries
See the recipe card for full quantities.
Once all the ingredients are prepared, you can get ready to make this easy recipe.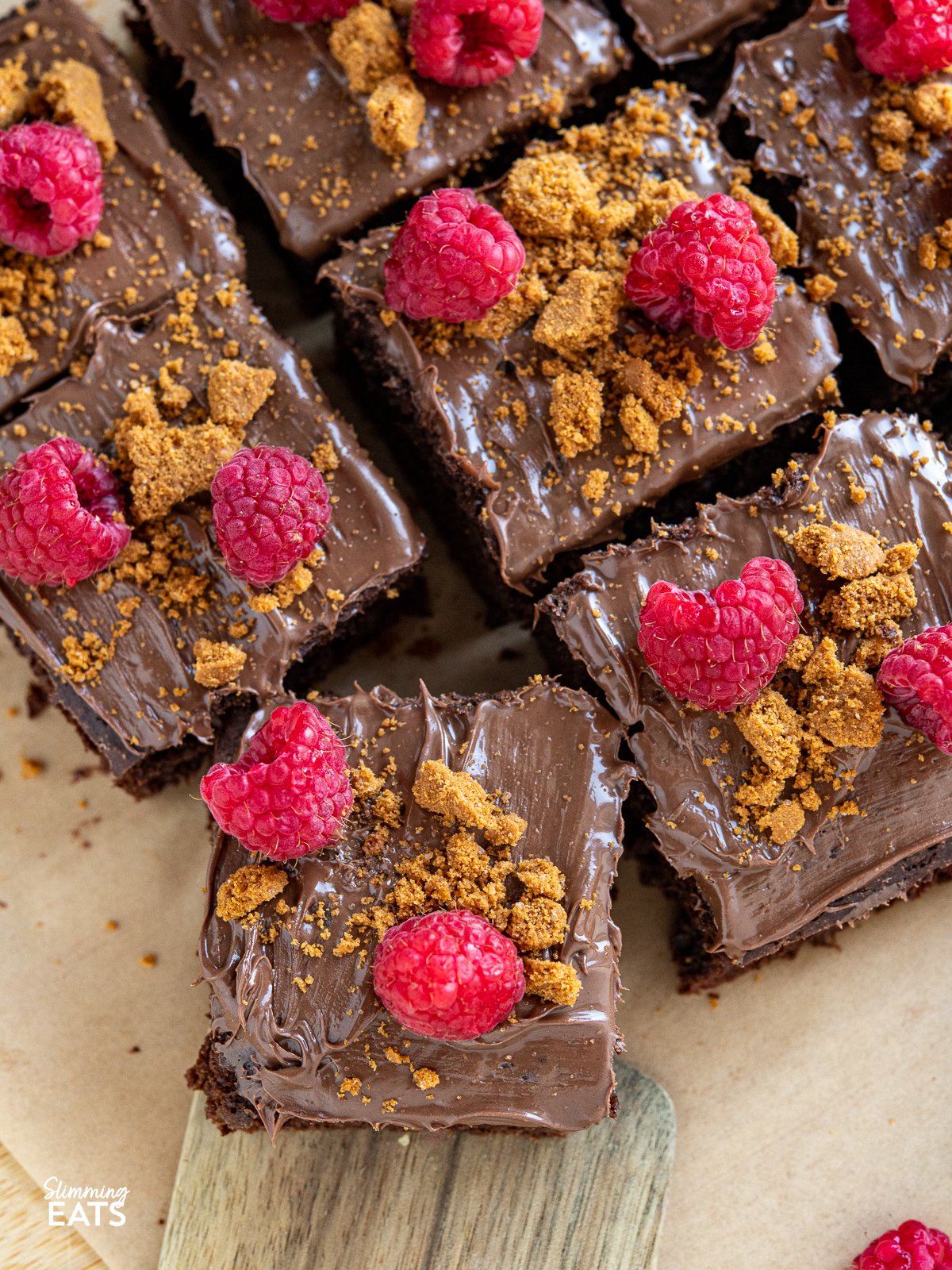 Best type of granulated sweetener
There are various types of granulated sweetener out there, so which one is best to use?
I also use a granulated sweetener called erythritol when I am not using ingredients like maple syrup, honey or real sugar. Erythritol is naturally derived and acts and tastes like real sugar in recipes.
Other sweeteners may not work as well, the taste may be overpowering and the ratio not the same, so always check the packaging of the sweetener you are using to see the sugar to sweetener ratio to ensure you use the correct amount, otherwise the final result of the cake may be affected. Using erythritol the cake is moist and fluffy, exactly how a cake should be.
If you don't want to use a sweetener you can use regular sugar instead. (same quantity)
What cocoa powder is best in baking?
For baking you want to ensure you are using 100% cocoa powder, the only ingredient should be cocoa powder and nothing else.
Do not use drinking chocolate powder, this is usually sweetener and will not yield the same chocolate result.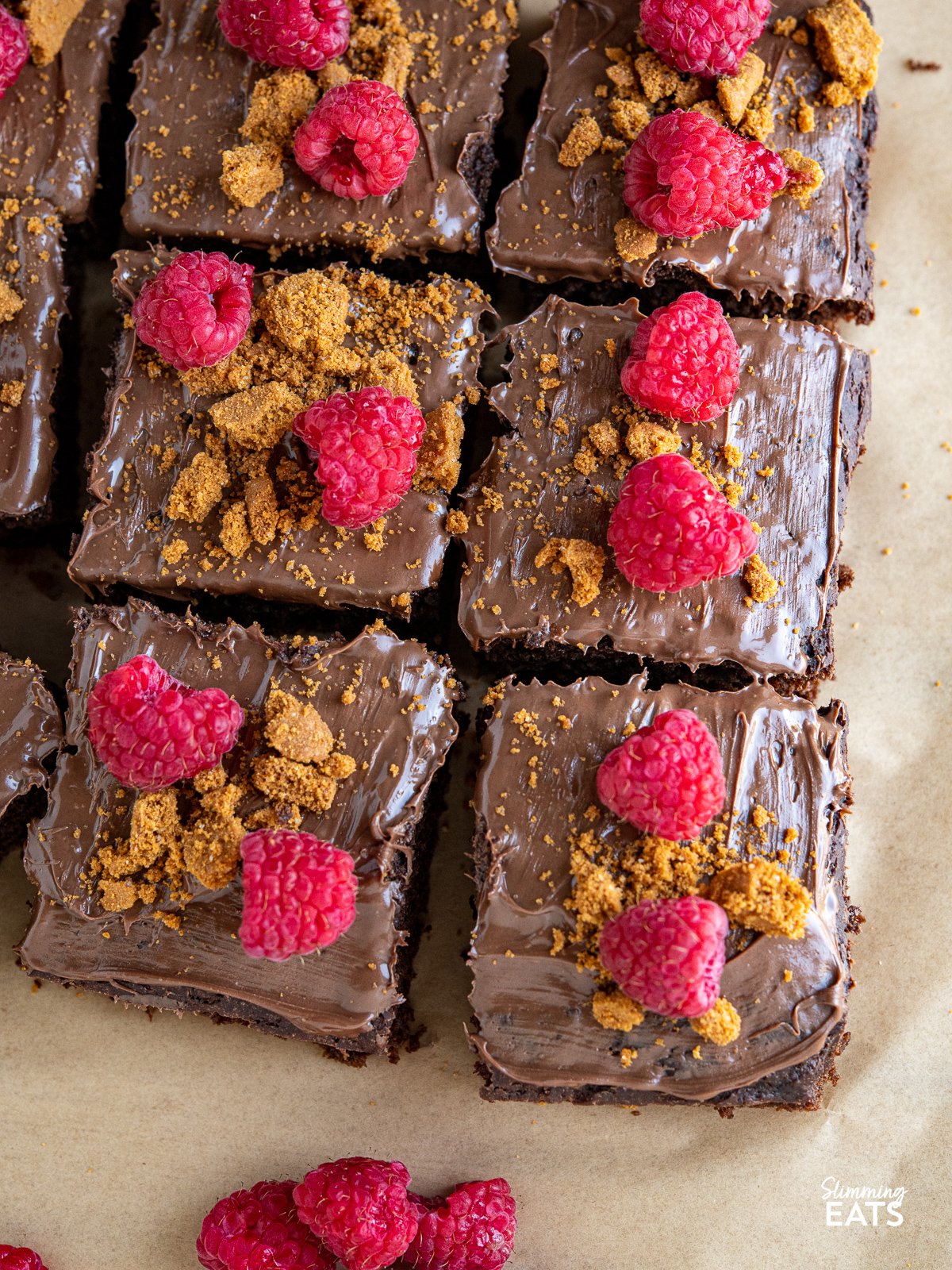 Can I use other chocolate milks?
I use sweetened oat chocolate milk in this recipe, but any chocolate milk will work, just be aware that calories may differ by the type of chocolate milk you use.
Almond milks is another great choice too. Nut milks tend to be lower in calories than dairy chocolate milk, so something to bear in mind.
My cake didn't rise?
This cake won't rise super high, it's about the same height as a cake like brownie. If you cake is flat there will be a couple of things that could account for this.
Check your baking powder - has it been stored correctly once opened and is it in date? These things can affect the rising agent of baking powder
Did you use the right kind of granulated sweetener? As mentioned about, using the wrong sweetener and not checking the ratio of sugar to sweetener, can end up making the cake super dense which will affect how it rises.
Did you use the correct size pan? I do not recommend any bigger than 8x8 inches.
Don't over mix the batter, combine the dry ingredients, combine the wet ingredients, fold until both wet and dry ingredients are combined and it's ready to bake.
Failing that, check you have used all the correct ingredients and measurements. Baking requires precise measuring, so it's important to measure accurately, using kitchen scales (digital are best and ensure they are calibrated correctly) and if a recipe ask for teaspoon or tablespoon of something, make sure you are using proper measuring spoons and levelling off alway. A tablespoon/teaspoon etc should be level and not heapped.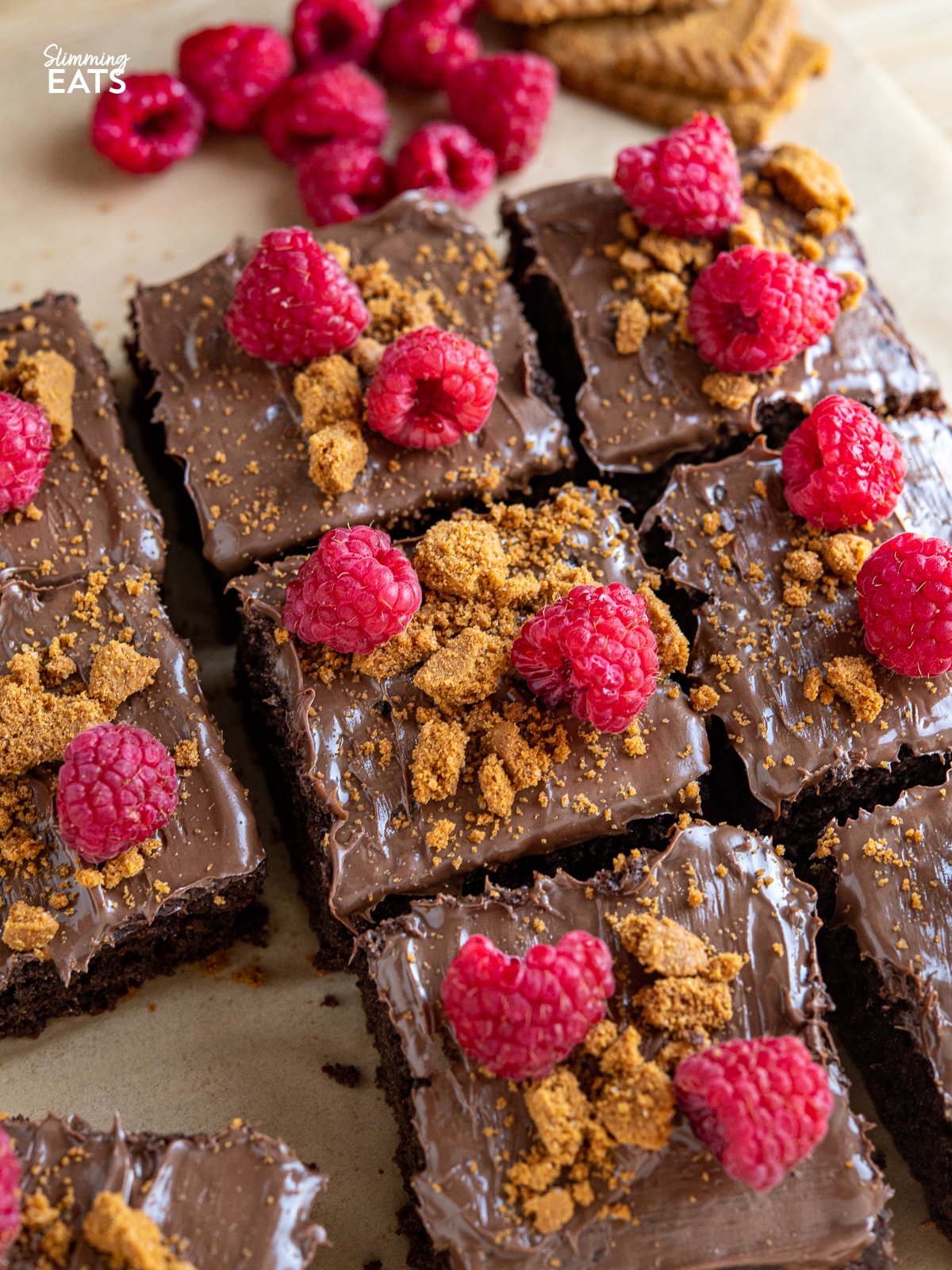 More Dessert Recipes
Looking for some more dessert recipes? Check out all these:
or if you would like more recipe ideas or sides to make with this recipe - head on over to the FULL RECIPE INDEX where you will find over 900 delicious recipes with calories and you can search by meal type, ingredients, course, diet and more..
All recipes on Slimming Eats have estimated nutritional information for your convenience.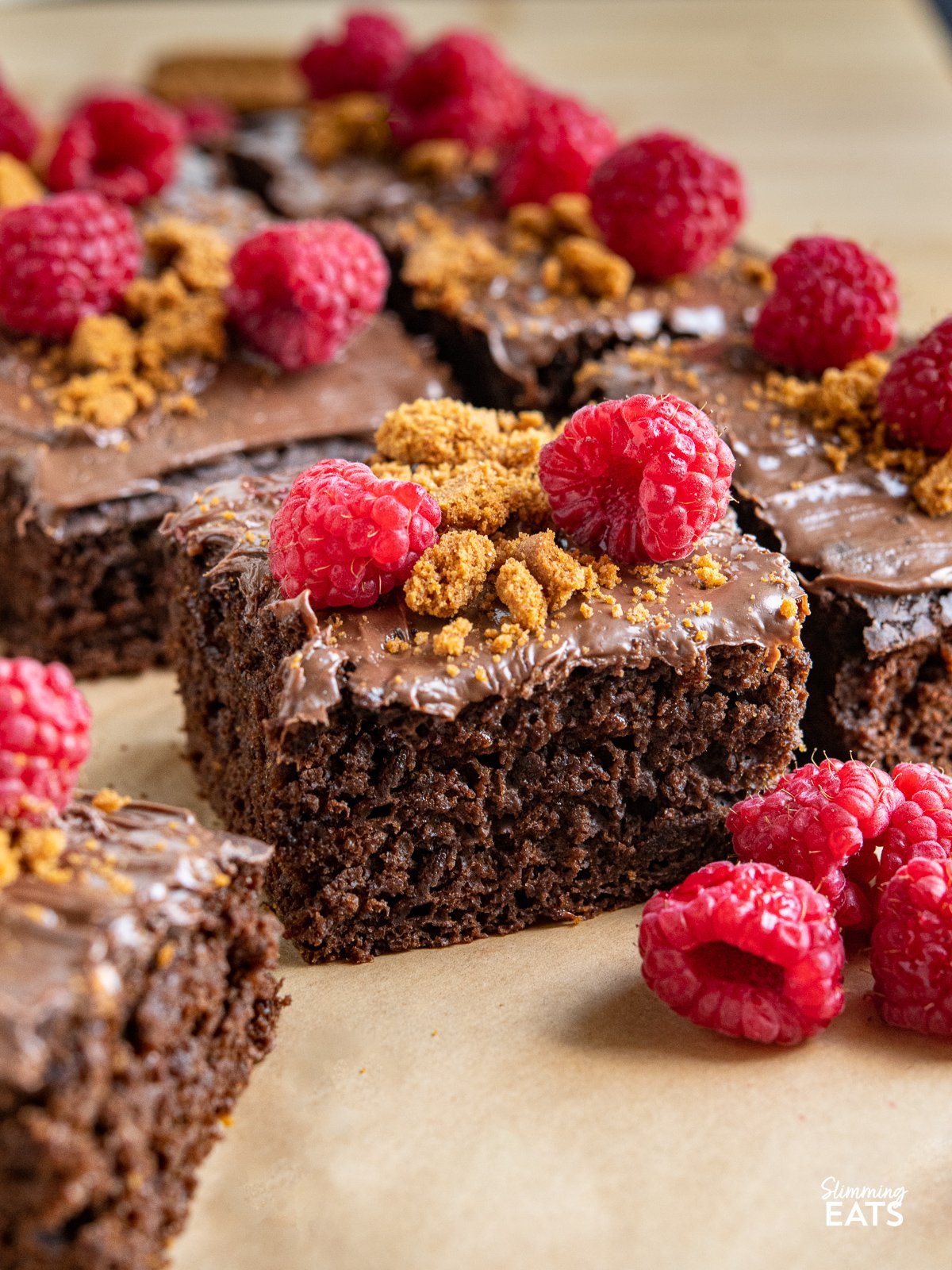 ---
LET'S CONNECT!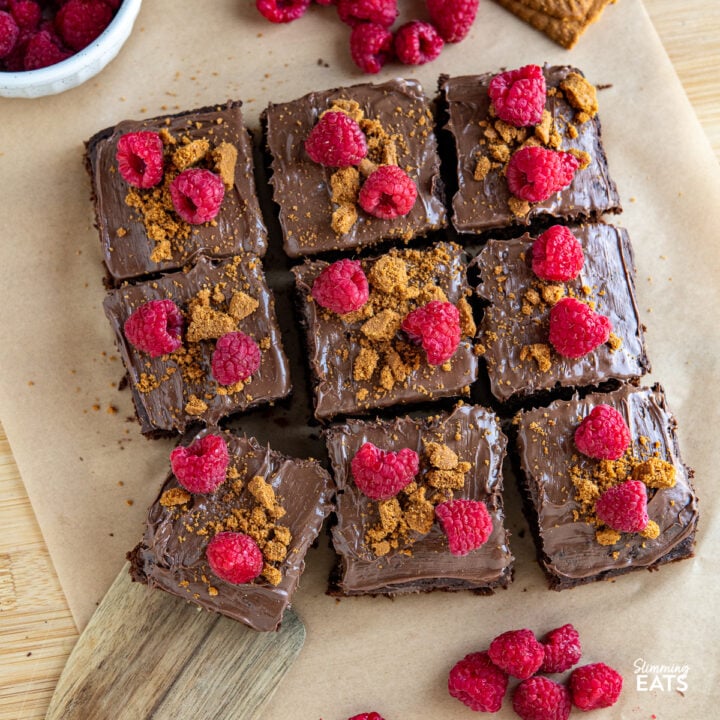 Raspberry Nutella Chocolate Cake
Love a slice of guilt-free cake? Check out this delicious low calorie chocolate cake topped with nutella spread, crumbled lotus biscoff cookies and fresh raspberries.
Ingredients
160g of plain flour
30g of 100% pure cocoa/Cacao powder
1 teaspoon of baking powder
½ teaspoon of baking soda (bicarb of soda)
1 tablespoon of unsalted butter, melted
6 tablespoons of granulated sweetener (I used erythritol)
1 large egg
1 teaspoon of vanilla extract
180ml of chocolate oat milk (or any chocolate milk)
low calorie spray
For the topping:
70g of nutella
18 fresh raspberries
2 lotus biscoff cookies
Instructions
Preheat oven to 180c/350f (gas mark 4)
Combine the flour, cocoa powder, baking powder, bicarb of soda and pinch of salt in a bowl.
Mix the melted butter with the egg and sweetener, then add in the chocolate milk and vanilla extract.
Add this into the dry mix and fold until all combined.
Line a 8x8 inch square baking tray with parchment paper and grease with low calorie spray.
Pour in the mixture and tap the tray on a hard surface to evenly distribute the batter.
Bake for 20-25 minutes (a skewer entered into the centre should come out clean.
Allow to cool slightly then slice in 9 equal squares.
Keep all the squares placed together.
Warm the nutella in a microwave at 10 secs intervals until it warmed and can be drizzled.
Spread this all over the top of the cake with a spatula.
Crumble the lotus cookies and sprinkle these on top. Then top each square of cake with 2 raspberries.
Enjoy!!
Notes
Please see below for full nutritional info and additional details about recipe:
Calories - scroll down to nutritional info box
WW Points and other Slimming or Weight Loss programs:  due to plans regularly changing and updating, we recommend calculating with the official tools you get as a member to those plans to ensure accuracy of values.
Suitable for freezing ❄️- recommend freezing cake without toppings
If you wish to share this recipe, then please do so by using the share buttons provided at top of this post.
DO NOT COPY AND/OR PASTE FULL RECIPES OR SCREENSHOTS OF ANY CONTENT FROM SLIMMING EATS TO ANY SOCIAL MEDIA OR WEBSITE, IT IS STRICTLY PROHIBITED.
ALL IMAGES AND CONTENT ON SLIMMING EATS ARE COPYRIGHT PROTECTED
Nutritional information etc are an estimate and are to be used for informational purposes only. Ingredients can vary in values from brand to brand and therefore it would be impossible to give accurate information. It is always advised that you calculate values yourself by the ingredients you use and the tools provided to you as a member of the programme you are following.
It is the responsibility of the Reader to assure the products or ingredients they use in any recipes from Slimming Eats are allergen-free (gluten-free, egg-free, soy-free and/or dairy-free, for example). Slimming Eats assumes no liability for inaccuracies or misstatement about products, opinions or comments on this site. 
Check Legal section, for Full Disclaimer, Disclosure and Privacy Policy.
Recommended Products
As an Amazon Associate and member of other affiliate programs, I earn from qualifying purchases.
Nutrition Information
Yield

9
Serving Size

1 slice
Amount Per Serving
Calories

158
Total Fat

5g
Saturated Fat

2g
Trans Fat

0g
Cholesterol

24mg
Sodium

151mg
Carbohydrates

24g
Fiber

3g
Sugar

7g
Protein

4g
Nutritional information and values etc are an estimate and is to be used for informational purposes only. Ingredients can vary greatly from brand to brand and therefore it would be impossible to give accurate information. It is always advised that you calculate by the ingredients you use.
Disclosure: This post may contain affiliate links. As an Amazon Associate and member of other affiliate programs, I earn from qualifying purchases. We are a participant in the Amazon Services LLC Associates Program, an affiliate advertising program designed to provide a means for us to earn fees by linking to Amazon.com and affiliated sites." Check Legal section, for Full Disclaimer, Disclosure and Privacy Policy.