Gingerbread Baked Oats with the delicious flavours of ginger and molasses, finished off with a delicate drizzle of icing. It's  perfectly moist and is great for those old-fashioned cake cravings.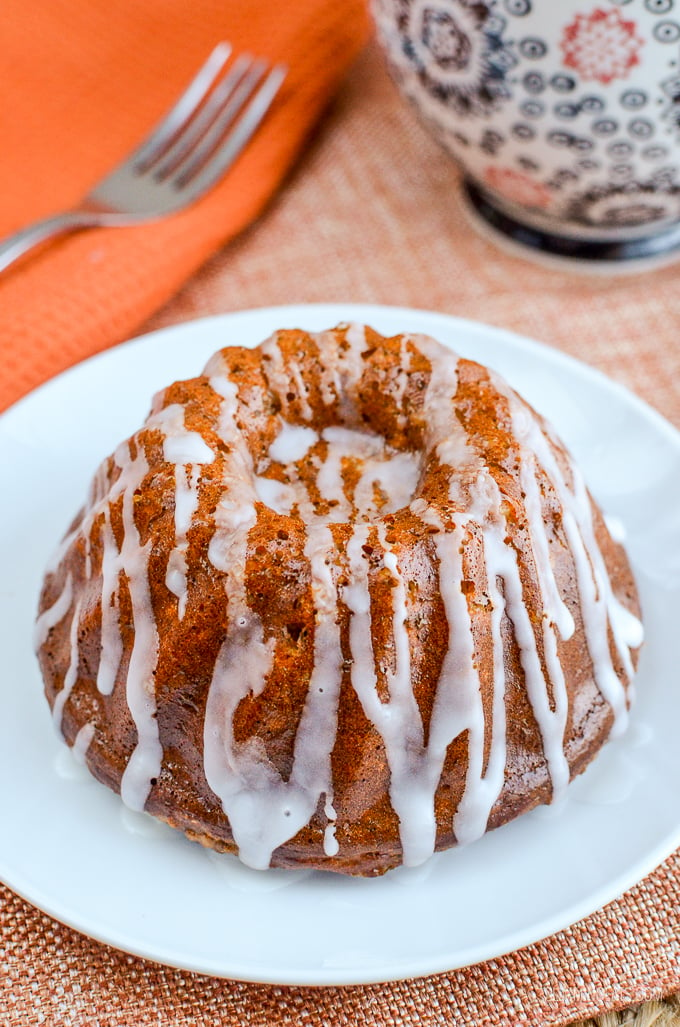 I've had these cute little Wilton Mini Fluted Pans in a set of 3, that I've been saving waiting for the perfect recipe to use them in and this Gingerbread Baked Oats just seemed like the right choice.
Truth be told I actually purchased these well over a year ago from a fantastic store here in Canada called Homesense (which is part of the TJ Maxx company). It's my favourite store for all kinds of kitchen gadgets and cookware. So much so, I go in there at least once a week and always come home with various goods.
Trouble is, I have so much now, that I really don't have room to put it all and these mini fluted pans got put in the cupboard with all my other bakeware where they were pushed to the back and forgotten about.
Until recently that is -  I was looking for a small pan to make some Gingerbread Baked Oats, my recent genius addition to my baked oats series. I was originally looking for my mini springform pan when suddenly these caught my eye and I just knew they would be perfect.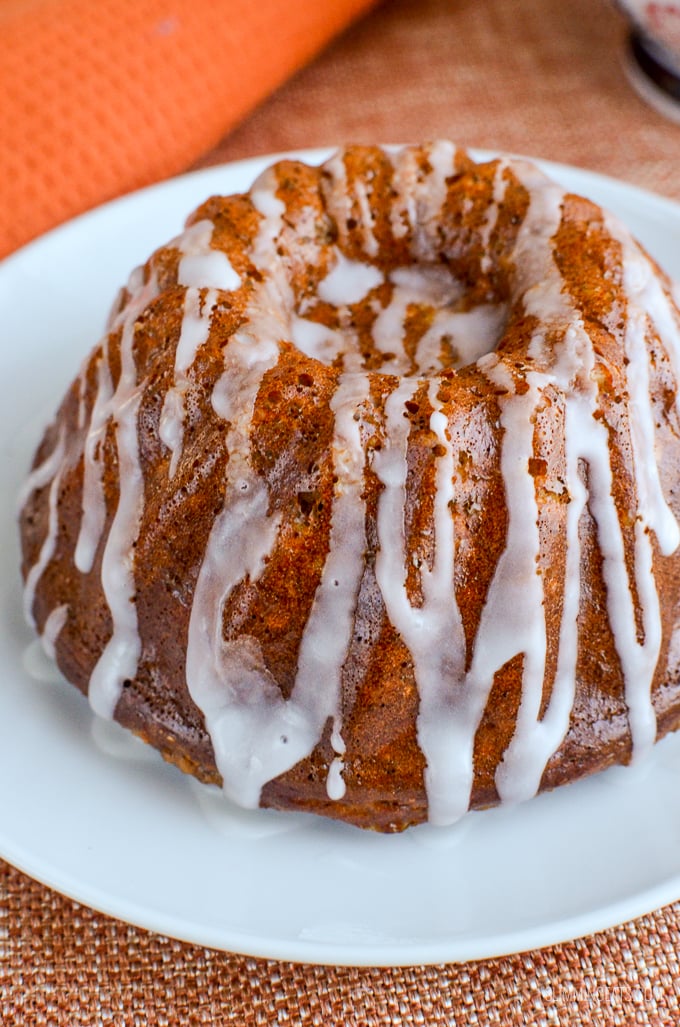 Of course, now I have finally used them I have so many more ideas for recipes to make in them. They are the perfect size for baked oats, as they have the right amount of space for the mixture to rise once poured in. The last thing you want is a dish that is the wrong size and it overflows and pours over the side.
With it being so close to Christmas, I always have a carton or bottle of molasses (black treacle) purchased, as it's a family tradition that we make gingerbread men for the kids to decorate, along with some gingerbread cake for the adults and molasses is an important ingredient in both those recipes.
It was when purchasing the molasses that the idea popped into my head for a Gingerbread Baked Oats recipe, as I know how much you have all been loving this Mince Pie Baked Oats.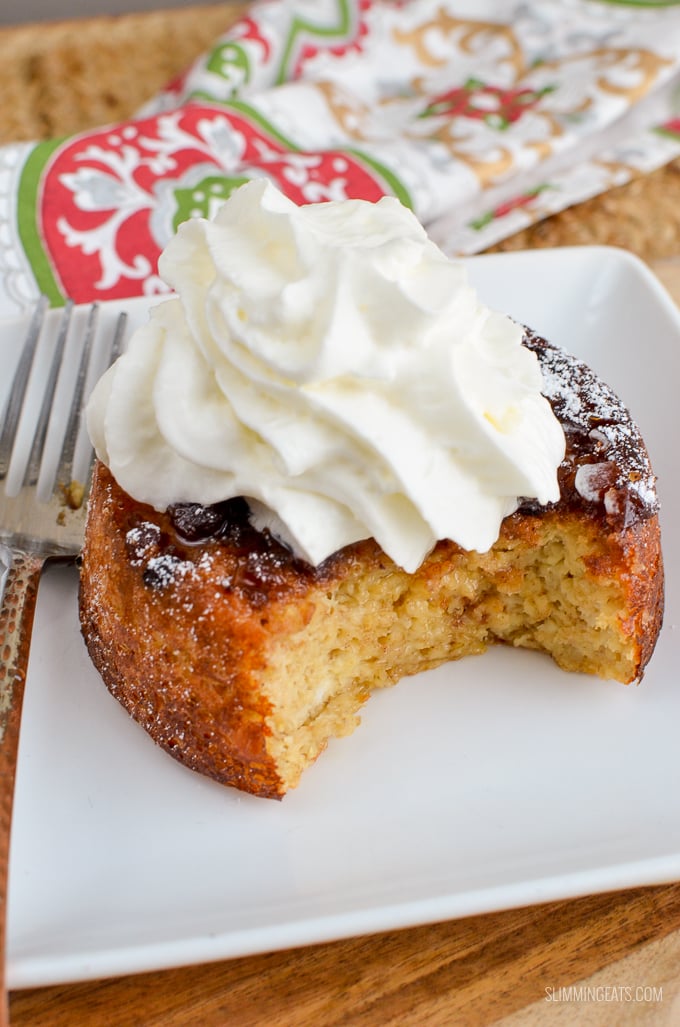 These Gingerbread Baked Oats are super easy to make - just regular oats, baking powder, an egg, yoghurt, a mix of spices for that Gingerbread flavour and that deep dark Molasses (Black Treacle). I also add some sukrin gold, which is a great alternative to brown sugar.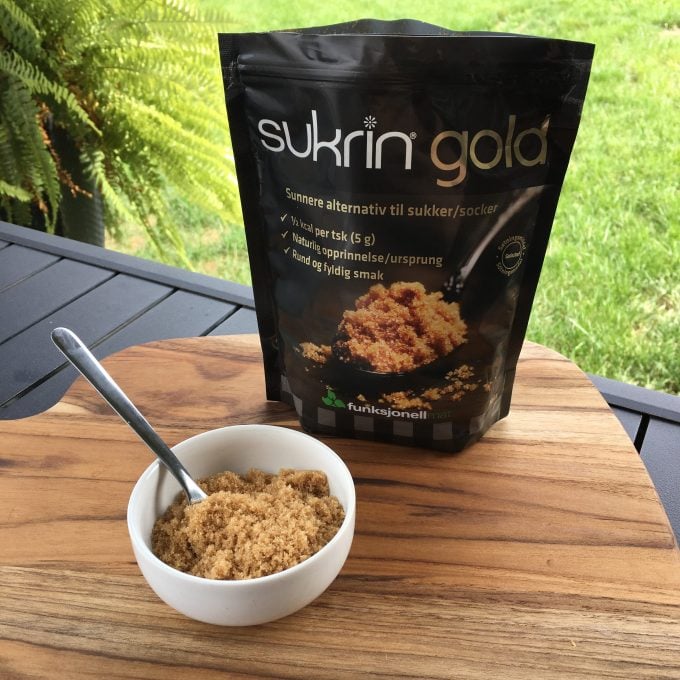 I prefer to use Sukrin, as it's the only sweetener I have found that is natural with no aftertaste, but if you have tried other sweeteners and are happy with the taste of those, then feel free to substitute.
If you struggle to get the molasses (black treacle) - I have tested this recipe without and it works fine, you just won't get that deep molasses flavour that you expect with a gingerbread cake, but it still tastes delicious.
Don't miss out that all-important Baking Powder, it might not seem like much, but it really helps the bake of baked oats and turns it into a lovely moist cake texture.
---
Love baked oats? Don't forget to check out these other delicious recipes: 
and if you like Treacle Sponge. This Pouding Chomeur is pretty darn close, it's actually a French Canadian dessert that was created in Quebec, Canada during the first depression. It translates to Poor Man's Pudding and really does remind me of a yummy treacle sponge.
Looking for more recipe ideas? Head on over to my FULL RECIPE INDEX where you will find over 500+ delicious Slimming World recipes to choose from and all are searchable by syn value, meal type, ingredients etc.
---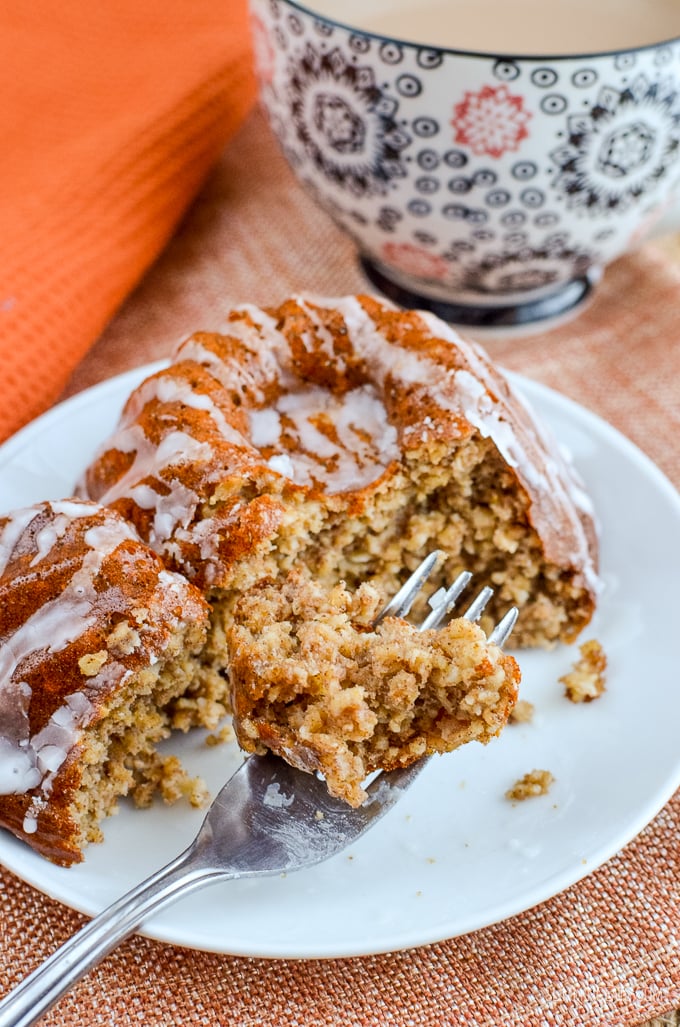 I finished off the Gingerbread Baked Oats with a drizzle of icing, which can be made with a small amount of icing sugar and a little bit of fat-free yoghurt or milk, the yoghurt is syn free but for the teeny amount of milk used to the syns would be negligible. You can drizzle the icing over the cake, but adding it to a sandwich bag, pushing it to one corner, snipping off the end and it then works as a handing piping bag.
If you don't fancy icing, this Gingerbread Baked Oats would be even more decadent with some low syn custard if you have a few more additional syns or maybe even some light cream.
Don't want to make one whole baked oats dish? Then make into 3 or 4 mini ones instead that you can enjoy throughout the day for your Healthy Extra B and 3.5 syns. Just watch the baking time, as they will bake slightly quickly that if you do one single Gingerbread Baked Oats.
WHAT KITCHEN ITEMS DO I NEED TO MAKE THIS MINCE PIE BAKED OATS?
Don't forget to subscribe to Slimming Eats to keep up to date on all new recipes. 
IF YOU TRY THIS RECIPE, LET US KNOW! LEAVE A COMMENT, RATE IT AND DON'T FORGET TO TAG US IN YOUR PHOTOS @SLIMMINGEATS ON INSTAGRAM AND DON'T FORGET TO FOLLOW SLIMMING EATS ON FACEBOOK | INSTAGRAM | PINTEREST | TWITTER | and YOUTUBE TO MAKE SURE YOU KEEP UP TO DATE ON ALL NEW RECIPES 🙂
Gingerbread Baked Oats | Slimming World
This recipe is gluten-free, vegetarian, Slimming World and Weight Watchers friendlyExtra Easy - 1 HEb and 3.5 syns (1.5 syns if you don't add the icing)Green/Vegetarian - 1 HEb and 3.5 syns (1.5 syns if you don't add the icing)WW Smart Points - 9 (6 if you don't add the icing)Gluten Free - use gluten-free oats 
Ingredients
40g/1.4oz of oats
½ tsp of baking powder
1 egg
100g (⅓ cup) of fat free plain yoghurt
¾ tbs of sweetener (I used sukrin gold)
½ tsp of ginger
small pinch of cinnamon
small pinch of allspice
½ tbs of molasses - 1.5 syns
spray oil
For the icing:
10g of icing sugar - 2 syns
1 tsp of plain yoghurt or skimmed milk
Instructions
Preheat oven to 190c/375f (gas mark 5)
Add the oats, baking powder, spices and sukrin to a bowl and mix.
Add the egg, yoghurt and molasses and mix until all combined
Spray mini fluted pan or ovenproof dish with spray oil to grease.
Add in the oat mixture
Bake for approx 25-30 mins, a wooden skewer entered into the centre should come out clean, if it comes out wet, then just keep in for a few more minutes.
Allow to cool fully if adding the icing.
For the icing:
Mix the icing sugar and yoghurt (or milk) in a bowl.
Spoon into a sandwich bag and squeeze all the icing into one corner. Carefully snip off a small piece of the corner and then drizzle the icing over the cake.
Enjoy!!
Notes
The syns for the baking powder is negligible, if you use skimmed milk in the icing sugar, again the amount is so tiny, the syns would be negligible, but it works well using theyoghurt too, it just gives the icing a pleasant tangy taste. 
Nutritional information is an estimate and is to be used for informational purposes only. Ingredients can vary greatly from brand to brand and therefore it would be impossible to give accurate information.
All images and content on Slimming Eats are copyright protected.
Check Legal section, for Full Disclaimer, Disclosure and Privacy Policy. 
If you wish to share this recipe, then please do so by using the share buttons provided. Do not screenshot or post recipe or content in full
Nutrition Information
Yield

1
Serving Size

1 serving
Amount Per Serving
Calories

323
Total Fat

8.2g
Saturated Fat

2.2g
Cholesterol

186mg
Sodium

372.5mg
Carbohydrates

47.9g
Fiber

3.6g
Sugar

22.2g
Protein

14.3g
Disclosure: This post may contain affiliate links. As an Amazon Associate and member of other affiliate programs, I earn from qualifying purchases. We are a participant in the Amazon Services LLC Associates Program, an affiliate advertising program designed to provide a means for us to earn fees by linking to Amazon.com and affiliated sites." Check Legal section, for Full Disclaimer, Disclosure and Privacy Policy.