Indulge in the savoury delight of golden and crunchy Crispy Air Fried Tater Tots (Hash Brown Bites) Totchos, with a blend of sausage, peppers, and sweet onions. Topped with creamy scrambled eggs and a luxurious cascade of melted cheese.
This breakfast masterpiece is the perfect way to start your day with a burst of flavor. Customize your plate by including some of your favorite sides or condiments. It's not just for weekends; this recipe can be enjoyed any time of day.
Jump to:
Calories in Air Fryer Breakfast Loaded Tater Tots (Totchos)
Enjoy these Air Fryer Breakfast Loaded Tater Tots, which serves four people and has 381 calories per serving.
If you're looking for more recipes within the same calorie range, you'll find an abundance of options in my dedicated collection of 300+ calorie recipes.
If you're following a calorie-controlled diet or a healthy eating plan, it's important to calculate your daily calorie intake using a reliable calorie calculator. Please note that the calorie counts provided are estimates and can vary based on specific ingredients and serving sizes. Personalizing your calculations is essential to meet your individual needs. By using a calorie calculator, you can make informed choices and stay on track with your dietary goals.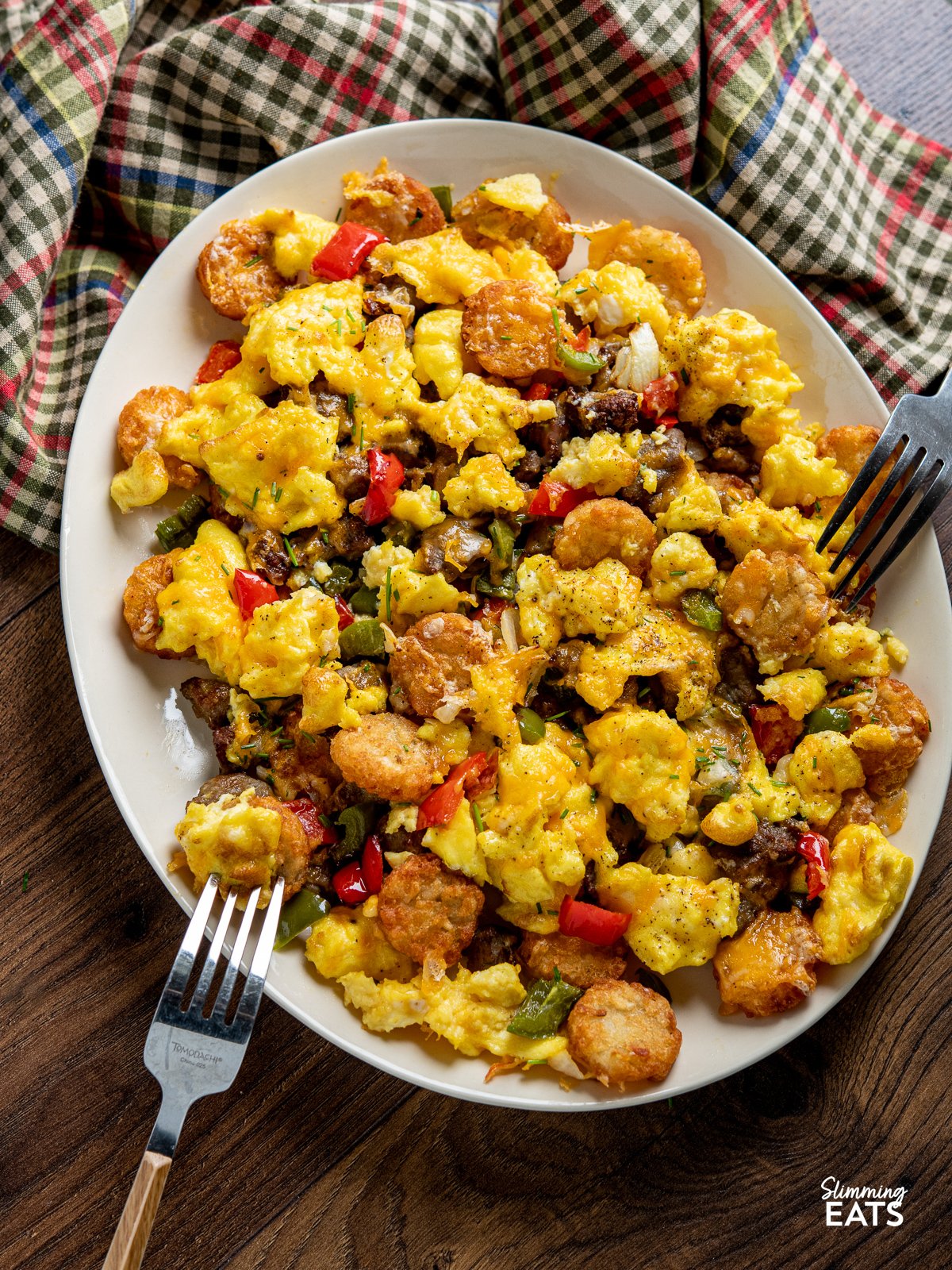 Ingredients for Breakfast Loaded Tater Tots
To prepare these delicious breakfast loaded tater tos, here are some notes on the ingredients used:
Low Calorie Sausage - Opt for your favourite brand to ensure the best taste, we remove the skin on the sausage to make a sausage meat. If you can't find a good low calorie sausage, check out the variations/substitute section below for other options.
Onion - I use a regular white onion, but red onion is fine too.
Bell Peppers - a mixture or red and green bell peppers add a pop of colour to the dish, but any colour bell pepper is fine.
Tater Tots/Hash Brown Bites - In the US/Canada look for tater tots or tater tot crisps (slightly smaller) in the frozen section of any supermarket, in the UK they are called Hash Brown Bites and are available at most supermarkets.
Fresh Eggs - These are to make the scrambled egg - opt for pasture raised where possible, the yolk colour and quality of the egg is just so much more healthy.
Cheddar - You can use any cheddar you like or even red leicester is a nice touch if you want that coloured cheese topping. Mature cheddar will add more flavour
Fresh Chives - these are optional and just add a pop of colour to the top of the breakfast loaded tater tots
Salt and Pepper - Basic yet essential flavour enhancers; season the dish to taste.
Low Calorie Spray - opt for one without any emulsifiers (lecithin), as this can react with non stick cookware and cause a sticky residue over time.
Once you've gathered all the ingredients and prepared them accordingly, you're all set to create this easy and delightful recipe for breakfast.
See the recipe card for specific quantities and instructions.
Happy cooking!
Variations/Substitutes on the Recipe
Sausage: If you can't find a suitable low-calorie sausage, I have two options on Slimming Eats that you can use as a substitute. You can either use my Pork Breakfast Patties or my Turkey Breakfast Patties. Instead of forming the mix into patties, cook it in the air fryer as per the recipe to create a sausage meat -like texture.
Other proteins: You can swap the sausage for cooked bacon, or diced ham. However, these don't need to be cooked with the peppers and onion, so don't add them in until the final stage of layering the totchos."
Vegetarian option: You can either use a vegetarian sausage or skip the sausage entirely and consider adding ingredients such as mushrooms or similar breakfast vegetables. Add these alongside the peppers and onions for a delicious meat-free alternative
Add some spice: Like a bit of heat in your food? Consider adding a pinch of chili flakes, cayenne, or some Cajun spice to the sausage, peppers, and onion mixture before cooking. Alternatively, you can even drizzle it with some hot sauce or sriracha before serving.
Tips for Air Frying
This is an easy air fryer recipe and any conventional basket air fryer should work. If you have a dual basket air fryer, you may need to split the ingredients into the two baskets if the one basket is not big enough. It is vital not to overcrowd the basket, otherwise the ingredients won't cook evenly.
I always preheat my air fryer first, this just gets the fan started and warms up the air fryer and prevents things from being blown about in the basket when you come to cook your ingredients.
If you do not have a preheat button on your air fryer, you can just set it to air fry empty with no items in it for a couple of minutes.
When cooking some of the ingredients I opt to use a sheet of parchment paper that is cut to fit the air fryer, it just makes easier clean up and removal of the food. But you can cook direct on the grill plate if you prefer. When cooking the sausage, peppers and onion however, it will drain the juices below which can result in your sausage being a little dry. So I advise using parchment for that stage at least.
Can this recipe be converted to the oven?
Yep you sure can, pretty much any recipe you cook in an air fryer can also be cooked in the oven and vice versa. I have created this handy conversion chart for you to use and convert recipes. There is a printable version, so you can print it out and keep in your kitchen.
Sides for Breakfast Loaded Tater Tots
For the family breakfast, I chose to serve these alongside some baked beans (one of my kids' favorite breakfast staples).
However, there are some other great options to consider:
Guacamole or sliced avocado
Salsa or diced fresh tomatoes
Sour cream
Sautéed spinach or kale
For my family, this was perfectly filling with a small serving of baked beans. Remember, the key to a balanced and filling meal is to pair the main dish with some low-calorie sides, such as vegetables. These sides will fill out your plate while helping you stay within your daily calorie goal, especially if you have a bigger appetite.
More Low Calorie Savoury Breakfast Recipes
Are you in search of more low calorie savoury breakfast recipes? Look no further! Explore these delicious Breakfast Recipes that will not only make your cooking easier but also bring a burst of flavour to your table.
or if you would like more recipe ideas or sides to make with this recipe - head on over to the FULL RECIPE INDEX where you will find over 900 delicious recipes with calories and you can search by meal type, ingredients, course, diet and more.
---
LET'S CONNECT!
Slimming Eats Made in the Air Fryer Cookbook
Looking for some more air fryer recipes? My new cookbook with 80+ Brand New and Delicious Recipes is out now and can be purchased from all UK major retailers including Amazon (will be released January 2024 in North America including Canada and Australia).
This is the ONLY air fryer cookbook you need in your life. Let me show you all the Amazing meals you can make in your air fryer.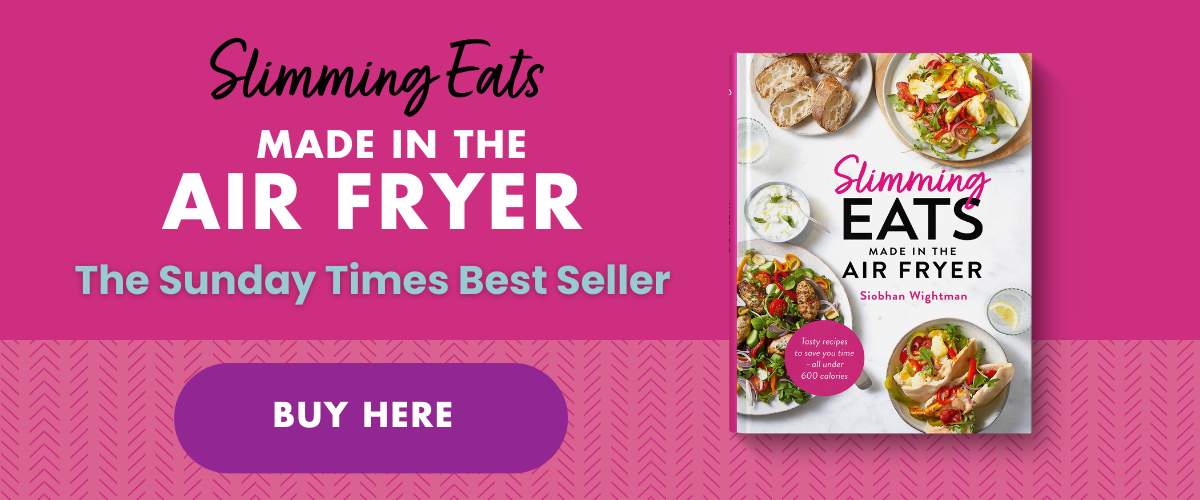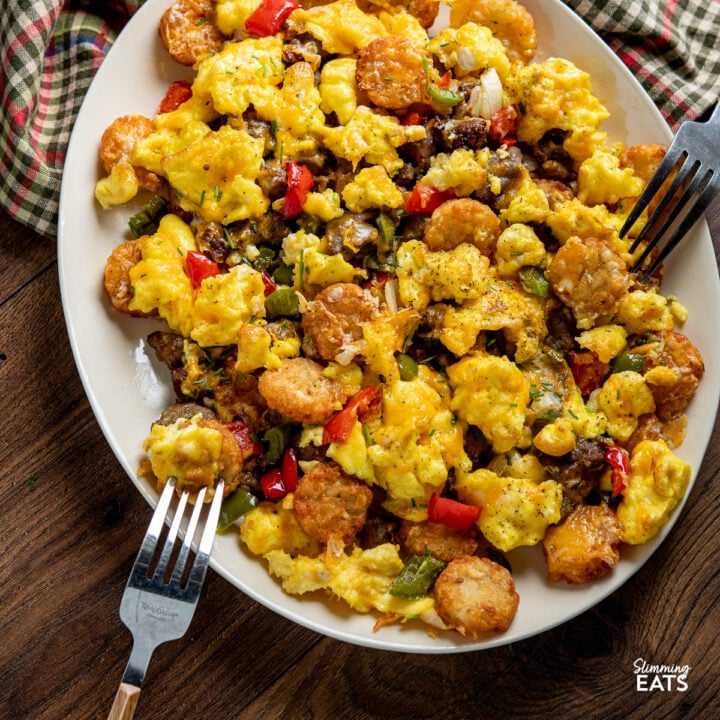 Air Fryer Breakfast Loaded Tater Tots (Totchos)
Indulge in the savoury delight of golden and crunchy Crispy Air Fried Tater Tots (Hash Brown Bites) Totchos, with a blend of sausage, peppers, and sweet onions. Topped with creamy scrambled eggs and a luxurious cascade of melted cheese.
Ingredients
4 low fat pork or chicken sausages - approx 250g
½ medium onion, finely diced
½ red bell pepper, diced
½ green bell pepper, diced
low calorie spray oil
280g frozen tater tots, tater tot crisps (or hash brown bites) - this will vary from approx 24-40 pieces depending on size
6 large eggs
60g of cheddar, grated
salt and pepper to season
fresh chopped chives or spring onions to garnish
Instructions
Remove the skin from the sausages and break up the sausages into sausage meat chunks
Preheat air fryer at 190/375f for 2 minutes.
Add a sheet of parchment paper into the air fryer basket, scatter in the broken up sausage meat, onion and peppers. Spray over the top with low calorie spray.
Air fry for 8-10 minutes until the sausage is cooked and the peppers and onion are golden. Stir the sausage and pepper mix half way through cooking. Remove along with the parchment paper and set aside.
Add the tater tots (hash brown bites) to the air fryer basket, and air fry on 200c/400f for 10-14 minutes (this will depend on brand) untl crispy and golden.
While the tater tots are cooking. Crack the eggs into a cold non-stick saucepan and whisk until all combined. (do not season). Add the pan to a low heat, and as they start to cooking, remove at intervals giving a gentle stir., the eggs are ready when they are silky and creamy in appearance, you want them slightly undercooked, as they will be added to the air fryer. Season the scrambled eggs with salt and black pepper and set aside in a cold bowl to prevent further cooking, while you wait for the tater tots to finish cooking.
Once the tater tots are ready, scatter with the sausage, pepper and onion mix, scatter in the scrambled eggs and top with the grated cheese.
Continue to cook in the air fryer for a couple of minutes just until the cheese is all melted and everything is warmed through.
Season with salt and pepper and sprinkle with fresh chopped chives or spring onions.
Enjoy!!
Notes
Please see below for details about recipe:
Calories - scroll down to nutritional info box
Slimming, Diet or Weight Loss programs::  due to plans regularly changing and updating, we recommend calculating with the official tools you get as a member to those plans to ensure accuracy of values
Gluten Free Friendly - use gluten free sausages and tater tots
Vegetarian - use a vegetarian sausage or subsitute with additional vegetables.
Side suggestions: baked beans, guacomole (or avocado), salsa or extra sauteed vegetables
If you wish to share this recipe, then please do so by using the share buttons provided at top of this post.
DO NOT COPY AND/OR PASTE FULL RECIPES OR SCREENSHOTS OF ANY CONTENT FROM SLIMMING EATS TO ANY SOCIAL MEDIA OR WEBSITE, IT IS STRICTLY PROHIBITED.
ALL IMAGES AND CONTENT ON SLIMMING EATS ARE COPYRIGHT PROTECTED
Nutritional information etc are an estimate and are to be used for informational purposes only. Ingredients can vary in values from brand to brand and therefore it would be impossible to give accurate information. It is always advised that you calculate values yourself by the ingredients you use and the tools provided to you as a member of the programme you are following.
It is the responsibility of the Reader to assure the products or ingredients they use in any recipes from Slimming Eats are allergen-free (gluten-free, egg-free, soy-free and/or dairy-free, for example). Slimming Eats assumes no liability for inaccuracies or misstatement about products, opinions or comments on this site. 
Check Legal section, for Full Disclaimer, Disclosure and Privacy Policy.
Recommended Products
As an Amazon Associate and member of other affiliate programs, I earn from qualifying purchases.
Nutrition Information
Yield

4
Serving Size

1 SERVING
Amount Per Serving
Calories

381
Total Fat

21g
Saturated Fat

7g
Trans Fat

0g
Unsaturated Fat

18g
Cholesterol

386mg
Sodium

777mg
Carbohydrates

24g
Fiber

2g
Sugar

3g
Protein

26g
Nutritional information and values etc are an estimate and is to be used for informational purposes only. Ingredients can vary greatly from brand to brand and therefore it would be impossible to give accurate information. It is always advised that you calculate by the ingredients you use.
Disclosure: This post may contain affiliate links. As an Amazon Associate and member of other affiliate programs, I earn from qualifying purchases. We are a participant in the Amazon Services LLC Associates Program, an affiliate advertising program designed to provide a means for us to earn fees by linking to Amazon.com and affiliated sites." Check Legal section, for Full Disclaimer, Disclosure and Privacy Policy.