Air Fryer Conversion - How to Convert recipes to your air fryer and everything else you need to know on all things Air Fryer.
Air fryers are the new best friend, pretty much every household now has one in their kitchen, but for some they can be a little daunting if you don't have an exact recipe to follow and you can often find that because of this you tend to cook the same things over and over again
Before we get onto how to convert recipes for your air fryer, lets cover many questions you may have about an Air Fryer especially if you haven't yet added one to your kitchen.
Jump to:
Choosing an Air Fryer
There are so many options for different air fryers out there now compared to what there were a few years ago, it can be hard to know which one is the right one to choose for you.
If you are on a budget there are some great choices available, keep an eye out for deals and sales at places like Aldi, other supermarkets and Amazon especially around major sale days like Boxing Day, Amazon Prime Day and Black Friday.
It is also worth checking out local sale groups on Facebook or even thrift and second hand stores in your area, as occasionally you can be lucky and pick up a really good deal.
What Size Air Fryer do I need?
The main thing you want to ensure when purchasing an Air Fryer is that you pick the right size that is going to be suitable for your family. A single person or small family of two may manage with a small one basket air fryer of quite small capacity usually around 1-3 quarts (which is up to about 3 litres). However I'd say a family of 2 should opt for the next size which is 4-6 quarts (up to 6 litres). If you have a large family you may want to invest in the large capacity models or a dual basket air fryer of 6-8 quart (up to 9 litres) in size.
I always recommend going for the biggest size you can afford in your budget and of course can fit in your kitchen, because it will always be useful having extra capacity when you need it.
If you want one that does a little bit more than the basics (for example a dual air fryer or a multi cooker that pressure cooks and slow cooks too, there are options for that also (I will cover those in more detail below).
There is also the Tefal ActiFry Genius XL 2in1 YV970840 Air Fryer which is a different type of air fryer from the ones you see today, these air fryers have a pan and a paddle so they rotate the food for you. These were really popular when they first came out many years ago now, but there is a huge choice of different types of air fryer now.
Dual Basket Air Fryers
Dual Basket Air Fryers are the new style of air fryer available and they are becoming hugely popular, even for a small family the dual baskets are a great option because it means you can cook two different things at once.
Gone are the days when you would maybe have to cook the protein side of things in the air fryer and then use the stove for sides or additions because with a dual air fryer you can pretty much do a complete meal for your whole family without even having to turn one the oven or stove.
There are various models available, but the popular ones are:
Pressure Cooker combined with an Air Fryer
These are a fantastic option if counter space is minimal. Pressure cooking has become as popular as air fryer over the last few years and the beauty of these types of cookers is that you can cook so many different things in one. Most multi function pressure cookers will saute, pressure cook, slow cook and then if they have the air fryer lid will also air fry too.
If you enjoy things like casseroles, stews, soup, pasta etc but also would like the added function of being able to air fry some things, then this is definitely the best option to go for.
There are various models of Pressure Cookers with an Air Fryer lid, but as with the Air Fryer, the two main ones are Instant Pot and Ninja. The Instant Pot one is quite high in size with the air fryer lid, so if counter space is limited for you, you might be better opting for a Ninja Model which is not so high and also has various capacity options.
(As an Amazon Associate and member of other affiliate programs, I earn from qualifying purchases.)
IMPORTANT NOTE: When buying a countertop appliance like these, I always recommend measuring the space you have an checking dimensions before ordering.
Oven to Air Fryer Conversion Chart
The good news is that pretty much anything you can cook in an oven, can also be cooked in an air fryer, there are just a couple of adjustments that need to be made to a recipe if it is not written out exactly for an air fryer.
For cooking temps you want to subtract around 25 fahrenheit (see chart below). Then the oven cooking time should be reduced by 20%, of course different air fryers can vary, so this is purely a guideline to get you started. The more you use your air fryer the more you will get used to how it cooks and know the perfect temp to use for different things.
Here is my handy quick Oven to Air Fryer Conversion Chart:
Slimming Eats Oven to Air Fryer Calculator
Here is a handy little calculator to quickly convert a oven temp/time for air fryer. Just select the oven temp (ensuring you select fahrenheit or celsius) and time and it will convert for you.
This calculator is to be used as a guideline only to get you started converting recipes for you air fryer. Different brands of air fryer can vary in how they cook, so it is recommended that you check food half way through cooking so that you can adjust the temp/time if needed.
Deep Fryer to Air Fryer Conversion
For things that are usually deep fried, most of these can be converted to a healthier version in an air fryer. I do recommend using some kind of oil here though and half way through cooking checking and adding a little more if needed.
You can either toss in oil in the basket, brush with a silicone brush or use an oil mister.
Usually 1 tablespoon of oil is enough for a recipe for 4, but you may need more depending on what deep fried dish you are trying to recreate in the air fryer.
Tips for Air Frying Successfully
There are various different things to ensure successful cooking in an air fryer.
Preheat Air Fryer: It is recommended that you preheat your airfryer for at least 3-5 minutes, 3 minutes for a smaller and 5 mins for a larger capacity especially if you want a nice sear/crisp to whatever you are cooking.
Don't overfill the basket: The first most important tip is to not overcrowd the air fryer basket. If you fill it over it's capacity, you are not going to get great results, cooking will be uneven, stuff may end up undercooked and other parts over cooked and you'll likely end up steaming food and creating a soggy mess, rather than that crispy exterior you are after.
Use some oil - while it is possible to cook without any oil whatsoever, for best results a little bit of oil will go a long way. 1 tablespoon of oil is plenty for a recipe for 4 people and will give you the best results. Be wary of certain spray oils, especially if they contain emulsifiers, most of these are not recommend with air fryers because they react with the non stick coating and cause a sticky residue. Some air fryer warranties are actually voided if you do use a spray oil in them. If you do make the decision to use these, always spray the food out of the air fryer so that it doesn't get into the elements. A better option is a silicone brush so that you can lightly brush your food with a preferred oil of choice.
Check food - I always recommend checking food around the halfway mark of cooking time. That way you can adjust things if needed especially when cooking a particular dish for the first time. If you find it is cooking too high or too low you can adjust the temp, it's also a great time to give things a little flip if needed.
Accessories for Air Fryers
There are many accessories available for air fryers if you wish to use them. Pretty much any dish that is suitable for an oven if it will fit in your air fryer is okay. Just ensure it doesn't touch any of the elements or block the flow.
You can find different types of accessories online such as foil, parchment and silicone liners and additional racks. But unless they are recommend by your brand of air fryer, some caution should always be taken with any of these things available to purchase from a third party.
Air Fryer Recipes
Are you looking for some air fryer recipes? We have a air fryer section right here on Slimming Eats (with lots more air fryer recipes coming very soon).
See more Air Fryer Recipes →
If you would like more recipe ideas or have a go at converting some oven recipes yourself - head on over to the FULL RECIPE INDEX where you will find over 900 delicious recipes with calories and you can search by meal type, ingredients, course, diet and more.
All recipes on Slimming Eats have estimated nutritional information for your convenience.
Slimming Eats Made in the Air Fryer Cookbook
Looking for some more air fryer recipes? My new cookbook with 80+ Brand New and Delicious Recipes is out now and can be purchased from all UK major retailers including Amazon (will be released January 2024 in North America including Canada and Australia).
This is the ONLY air fryer cookbook you need in your life. Let me show you all the Amazing meals you can make in your air fryer.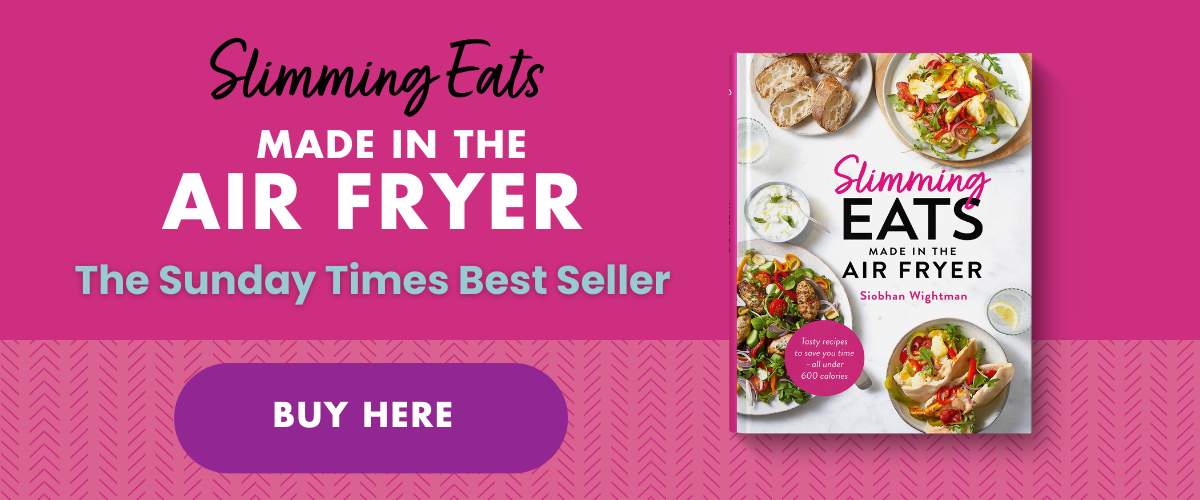 Air Fryer Conversion PDF Chart
Here is a handy chart you can print and pin in your kitchen.
Disclosure: This post may contain affiliate links. As an Amazon Associate and member of other affiliate programs, I earn from qualifying purchases. We are a participant in the Amazon Services LLC Associates Program, an affiliate advertising program designed to provide a means for us to earn fees by linking to Amazon.com and affiliated sites." Check Legal section, for Full Disclaimer, Disclosure and Privacy Policy.