Low Syn Beef Chow Mein - one of my favourites dishes to order from the Chinese, made healthier.
Since becoming more health conscious of the foods I eat, it has been important to create healthier versions of the take out food I love. Don't get me wrong I still have take out occasionally, but when I am trying to be good and fancy something in particular, if I can make it at home then that's going to keep me on plan.
I choose to use a little oil for this Beef Chow Mein, as I personally feel you don't get the same results with spray oil, by all means use the spray oil if you want to keep it syn free, but for the sake of a couple of syns, it's worth the oil, as you will get a more authentic result.
The fresh ginger adds amazing flavour and I love the slight crunch of the beansprouts.
Beansprouts do not take long to cook at all, you just blanch in some hot water and add to a hot pan or wok and stir fry for a couple of minutes maximum and they are done.
No beef chow mein is complete without a little oyster sauce too. It's a must have ingredient.
This was seriously as yummy as from the takeout, infact I'd go as far as to say it was better, because I knew I could enjoy it for very little syns and still be on plan. The kids loved it too, so it's a perfect quick meal for the whole family.
If you wanted to turn this into a full Chinese fakeaway meal, this would be perfect with Syn Free Curry Sauce, some Egg fried Rice and Salt and Pepper Chicken.
---
Looking for some more Chinese inspired dishes to enjoy? Check out these other great recipes:
also don't forget to check out my full recipe index for over 500+ other recipes
---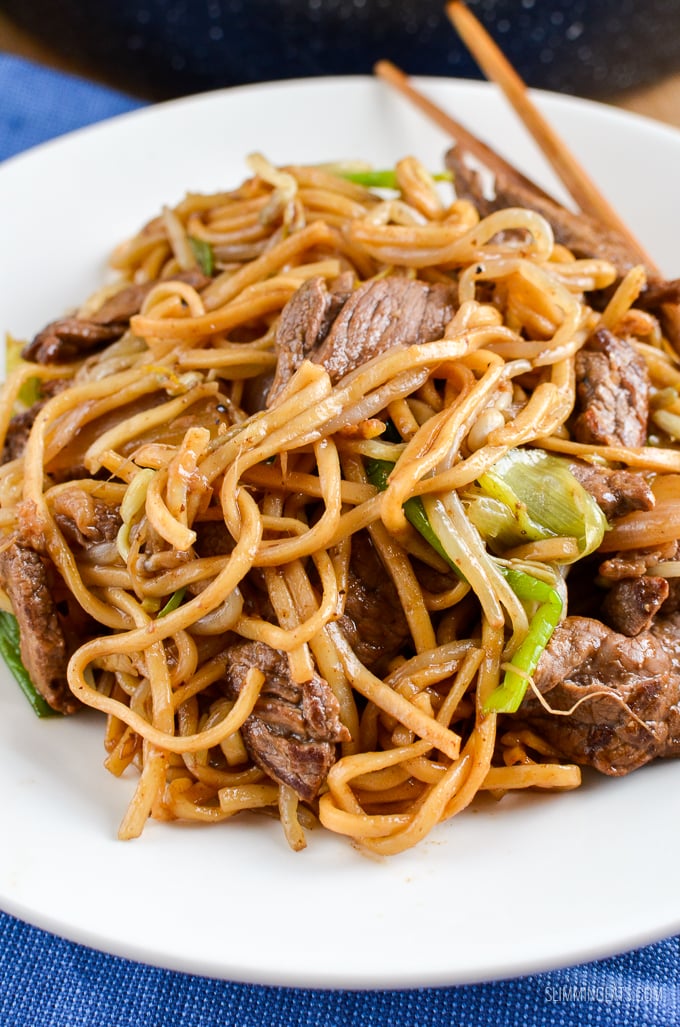 Beef Chow Mein
This recipe is dairy free, Slimming World and Weight Watchers friendlyExtra Easy - 1 syns per servingWW Smart Points - 8
Ingredients
200g (7oz) of egg noodles
400g (14oz) of fresh bean sprouts, blanched in hot water for 2 mins
400g (14oz) of flank or steak of choice (sliced thinly)
1 tablespoon of fresh ginger, sliced
low calorie spray
1 onion, roughly chopped
4 spring onions, sliced into strips
splash of soy sauce
3 tablespoons of oyster sauce
2 teaspoons of toasted sesame oil
black pepper
Instructions
Place noodles into a saucepan of boiling hot water, and simmer for 4 mins, drain, rinse with cold water, stir in the soy sauce to coat and set aside.
Heat a wok over a high heat and spray with low calorie spray add the ginger, once the flavour infuses the pan add the beef and stir fry till golden, remove and set aside.
Add the onion and fry for a couple of mins, then add in the noodles, spring onion and beansprouts, and fry or further couple of mins.
Add back in the beef, the oyster sauce and the sesame oil and mix all together in the wok, continuing to fry for a further 2 mins to combine.
Season with black pepper
Serve and enjoy
Notes
Nutritional information is an estimate and is to be used for informational purposes only.
Ingredients can vary greatly from brand to brand and therefore it would be impossible to give accurate information. Also double check syn values of sinned ingredients as different brands can vary.
All images and content on Slimming Eats are copyright protected.
If you wish to share this recipe, then please do so by using the share buttons provided. Do not screenshot or post recipe or content in full
Nutrition Information
Yield

4
Serving Size

1 serving
Amount Per Serving
Calories

371
Total Fat

7.8g
Saturated Fat

1.8g
Cholesterol

55mg
Sodium

371mg
Carbohydrates

45g
Fiber

3.9g
Sugar

5.4g
Protein

32.9g
Disclosure: This post may contain affiliate links. As an Amazon Associate and member of other affiliate programs, I earn from qualifying purchases. We are a participant in the Amazon Services LLC Associates Program, an affiliate advertising program designed to provide a means for us to earn fees by linking to Amazon.com and affiliated sites." Check Legal section, for Full Disclaimer, Disclosure and Privacy Policy.