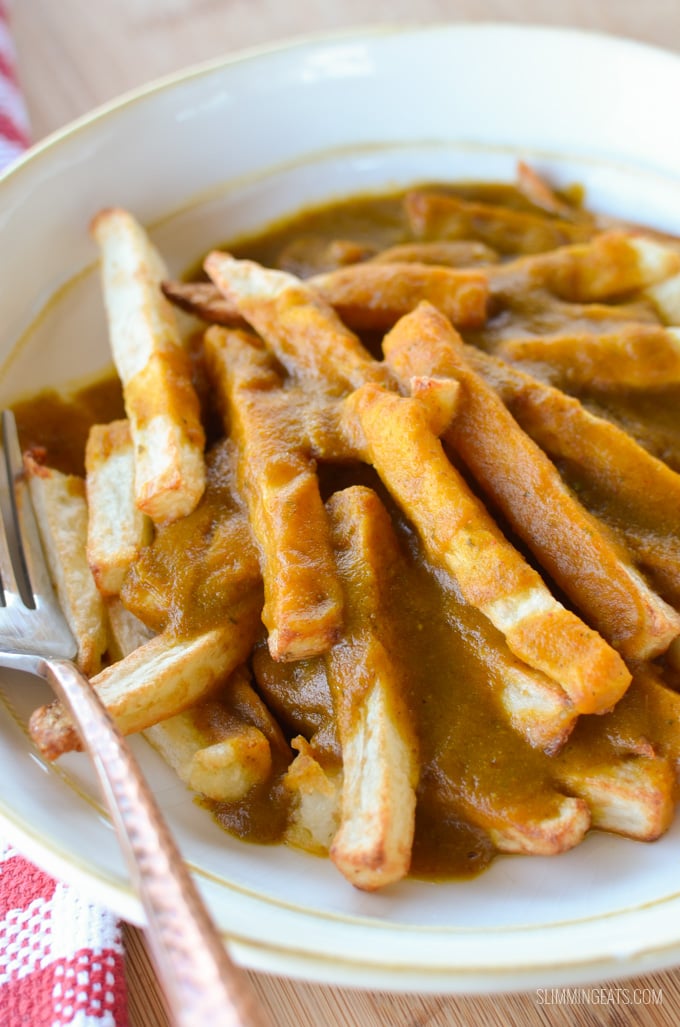 You remember those kinds of nights right? A late night out on the town with friends and feeling slightly peckish, you pop into the local chippy for some Chips and Curry Sauce. It's the best thing ever!
Now the biggest dilemma is do you have the sauce poured over your chips, or do you have the sauce on the side in a container? That is one of those things that are a bit like marmite, some hate the sauce poured over the top, some love it.
I personally love it.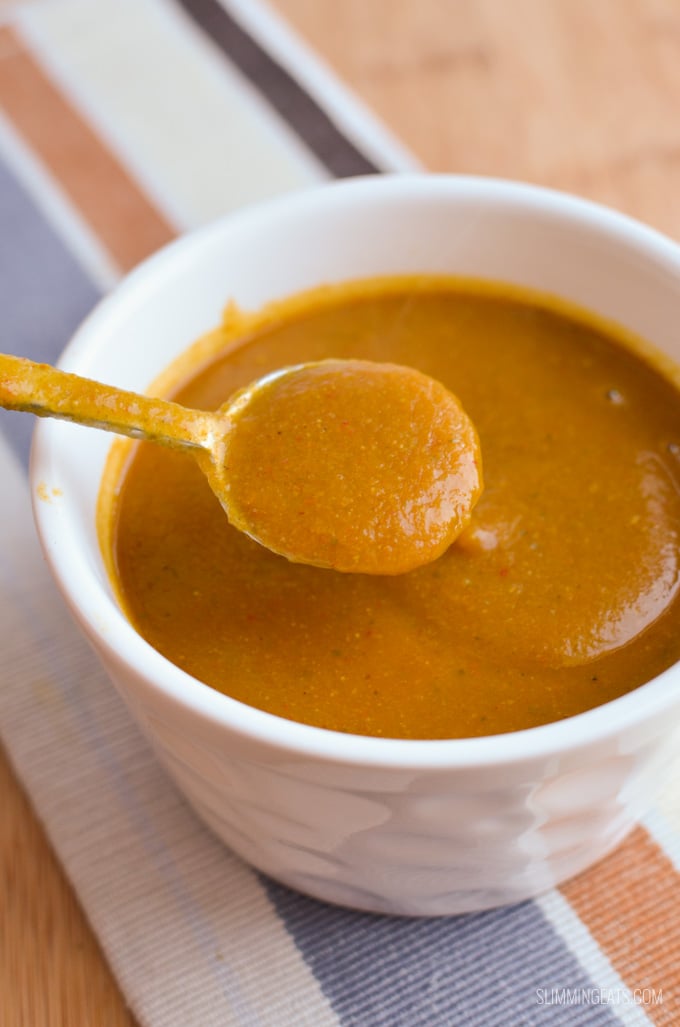 Do you want to know the best thing about my Chip Shop Curry sauce recipe? It is packed with speed foods, meaning the more you have, the more speed foods you are eating, so don't go skimping on the sauce! Smother everything and if you have nothing left to smother, well just eat it with a goddamn spoon - I do!!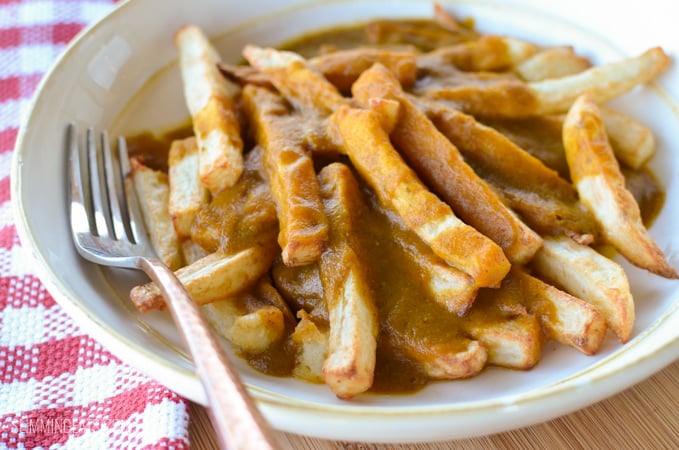 If you love this sauce as much as me (and you better), make up a double, triple or even bigger batch and freeze it in handy portions. Then next time you have a craving for this amazing stuff, you just need to grab a container out of the fridge. Cook your chips and viola - done!!
How you cook your chips is totally up to you, leave the skin on, take the skin off, cook them in an actifry or make my Perfect Oven Baked Syn Free Fries.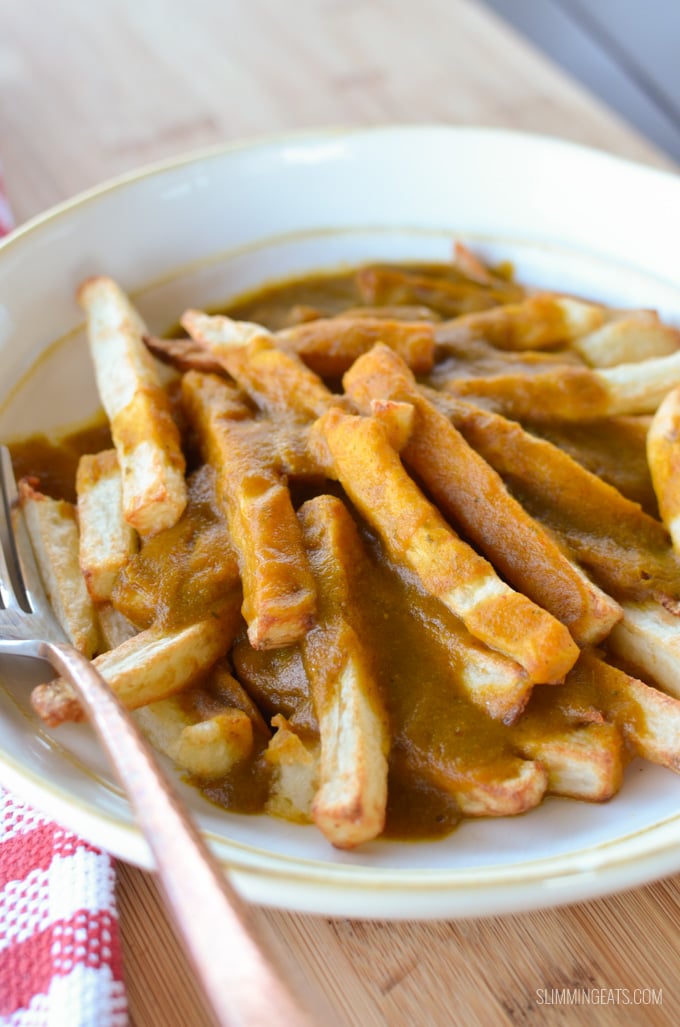 You can chop your potatoes with a good old knife, or buy one of these nifty little gadgets like this:
Click here to check this item out on Amazon
It's an awesome gadget to have for making regular size chips or fries.

Chip Shop Curry Sauce
This recipe is gluten free, dairy free, vegetarian, paleo, Whole30, Slimming World and Weight Watchers friendly

Extra Easy - syn free per serving
Green - syn free per serving
Original - syn free per serving
WW smart points - 0
Gluten Free - use tamari or coconut aminos
Ingredients
1 large onion, chopped
1 leek, finely chopped
250g/9oz diced butternut squash
3 cloves of garlic crushed
tsp of fresh ginger
1-2 tbs of curry powder (depending on how spicy you like it)
1 tablespoon of soy sauce (or tamari or coconut aminos)
3.5 cups (840ml) of chicken or vegetable stock
salt and black pepper
spray oil
Method
Spray a frying pan over a medium high heat with spray oil
Add the onion and leeks and fry till softened.
Add the garlic, ginger, butternut squash, curry powder and soy sauce and stir to coat.
Pour in the stock
Bring to a boil, reduce heat and simmer for 30min.
Add to a blender and blend till smooth.
Add back to the saucepan on a medium heat, season with salt and black pepper to taste and allow to reduce down and thicken.
If it reduces down too much you can just add a little more stock.
Serve over syn free chips or whatever else takes your fancy
Notes
All images and content on Slimming Eats are copyright protected.

If you wish to share this recipe, then please do so by using the share buttons provided. Do not screenshot or post recipe or content in full.
Nutrition Information
Serving size:
1
Calories:
77.9
Fat:
0.4g
Saturated fat:
0.1g
Carbohydrates:
17.2g
Sugar:
2.5g
Sodium:
1,232.7 mg
Fibre:
3g
Protein:
3g
Cholesterol:
5mg
Disclosure: This post may contain affiliate links. As an Amazon Associate and member of other affiliate programs, I earn from qualifying purchases. We are a participant in the Amazon Services LLC Associates Program, an affiliate advertising program designed to provide a means for us to earn fees by linking to Amazon.com and affiliated sites." Check Legal section, for Full Disclaimer, Disclosure and Privacy Policy.