Delicious Tender Lamb Meatballs Curry - juicy tender meatballs with a yummy flavour packed tomato based curry sauce.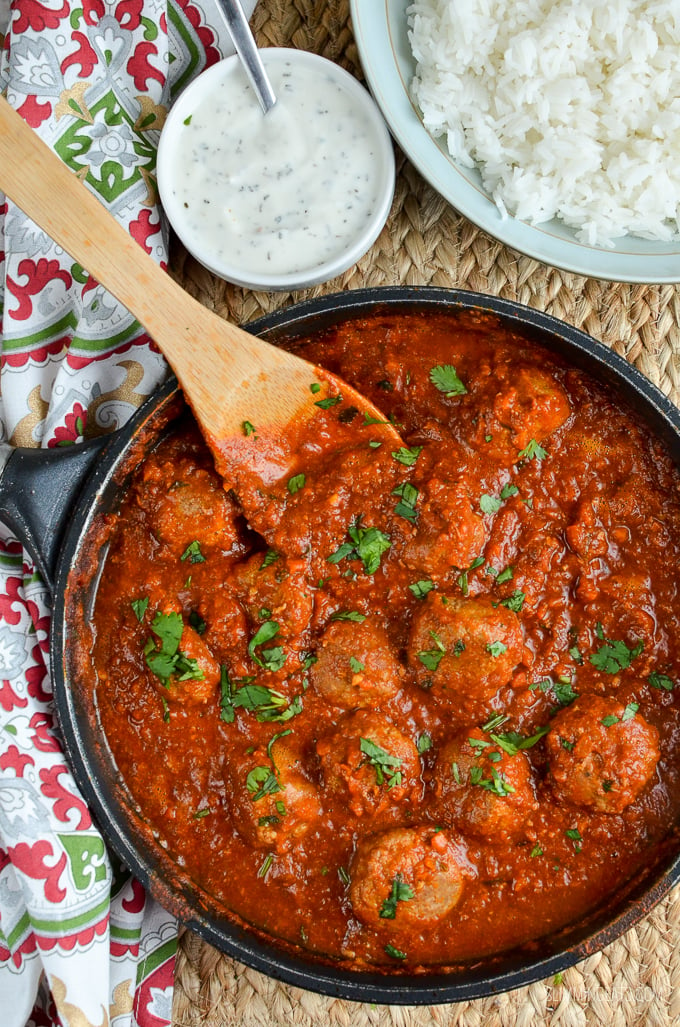 Lamb is a favourite of mine, whether it's a roasted leg of lamb, a lamb curry, or some ground lamb in Shepherd's Pie. There is just no denying the amazing flavour it can add to a dish.
I have to admit though, ground lamb I don't tend to have very often, as it is near impossible to get extra lean ground lamb that is unless you have one of these handy meat grinders and a KitchenAid mixer to go along with it. Then you could have a go at making your own with a lean cut of lamb, where you can remove any visible fat.
I do have the KitchenAid but have never gotten around to getting the meat grinder attachment for it, something I really should do. Maybe I might be tempted after reminding myself tonight. Although I think the sausage maker attachment appeals to me more, can you imagine being able to make your own sausages? Now there is a thought.
Anyway despite lamb or ground lamb should I say, pretty much always having a small value, most tend to avoid it. However, if you cleverly bulk the dish out with lots of sauce and veggies, you don't need to use as much of it, and the value is not too bad then once divided into portions.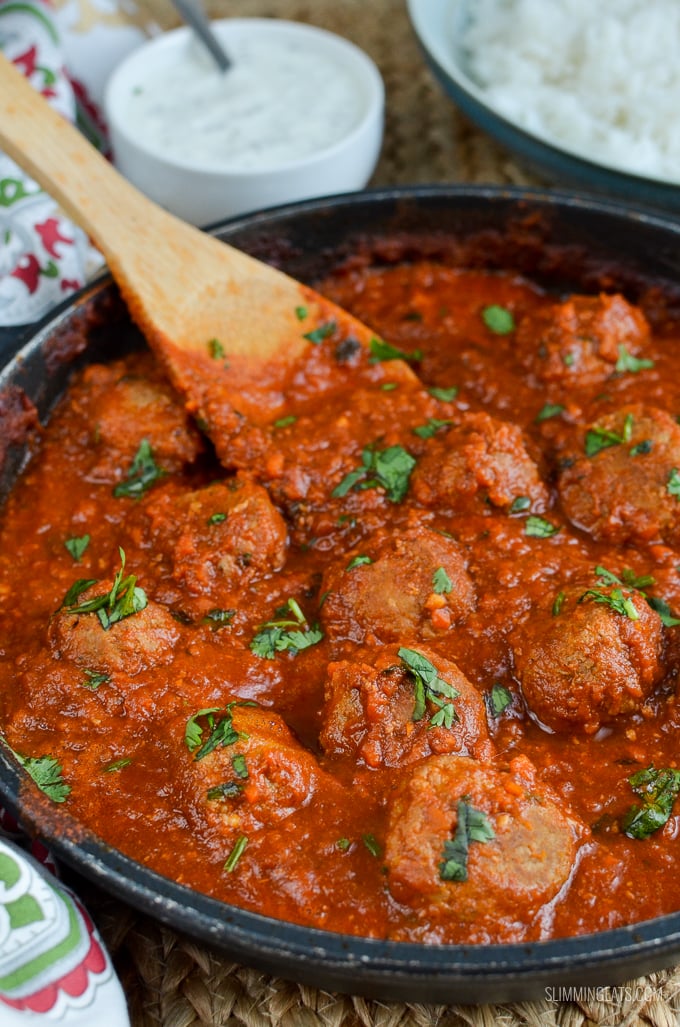 To make the meatballs in this Lamb Meatballs with a Spicy Tomato Sauce - it is really easy and basic ingredients. Just the ground lamb, fresh coriander, a red chilli, salt and egg, that's it, no complicated ingredients.
The sauce that follows is pretty easy as far as ingredient's go, most are ones that you will have in the store cupboard.
One thing I like to recommend when starting out any healthy eating journey is to build up a good spice and herb collection. You don't need to go crazy, just buy 1 or 2 a week with your groceries until you have the basic selection, then you can just add to it, as a new spice appears in a recipe that you haven't yet bought.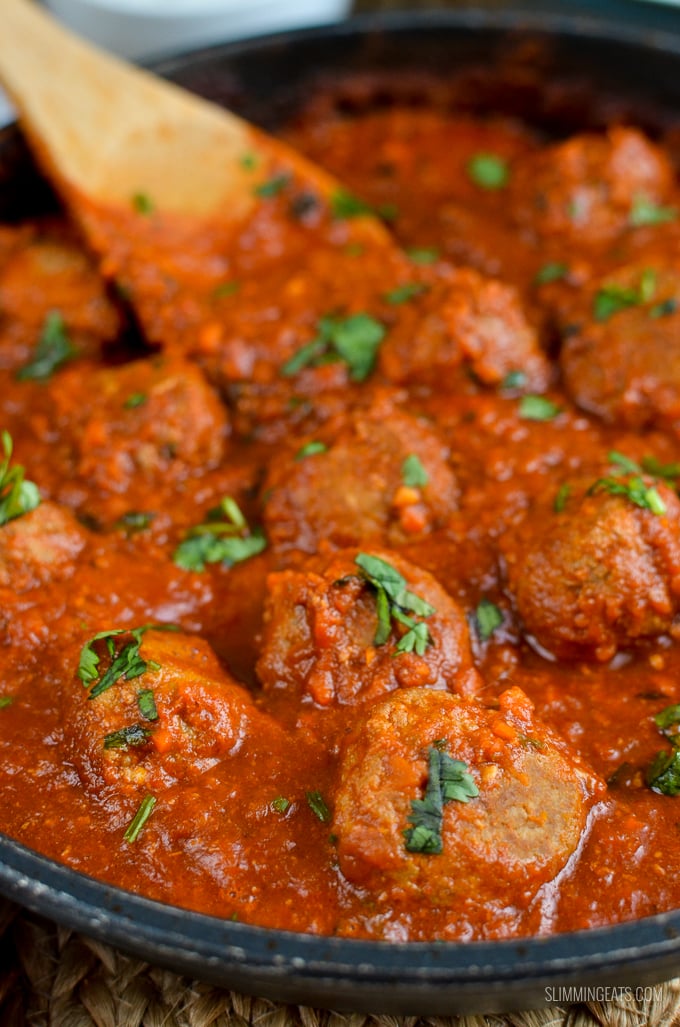 Those spices will be your saviour for making meals taste amazing. There is nothing worse than bland and boring food. Remember as this is a life long journey, you need to make your food interesting and spices will do that to even the basic of dishes.
I like to keep my spices in plain jars like these 156ml Nutley's Jars which you can get on Amazon in packs of 6, 12, 24 and even 48.
As they are slightly bigger than your standard spice jar, they are better for storing larger quantities of spices. I don't know about you, but I hate the little spice jars you get at most supermarkets, and many are overpriced. If you want to save money, try buying in bulk from local Indian grocers or similar, you can also buy from bulk spices on Amazon. Works out much cheaper all around.
Then I love these little chalkboard labels, which you can stick on the jars and write the name of the spice onto the label. I prefer ones with a chalkboard pen, as it doesn't smudge off as easily as just plain white chalk.
A perfect storage solution for all your spices and they look quite neat and pretty too with the labels. I am a sucker for pretty things.
For the vegetables in the sauce, I must admit to sometimes being a bit lazy, and using my Nutri Ninja Food Processor with Auto IQ technology. It literally chops all the vegetables up in seconds, saving heaps of time. I use the chopping blade, just a couple of pulses of the blade and the vegetables are chopped finely – perfect!!
Click here to view the Nutri Ninja Complete Kitchen System on Amazon
If I can save a little bit of time cooking when I know the kids will be hungry and demanding food pretty soon, then I am taking those short cut believe me.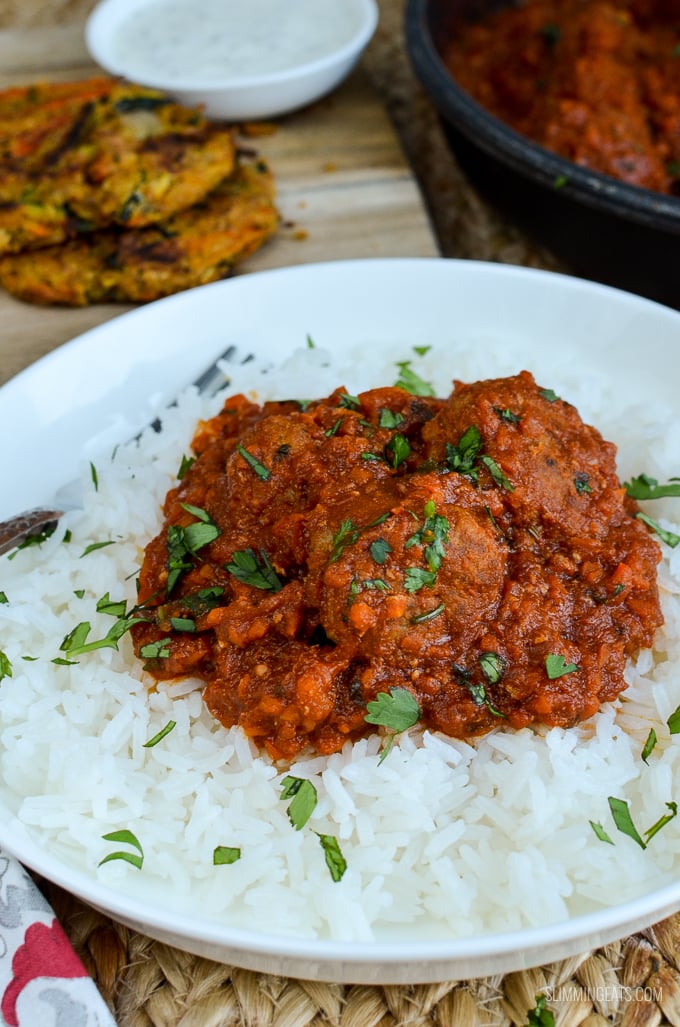 The sauce to these Lamb Meatballs with a Spicy Tomato Sauce is literally spoon worthy. I could literally eat that sauce in a bowl on its own, only trouble is, I would probably want lots of naan bread to go along with it.
If you really can't do without the bread, you could always have a go at this Sweet Potato Flatbread. It's gluten and dairy free and rather yummy. I often have a couple made in advance and in the freezer, so they are on hand when I might need one quickly.
For tonight though, I just fancied some good ole steamed jasmine rice to go with these Lamb Meatballs with a Spicy Tomato Sauce. You don't need to stick to just rice though, these would pair up nicely with a variety of sides including these Perfect Chips and if you are lucky enough to have any leftovers, you will be pleased to know, it freezes perfectly.
---
Looking for some other lamb recipes to try? Check out these:
and don't forget my FULL RECIPE INDEX with over 500+ Delicious Slimming Eats Recipes.
---
Sprinkle these Lamb Meatballs with a Spicy Tomato Sauce with some freshly chopped coriander, and serve with a side of onion bhaji and a drizzle of mint yoghurt (plain yoghurt, fresh mint, lemon juice and a little sweetener). If doing an SP day or are following a paleo diet, try serving with this Roasted Cauliflower Rice.
Made this Lamb Meatball Curry? Tag me at #slimmingeats on Facebook, Twitter or Instagram so I can see your pictures.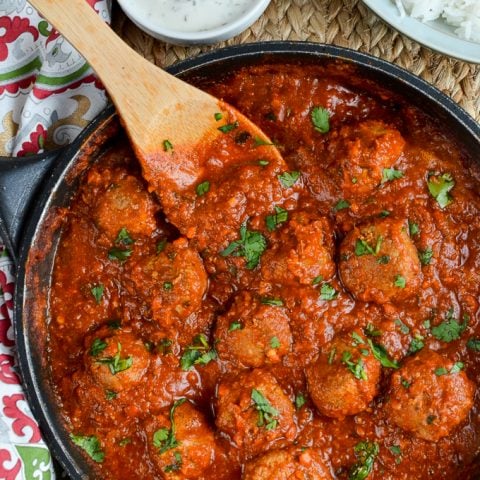 Lamb Meatball Curry
Total Time:
1 hour
5 minutes
Tender Lamb and Mint Meatballs in a sweet and spicy sauce packed with healthy vegetables.
Ingredients
For the meatballs:
400g (14oz) of lean lamb mince
fresh coriander
1 red chilli, finely chopped
1 clove of garlic, crushed
1 tsp of fresh grated ginger
salt and black pepper
1 egg
For the sauce:
240ml (1 cup) of passata
240ml (1 cup) of lamb or chicken stock
1 tablespoon of tomato paste
1 onion, chopped
1 large carrot, chopped
1 tsp fresh ginger, grated
2 cloves of garlic, crushed
2 teaspoons of cumin
2 teaspoons of coriander
1 teaspoon of chilli powder
1 teaspoon of paprika
½ teaspoon of cayenne pepper (increase if you like spicy)
½ tablespoon of granulated sweetener (I use erythritol)
spray oil
fresh mint or cilantro to garnish
Instructions
In a large bowl, add the lamb mince, a few tablespoons of freshly chopped coriander, 1 finely chopped red chilli, 1 clove of garlic, some freshly grated ginger, salt, pepper and 1 egg and bind it all together well.
Form into equal sized meatballs.
Spray a frying pan with some spray oil, and brown the meatballs. Then set aside.
Add the onion, garlic, some ginger, and the carrot to the frying pan and cook for 2-3 mins until softened.
Add the passata, tomato paste, stock, all the spices, and sweetener and bring to the boil, reduce heat and simmer for 20 minutes.
Add the back in the meatballs and continue to simmer for an additional 20 minutes.
Top with some freshly chopped coriander
Serve with your choice of sides.
Notes
Please see below for full nutritional info and additional details about recipe:
Calories - scroll down to nutritional info box
WW Points and other Slimming or Weight Loss programs -   due to plans regularly changing and updating, we recommend calculating with the official tools you get as a member to those plans to ensure accuracy of values. 
If you wish to share this recipe, then please do so by using the share buttons provided at top of this post.
DO NOT COPY AND/OR PASTE FULL RECIPES OR SCREENSHOTS OF ANY CONTENT FROM SLIMMING EATS TO ANY SOCIAL MEDIA OR WEBSITE, IT IS STRICTLY PROHIBITED.
ALL IMAGES AND CONTENT ON SLIMMING EATS ARE COPYRIGHT PROTECTED
Nutritional information etc are an estimate and are to be used for informational purposes only. Ingredients can vary in values from brand to brand and therefore it would be impossible to give accurate information. It is always advised that you calculate values yourself by the ingredients you use and the tools provided to you as a member of the programme you are following.
It is the responsibility of the Reader to assure the products or ingredients they use in any recipes from Slimming Eats are allergen-free (gluten-free, egg-free, soy-free and/or dairy-free, for example). Slimming Eats assumes no liability for inaccuracies or misstatement about products, opinions or comments on this site. 
Check Legal section, for Full Disclaimer, Disclosure and Privacy Policy.
Recommended Products
As an Amazon Associate and member of other affiliate programs, I earn from qualifying purchases.
Nutrition Information
Yield

4
Serving Size

1 SERVING
Amount Per Serving
Calories

299
Total Fat

18.9g
Saturated Fat

8.5g
Cholesterol

111mg
Sodium

250mg
Carbohydrates

12g
Fiber

2.8g
Sugar

5.1g
Protein

20.3g
Disclosure: This post may contain affiliate links. As an Amazon Associate and member of other affiliate programs, I earn from qualifying purchases. We are a participant in the Amazon Services LLC Associates Program, an affiliate advertising program designed to provide a means for us to earn fees by linking to Amazon.com and affiliated sites." Check Legal section, for Full Disclaimer, Disclosure and Privacy Policy.