If you have ever made Cauliflower rice, chances are you've ended up with some of it scattered all over your floor, counter tops and every crevice in sight. It has a habit of getting EVERYWHERE. Well not if you make it how I give details to below. I was determined to find a way to keep it from spreading across my whole Kitchen and this works pretty well. It also tastes amazing like this, I  was never one for microwaving the stuff, as it leave a not so pleasant stench through the room.
This recipe is Gluten Free,  Dairy Free, Whole30, Paleo, Vegetarian, Slimming World (SP) and Weight Watchers friendly
Slimming Eats Recipe
Extra Easy – syn free per serving
Green – syn free per serving
Original – syn free per serving
SP friendly – syn free per serving
Roasted Cauliflower Rice
Serves 4
Ingredients
1 medium head of cauliflower
salt and black pepper
Spray oil
Method
Preheat oven to 180c or 350f (gas mark 4)
Line a large oven proof tray with some parchment paper.
Place the cauliflower on the tray and break up into smaller florets, the idea, is any small pieces that fall off when doing this, will remain on the tray.
Place a few florets at a time, in a blender or food processor and pulse the blade a couple of times, until it resembles grains of rice, dump that onto the tray, before continuing with the next batch, until all cauliflower is riced.
Spread out over the tray in a thin even layer and season well with salt and black pepper.
Spray over the top with some oil, place in oven and bake for approx 30 mins, it will just start to of browned on the edges and have a lovely roasted flavour.
The recipe above has been calculated for Slimming World, however for those of you following the Weight Watchers plan or another calorie controlled type diet. Below is the approx nutritional information:
Approx NUTRITIONAL INFORMATION

per serving

Calories

38

Fat

0g

Saturated Fat

0g

Total Carbohydrate

7.6g

Dietary Fibre

3.0g

Sugars

3.0g

Protein

              3.0g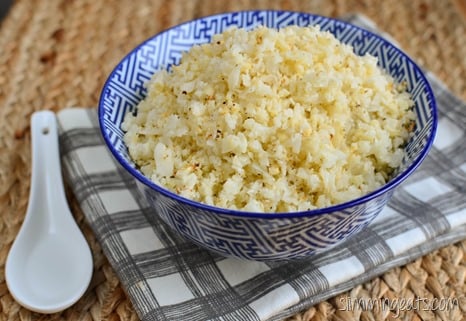 Disclosure: This post may contain affiliate links. As an Amazon Associate and member of other affiliate programs, I earn from qualifying purchases. We are a participant in the Amazon Services LLC Associates Program, an affiliate advertising program designed to provide a means for us to earn fees by linking to Amazon.com and affiliated sites." Check Legal section, for Full Disclaimer, Disclosure and Privacy Policy.