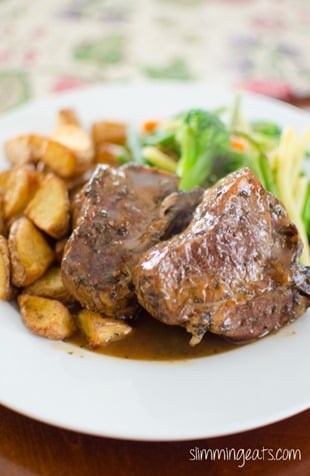 Rosemary Lamb Loin Chop with Mint Gravy
Slimming Eats Recipe
Serves 2
Extra Easy – 1 syn per serving
Ingredients
4 lamb loin chops (make sure all visible fat is removed)
fresh chopped rosemary
270ml of lamb stock
2 teaspoons of dried mint
1 tablespoon of cornstarch/cornflour (2 syns)
salt and black pepper
Frylight or Pam spray
Method
Preheat oven to 200c of 400f
Season the lamb chops with some salt and pepper and sprinkle with some fresh chopped rosemary.
Spray a frying pan over a medium high heat with some Frylight or Pam spray and brown all sides of the lamb loin chops and then transfer to an oven proof dish.
Add your stock to a small saucepan and bring to a boil. Mix the cornstarch with a little cold water to make a paste and add this into the stock, whisking continuously until it starts to thicken, then pour over the lamb chops and bake in the oven for approx 10-15 mins until chops are cooked to your liking.
Serve with your choice of sides. I served mine with roasted potatoes and a mixture of steamed vegetables.
You could alternatively make the gravy for a roasted leg of lamb.
Disclosure: This post may contain affiliate links. As an Amazon Associate and member of other affiliate programs, I earn from qualifying purchases. We are a participant in the Amazon Services LLC Associates Program, an affiliate advertising program designed to provide a means for us to earn fees by linking to Amazon.com and affiliated sites." Check Legal section, for Full Disclaimer, Disclosure and Privacy Policy.