Pizza Toasts – for those times when you fancy pizza but don't want to overdo it on the syns allowance.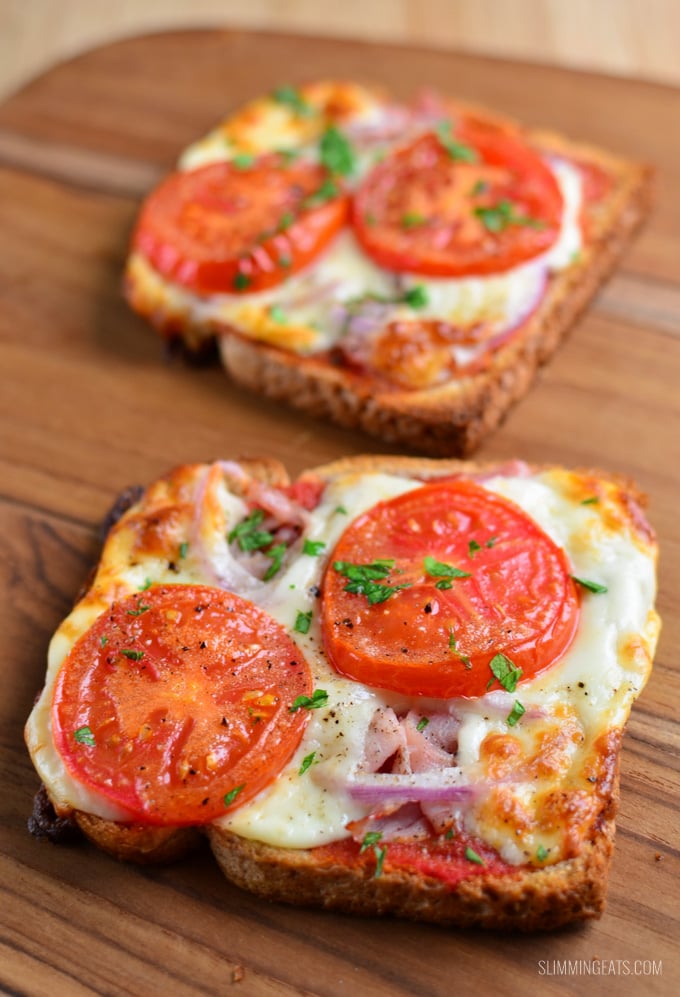 Pizza sauce, ham, red onion slithers, melted cheesy goodness and fresh sweet tomato slices – delicious!!
The possibilities are endless with these pizza toasts. On this occasion I kept them quite simple. But there are so many variations you could choose from.
I didn't have any of my delicious homemade pizza sauce made up when I did these pizza toast, so I just did a quick cheats version. But if you have time I highly recommend making a batch of the pizza sauce  and freezing some handy portions.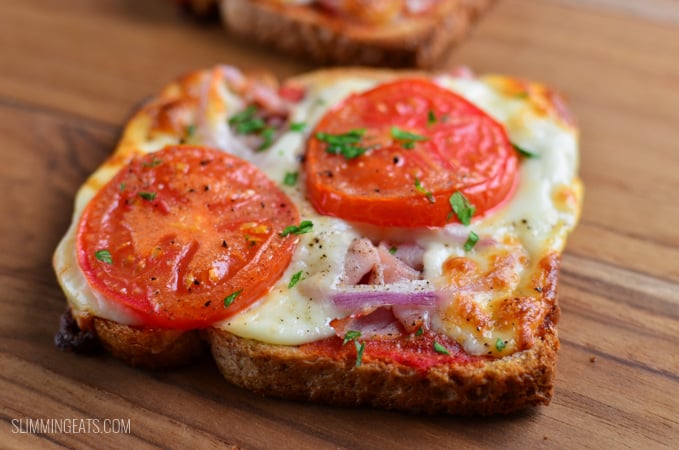 Below is a few suggestions for other toppings for the Pizza Toasts (be sure to syn the synned ingredients):
MARGHERITA: pizza sauce, topped with chopped fresh basil and mozzarella
HAWAIIAN: pizza sauce, topped with ham, fresh pineapple and mozzarella
BBQ CHICKEN: use my bbq sauce for the topping and add cooked chicken, red onion slithers and mozzarella
PEPPERONI: pizza sauce, topped with pepperoni (syns vary), oregano and mozzarella
GARLIC MUSHROOM: Garlic Mushrooms (as on recipe) topped with mozzarella and fresh chopped parsley
MEAT FEAST: pizza sauce with low syn sausage, ham, lean bacon, green peppers, onion, olives (syns vary) and mozzarella
VEGGIE: pizza sauce, mushrooms, tomato slices, onion, grilled zucchini, red onion, corn and mozzarella
INDIAN STYLE: leftover chicken curry topped with mozzarella and chopped coriander
GREEK: pizza sauce, roasted veggies and feta
There are many other variations you can try too on top of the suggestions above.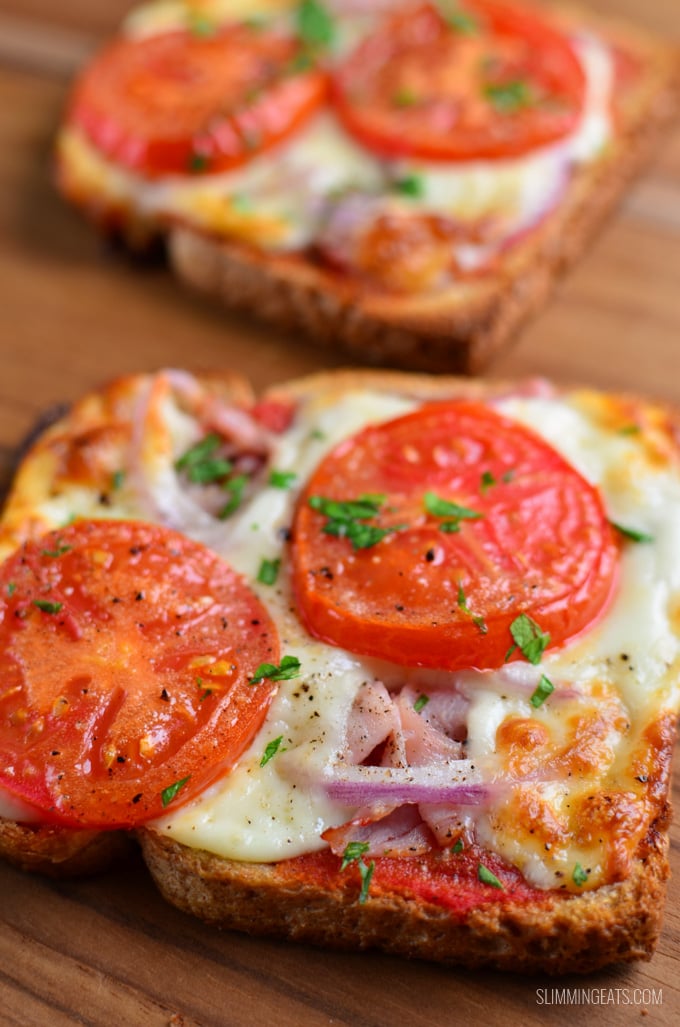 and if you don't have a healthy extra b choice spare for these pizza toasts. Why not try one of those toppings on my Cauliflower Pizza Crust or my Sweet Potato Crust – both of these are a good option if you are gluten free.
I like to serve the pizza toasts with a nice big salad. You could even make some perfect syn free chips if you are feeling super hungry.
Syn Free Pizza Toasts
This recipe is vegetarian, Slimming World and Weight Watchers friendly

Extra Easy - 1 HEa and 1 HEb per serving
Green/Vegetarian - HEa and 1 HEb per serving
Original/SP - HEa and 1 HEb per serving
WW Smart Points - 10
Ingredients
2 slices (2oz/60) of whole wheat bread (1 HEb)
50g/2oz of mozzarella cheese (1xHEa), grated or sliced
1 large vine tomato, sliced thinly
half a small red onion, sliced
2 slices of ham, sliced up
passata
Italian herbs
salt and black pepper
splash of balsamic vinegar
Spray oil
freshly chopped Italian parsley or basil
Method
Preheat oven to 200c/400f/gas mark 6
Lightly toast the bread.
Spray baking tray with spray oil.
Place on the slices of bread
Spread with passata and a sprinkling of Italian herbs.
Add some slithers or red onion and sliced up ham.
Top with mozzarella
Add tomato slices to the top. drizzle with a little bit of balsamic vinegar, season with salt and black pepper.
Bake in the oven until cheese has melted and toast is crisp and golden. (10-15mins)
Sprinkle with some fresh chopped herbs
Serve with your choice of sides.
You can mix up the toppings for these for a variation.
Notes
Be sure to adjust the syns by the toppings you use.

Nutritional information is an estimate and is to be used for informational purposes only.

All images and content on Slimming Eats are copyright protected.

If you wish to share this recipe, then please do so by using the share buttons provided. Do not screenshot or post recipe or content in full
Nutrition Information
Serving size:
1
Calories:
386
Fat:
15.8g
Saturated fat:
7.7g
Carbohydrates:
38.6g
Sugar:
6.9g
Sodium:
1169.4mg
Fibre:
6.8g
Protein:
27.4g
Cholesterol:
59.8mg
where you can ask any questions on recipes, get the links to new recipes as they get posted to the blog, daily meal ideas, support and advice.
Looking for some other recipes? Head on over to my RECIPE INDEX for 500+ more recipes for you to browse through.
DID YOU

 

make

THIS

 

RECIPE

? I'D

 

LOVE

 TO SEE IT!
Snap a photo and hashtag #slimmingeats or tag me @slimmingeats on INSTAGRAM
Are you on facebook? Then be sure to come and like me on FACEBOOK
All images and content on Slimming Eats are copyright protected.
If you wish to share this recipe, then please do so by using the share buttons provided. Do not screenshot or post recipe or content in full.
This post may contain affiliate links. Please see my disclosure policy.