Pizza Toasts - for those times when you fancy pizza but don't want to overdo it on the syns allowance.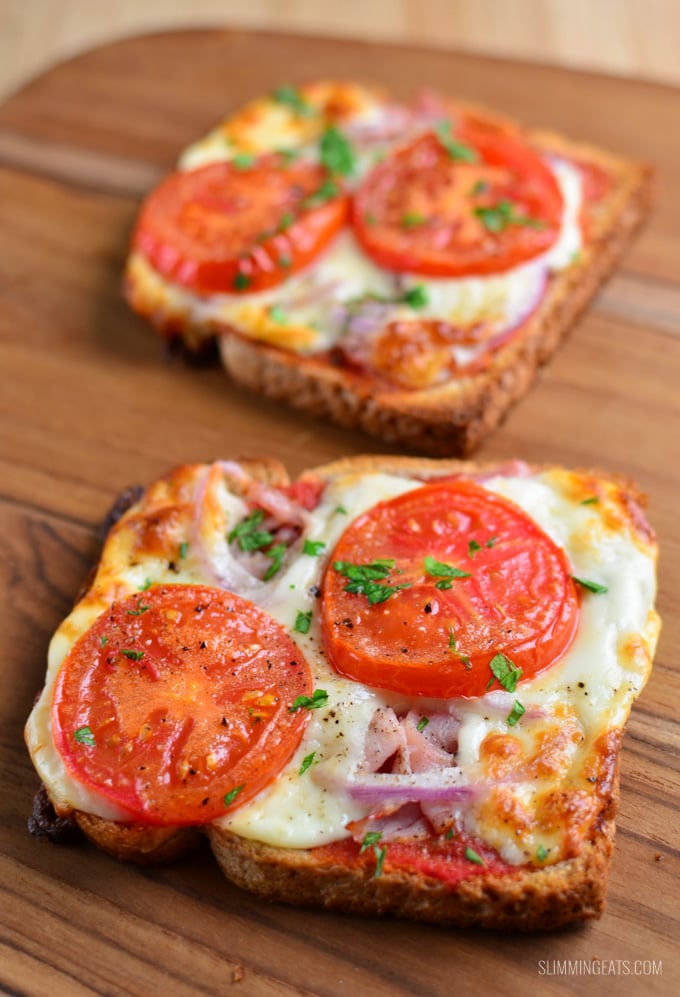 Yummy Pizza Toasts
Pizza sauce, ham, red onion slithers, melted cheesy goodness and fresh sweet tomato slices - delicious!!
The possibilities are endless with these pizza toasts. On this occasion, I kept them quite simple. But there are so many variations you could choose from.
I didn't have any of my delicious homemade pizza sauce made up when I did these pizza toast, so I just did a quick cheats version. But if you have time I highly recommend making a batch of the pizza sauce and freezing some handy portions.
Toppings for Pizza Toasts
Need some ideas for toppings for pizza? Check out all these yummy suggestions below:
There are many other variations you can try too on top of the suggestions above.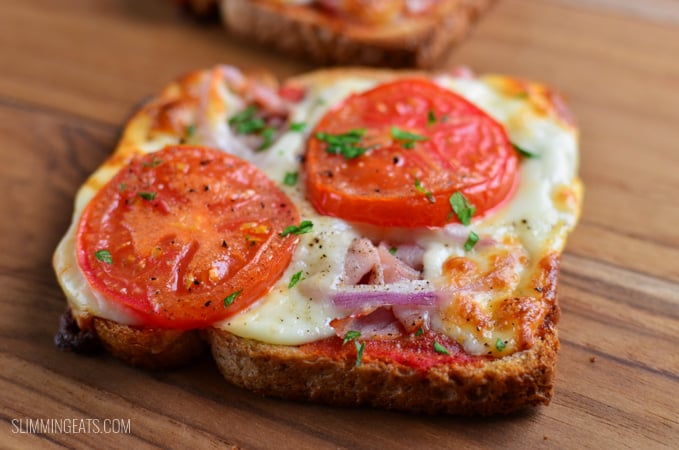 Pizza Crust Ideas
and if you don't have a healthy extra b choice spare for these pizza toasts. Why not try one of these toppings:
or head on over to my Full Recipe Index with over 900 delicious Slimming World and Weight Watchers friendly recipes all fully searchable by meal type, ingredients, syn value and smart points etc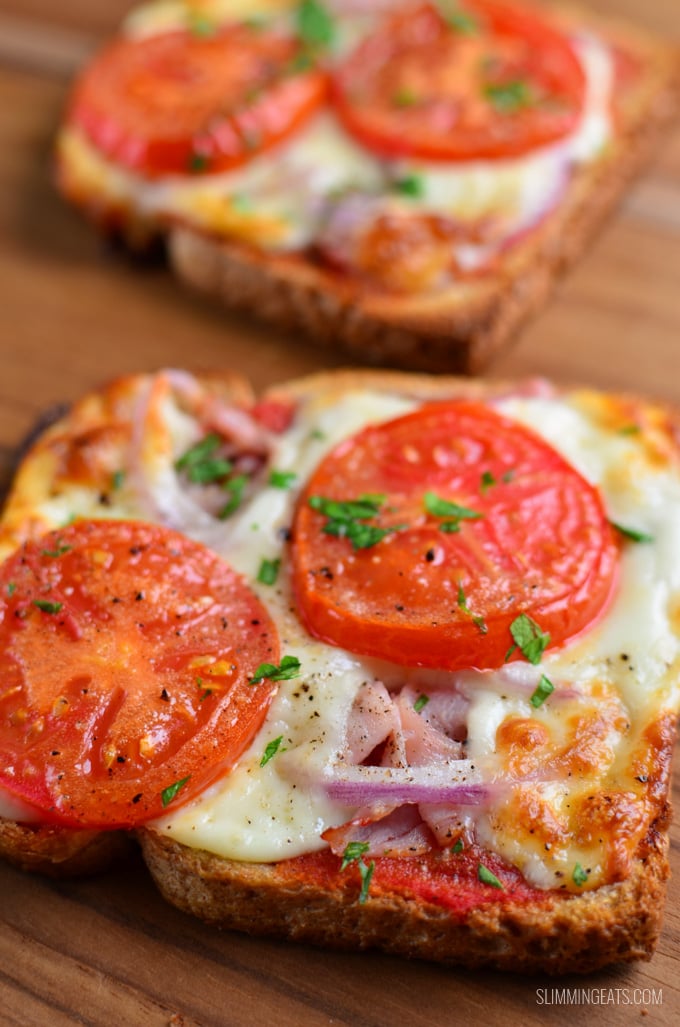 Sides for Pizza
My favourite as a side to Pizza is just a simple mixed salad. You can keep it simple, to just mixed greens, or go for a mixture of some of the below options:
Crisp Lettuce (romaine, iceberg etc)
Mixed Leaves (spinach, arugula etc)
Onion
Beetroot
Peppers
Grated carrot
Tomatoes
Cucumber
Olives (syns/points)
and if you are all about the dressing - try this ranch dressing recipe
and then occasionally depending on what pizza recipe I go for, I like to make some fries or wedges from these yummy recipes:
---
LET'S CONNECT!
Find me ON FACEBOOK | INSTAGRAM | PINTEREST | TWITTER | and YOUTUBE, come and follow me TO MAKE SURE YOU KEEP UP TO DATE ON ALL NEW RECIPES.
You can also subscribe to Slimming Eats so that you never miss any new updates.
IF YOU TRY THIS RECIPE, LET US KNOW! LEAVE A COMMENT, RATE IT AND TAG US IN YOUR PHOTOS @SLIMMINGEATS ON INSTAGRAM
See the handy Pinterest image below if you wish to pin this for later 🙂
Syn Free Pizza Toasts
Yield: SERVES 1

Prep Time: 10 minutes

Cook Time: 15 minutes

Total Time: 25 minutes

Pizza Toasts - for those times when you fancy pizza but don't want to overdo it on the syns allowance.
Ingredients
2 slices (2oz/60) of whole wheat bread (1 HEb)
50g/2oz of mozzarella cheese (1xHEa), grated or sliced
1 large vine tomato, sliced thinly
half a small red onion, sliced
2 slices of ham, sliced up
passata
Italian herbs
salt and black pepper
splash of balsamic vinegar
Spray oil
freshly chopped Italian parsley or basil
Instructions
Preheat oven to 200c/400f/gas mark 6
Lightly toast the bread.
Spray baking tray with spray oil.
Place on the slices of bread
Spread with passata and a sprinkling of Italian herbs.
Add some slithers or red onion and sliced up ham.
Top with mozzarella
Add tomato slices to the top. drizzle with a little bit of balsamic vinegar, season with salt and black pepper.
Bake in the oven until cheese has melted and toast is crisp and golden. (10-15mins)
Sprinkle with some fresh chopped herbs
Serve with your choice of sides.
You can mix up the toppings for these for a variation.
Notes
This recipe is vegetarian, gluten free, Slimming World and Weight Watchers friendly
Slimming World - 1 HEa and 1 Heb per serving
WW Green, Blue and Purple Smart Points - 10 per serving
Gluten Free - use gluten free bread
Vegetarian - use vegetarian friendly toppings
NOTE: Be sure to adjust the syns by the toppings you use.

If you wish to share this recipe, then please do so by using the share buttons provided.

Do not screenshot content or post recipe or content in full. All images and content on Slimming Eats are copyright protected.

Nutritional information, syn values, points etc are an estimate and is to be used for informational purposes only. Ingredients can vary greatly from brand to brand and therefore it would be impossible to give accurate information. It is always advised that you calculate by the ingredients you use.

It is the responsibility of the Reader to assure the products or ingredients they use in any recipes from Slimming Eats are allergen-free (gluten-free, egg-free, soy free and/or dairy-free, for example). Slimming Eats assumes no liability for inaccuracies or misstatement about products, opinions or comments on this site.

Check Legal section, for Full Disclaimer, Disclosure and Privacy Policy.
Recommended Products
As an Amazon Associate and member of other affiliate programs, I earn from qualifying purchases.
Nutrition Information
Serving Size 1 SERVING
Amount Per Serving Calories 386Total Fat 15.8gSaturated Fat 7.7gCholesterol 59.8mgSodium 1169.4mgCarbohydrates 38.6gFiber 6.8gSugar 6.9gProtein 27.4g



It is the responsibility of the Reader to assure the products or ingredients they use in any recipes from Slimming Eats are allergen-free (gluten-free, egg-free and/or dairy-free, for example) or Vegetarian friendly. Slimming Eats assumes no liability for inaccuracies or misstatement about products, opinions or comments on this site.
Nutritional information is an estimate and is to be used for informational purposes only
Looking for some additional support on your weight loss journey? Did you know Slimming Eats has a friendly Slimming World Facebook Support Group where you can get daily meal ideas and recipe ideas? Come and check us out, we'd love to have you join.
Looking for some other recipes? Head on over to my RECIPE INDEX for over 900 Slimming World & Weight Watchers recipes for you to browse through, all fully searchable by meal type, Ingredients, syn value and WW Smart Points etc
All images and content on Slimming Eats are copyright protected.
If you wish to share this recipe, then please do so by using the share buttons provided. Do not screenshot or post recipe or content in full.
* Disclosure: This post may contain affiliate links. As an Amazon Associate and member of other affiliate programs, I earn from qualifying purchases. We are a participant in the Amazon Services LLC Associates Program, an affiliate advertising program designed to provide a means for us to earn fees by linking to Amazon.com and affiliated sites." Check Legal section, for Full Disclaimer, Disclosure and Privacy Policy.