Start your day with these delicious Sausage and Egg Breakfast Muffins, a great protein packed choice that will keep you feeling fuller for longer.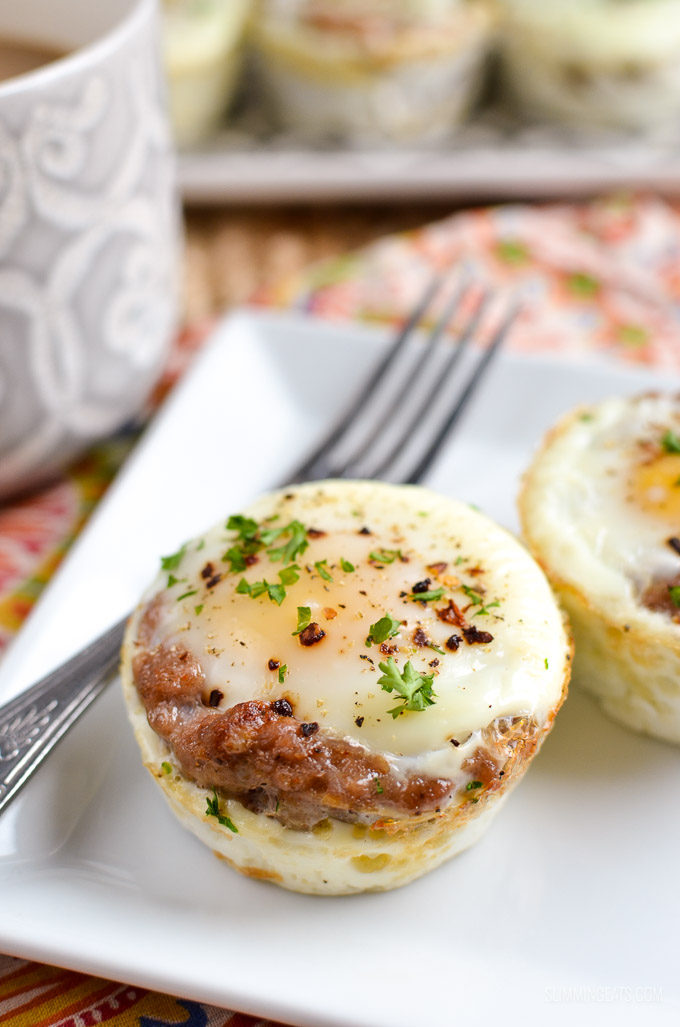 I love breakfast, it is my most favourite meal of the day and a meal I wake up looking forward to. This wasn't always the case though. Years ago I was one of those breakfast avoiders, who never really ate breakfast, unless you call waking up at 11am in your early 20s and grabbing the nearest unhealthy thing you can find, a breakfast.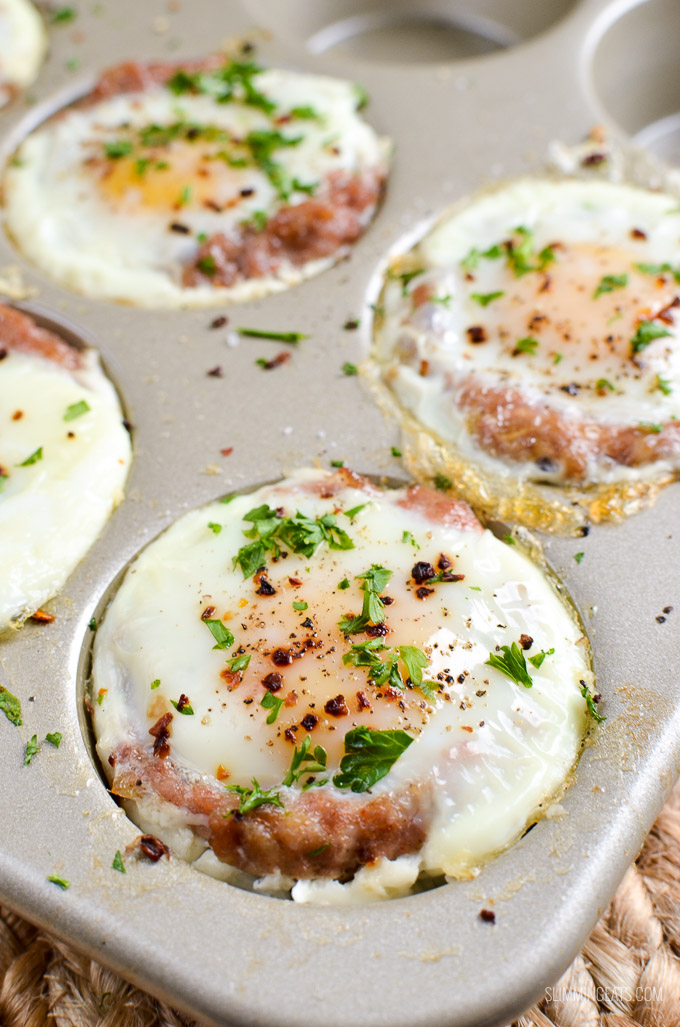 What you eat at breakfast is really important, because the choice you make can have an impact on the rest of your day. Choose something high in sugar, and the chances are you will spend the rest of the day craving sugar and it will be harder to stick to plan.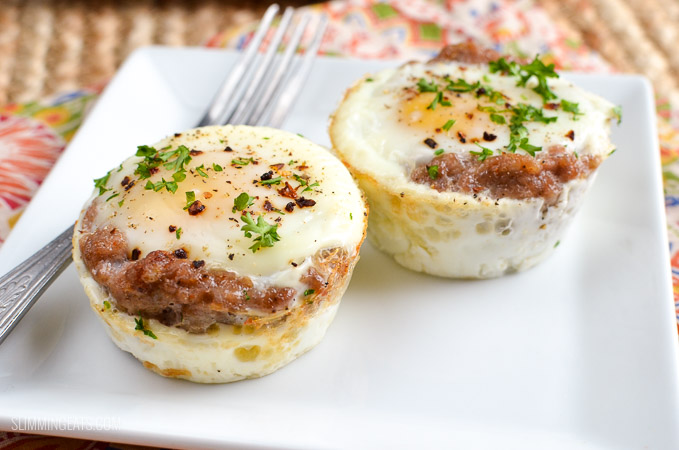 Choosing a good source of protein at breakfast is always a good choice. Pair it up with some healthy speed foods if you really want to help boost your weight loss and this would be perfect. Starting your day off in this way, you will be surprised at how much better the rest of your day will follow in regards to food choices.
These Sausage and Egg Breakfast Muffins are really yummy and can be made in advance and eaten hot or cold or if you prefer hot, you can heat up as you want them. Cold they are kind of similar to a scotch egg without the breading. Yummy right?
I have experimented quite a bit creating my own sausage patties. Extra lean ground pork can be pretty dry, so it's hard to get that sausage like taste. I've found the best thing to add to the mix is either brown sugar or maple syrup. Now you may want to avoid sugar and skip it, but I highly recommend you don't. The sugar is what helps the sausage caramelize, nothing worse than a pale dry sausage right? You have to trust me on this one.
Depending on how you like your eggs, then you may need to leave these Sausage and Egg Breakfast Muffins in the oven a little bit longer once you add the eggs. I like a soft yolk, so the time was perfect for that. I recommend using medium sized eggs, don't use large, as they won't fit in the sausage cups. They are too big and will overflow.
The kids love these Sausage and Egg Breakfast Muffins with some baked beans on the side. I love them with these Sautéed Garlic Mushrooms and Balsamic Tomatoes and Spinach. They would also be lovely with this Tomato and Red Onion Relish
---
Looking for some more recipes to try? – Previously on Slimming Eats
with many more recipes in my full: Recipe Index
---
Sausage and Egg Breakfast Muffins
This recipe is gluten free, dairy free, Slimming and Weight Watchers friendly
WW Smart Points - 8
Ingredients
455g (1lb) of extra lean ground pork
½ tsp of salt
¾ tsp of paprika
¼ tsp of black pepper
¼ tsp of ground sage
1 tbs of maple syrup or brown sugar
spray oil
6 medium sized eggs
fresh chopped parsley
red chilli flakes (optional)
Instructions
Preheat oven to 220c/425f ( gas mark 7)
Add the pork, salt, paprika, black pepper, ground sage and maple syrup to a bowl and mix to combine (but don't oven work).
Spray 6 holes of a muffin tray.
Divide mixture into 6 equal size balls and flatten as thin as you can. Push down one flattened ball into the muffin tray, so it makes a cup shape. Repeat with remaining mixture, until you have 6 cups.
Place in the oven and bake for 15 mins, until they are just starting to caramelize on the edges.
Remove from oven and use a spoon to push mixture back down into a cup shape, as some shrinkage will of happened.
Carefully crack an egg into each cup.
Bake in the oven for about 10-13 mins until the egg have just set over the top (this will yield a soft yolk, if you like hard yolks, then leave in for about another 5 mins or so).
Season the top with salt and black pepper, a sprinkle of fresh chopped parsley and some red chilli flakes if using.
Serve with your choice of sides - enjoy!!
Notes
Please see below for full nutritional info and additional details about recipe:
Calories - scroll down to nutritional info box
WW Points and other Slimming or Weight Loss programs -   due to plans regularly changing and updating, we recommend calculating with the official tools you get as a member to those plans to ensure accuracy of values. 
If you wish to share this recipe, then please do so by using the share buttons provided at top of this post.
DO NOT COPY AND/OR PASTE FULL RECIPES OR SCREENSHOTS OF ANY CONTENT FROM SLIMMING EATS TO ANY SOCIAL MEDIA OR WEBSITE, IT IS STRICTLY PROHIBITED.
ALL IMAGES AND CONTENT ON SLIMMING EATS ARE COPYRIGHT PROTECTED
Nutritional information etc are an estimate and are to be used for informational purposes only. Ingredients can vary in values from brand to brand and therefore it would be impossible to give accurate information. It is always advised that you calculate values yourself by the ingredients you use and the tools provided to you as a member of the programme you are following.
It is the responsibility of the Reader to assure the products or ingredients they use in any recipes from Slimming Eats are allergen-free (gluten-free, egg-free, soy-free and/or dairy-free, for example). Slimming Eats assumes no liability for inaccuracies or misstatement about products, opinions or comments on this site. 
Check Legal section, for Full Disclaimer, Disclosure and Privacy Policy.
Nutrition Information
Yield

3
Serving Size

1 serving (2 muffins)
Amount Per Serving
Calories

341
Total Fat

15.7g
Saturated Fat

5.1g
Cholesterol

372mg
Sodium

612mg
Carbohydrates

4.9g
Fiber

0.3g
Sugar

4g
Protein

44.4g
Disclosure: This post may contain affiliate links. As an Amazon Associate and member of other affiliate programs, I earn from qualifying purchases. We are a participant in the Amazon Services LLC Associates Program, an affiliate advertising program designed to provide a means for us to earn fees by linking to Amazon.com and affiliated sites." Check Legal section, for Full Disclaimer, Disclosure and Privacy Policy.