Cheesy Topped Mediterranean Pork Loin Chops - tender pork loin chops in a rich mediterranean style sauce topped with cheese and broiled until melted and golden.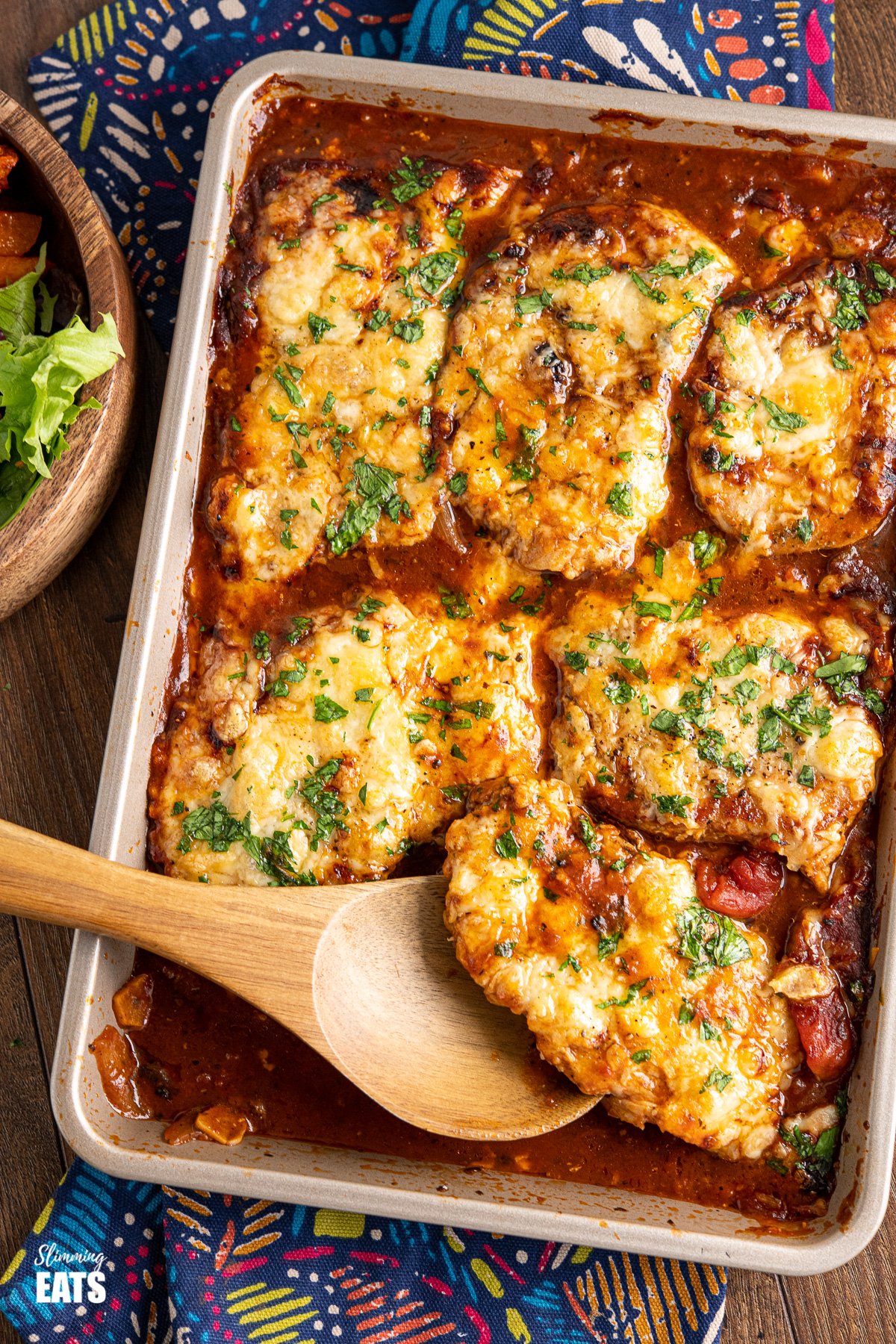 Mediterranean Pork Chops
Normally when we have pork loin chops, I keep it really simple with a bit a seasoning and cook on my cast iron skillet for a lovely sear. They are great for the barbecue too in your favourite marinade.
But today I fancied something really saucy to pair with the pork loin chops and quickly cooked up a delicious rich Mediterranean style sauce using some olive oil, diced tomatoes, onions, fresh garlic, tomato paste, stock, basil, and balsamic vinegar.
Not content with just the sauce. I took it that one step further and placed the pork loin chops in a tray smothered with the sauce and topped with some parmesan and mozzarella to place until the grill (broil) for a delicious melted cheese goodness.
Canned Tomatoes for Mediterranean Style Sauce
Usually whenever I make a tomato based sauce, I will use fresh tomatoes if I have some on hand, they make a lovely sauce as they don't have that slight acidity that the canning process gives to tinned tomatoes.
However canned tomatoes are just easier and something most of us always have on hand.
One thing to note when choosing your canned tomatoes is to pick a good quality brand, as it will make such a different to your sauce. I really like the Muir Glen brand here in Canada and you can find them at most grocery stores or Amazon.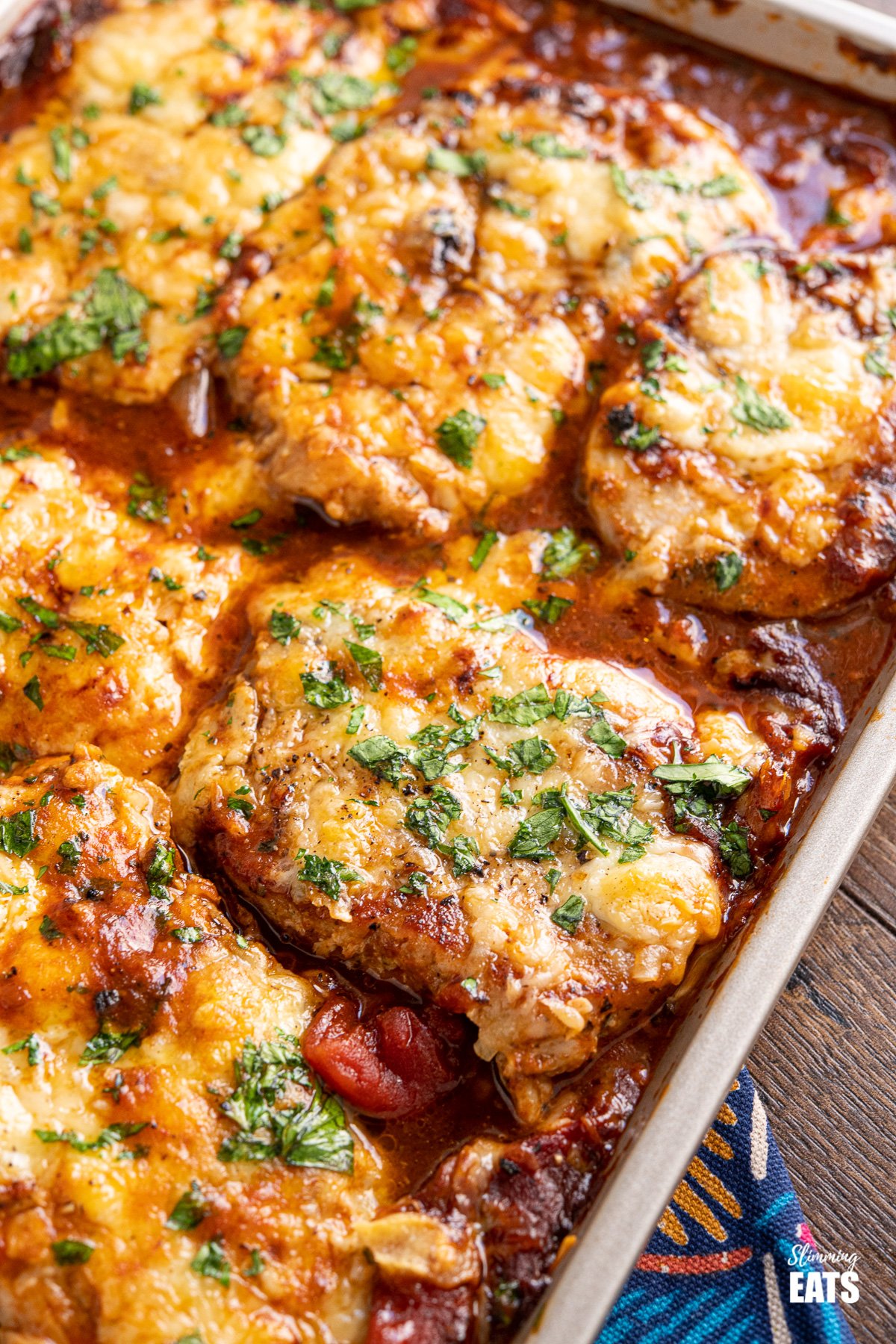 Can I use Spray Oil (Cooking Oil Spray?)
You may want to save a few calories by swapping the olive oil for some cooking oil spray, but honestly I wouldn't. While the sauce will still be good, it is just a whole other level when you use proper olive oil.
It's really does add flavour and cooks the onion perfectly. Plus when you divide up into servings is it really that much calories to be worried about?
Type of Pork Chops
For this recipe I use the leanest boneless pork loin chops, they cook really quick and are just what we prefer - especially for my youngest is not keen on bones.
Bone in pork chops will work fine too, just be aware that they will require slightly longer cooking time to what's stated in the recipe.
Substitutes for Pork
If you don't like pork but love the sound of this recipe and are wondering what else you can use, then chicken is a great substitute, both chicken thighs or chicken breast will work really well and pair perfectly with that amazing mediterranean style sauce and melted cheesy topping.
White fish fillets like cod or halibut are another great choice. Just remember whenever you deviate from the ingredients in the recipe, you may need to adjust cooking time too. White fish really doesn't take long to cook at all, so you probably just need to sear both sides before placing in the sauce, adding the cheese and placing under the grill.
Now I've mentioned the fish I really want to make this again with some fresh halibut fillets - yum!!
Melted Cheesy Topping
For the melted cheese topping, I use a combination of parmesan and mozzarella. They are the best choices for a recipe like this, the mozzarella quite mild tasting but melts really well and then the little bit of parmesan just adds that kick of strong cheese flavour that is perfect.
If you don't like the strong flavour of parmesan, you can swap it for another cheese like Cheddar, Havarti or even Gruyere or you can even keep it to just mozzarella.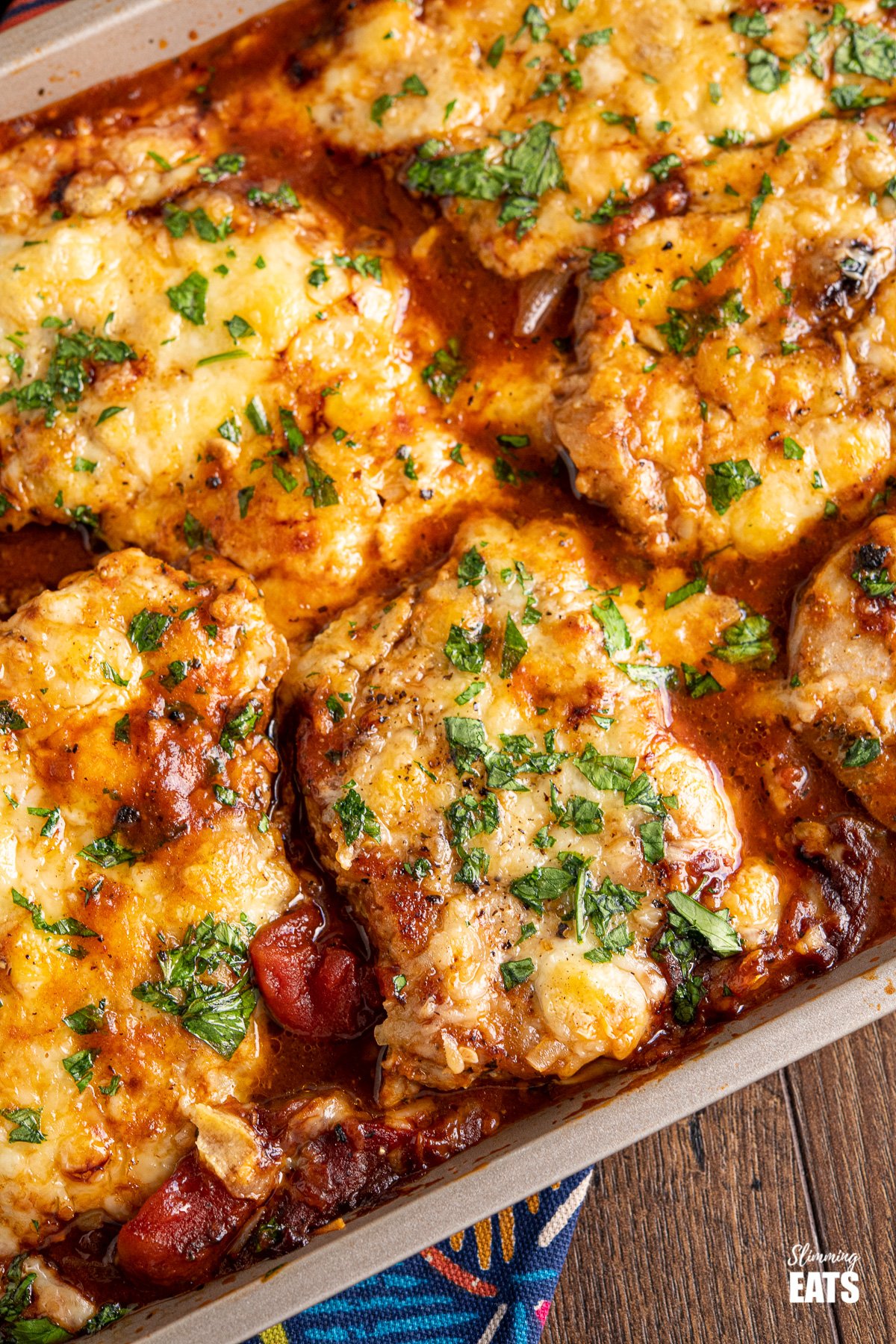 Sides for Mediterranean Pork Loin Chops
As we had this on a hot summer's day I kept the sides pretty simple with some roasted butternut squash and baby greens as it's pretty filling, but this would pair well with a variety of sides. Here are some suggestions:
you could even pair with some pasta, because who doesn't love anything saucy and cheesy with pasta, right?
More Pork Recipes
Looking for some more Pork Recipes? Check out these:
or head on over to my Full Recipe Index with over 900 delicious Slimming World and Weight Watchers friendly recipes all fully searchable by meal type, ingredients, syn value and smart points etc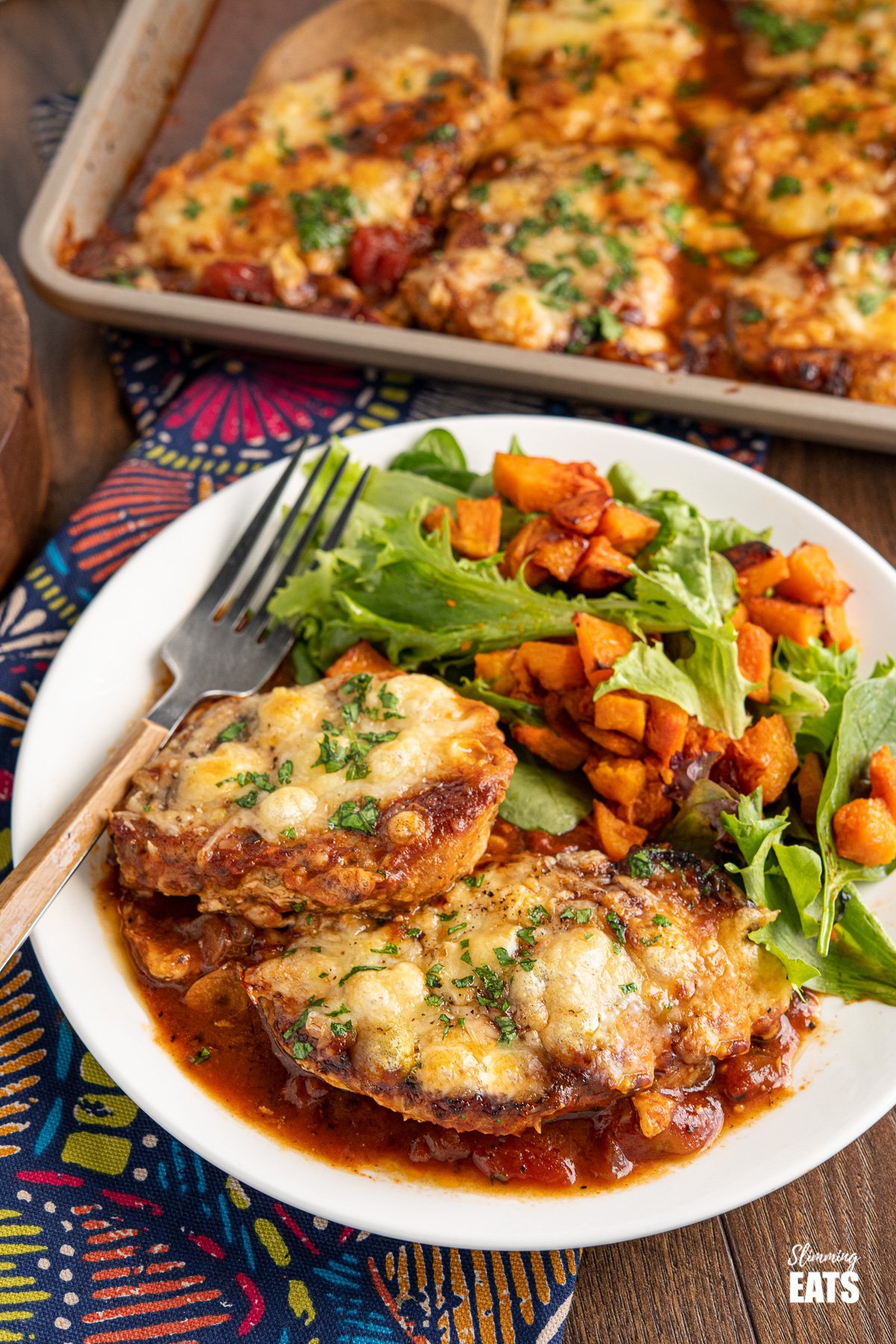 ---
LET'S CONNECT!
Find me ON FACEBOOK | INSTAGRAM | PINTEREST | TWITTER | and YOUTUBE, come and follow me TO MAKE SURE YOU KEEP UP TO DATE ON ALL NEW RECIPES.
You can also subscribe to Slimming Eats so that you never miss any new updates.
Need extra Support? Come check out my amazing Facebook Support Group
IF YOU TRY THIS RECIPE, LET US KNOW! LEAVE A COMMENT, RATE IT AND TAG US IN YOUR PHOTOS @SLIMMINGEATS ON INSTAGRAM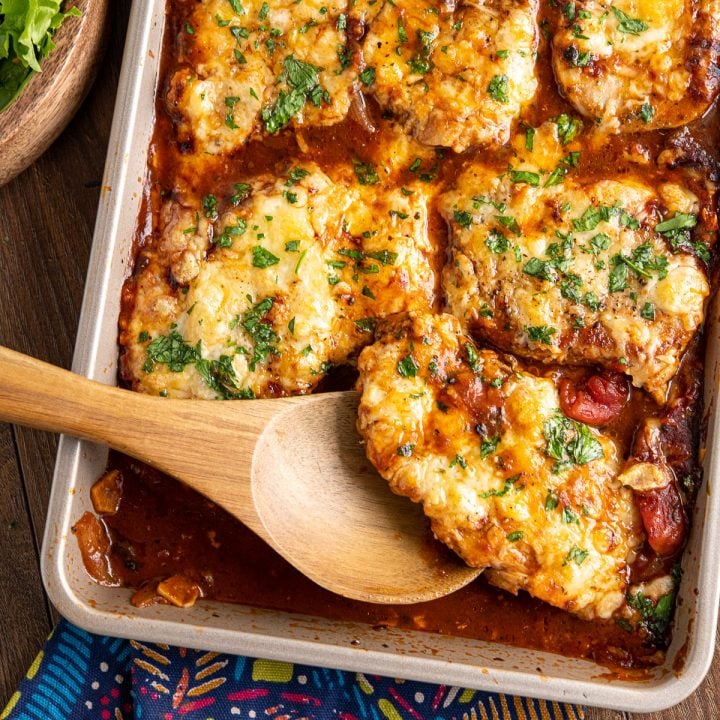 Cheesy Topped Mediterranean Pork Loin Chops
Cheesy Topped Mediterranean Pork Loin Chops - tender pork loin chops in a rich mediterranean style sauce topped with cheese and broiled until melted and golden. 
Ingredients
For the pork loin chops
6 small boneless pork loin chops - approx 800g (28oz) - trimmed of visible fat
½ teaspoon garlic powder
½ teaspoon onion powder,
2 teaspoons of dried oregano
¾ teaspoon of salt
½ tsp black pepper
cooking oil spray (I used olive oil)
For the sauce
1 tablespoon of extra virgin olive oil
1 small onion, halved and sliced thinly
2 cloves of garlic, sliced
400g of chopped tomatoes in juice (canned)
1 cup (240ml) of water
2 tablespoons of tomato paste (puree)
½ teaspoon of dried basil (or use some fresh chopped basil (approx tablespoon)
1 tablespoon of balsamic vinegar
salt and black pepper
Cheese Topping
100g of mozzarella, grated
30g of parmesan, grated
Fresh parsley, chopped
Instructions
For the Pork Chops

Add the pork loins to a ziplock bag, add the garlic powder, onion powder, oregano, salt and black pepper and a spray of cooking oil spray and shake and massage to ensure the seasonings evenly coat the pork.
Leave it to marinade for about 20-30 so the pork absorbs the flavours. Do no refrigerate for this stage. (If you prefer you can marinade with the seasonings the night before, but take out of the fridge 30 minutes before cooking)
Heat a frying pan over a medium high heat, spray with some cooking oil spray, add the pork chops and cook on both sides until golden and cooked through (approx 4-5 minutes each side)
Remove the pork loin chops and set aside.

For the Sauce

Heat the extra virgin olive oil in a frying pan over a medium high heat, add the onion and fry until golden and softened. (couple of minutes)
Add the garlic and fry for a further minute to infuse the flavour.
Add the balsamic vinegar and cook to until it evaporates
Add the chopped tomatoes, tomato paste, and basil and stir to combine.
Pour in the water, bring to a boil and then simmer until it reduces down into a thick sauce. Taste and season as needed with salt and black pepper.
Add the sauce to a baking tray or oven proof dish and spread out in an even layer.
Place the pork chops into the sauce (I also add any of the juices released from the pork (it's all great flavour)
Spoon some of the sauce over the top of the pork chops
Top with the grated parmesan and mozzarella and place under the grill (broil) until the cheese is melted and golden (approx 3-5 minutes)
Sprinkle with fresh chopped parsley.
Serve and enjoy!!
Notes
This recipe is gluten free, Slimming World and Weight Watchers friendly
Slimming World - 1 HEa and 2 syns per serving
WW Green Smart Points - 14 per serving (or just 1 pork loin chop for 7)
WW Blue Smart Points - 14 per serving (or just 1 pork loin chop for 7)
WW Purple Smart Points - 14 per serving (or just 1 pork loin chop for 7)
SUITABLE FOR FREEZING
If you wish to share this recipe, then please do so by using the share buttons provided.
DO NOT COPY AND/OR PASTE FULL RECIPES OR SCREENSHOTS OF ANY CONTENT FROM SLIMMING EATS TO ANY SOCIAL MEDIA, IT IS STRICTLY PROHIBITED.
ALL IMAGES AND CONTENT ON SLIMMING EATS ARE COPYRIGHT PROTECTED.
Nutritional information, syn values, points etc are an estimate and is to be used for informational purposes only. Ingredients can vary greatly from brand to brand and therefore it would be impossible to give accurate information. It is always advised that you calculate by the ingredients you use.
It is the responsibility of the Reader to assure the products or ingredients they use in any recipes from Slimming Eats are allergen-free (gluten-free, egg-free, soy-free and/or dairy-free, for example). Slimming Eats assumes no liability for inaccuracies or misstatement about products, opinions or comments on this site.
Check Legal section, for Full Disclaimer, Disclosure and Privacy Policy.
Recommended Products
As an Amazon Associate and member of other affiliate programs, I earn from qualifying purchases.
Nutrition Information
Yield

3
Serving Size

1
Amount Per Serving
Calories

526
Total Fat

21g
Saturated Fat

9.4g
Trans Fat

0g
Unsaturated Fat

24g
Cholesterol

248mg
Sodium

682mg
Carbohydrates

12.6g
Fiber

1.9g
Sugar

5.9g
Protein

70.3g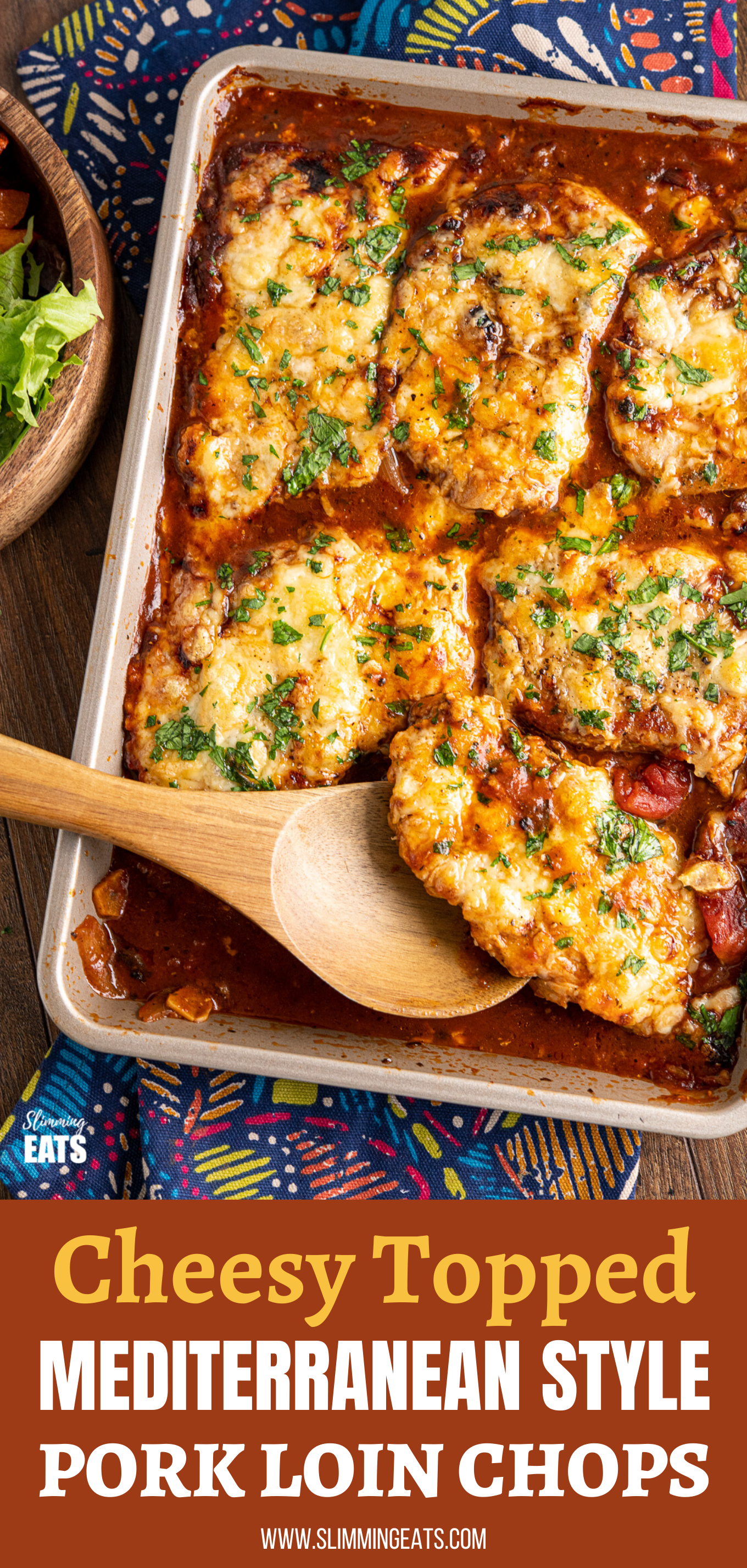 Disclosure: This post may contain affiliate links. As an Amazon Associate and member of other affiliate programs, I earn from qualifying purchases. We are a participant in the Amazon Services LLC Associates Program, an affiliate advertising program designed to provide a means for us to earn fees by linking to Amazon.com and affiliated sites." Check Legal section, for Full Disclaimer, Disclosure and Privacy Policy.