If you are looking for Lighter Mashed Potatoes recipe that taste amazing, then you have come to the right place.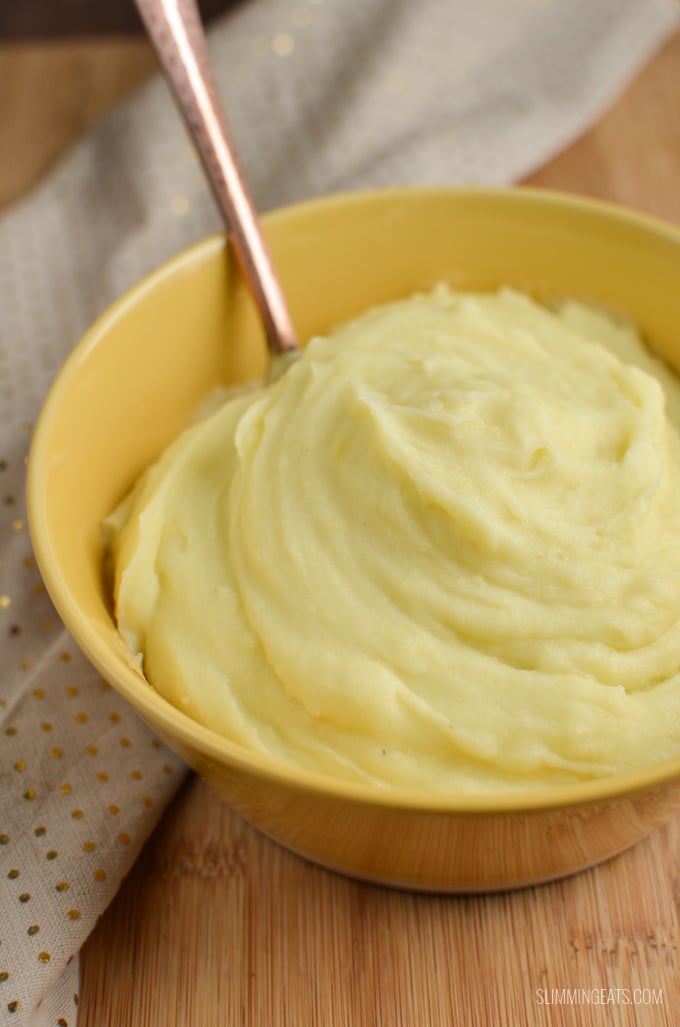 I must admit to not eating mashed potatoes very often with Slimming World, as I have always missed the butter and milk or cream. However after a bit of experimenting I have come up with this recipe for Syn Free Mashed Potato that tastes delicious.
The key to these syn free mashed potatoes is a waxy type potato, don't use floury ones for mash, as it will just taste far too dry. The waxy varieties of potatoes, tend to have a nice buttery flavour to them without the need for butter. Here in Canada I use yukon gold potatoes for mash potatoes, they are a large waxy starchy potato with a lovely golden flesh, that when cooked, taste like butter, so as you can imagine are perfect for this Syn Free Mashed Potato.
Floury potatoes tend to be quite try for mashed potatoes unless adding heaps of butter, milk or cream and of course we can't really do that on Slimming World. Well you can, but not without using lots of syns.
So when choosing a type of potato for this, avoid the starchy varieties and choose a large waxy variety. I believe you can occasionally find Yukon Gold's in the UK, but they are not always available. I believe the Elfe variety of potatoes are the closest variety to a Yukon Gold with a lovely buttery flour perfect for mashing. Available at Morrison's, Ocado and Lidl according to www.mysupermarket.co.uk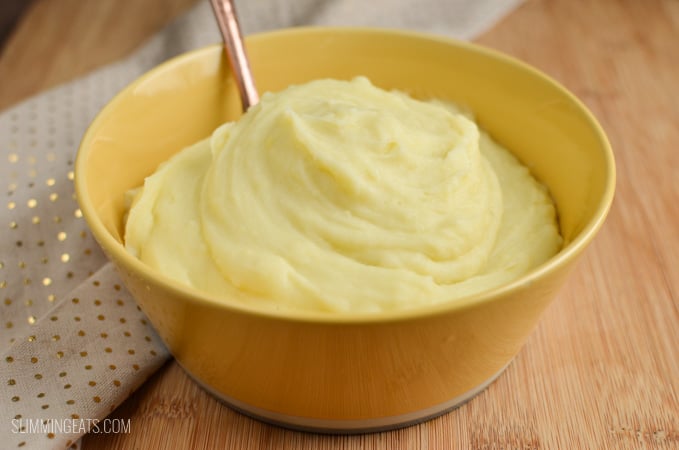 Then you need some stock to cook them in, I recommend chicken or vegetable (not beef), and you literally want to just cover the amount of potatoes in the pot, don't over cover them. Cooking in the stock, just adds to the flavour. They are seriously amazing.
Once the potatoes are cooked you can mash with a little bit of the stock until desired consistency and stir in the yoghurt for a taste that resembles soured cream and is just amazing. These are so good I could eat just a bowl of this on it's own.
If you want to vary up these syn free mashed potatoes, you can add some cabbage or kale for colcannon, or spring onion, or even some fresh herbs or garlic and if you have a healthy extra spare, add in some grated cheese for a delicious creamy cheesy syn free mash. So many possibilities.
To mash the potatoes and get them super smooth (no lumps). I use a potato ricer, like this one here:
Click here to view this potato ricer on amazon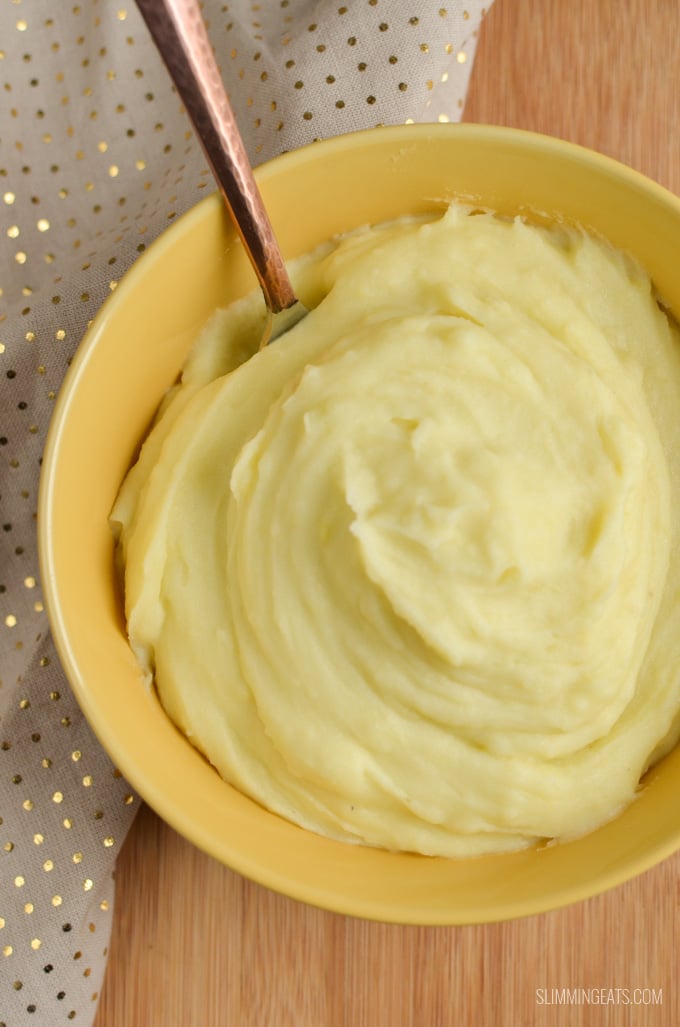 Also if you love sweet potatoes, don't forget to check out my Syn Free Sweet Potato Mash and for an SP day I also have a syn free Cauliflower Mash.
Lighter Mashed Potatoes
This recipe is gluten free, vegetarian, Slimming World and Weight Watchers friendly
Extra Easy - syn free per serving
Green - syn free per serving
WW Smart Points - 5
Ingredients
900g/2lbs of potatoes, peeled and cubed - pick a waxy larger variety
chicken or vegetable stock (broth)
½ cup (8 tbs) of fat-free plain yoghurt
1 egg
salt and black pepper
Instructions
Place the potatoes in a saucepan
Just cover with stock
Bring to a boil and simmer until soft
Drain, but reserve stock.
Using a potato ricer or masher, mash the potatoes.
Add a little bit of the reserved stock at a time, until you have a nice smooth mash potato (approx ½ cup/120mls of the reserved stock in total)
Add the yoghurt and egg and mix till smooth and creamy
Season well with salt and black pepper.
Notes
Make sure you use a waxy variety of potato for the lovely buttery taste.

Nutritional information is an estimate and is to be used for informational purposes only

All images and content on Slimming Eats are copyright protected.

If you wish to share this recipe, then please do so by using the share buttons provided. Do not screenshot or post recipe or content in full
Nutrition Information
Serving Size

1 SERVING
Amount Per Serving
Calories

177
Total Fat

0.1g
Saturated Fat

0.1g
Cholesterol

0.6mg
Sodium

382.1mg
Carbohydrates

37.9g
Fiber

5.4g
Sugar

4.7g
Protein

6.2g
Disclosure: This post may contain affiliate links. As an Amazon Associate and member of other affiliate programs, I earn from qualifying purchases. We are a participant in the Amazon Services LLC Associates Program, an affiliate advertising program designed to provide a means for us to earn fees by linking to Amazon.com and affiliated sites." Check Legal section, for Full Disclaimer, Disclosure and Privacy Policy.