Tender strips of beef in a delicious sauce make this Beef Teriyaki the ultimate low syn meal when served with some rice and stir fried veg.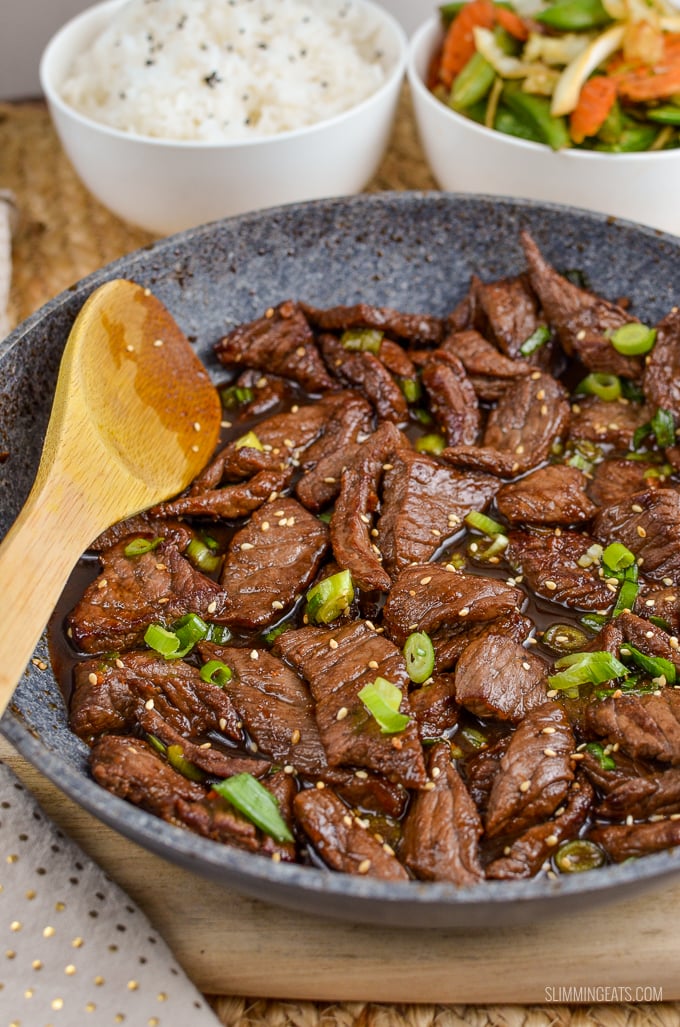 I love beef teriyaki, fast fried tender strips of beef, with a delicious sweet soy sauce.
The traditional sauce for teriyaki usually consists of quite a bit of sugar, soy sauce, mirin and sake, to make a thick syrupy sauce, but on Slimming World that works out too high in syns. But you can make a lighter style sauce, that tastes just as good and really helps satisfy the cravings for this amazing dish.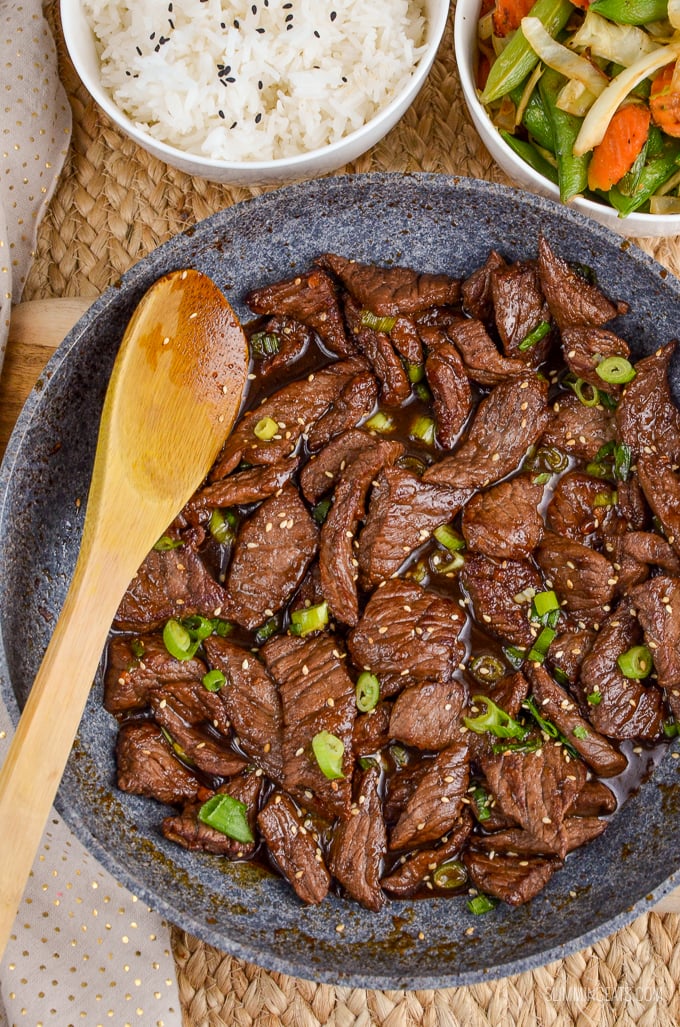 For my Beef Teriyaki, I use a combination of soy sauce (or coconut aminos works well too for a soy free alternative), brown sugar or honey for the sweetness, a little water (as I don't like it too salty), ginger, garlic, sesame oil and then spring onions and sesame seeds to garnish.
I always serve with steamed white jasmine rice and stir fried veggies (usually a bag of stir mix, that I quickly stir fry up in a wok). It is a combination of broccoli, broccoli stalks and carrots and a really lovely mix to use for the vegetables for this dish.
Any kind of stir fry mix of choice is going to work. The main part is to get that tender beef and sauce.
Beef or Chicken Teriyaki is one of my favourite dishes to order at the mall, as it usually comes with steamed rice and some plain stir-fried veggies and I can watch them cook it right in front of me. The beef is very quickly seared on a hot plate before adding that amazing sauce and they always ask if you want extra sauce before ladling it on, so if you want to be good, you can opt to just have the little amount they add when cooking instead.
I try to recreate exactly how they cook it in this recipe, but of course with my own ingredients. Where I know exactly what has gone into it and I can control the syns.
This Beef Teriyaki is a super quick dish to make, so often one I turn to when I need to put together a meal quickly. Plus my kids love its simplicity, so it is a perfect meal for me to make for the whole family.
If you are doing an original or SP day or following a paleo diet this is delicious served with this Roasted Cauliflower rice or spiral up some rutabaga or butternut squash, pan fry in a little spray oil  for about 5 mins and you have a perfect substitute for noodles and of course they are a speed food too.
---
Love quick recipes like this? Check out these other delicious recipes, all ready in less than 30 minutes
and if nothing there takes your fancy, there is also my FULL RECIPE INDEX with over 500+ recipes
---

WHAT KITCHEN ITEMS DO I NEED TO MAKE THIS TERIYAKI BEEF?
Delicious Beef Teriyaki | Slimming World
This recipe is gluten free, dairy free, paleo, Slimming World and Weight Watcher friendlyExtra Easy - 2SP/Original - 2WW Smart Points - 5Gluten Free - use coconut aminos or gluten free soy saucePaleo - use coconut aminos and serve with cauliflower rice. 
Ingredients
400g/14oz of lean thin beef strip, sliced into smaller pieces (or substitute with chicken or shrimp)
2 tbs of soy sauce (or coconut aminos)
100ml of water 
1 tbs of brown sugar (or honey) (2.5 syns)
1 tsp of sesame oil (2 syns)
2 cloves of garlic, crushed
1 tsp of grated fresh ginger
¼ tsp of onion powder
¼ tsp of ground ginger
2 spring onions, finely sliced
sesame seeds to garnish
spray oil
Instructions
In a bowl, whisk together the soy sauce, water, sugar, sesame oil, garlic, ginger, onion powder. Set Aside
Place the beef strips in a bowl and spray with spray oil, to coat well.
Heat a wok over a medium high heat.
Add the beef strips once wok is hot and fry till lightly golden. (this is important as you want to sear the beef, add it when the wok is too cold and it will just boil and become tough)
Remove and set aside.
Add the sauce to the wok and heat until it reduces down and thickens a little.
Add the beef strips back into the wok with the sauce and fry for a further 2 mins just to coat the beef in the sauce.
Sprinkle with finely sliced spring onions and a teeny sprinkle of sesame seeds.
Serve with your choice of sides. I served mine with stir fried shredded veg and steamed white rice (cauliflower rice will be perfect for those on a SP day or doing paleo)
Notes
I just add a tiny pinch of sesame seeds so the syns are negligible in 1 serving, Don't got overboard!!
Want this to serve more? Just double up the ingredients. 
Nutritional information is an estimate and is to be used for informational purposes only.
Ingredients can vary greatly from brand to brand and therefore it would be impossible to give accurate information. Also, double check syn values of sinned ingredients as different brands can vary. 
All images and content on Slimming Eats are copyright protected.
If you wish to share this recipe, then please do so by using the share buttons provided. Do not screenshot or post recipe or content in full
Nutrition Information
Yield

2
Serving Size

1 serving
Amount Per Serving
Calories

313
Total Fat

8.3g
Saturated Fat

2.3g
Sodium

901mg
Carbohydrates

10g
Fiber

0.4g
Sugar

6.8g
Protein

6.8g
It is the responsibility of the Reader to assure the products or ingredients they use in any recipes from Slimming Eats are allergen-free (gluten-free, egg-free and/or dairy-free, for example) or Vegetarian friendly. Slimming Eats assumes no liability for inaccuracies or misstatement about products, opinions or comments on this site.
Nutritional information is an estimate and is to be used for informational purposes only
Looking for some additional support on your weight loss journey? Did you know Slimming Eats has a friendly Slimming World Facebook Support Group where you can get daily meal ideas and recipe ideas? Come and check us out, we'd love to have you join.
Looking for some other recipes? Head on over to my RECIPE INDEX for over 900 Slimming World & Weight Watchers recipes for you to browse through, all fully searchable by meal type, Ingredients, syn value and WW Smart Points etc
All images and content on Slimming Eats are copyright protected.
If you wish to share this recipe, then please do so by using the share buttons provided. Do not screenshot or post recipe or content in full.
* Disclosure: This post may contain affiliate links. As an Amazon Associate and member of other affiliate programs, I earn from qualifying purchases. We are a participant in the Amazon Services LLC Associates Program, an affiliate advertising program designed to provide a means for us to earn fees by linking to Amazon.com and affiliated sites." Check Legal section, for Full Disclaimer, Disclosure and Privacy Policy.