10 Healthy Extra Free Slimming World Breakfasts for those days when you want bread, cheese or milk etc later in the day.
Nothing worse than when you fancy a sandwich, toast, or want to make something with one of your healthy extra's and then you remember you have already used them at breakfast time, so you either have to miss out or use up most of your syns.
Well here are 14 delicious filling breakfasts that don't use your healthy extra choices. These meals are well balanced and will keep you satiated until lunch time. All have a good source of protein, which is the best way to start your day.
Just click on the links below for the recipes:i
Great served with eggs and my Balsamic Tomatoes and Spinach
These are handy for those on a busy schedule, make the night before and just grab and go in the morning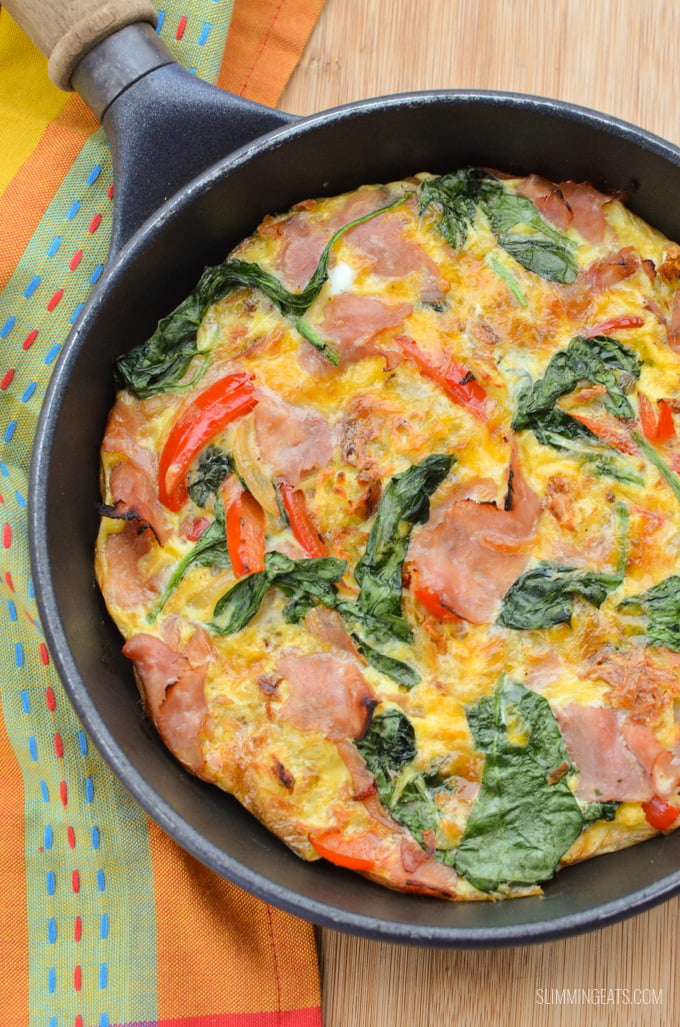 A delicious frittata, with ham, pepper, onion, spinach and lightly golden potato hash brown
Delicious sweet potato combined with bacon and kale for a filling frittata
Delicious as part of a FULL English Breakfast or with eggs and tomatoes
This is the best breakfast ever, full of speed, good source of protein and high satiety. It will fuel you for the morning.
This layered crustless quiche combines the deliciousness of grated sweet potato with pork, peppers and kale for an ultimate breakfast. Make up a dish of this to just heat up a few mornings in a row. It will save you heaps of time, while still giving you a filling breakfast.
Love pizza, then give this breakfast omelette pizza a go, I like to top this with my homemade sausage patties, but you could also choose ham or bacon.
One of my favourites and hugely popular on the blog, you won't feel hungry after this protein filled healthy breakfast.
Super simple to make, just add to a little dish and you can place it in the oven while you get on with some morning chores, and then sit down and enjoy with a nice cuppa once ready.
and if those are not enough for you to choose from, you can check out all my other Breakfast Recipes for inspiration.
Disclosure: This post may contain affiliate links. As an Amazon Associate and member of other affiliate programs, I earn from qualifying purchases. We are a participant in the Amazon Services LLC Associates Program, an affiliate advertising program designed to provide a means for us to earn fees by linking to Amazon.com and affiliated sites." Check Legal section, for Full Disclaimer, Disclosure and Privacy Policy.