Hearty Vegetable Soup with a delicious combination of flavours from golden potatoes, leeks, and other vegetables.
Healthy Filling Vegetable Soup
Soon as the colder months set in, filling soups like this Hearty Vegetable Soup is a regular on my menu. It's a great way to get lots of good vegetables into a meal and is a dish that the kids will definitely enjoy too.
They can be funny ones at times, not so keen on plain veggies on their plate, but add them to something like soup and they will devour the lot with no complaints.
The combination of different vegetables, potato and herbs mean this is packed with yummy flavour too.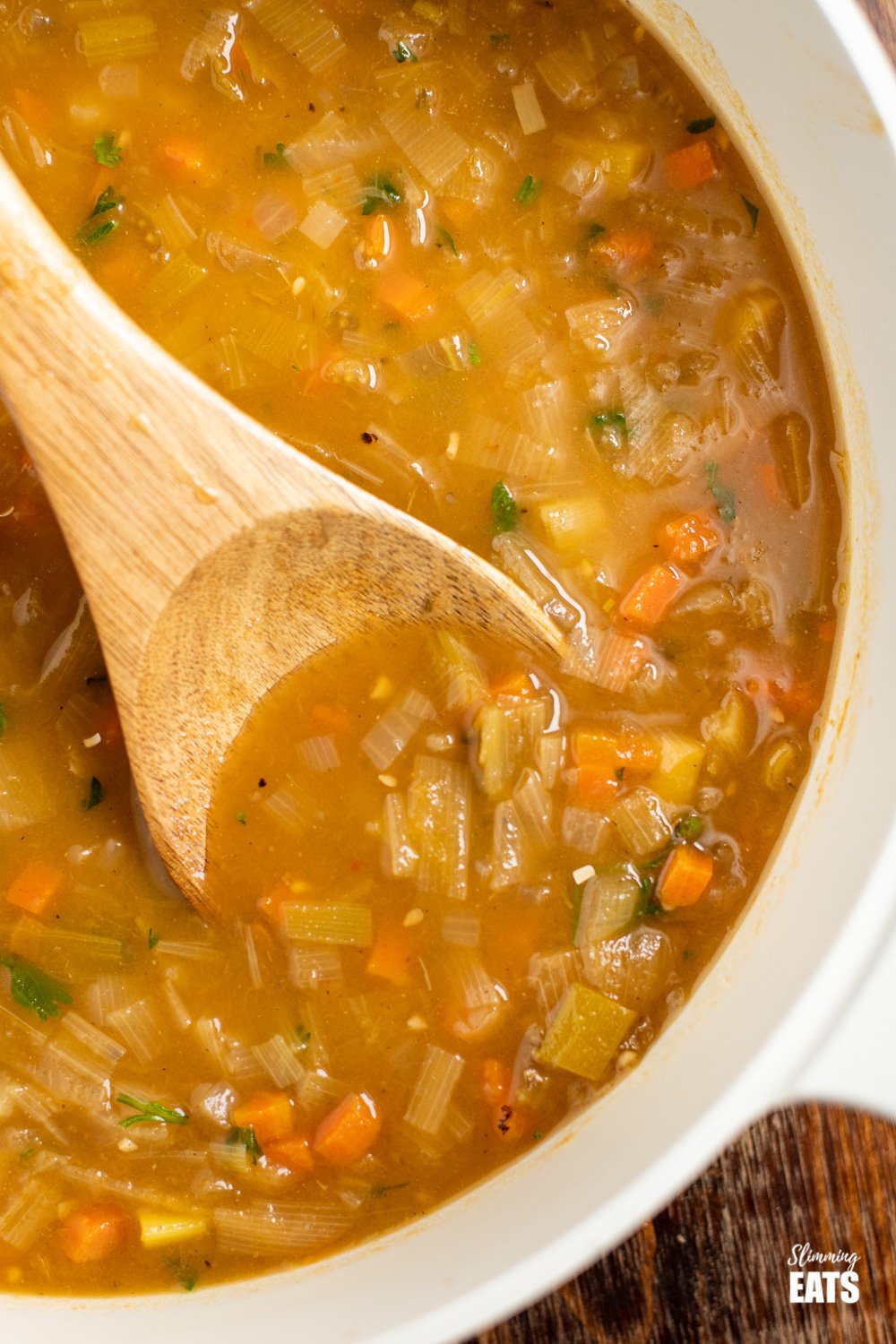 Sautéing the Vegetables for Soup
It's an important process of making soup to really enhance the flavour, otherwise, your soup can end up pretty bland and tasteless.
Usually, heaps of olive oil or similar would be used for this process, but to keep syns/points down we use spray oil and then the clever trick of using a little bit of stock and reducing it down around the vegetables until they are softened and you get that naturally sweetened flavour of the vegetables.
You don't want those vegetables to burn as that will make the soup bitter. It's a process that needs patience and trust me the flavour will be immense.
Types of Vegetables in Hearty Vegetable Soup
In this soup, we use onion, garlic, celery, leeks and carrots along with potato. The type of potato really matters. Don't use floury varieties, as otherwise, they will disintegrate into the soup. Instead, you want a waxy variety of potatoes. My absolute favourite type is Yukon Golds, they have a lovely yellowy colour and an almost buttery flavour.
In the UK - Elfe potatoes are similar to Yukon Golds, but use a variety of waxy potato you can find.
If you are on a Slimming World SP day or want to make this zero WW Flex/Freestyle Smart Points, then you can swap out the potato for butternut squash. It will give the soup a sweeter flavour, but it's still really filling and delicious.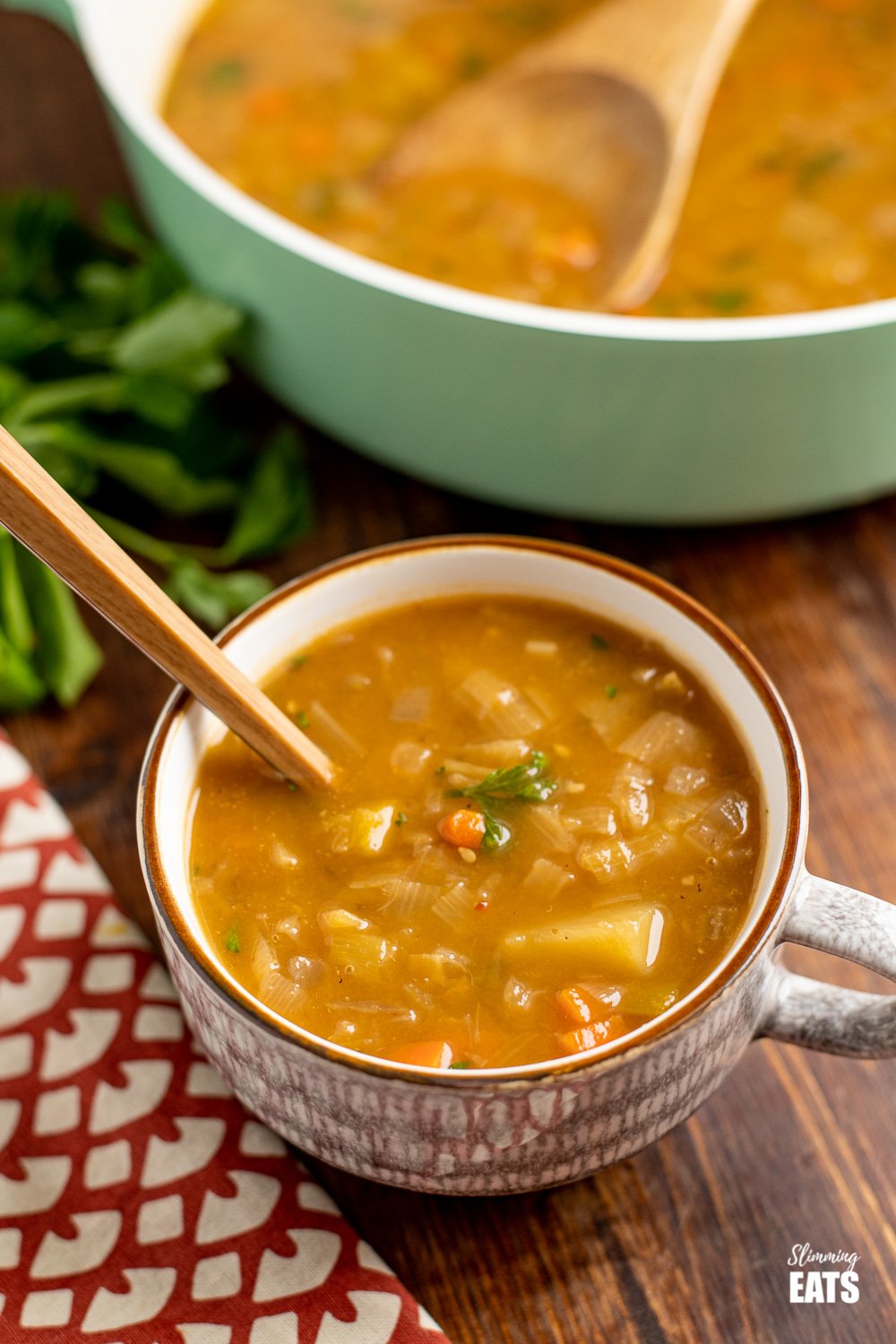 Sides for Hearty Vegetable Soup
You love something to dunk in your soup, but don't have a Healthy Extra B spare for some bread, what do you do?
If you don't want to use some syns on some bread, then all these are great sides to serve alongside this:
or another great option is to top with some cooked protein, like fish, leftover chicken, chunks of ham or even top with some cooked chickpeas (for this I just sauteed some drained canned chickpeas in a frying pan with a little sea salt and paprika and spray oil until warmed)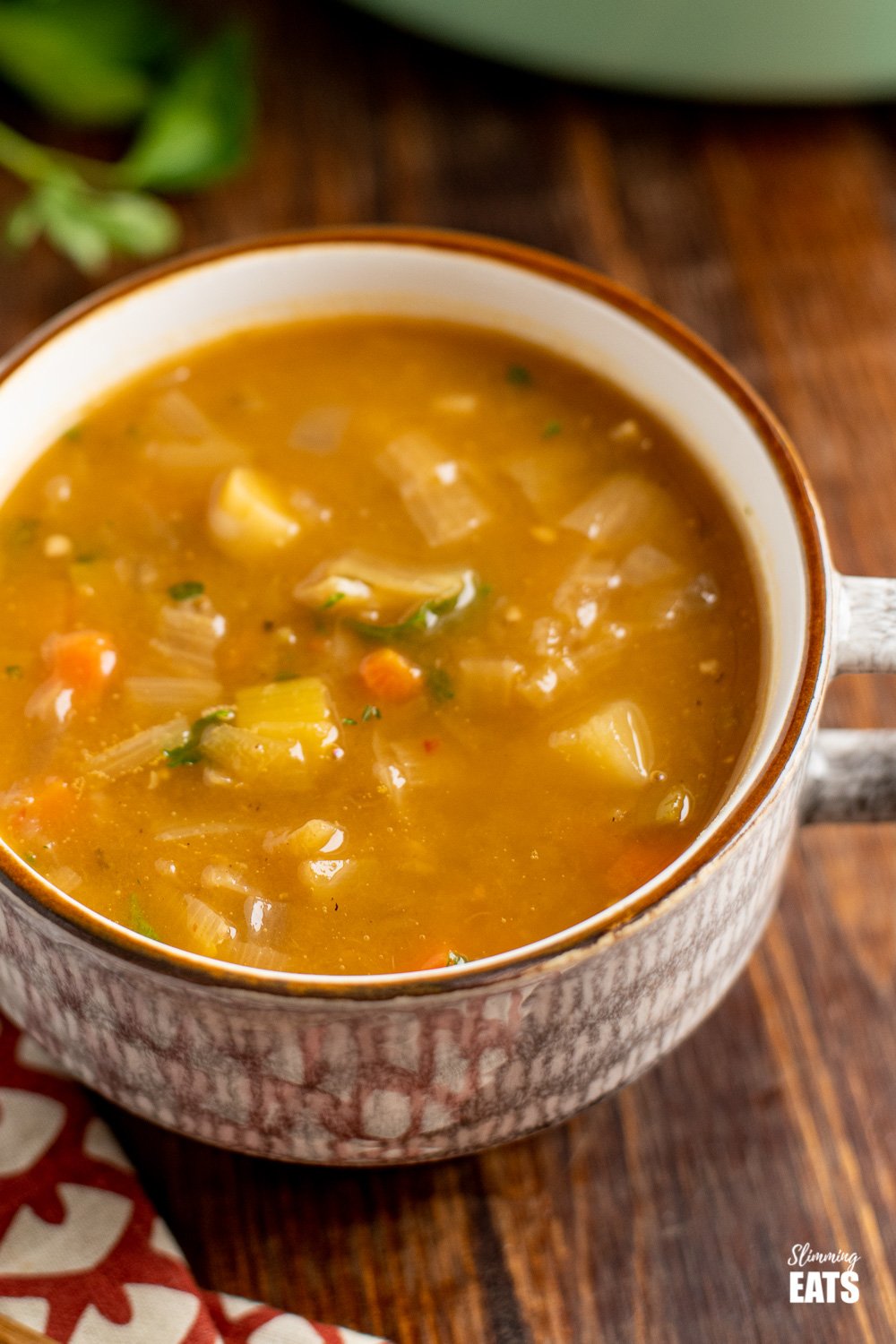 This recipe was originally created on 28 November 2010 and updated on the 26 November 2019
---
LET'S CONNECT!
Find me ON FACEBOOK | INSTAGRAM | PINTEREST | TWITTER | and YOUTUBE, come and follow me TO MAKE SURE YOU KEEP UP TO DATE ON ALL NEW RECIPES.
Hearty Vegetable Soup
Yield: SERVES 4

Prep Time: 10 minutes

Cook Time: 55 minutes

Total Time: 1 hour 5 minutes

Hearty Vegetable Soup with a delicious combination of flavours from golden potatoes, leeks, and other vegetables.
Ingredients
1 onion, chopped finely
2 cloves of garlic, crushed
1 large leek, sliced finely
2 sticks of celery, chopped
2 carrots, chopped
250g of potato, peeled and chopped into small cubes (use a waxy variety)
1 litre of chicken or vegetable stock
2 bay leaves
a couple of sprigs of fresh thyme (or 1 tsp of dried)
optional: a pinch of chilli flakes
salt and pepper to season
fresh chopped parsley
cooking oil spray (I used avocado spray oil)
Instructions
Spray a large saucepan over medium heat with some cooking oil spray and add the onions, garlic and celery.
Fry for a couple of minutes to soften. Add in a little stock at a time and reduce down to prevent any burning/sticking
Add in the leeks and carrot and spray again with the cooking oil spray and fry for a couple more minutes until the leeks have cooked down a little. Again added a little bit of the stock to prevent any burning/sticking
Stir in the thyme, Bay leaves (plus chilli flakes if using).
Add the potatoes and stock then bring to a boil.
Reduce heat and cover and simmer for approx 45 minutes.
Roughly blend some of the soup with a hand blender or you can add half of the soup to a traditional blender. I like to keep some chunks of vegetables in my soup but you can blend it all if you like a smooth soup.
Taste and season with salt and pepper as needed.
Sprinkle with fresh parsley.
Enjoy!!
Notes
This recipe is gluten free, dairy free, vegan (vegetarian), Slimming World and Weight Watchers friendly
Slimming World - syn free per serving
WW Flex/Freestyle Smart Points - 1 per serving
Gluten Free - use gluten free stock
Vegan/Vegetarian - use vegetable stock
*SUITABLE FOR FREEZING

If you wish to share this recipe, then please do so by using the share buttons provided.

Do not screenshot content or post recipe or content in full. All images and content on Slimming Eats are copyright protected.

Nutritional information, syn values, points etc are an estimate and is to be used for informational purposes only. Ingredients can vary greatly from brand to brand and therefore it would be impossible to give accurate information.

It is the responsibility of the Reader to assure the products or ingredients they use in any recipes from Slimming Eats are allergen-free (gluten-free, egg-free, soy free and/or dairy-free, for example). Slimming Eats assumes no liability for inaccuracies or misstatement about products, opinions or comments on this site.

Check Legal section, for Full Disclaimer, Disclosure and Privacy Policy
Nutrition Information
Serving Size 1 SERVING
Amount Per Serving Calories 117Total Fat 0.3gSodium 588mgCarbohydrates 27.9gFiber 5.1gSugar 8.1gProtein 3.4g
It is the responsibility of the Reader to assure the products or ingredients they use in any recipes from Slimming Eats are allergen-free (gluten-free, egg-free and/or dairy-free, for example) or Vegetarian friendly. Slimming Eats assumes no liability for inaccuracies or misstatement about products, opinions or comments on this site.
Nutritional information is an estimate and is to be used for informational purposes only
Looking for some additional support on your weight loss journey? Did you know Slimming Eats has a friendly Slimming World Facebook Support Group where you can get daily meal ideas and recipe ideas? Come and check us out, we'd love to have you join.
Looking for some other recipes? Head on over to my RECIPE INDEX for over 900 Slimming World & Weight Watchers recipes for you to browse through, all fully searchable by meal type, Ingredients, syn value and WW Smart Points etc
All images and content on Slimming Eats are copyright protected.
If you wish to share this recipe, then please do so by using the share buttons provided. Do not screenshot or post recipe or content in full.
* Disclosure: This post may contain affiliate links. As an Amazon Associate and member of other affiliate programs, I earn from qualifying purchases. We are a participant in the Amazon Services LLC Associates Program, an affiliate advertising program designed to provide a means for us to earn fees by linking to Amazon.com and affiliated sites." Check Legal section, for Full Disclaimer, Disclosure and Privacy Policy.