If you're in search of a hassle-free, one-pan recipe bursting with flavour, you're going to adore this One Pot Shawarma Chicken and Rice, featuring an exquisite blend of Middle Eastern spices.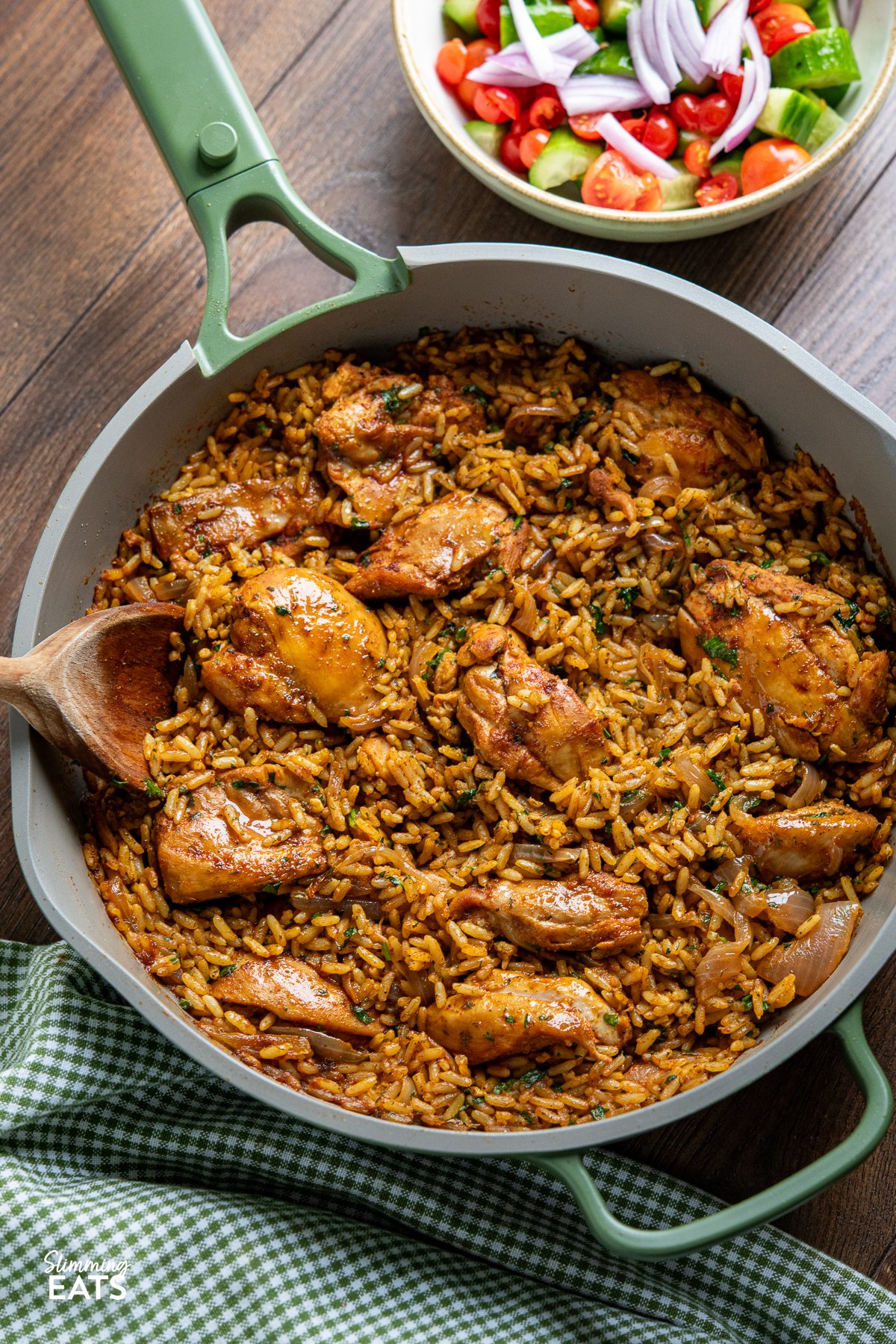 If there's one recipe I'm absolutely confident my family will adore, it's chicken shawarma. We relish the delightful ritual of piling our favorite ingredients into a bowl and savoring it together as a family meal.
However, in those moments when time is of the essence, and we're craving a speedy yet satisfying meal, this one-pot version comes to the rescue like a culinary lifesaver. I kickstart the recipe, and while it's simmering away, I can efficiently prep all our sides. It's a breeze, and in just a matter of minutes, the whole spread is ready for our family to relish.
Jump to: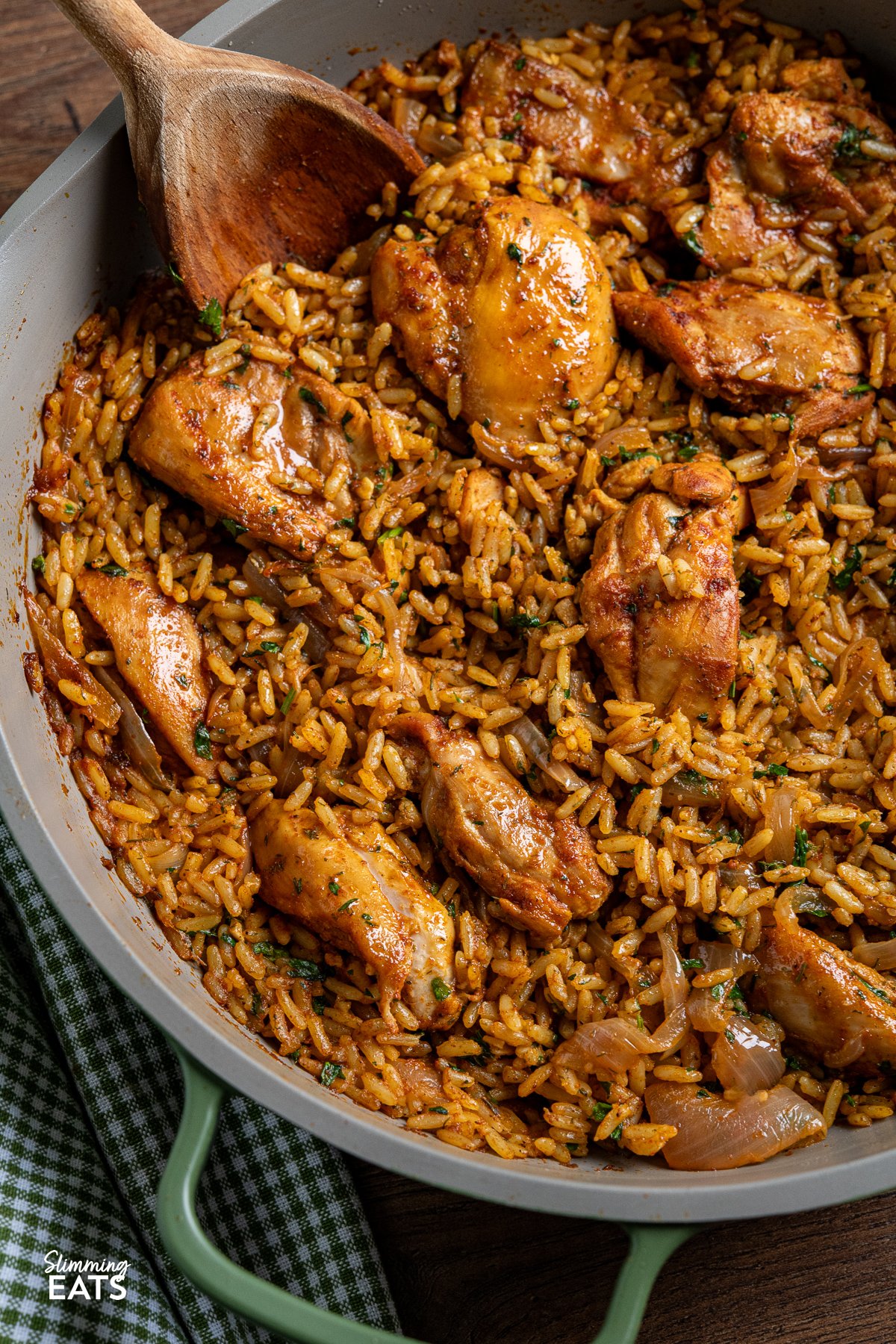 Calories in One Pot Chicken Shawarma and Rice
These delicious Chicken Shawarma and Rice serves four people and has 430 calories per serving (no sides).
If you're looking for more recipes within the same calorie range, you'll find an abundance of options in my dedicated collection of 400+ calorie recipes.
If you're following a calorie-controlled diet or a healthy eating plan, it's important to calculate your daily calorie intake using a reliable calorie calculator. Please note that the calorie counts provided are estimates and can vary based on specific ingredients and serving sizes. Personalizing your calculations is essential to meet your individual needs. By using a calorie calculator, you can make informed choices and stay on track with your dietary goals.
What is Chicken Shawarma?
Chicken shawarma is a mouthwatering Middle Eastern delight that I can't seem to get enough of. It all begins with tender, marinated chicken, generously seasoned with a captivating blend of spices that infuse it with an irresistible flavor. Traditionally, the marinated chicken takes center stage on a vertical rotisserie, where the juices drip down, ensuring the meat remains wonderfully moist and succulent.
In this version, we take a slightly different approach, opting to brown the chicken in a pan before combining it with rice. This method transforms it into an effortlessly delightful one-pan dish that retains all the amazing shawarma flavors while simplifying the cooking process. Whether served in a pita wrap or elegantly plated alongside an array of accompaniments, chicken shawarma has a special place in my heart as a culinary favourite.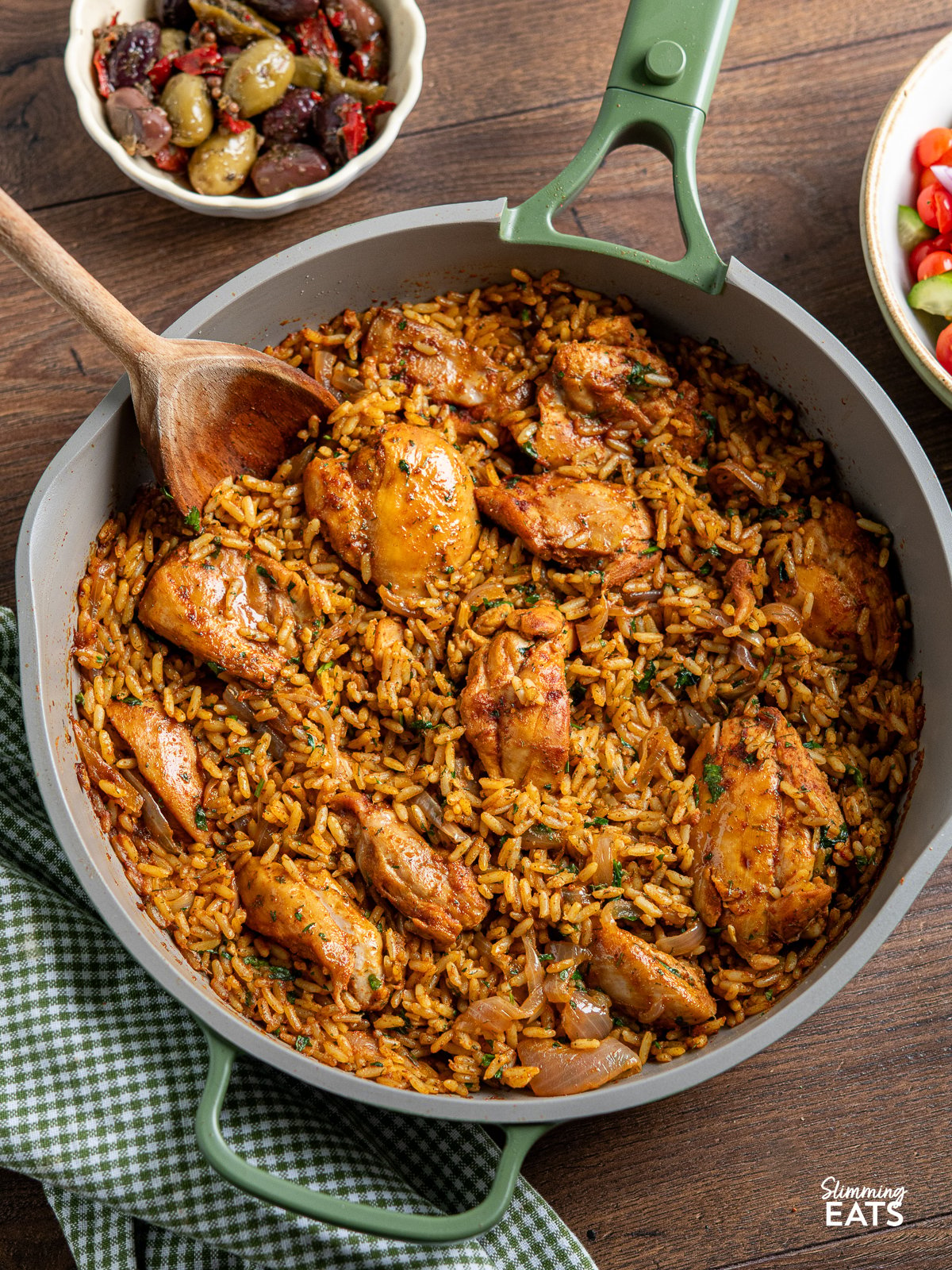 Ingredients for Chicken Shawarma and Rice
To prepare this Chicken Shawarma and Rice, here are some notes on the ingredients used:
Chicken:This recipe calls for skinless and boneless chicken thighs. While chicken breast is an acceptable alternative, I highly recommend using chicken thighs for the best results and flavour.
Seasonings: paprika (smoked and regular), ground cumin, ground coriander, chilli flakes, ground cardamom, turmeric
Lemon Juice: fresh will yield the best flavour, but bottled can also be used if that's all you have
Olive oil: resist the temptation to swap the olive oil for a low-calorie spray; olive oil produces the best results for this one-pot dish because it imparts flavor while coating the chicken and rice.
Onion: just a regular white onion
Garlic: fresh garlic minced, but lazy or jarred mince garlic is fine also.
Long Grain Rice: I use just regular long grain rice
Stock: It's crucial to use the right ratio of stock cubes for the required amount of stock. Not all stock cubes are the same, and using the wrong amount can result in either a bland and watery broth or an overly salty stock.
Parsley: Fresh chopped parsley works best in this recipe, but you can use dried if it's all you have. Just use less, as dried herbs can be more potent and bitter if used excessively.
Dried Dill
Salt and Pepper: These essential flavour enhancers play a crucial role in elevating the taste of your dishes. We use them to season the steak bites and recommend using them to season the final dish to taste as well. They ensure your food is never bland when used appropriately.
Once you've gathered all the ingredients and prepared them accordingly, you're all set to create this easy and delightful recipe.
See the recipe card for specific quantities and instructions.
Choosing the Perfect Pan for One-Pot Recipes
For the best results in one-pot recipes, selecting the right pan is crucial. Opt for a large circumference flat-bottomed deep frying pan with a lid. This choice offers several advantages: it prevents overcrowding of ingredients, allowing for even heat distribution, and helps ensure everything cooks uniformly. The lid is especially beneficial as it traps steam and moisture, aiding in the simmering and braising process while preventing food from drying out.
Additionally, consider pans made of materials like stainless steel, cast iron, or aluminium for their excellent heat conductivity, which minimizes the risk of hot spots and guarantees consistent cooking. A non-stick coating can be advantageous for recipes with sticky ingredients or sauces and helps to prevent food from sticking to the bottom. Heat-resistant handles are also recommended for easy handling, especially when moving the pan in and out of the oven.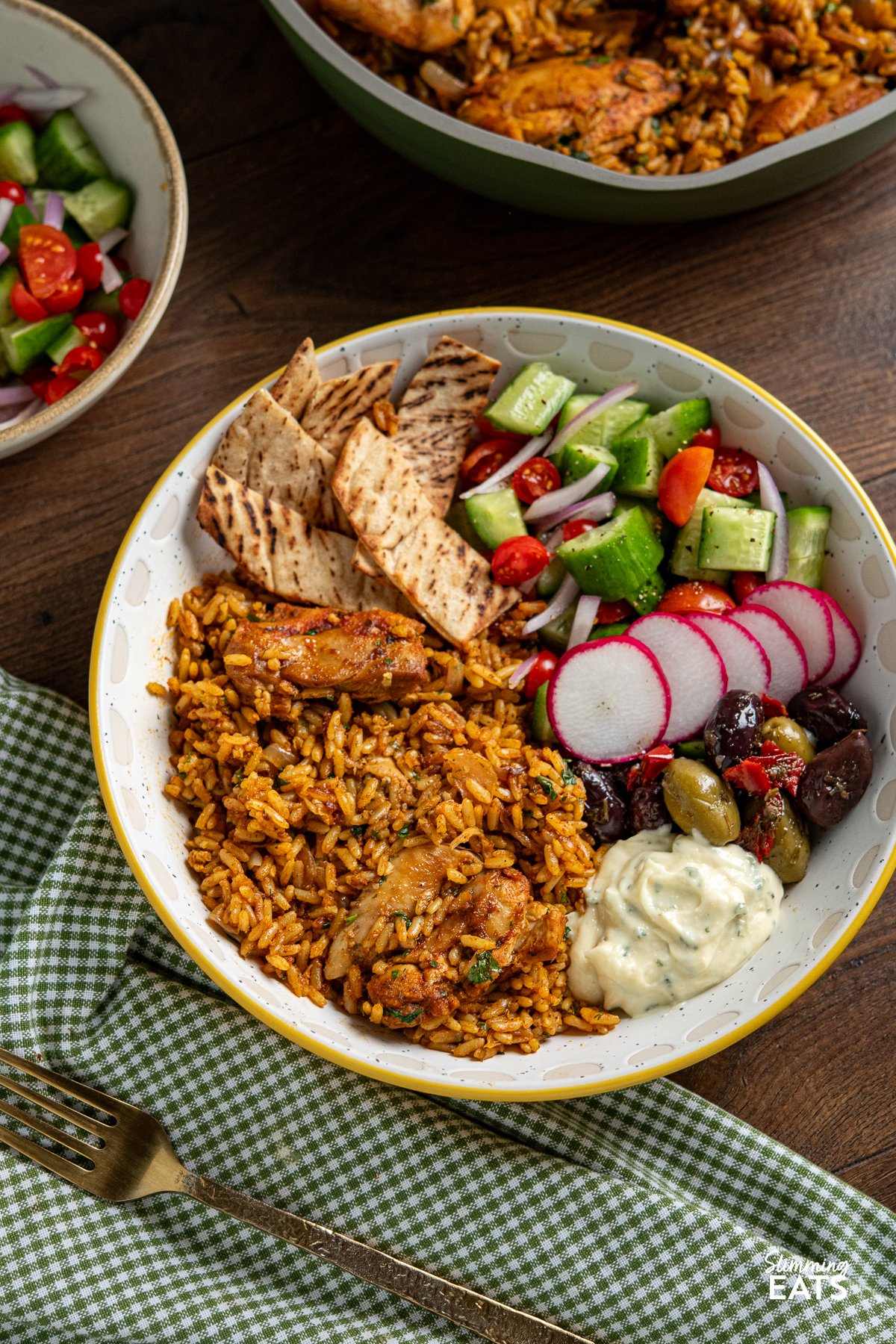 Sides for Chicken Shawarma
While shawarma is traditionally served in a pita bread with a mixture of salad items, but for this complete one pot meal with rice we love to serve this in a bowl with the following:
Cucumber
Tomatoes
Red Onions
Radish
Mixed Olives
Grilled Pita Strips
Garlic Mayo - see below
Other great options for sides are:
Chickpeas
Halloumi
Pickled Onions/Turnip
Salad
Homemade Garlic Shawarma Sauce
For this garlic mayo sauce as a great accompaniment to chicken shawarma, I combine the following:
4 tablespoons of reduced fat mayonnaise
4 tablespoon of fat free yoghurt
1 teaspoon of garlic powder
2 teaspoons of lemon juice
2 teaspoons of dried parsley
Just combine all in a bowl and it's the perfect sauce for the shawarma.
More Chicken Recipes
Are you in search of more low calorie recipes using Chicken Thighs? Look no further! Here are some great choices below:
or if you would like more recipe ideas or sides to make with this recipe - head on over to the FULL RECIPE INDEX where you will find over 900 delicious recipes with calories and you can search by meal type, ingredients, course, diet and more.
All recipes on Slimming Eats have estimated nutritional information for your convenience.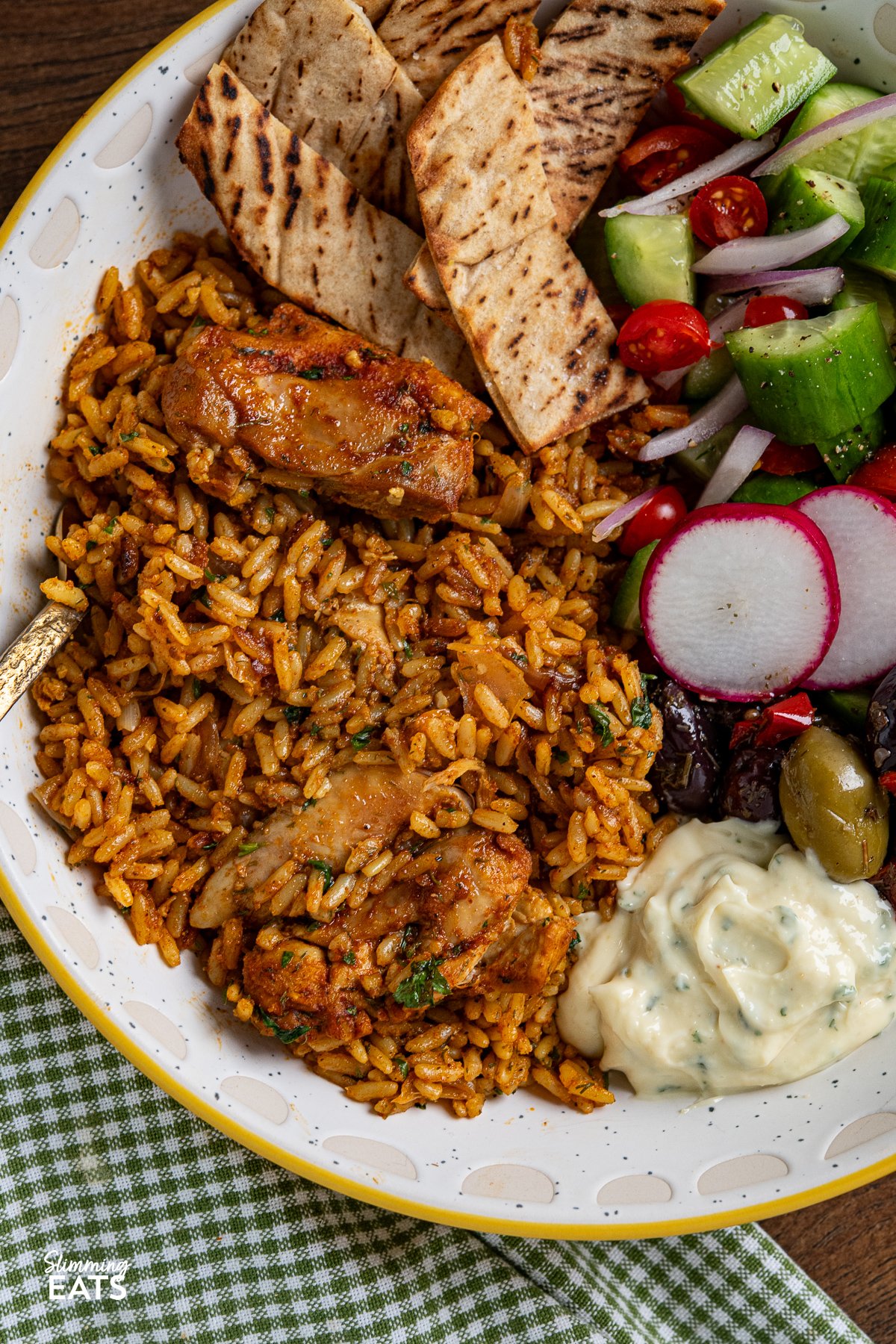 ---
LET'S CONNECT!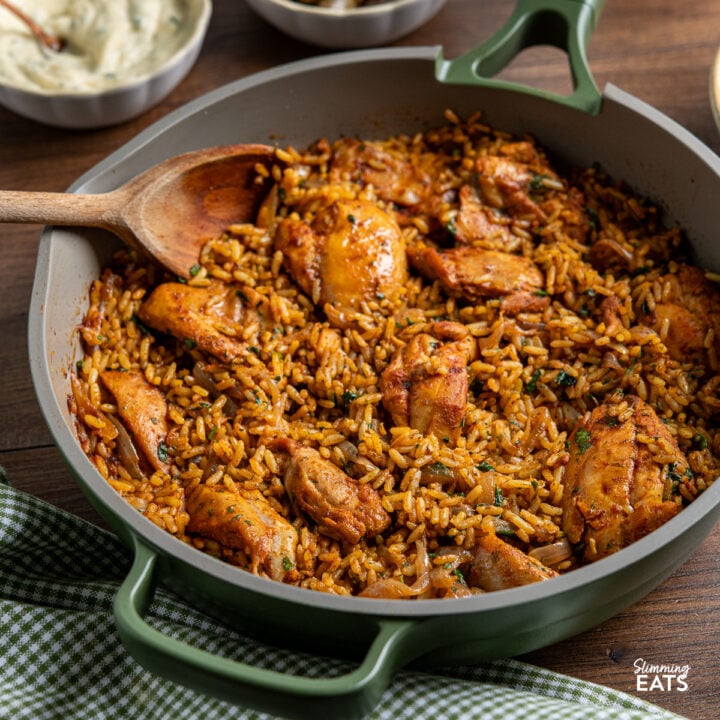 One Pot Shawarma Chicken and Rice
If you're in search of a hassle-free, one-pan recipe bursting with flavour, you're going to adore this One Pot Shawarma Chicken and Rice, featuring an exquisite blend of Middle Eastern spices.
Ingredients
6 boneless skinless chicken thighs, raw (trimmed of visible fat) - approx 600g (21oz)
2 teaspoons of ground cumin
2 teaspoons of ground coriander
2 teaspoons of paprika
1 teaspoon of smoked paprika
¾ teaspoon of salt
½ teaspoon of black pepper
½ teaspoon of turmeric
½ teaspoon of ground cardamom
¼ teaspoon of chilli flakes (red pepper flakes) - can use more if you prefer
1.5 tablespoons of lemon juice
1 tablespoon of olive oil
1 medium onion, halved and finely sliced
3 cloves of garlic, crushed
180g (1 cup) of uncooked long grain rice
2 cups (480ml) of chicken stock (hot)
salt and black pepper
2 tablespoons of fresh chopped parsley
½ teaspoon of dried dill
Instructions
Prepare the Chicken: Slice the chicken thighs in half horizontally. Add the chicken thigh halves to the bowl with the seasonings and lemon juice and mix until they are well coated.
Sear the Chicken: Heat olive oil in a large, deep frying pan over medium-high heat. Add the seasoned chicken thighs to the pan. Fry the chicken for 3-4 minutes on each side until they turn a lovely golden color. Be patient during this step to achieve the desired colour. Scatter the chopped onion and minced garlic in between the chicken thighs when you flip them over.
Cook Rice: Add the rice to the pan with the chicken and cook for about a minute until the rice becomes translucent. Pour in the chicken stock and gently stir to evenly distribute the ingredients.
Simmer and Steam: Let the mixture bubble on medium heat with the lid off until the stock is just absorbed into the rice. Do not stir during this period. Once the stock is absorbed, cover the pan with a lid, turn off the heat, and leave it to steam with the lid on for 12 minutes. Do not lift the lid during this time.
Season and Garnish: After 12 minutes, carefully remove the lid. Taste the dish and season with salt and black pepper as needed. Stir in the freshly chopped parsley and dill.
Serve: Serve the Shawarma Chicken and Rice with your choice of sides and enjoy
Notes
Please see below for details about recipe:
Calories - scroll down to nutritional info box
Slimming, Diet or Weight Loss programs::  due to plans regularly changing and updating, we recommend calculating with the official tools you get as a member to those plans to ensure accuracy of values
Gluten Free Friendly - use gluten free stock and spices
Dairy Free Friendly
If you wish to share this recipe, then please do so by using the share buttons provided at top of this post.
DO NOT COPY AND/OR PASTE FULL RECIPES OR SCREENSHOTS OF ANY CONTENT FROM SLIMMING EATS TO ANY SOCIAL MEDIA OR WEBSITE, IT IS STRICTLY PROHIBITED.
ALL IMAGES AND CONTENT ON SLIMMING EATS ARE COPYRIGHT PROTECTED
Nutritional information etc are an estimate and are to be used for informational purposes only. Ingredients can vary in values from brand to brand and therefore it would be impossible to give accurate information. It is always advised that you calculate values yourself by the ingredients you use and the tools provided to you as a member of the programme you are following.
It is the responsibility of the Reader to assure the products or ingredients they use in any recipes from Slimming Eats are allergen-free (gluten-free, egg-free, soy-free and/or dairy-free, for example). Slimming Eats assumes no liability for inaccuracies or misstatement about products, opinions or comments on this site. 
Check Legal section, for Full Disclaimer, Disclosure and Privacy Policy.
Recommended Products
As an Amazon Associate and member of other affiliate programs, I earn from qualifying purchases.
Nutrition Information
Yield

4
Serving Size

1 SERVING
Amount Per Serving
Calories

430
Total Fat

12g
Saturated Fat

3g
Trans Fat

0g
Cholesterol

187mg
Sodium

992mg
Carbohydrates

45g
Fiber

11g
Sugar

2g
Protein

33g
Nutritional information and values etc are an estimate and is to be used for informational purposes only. Ingredients can vary greatly from brand to brand and therefore it would be impossible to give accurate information. It is always advised that you calculate by the ingredients you use.
Disclosure: This post may contain affiliate links. As an Amazon Associate and member of other affiliate programs, I earn from qualifying purchases. We are a participant in the Amazon Services LLC Associates Program, an affiliate advertising program designed to provide a means for us to earn fees by linking to Amazon.com and affiliated sites." Check Legal section, for Full Disclaimer, Disclosure and Privacy Policy.