Jamaican Jerk Chicken with Rice and Peas - tender pieces of chicken with a delicious flavoursome blend of spices served with the perfect side of coconut white rice with kidney beans.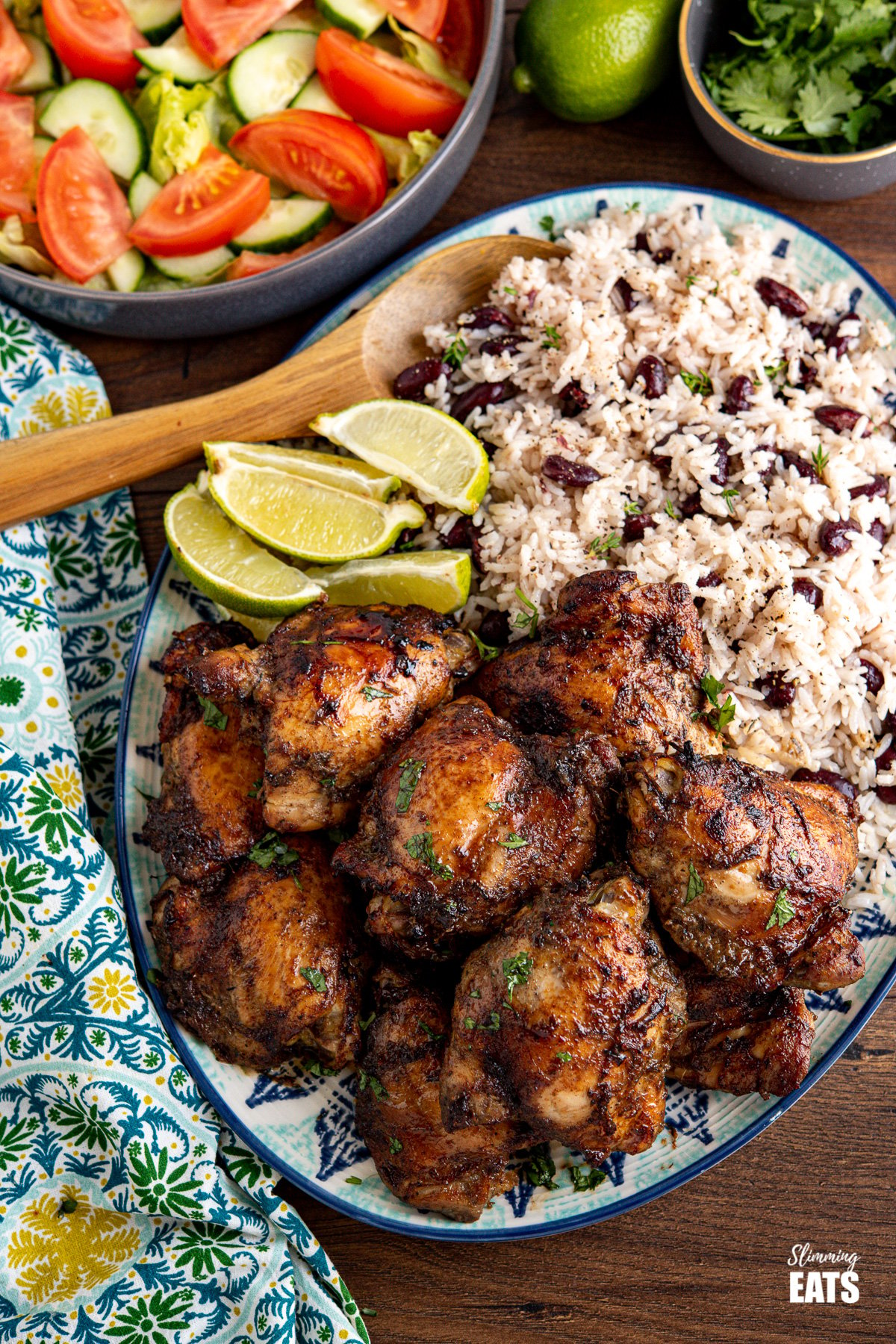 Jamaican Jerk Chicken
Jerk Chicken with Rice and Peas is a dish that brings back many childhood memories for me. I love it so much, that I just had to recreate it so that it can still be enjoyed when healthy eating, but not lack any of those delicious flavours.
I used to eat this weekly when I was younger, cooked lovingly by my best friends mum, who was Jamaican. Her Jerk Chicken with Rice and Peas was the best ever and it would always be washed down with an ice cold glass of Sarsaparilla. Does anyone remember that stuff? I still get cravings for ice cold glasses of it now, when it is hot scorching day.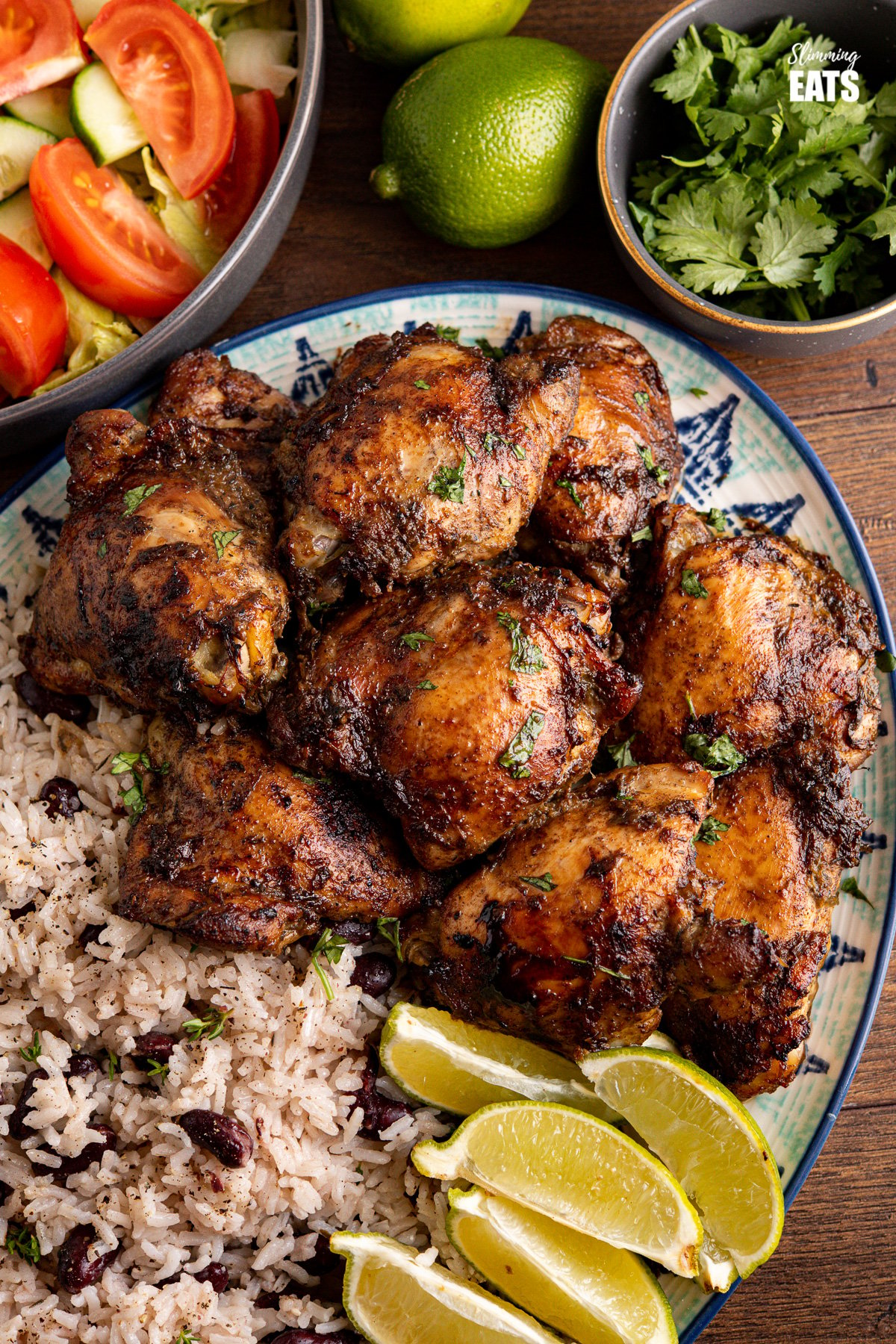 Oven Baked Jerk Chicken
Usually this dish would use a far bit of oil and the skin left on, but it's just as good lightened up by removing the skin of some bone in chicken thighs and ditching the oil. For the Rice and Peas I make no shortcuts, and stick to regular canned full fat coconut milk. Why? it's really not that bad when you divide up into servings for the amount used.
Jerk Seasoning
You can buy many ready made Jerk Seasonings, but as with most recipes I just like to use my own individual ingredients when it comes to making spice blends or marinades for recipes, plus you can't beat the flavours of fresh ingredients.
For this Jerk Chicken recipe we use a fresh scotch bonnet peppers (but you can use Jalapenos if you can't get these), garlic cloves, ginger root, spring onions, thyme, all spice, cinnamon, soy sauce, orange juice, lime juice and maple syrup (or you can use honey) to make the marinade and then marinate overnight if you can, so the chicken absorbs all those flavours.
Cuts of Chicken for Jerk Chicken
So what's the best cut of chicken to use for Jerk Chicken? You want the meat nice and tender, so I always recommend using bone-in chicken. Either skinless but bone-in thighs, or skinless chicken drumsticks or you can do a mix of both. I don't recommend using chicken breasts. Why? they just don't absorb enough of the flavour for me and for the style/length of cooking, they would be far too overcooked.
If you hate chicken on a bone, then boneless chicken thighs will work, but you will want to reduce that cooking time, as they won't take longer than 20-25 minutes.
Removing the Skin from Chicken
Hate removing the skin from chicken pieces? If you have a friendly butcher most will do it for you, but it is really easy and quick to remove the skin, once you get the hang of it. Just grip the skin from the meaty end of the drumstick, you can use a clean tea towel or kitchen paper to grip or even a little dusting of salt on your finger tips will help and just quickly pull off the skin in one piece, repeat with the other drumsticks (this works for thighs too).
Some will say it's easy to remove the skin once cooked, but you really don't want to do it that way round, as you will be removing all the lovely flavour of the marinade.
Which type of Coconut Milk?
You can use either light or regular canned coconut milk for the rice and peas, just be aware that using regular will raise the calories etc.
Also did you know light coconut milk is just regular coconut milk but with a higher water ratio? So you can actually just use a little less regular coconut milk and add a little more water if you want light coconut milk.
I don't recommend using the coconut milk drink you get in a carton, as that is too watered down and just won't add any flavour.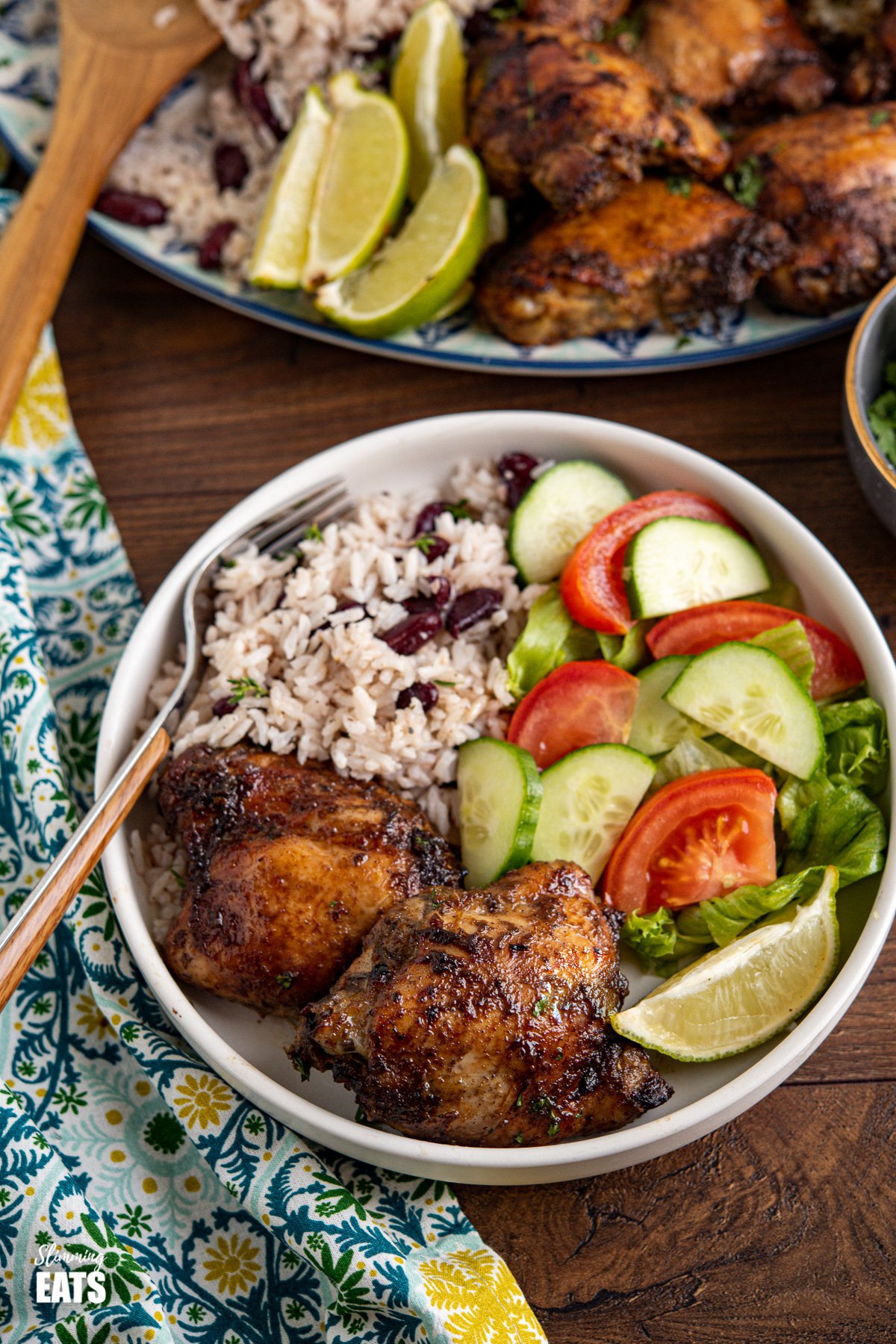 Sides for Jerk Chicken with Rice and Peas
We would always have Jerk Chicken with Rice and Peas served with a salad of cucumber and tomatoes. I am not sure exactly if that is the true tradition, but it always goes well and it is what I have become accustomed to when making this dish. It's simple and quick.
But it really would pair well with any vegetable side of your choice. Plus if you want to be even healthier, skip the rice and peas and go for this Roasted Cauliflower Rice, which is delicious.
More Chicken Recipes
Looking for some more chicken recipes? Check out some of these:
or head on over to my Full Recipe Index with over 900 delicious Slimming Eats and Weight Watchers friendly recipes all fully searchable by meal type, ingredients and smart points etc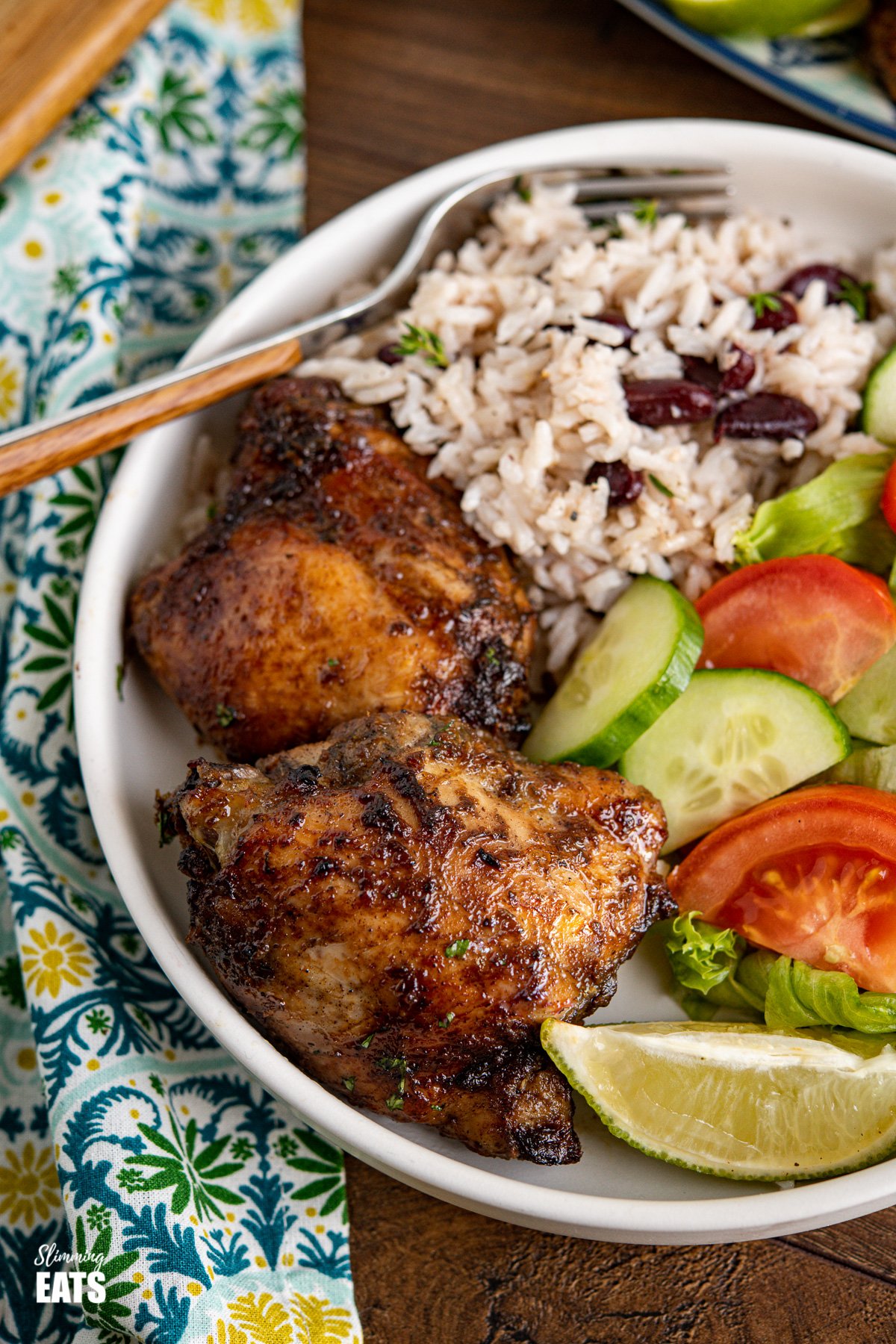 ---
LET'S CONNECT!!
Jamaican Jerk Chicken with Rice and Peas
Additional Time:
12 hours
Jamaican Jerk Chicken with Rice and Peas - tender pieces of chicken with a delicious flavoursome blend of spices serve with the perfect side of coconutty white rice with kidney beans. 
Ingredients
For the Jamaican Jerk Chicken
10 chicken portions of choice (I recommend bone-in thighs or drumsticks) (skin and fat removed) - approx 1.5kg (53oz)
1 medium shallot
3 spring onions
1 scotch bonnet pepper, chopped (jalapenos may be used if scotch bonnet peppers are unavailable but use 2-3 depending on your desired heat preference)
4 garlic cloves, crushed
1 tablespoon of freshly grated ginger root
1 tablespoon of fresh thyme or use 1 teaspoon of dried
2 tablespoon of maple syrup (or honey)
½ teaspoon of ground allspice
½ teaspoon of ground cinnamon
¼ cup (4 tablespoons) of soy sauce
pinch of black pepper
Juice of one whole orange
Juice of one whole lime
For the Rice and Peas
Ingredients
1 cup (190g) of uncooked long grain rice, rinsed
1 cup (260g) of kidney beans, canned (drained)
1 clove of garlic, crushed
1 cup (240ml) of light coconut milk
1 cup (240ml) of chicken stock
salt and black pepper
pinch of dried thyme
To serve
Fresh Coriander
Fresh Lime Wedges
Instructions
For the Jamaican Jerk Chicken
Add the onions, garlic and peppers to a blender or food processor, along with all other ingredients for the jerk chicken (apart from the chicken)
Blend to make the marinade
Add the chicken pieces to a ziplock bag, and pour in the marinade, seal bag and ensure marinade coats all pieces of chicken.
Leave the chicken in the fridge to marinade overnight.
Preheat the oven to 200c or 400f
Line a large baking tray with parchment paper, and empty the bag with the chicken onto the tray, ensuring the chicken pieces are well spaced.
Bake for approx 45 minutes, until chicken is cooked through.
Baste regularly with the marinade (juices) as the chicken cooks, this will ensure the deepened colour and create a coating on the chicken.
Serve Sprinkled with fresh coriander and fresh lime wedges.
For the Rice and Peas
Add the kidney beans, stock, coconut milk, garlic, thyme and rice to a saucepan
Bring to a boil, reduce heat, then cover and simmer until almost all liquid is absorbed, turn off heat, but leave lid on over rice for about 10 mins, so that the steam trapped underneath continues to cook the rice.
Taste rice and season well with salt and black pepper as needed
Serve the Jamaican Jerk Chicken with the Rice and Peas and a mixed salad of lettuce, cucumber and tomatoes.
Enjoy!!
Notes
Please see below for full nutritional info and additional details about recipe:
Calories - scroll down to nutritional info box
WW Points and other Slimming or Weight Loss programs -   due to plans regularly changing and updating, we recommend calculating with the official tools you get as a member to those plans to ensure accuracy of values. 
If you wish to share this recipe, then please do so by using the share buttons provided at top of this post.
DO NOT COPY AND/OR PASTE FULL RECIPES OR SCREENSHOTS OF ANY CONTENT FROM SLIMMING EATS TO ANY SOCIAL MEDIA OR WEBSITE, IT IS STRICTLY PROHIBITED.
ALL IMAGES AND CONTENT ON SLIMMING EATS ARE COPYRIGHT PROTECTED
Nutritional information etc are an estimate and are to be used for informational purposes only. Ingredients can vary in values from brand to brand and therefore it would be impossible to give accurate information. It is always advised that you calculate values yourself by the ingredients you use and the tools provided to you as a member of the programme you are following.
It is the responsibility of the Reader to assure the products or ingredients they use in any recipes from Slimming Eats are allergen-free (gluten-free, egg-free, soy-free and/or dairy-free, for example). Slimming Eats assumes no liability for inaccuracies or misstatement about products, opinions or comments on this site. 
Check Legal section, for Full Disclaimer, Disclosure and Privacy Policy.
Recommended Products
As an Amazon Associate and member of other affiliate programs, I earn from qualifying purchases.
Nutrition Information
Yield

5
Serving Size

1 SERVING
Amount Per Serving
Calories

630
Total Fat

13.6g
Saturated Fat

5.2g
Cholesterol

185.9mg
Sodium

900mg
Carbohydrates

52.4g
Fiber

4.7g
Sugar

9.6g
Protein

70.7g
Disclosure: This post may contain affiliate links. As an Amazon Associate and member of other affiliate programs, I earn from qualifying purchases. We are a participant in the Amazon Services LLC Associates Program, an affiliate advertising program designed to provide a means for us to earn fees by linking to Amazon.com and affiliated sites." Check Legal section, for Full Disclaimer, Disclosure and Privacy Policy.