Chicken and Vegetable Curry packed with delicious vegetables such as carrots, zucchini and butternut squash with some added creaminess of coconut milk. 
Have I mentioned how much I love curry? Probably. Actually make that definitely. What can I say, what's not to love about curry?
Really you can add absolutely anything into a pot for a curry, so long as you have that mix of spices right. A good blend of spices is really important, add not enough and the curry will be bland, add too much and well, you won't even be able to identify what is in the pot.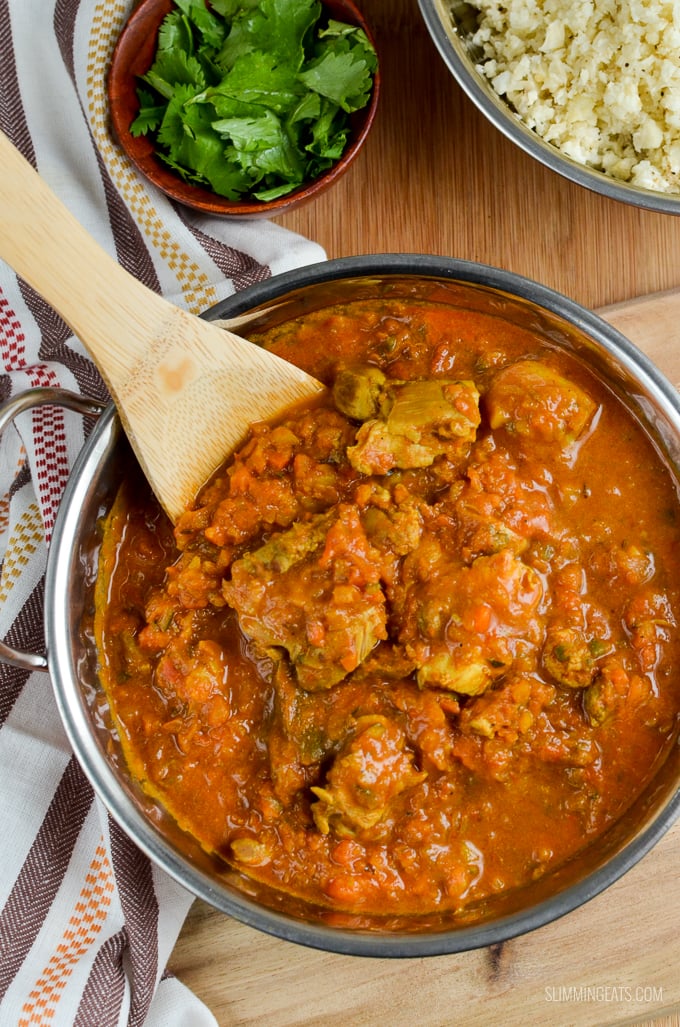 I am by no means a curry expect, in fact when it comes to curries, I am pretty much self taught. Any skills I have learnt when it comes to curry making, has literally been from watching cooking tv shows, reading endless cookbooks and watching friends (I am lucky enough to have a really good friend who has been showing me North Indian cooking, which she of course learnt from her mum and family).
There are really so many different styles of curries out there too, depending on who you ask, it will follow completely different ingredients.
This Chicken and Vegetable Curry was actually using up some vegetables I had in the fridge. I hate waste, so if I think there are ingredients that need to be used up, it will usually go into a pot for a curry or a soup. It's always good idea to do a inventory of produce you have every few days, that way you don't miss things that might become spoilt if left a few more days. The last thing yo want is to waste food you have spend your hard earned money on.
For the vegetables in the dish, you can chop finely by hand or if you are luckily enough to have a food processor, you can add the vegetables to that and blitz till finely chopped. Chopping the veg fine is perfect way to incorporate vegetables into a dish if you have fussy kids (or adults).
I like to use the food processor bowl of my Nutri Ninja Complete Kitchen System with auto IQ technology. I love this blender and food processor. The auto IQ technology, means it blends or chops to a set pattern depending on what it is you are making. So cool and really makes certain kitchen tasks when in comes to cooking, effortless.
This curry is also perfect if you are following an SP day, just swap out the sweet potato for butternut squash, they are both pretty similar in this curry, I have used both in the past, so can assure you, either are fine. To replace rice if on a SP day, you can serve with this delicious Roasted Cauliflower Rice. You have probably come across various ways to cook cauliflower rice, roasting it is my absolutely favourite, as it gives it an amazing flavour. Even more delicious if you use a coconut spray oil.
---
Looking for some more curry recipes to try? Check out some of these:
That's a whole load of delicious curries to choose from and just incase none of them take your fancy, don't forget you can check out my FULL RECIPE INDEX with over 500+ delicious Slimming World Recipes.
---
But in the meantime, make sure you do give this delicious Chicken and Vegetable Curry a try, it's pretty awesome.
Chicken and Vegetable Curry
This recipe is gluten free, dairy free, paleo, Whole30, Slimming World and Weight Watchers friendlyExtra Easy - 2.5 syns per servingOriginal/SP - 2.5 syns per serving (use butternut squash)WW Smart Points - 5
Ingredients
8 chicken thighs, trimmed of all visible fat and sliced into chunks
1 onion, chopped
3 cloves of garlic, crushed
1 teaspoon of grated fresh ginger
200g (7oz) carrots, chopped
200g (7oz) courgette (zucchini), chopped
200g (7oz) sweet potato, roughly chopped (or butternut squash)
1 tbs of cumin
1 tbs of coriander
1 tsp of turmeric
4 cardamom pods
1-2 green chilli, halved lengthways
1 cup (240ml) of passata
2 tablespoons of tomato paste
1.75 cups (400ml) of light coconut milk - 14 syns
2 cups (480ml) of  chicken stock
freshly chopped coriander
spray oil
Instructions
Spray a large saucepan with some spray oil
Add the chicken thighs, onion, garlic, ginger, and carrot and fry for approx 4-5 mins, until chicken is lightly browned and vegetables softened.
Add the spices and continue to fry for another 2 minutes.
Stir in the pasta, tomato paste, courgette (zucchini), chicken stock, coconut milk and sweet potato (or butternut squash) and bring to the boil.
Reduce heat and cover and simmer for approx 30 mins until chicken is cooked through and vegetables are softened.
Season with salt and pepper as needed
Serve topped with fresh coriander and your choice of sides. Perfect with rice or Roasted Cauliflower Rice for an SP/Original day.
Notes
Nutritional information is an estimate and is to be used for informational purposes only.
Ingredients can vary greatly from brand to brand and therefore it would be impossible to give accurate information. Also double check syn values of sinned ingredients as different brands can vary. 
All images and content on Slimming Eats are copyright protected.
If you wish to share this recipe, then please do so by using the share buttons provided. Do not screenshot or post recipe or content in full
Nutrition Information
Yield

6
Serving Size

1 serving
Amount Per Serving
Calories

237
Total Fat

7.8g
Saturated Fat

5g
Sodium

309mg
Carbohydrates

19g
Fiber

3.7g
Sugar

6.7g
Protein

22.1g
Disclosure: This post may contain affiliate links. As an Amazon Associate and member of other affiliate programs, I earn from qualifying purchases. We are a participant in the Amazon Services LLC Associates Program, an affiliate advertising program designed to provide a means for us to earn fees by linking to Amazon.com and affiliated sites." Check Legal section, for Full Disclaimer, Disclosure and Privacy Policy.