A healthier oven baked version of the ever so popular dish - Chicken Katsu Curry
Before I moved to Canada, one of my favorite places to eat was Wagamama, I love the food and the social atmosphere of the layout. It's an eating out place I really miss since I moved here.  One of my favourite dish to order there, was the Chicken Katsu Curry and I crave it often. Far too often.
It is quite obvious from a low fat healthy eating point of view, that dish is probably one of the worse choices, from the menu. Deep fried chicken in panko breadcrumbs and a delicious curry sauce. But it is sooooooo good, right?
That sauce is the best thing ever and so that was the main component I had to try and create and I think the sauce I came up with is pretty damn amazing!!
Best of all, because it is made with lots of speed vegetables, it adds speed foods to your plate.
You don't need a better excuse, to smother your plate in that sauce.
The recipe you see on the Slimming World website, is actually my recipe too, submitted by a member. With a couple of small variations.
This low syn version of the ever so popular Chicken Katsu Curry, will have you coming back again and again to this recipe. Infact you may just make the sauce, because it is totally slurp worthy (Hey no one is judging you here). I have been known to eat just a bowl of rice with some of this sauce.
I occasionally get some leftover sauce, but you won't see me complaining, I just tub it up and freeze for another day, or add some cooked chicken, peas and onions for a yummy kind of Chinese Style Curry the next day.
This can also be made into a gluten free version, by using Rice Krispies instead the breadcrumbs.  Even if you are not gluten free, you might decide to use the Rice Krispies if you do not have your Healthy Extra B choice spare.
---
For the breadcrumbs, I use 100% whole wheat bread, which I blitz into breadcrumbs using  the chopping bowl of my Nutri Ninja Food Processor with Auto IQ technology  After seasoning the breadcrumbs, I then spread them all out on a baking tray, and lightly toast it in a hot oven for a few mins, just to make the little crumbs nice and crispy. It yields a better coating for the chicken. 
Then I use blender jug for the sauce and it really gets the sauce lovely and smooth and silky. This blender is awesome!!
---
I like to serve this Chicken Katsu Curry with some julienned carrot and a bunch of fresh coriander (cilantro) as it compliments the dish, but you can add any veg you like to the side.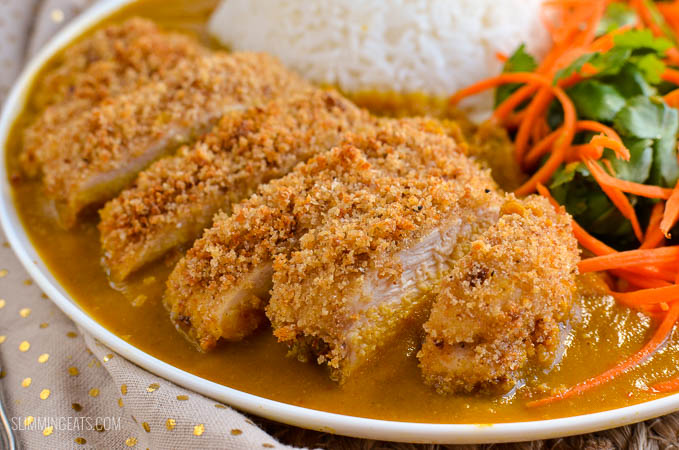 I use a julienne peeler for the carrots, it makes it look pretty, as you get nice thin strands, you could also use a vegetable spiralizer, or just slice it into thin matchsticks if you do not have either. The julienne peelers, are pretty cheap though, and they are great for making vegetables pretty for salads etc.
Want to make a Syn Free Chicken Katsu Curry? Swap the honey for Sukrin:1 or another sweetener of choice and omit the apple. Personally though for the sake of 1.5 syns, those ingredients make the sauce perfect.
Doing an SP day? Serve this with this Roasted Cauliflower Rice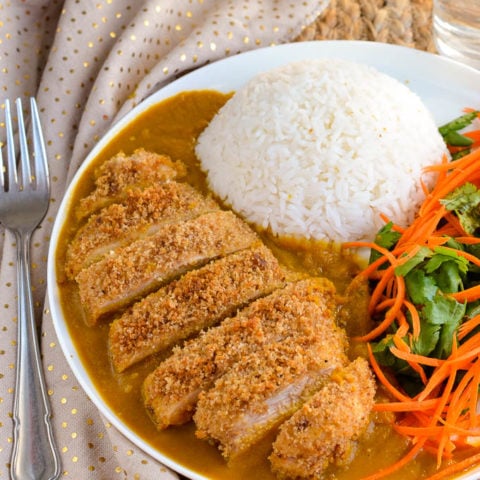 Chicken Katsu Curry
This recipe is gluten free, dairy free, Slimming World and Weight Watchers friendly
Extra Easy - 1 HEb and 1.5 syns per serving
Original/SP - 1 HEb and 1.5 syns (serve with cauliflower rice)
WW Smart Points- 12 per serving
Gluten free version - use gluten free stock and soy sauce. Replace the breadcrumbs for gluten free rice krispies or another alternative.
Ingredients
[b]For the Chicken[/b]
4 chicken breasts (fat and skin removed) (approx 800g/28oz)
240g of whole wheat bread (blitzed into breadcrumbs) (4xHEa's)
salt and pepper to season
2 eggs, beaten
[b]For the curry sauce[/b]
1 large onion, chopped
1 small courgette (zucchini), chopped
2 small carrots chopped
1 small apple, peeled and chopped (2.5 syns)
4 cloves of garlic crushed
tsp of fresh ginger
1 tsp turmeric
2 tsp of cumin
2 tsp of coriander
2 tsp of chilli powder
1 tablespoon of honey (2.5 syns)
1 tablespoon of soy sauce
4 cups (960ml) of chicken stock
1 bay leaf
Coconut oil spray
1 cup of uncooked rice
carrot, julienned
fresh coriander
Instructions
For the curry sauce
Spray a large saucepan with some Coconut oil spray.
Add the onion, garlic and ginger and cook for approx 3 mins, until onion is softened. Add the carrots, apple and courgette and lightly fry for a further 4-5 mins.
Mix in all the spices to evenly coat.
Add the stock, honey, soy sauce and bay leaf and bring to the boil. Reduce heat and simmer (lid off) for approx 30 mins, until all vegetables are softened.
For the chicken
While the sauce is cooking, Preheat oven too 200c or 400f
Season the whole wheat bread made into breadcrumbs (or rice crispies with some salt and black pepper.
Place each chicken breast in some cling film and bash down into thinner fillets with a rolling pin or meat tenderiser. Remove cling film and discard.
Dip the chicken breast into the beaten eggs and then cover with the whole wheat breadcrumbs (or rice crispies) and place on a baking tray sprayed with some Coconut oil spray.
Bake in the oven until breaded chicken breasts are nice and golden. (approx 30 mins)
While the chicken is cooking, add rice to a saucepan, with 2 cups of water and a little salt. Bring to a boil, then simmer until liquid is almost all absorbed, turn off heat, but leave covered with lid for approx 10 mins, for steam to continue to cook rice.
Slice each breaded chicken breast into pieces and serve alongside some steamed jasmine rice and fresh coriander and grated carrots.
Remove the bayleaf
Put curry sauce into a blender and blend till smooth, and then add back to the heat and simmer down for 10 mins so that it becomes a thick smooth sauce and ladle over the chicken and rice.
Enjoy!!
Notes
Note: once you blitz the bread into breadcrumbs and season, spread out on a baking tray and place in the oven to lightly toast for a couple of minutes.

Syn Free Version: Omit the apple and use sweetener instead of the honey, but personally for the sake of 1.5 syns, it taste so much better with ingredients as directed.

Nutritional information is an estimate and is to be used for informational purposes only. Ingredients can vary greatly from brand to brand and therefore it would be impossible to give accurate information.

All images and content on Slimming Eats are copyright protected.

If you wish to share this recipe, then please do so by using the share buttons provided. Do not screenshot or post recipe or content in full
Nutrition Information
Amount Per Serving
Calories

461
Total Fat

6.6g
Saturated Fat

1.3g
Cholesterol

93mg
Sodium

647.8mg
Carbohydrates

88.2g
Fiber

8.5g
Sugar

12.2g
Protein

13.9g
Disclosure: This post may contain affiliate links. As an Amazon Associate and member of other affiliate programs, I earn from qualifying purchases. We are a participant in the Amazon Services LLC Associates Program, an affiliate advertising program designed to provide a means for us to earn fees by linking to Amazon.com and affiliated sites." Check Legal section, for Full Disclaimer, Disclosure and Privacy Policy.