Air Fryer Mince Pie Bites - Delicious sweet and sticky bites using Greek yoghurt dough for the perfect low calorie recipe you can enjoy over Christmas.
Mince Pies
Christmas just doesn't feel festive to me without some mince pies on the menu. Typically they are made with a shortcrust pastry filled with that sweet mincemeat mixture of dried fruit, sugar, spices like nutmeg, brandy, lemon and suet. Although you will find various recipes for homemade mincemeat and each one is different in some way or other.
Then there are also varying recipes with a twist on the usual shortcrust pastry, such as using puff pastry instead or even a crumble topping - yum!
Lower Calorie Mince Pies
Most traditional versions of mince pies can be quite calorific. However with Christmas being a once a year occasion I am a strong believer of allowing yourself that little treat on Christmas day of whatever you fancy.
However if you don't want to have the temptation of those in the house then these Air Fryer Mince Pie Bites are a perfect alternative. They have all the delicious flavours and spices of a mince pie and served with a little bit of light cream, custard or even ice cream if that's what you prefer, then these will totally hit the spot.
Greek Yoghurt Dough
For the pastry for these Air Fryer Mince Pie Bites I use the very popular 2 ingredient Greek Yoghurt Dough. It's light and a delicious alternative to high calorie breads/pastries.
Usually for things like these Greek Yoghurt Garlic Naan recipe on Slimming Eats, I use plain fat free Greek Yoghurt. But for these mince pie bites I use fat free Vanilla Greek yoghurt instead, as it was what I had on hand and gave an additional flavour to the dough without me having to add anything else.
If you want to use plain fat free Greek Yoghurt you can totally do that, but you may want to add a little bit of sweetener into the dough along with some vanilla extract
Measurements for Greek Yoghurt Dough
Typically the measurements for Greek Yoghurt Dough are 1 cup of self raising flour to 1 cup of fat free Greek yoghurt, but I find this can easily be over or under measured when using volumes. So you don't want the same weights in grams of each ingredient.
To ensure the ingredients are precise I use my scales for the dough and find a yield of 150g of self raising flour and 175g of fat free Greek yoghurt yield a perfect dough.
The one thing you need to watch is that you use real Greek yoghurt and not what is known as Greek Style which is not quite as thick and uses additional ingredients to stabilize and thicken.
How many calories in Mincemeat?
This will vary greatly by between different brands of mincemeat and different recipes of homemade, to keep the calories as low as possible opt for one that is lower in calories.
We don't get much choice here in Canada so I just grabbed the one that was available, usually I would make my own, but I just didn't have time this year and decided last minute to make these up not knowing if they would work, and was delighted with how delicious they were that on the second batch I knew I had to share them with you all.
More Festive Dessert Recipes
Looking for some more festive recipes? Check out these:
or if you would like more recipe ideas - head on over to the FULL RECIPE INDEX where you will find over 900 delicious recipes with calories and you can search by meal type, ingredients, course, diet and more..
All recipes on Slimming Eats have estimated nutritional information for your convenience.
---
LET'S CONNECT!
Slimming Eats Made in the Air Fryer Cookbook
Looking for some more air fryer recipes? My new cookbook with 80+ Brand New and Delicious Recipes is out now and can be purchased from all UK major retailers including Amazon (will be released January 2024 in North America including Canada and Australia).
This is the ONLY air fryer cookbook you need in your life. Let me show you all the Amazing meals you can make in your air fryer.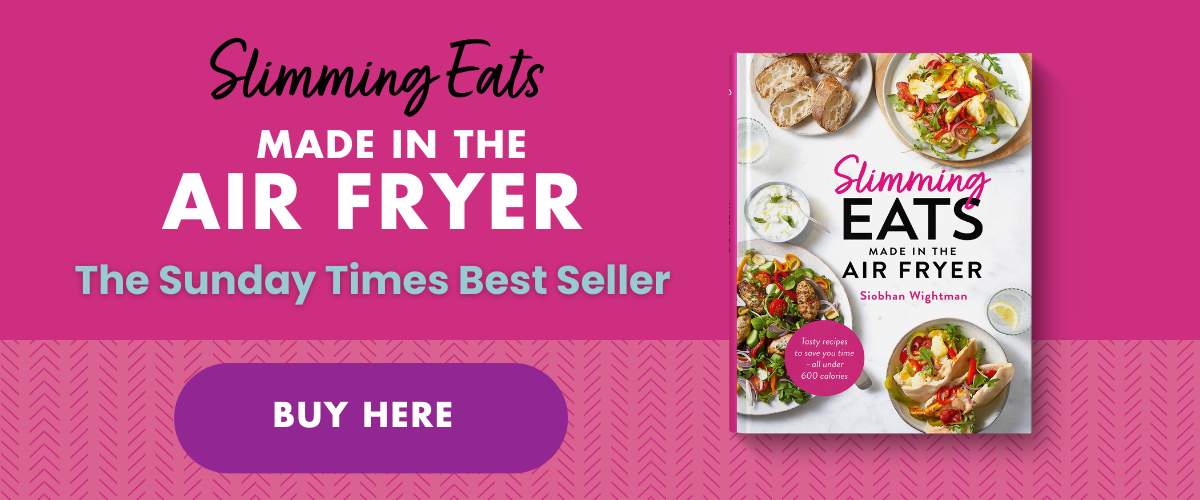 Air Fryer Mince Pie Bites
Delicious sweet and sticky air fryer mince pie bites using Greek yoghurt dough for the perfect low calorie recipe you can enjoy over Christmas.
Ingredients
150g (5.5oz) of self rising flour (plus a little extra for dusting)
175g (6oz) of fat free vanilla Greek yoghurt (I used fage)
120g (4.2oz of mincemeat
dusting of icing sugar (approx 1 teaspoon)
low calorie spray
Instructions
Add the flour and yoghurt to a bowl and mix with a spoon or silicone spatula until it all comes together in a ball (do not mix with hands).
Dust a clean surface with some additional flour and lightly dust the top of the dough and knead a couple of times until you have a large kind of flattened ball.
Divide into 12 equal sized amounts.
Grease basket of air fryer with low calorie spray (you can line with some parchment if you prefer)
Roll each piece into a rough oval shape add 10g of mincemeat to half of the oval fold over the unfilled side and then form into a rough flattened circle and carefully place in air fryer.
Repeat with other 11 pieces of dough.
Depending on size of your air fryer basket you may need to cook in batch. I did 6 at a time.
Once you have them place in the air fryer (make sure this is a slight space around each one as they will rise slightly).
Spray over the top with more low calorie spray and cook at 375f for 6-7 minutes until golden on top, then carefully flip and cook the other side for 2 minutes.
Transfer to a plate or rack and allow to cool slightly, then dust with icing sugar.
Enjoy!!
Notes
Please see below for full nutritional info and additional details about recipe:
Calories - scroll down to nutritional info box
WW Points and other Slimming or Weight Loss programs -   due to plans regularly changing and updating, we recommend calculating with the official tools you get as a member to those plans to ensure accuracy of values. 
If you wish to share this recipe, then please do so by using the share buttons provided at top of this post.
DO NOT COPY AND/OR PASTE FULL RECIPES OR SCREENSHOTS OF ANY CONTENT FROM SLIMMING EATS TO ANY SOCIAL MEDIA OR WEBSITE, IT IS STRICTLY PROHIBITED.
ALL IMAGES AND CONTENT ON SLIMMING EATS ARE COPYRIGHT PROTECTED
Nutritional information etc are an estimate and are to be used for informational purposes only. Ingredients can vary in values from brand to brand and therefore it would be impossible to give accurate information. It is always advised that you calculate values yourself by the ingredients you use and the tools provided to you as a member of the programme you are following.
It is the responsibility of the Reader to assure the products or ingredients they use in any recipes from Slimming Eats are allergen-free (gluten-free, egg-free, soy-free and/or dairy-free, for example). Slimming Eats assumes no liability for inaccuracies or misstatement about products, opinions or comments on this site. 
Check Legal section, for Full Disclaimer, Disclosure and Privacy Policy.
Recommended Products
As an Amazon Associate and member of other affiliate programs, I earn from qualifying purchases.
Nutrition Information
Yield

12
Serving Size

1 MINCE PIE BITE
Amount Per Serving
Calories

85
Total Fat

1g
Saturated Fat

0g
Trans Fat

0g
Unsaturated Fat

0g
Cholesterol

1mg
Sodium

161mg
Carbohydrates

17g
Fiber

1g
Sugar

6g
Protein

3g
Nutritional information and values etc are an estimate and is to be used for informational purposes only. Ingredients can vary greatly from brand to brand and therefore it would be impossible to give accurate information. It is always advised that you calculate by the ingredients you use.
Disclosure: This post may contain affiliate links. As an Amazon Associate and member of other affiliate programs, I earn from qualifying purchases. We are a participant in the Amazon Services LLC Associates Program, an affiliate advertising program designed to provide a means for us to earn fees by linking to Amazon.com and affiliated sites." Check Legal section, for Full Disclaimer, Disclosure and Privacy Policy.