Forget regular rice pudding, this Baked White Chocolate Rice Pudding is to die for!!
I recently had a craving for rice pudding, but for some reason all I could think of for flavour was White Chocolate.
Regular white chocolate is pretty high in cals, but White Chocolate Option is pretty low and great for adding that white chocolate taste. I sometimes add it to vanilla yoghurt, if I fancy something decadent to dip some fruit in.
I figured it would be great added to some creamy milk rice for a Baked White Chocolate Rice pudding and boy was I right!!
For those wondering what White Chocolate Options is, it is basically a low calorie hot drink, like hot chocolate, you can get various other flavours, including Milk Chocolate.
Click here to see the White Chocolate Options on amazon
Now I have to add, the ingredients in the White Chocolate options are not ideal, and most are things I would usually avoid, but for an odd treat, I don't worry too much about it, as I eat relatively clean the majority of the time and white chocolate in any form isn't really healthy anyway.
If you don't like white chocolate, you can use the milk chocolate options, or even some 100% cocoa to keep this super healthy, but you will have to taste test and add a sweetener of choice, as 100% cocoa is pretty bitter and not sweetened at all.
You don't even have to add any chocolate flavour, just keep it as vanilla flavour, or add a bit of cinnamon or even some sultanas for a nice variation. Just be aware if you are varying the flavour, you may need to adjust the sweetness, so taste test before baking.
My choice of sweetener in this Baked White Chocolate Rice Pudding is Sukrin Gold which is a great natural tasting sweetener and perfect as a brown sugar replacement. I have tried many different types of sweetener in the past trying to find one that is natural and tastes natural and I think this is it. I usually just use some honey or maple syrup, but it's nice to know I can now use this and reduce the calories even further.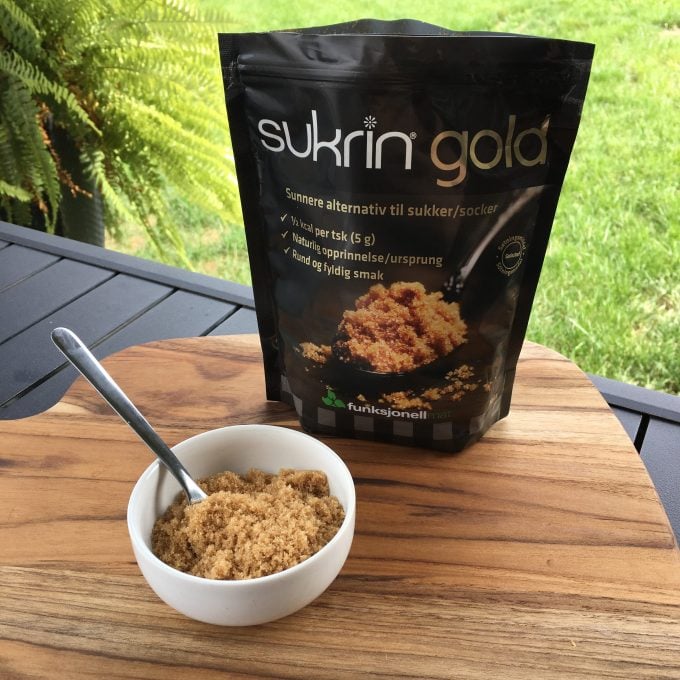 Sukrin can be ordered on Amazon, and from various health food stores.
For this Baked White Chocolate Rice Pudding, I also use 2% milk instead of skimmed, because it is slightly more creamy in this recipe and rice pudding just has to be creamy right?
This Baked White Chocolate Rice Pudding is delicious in a bowl just as it is, or topped with some fruit of you choice. I love raspberries or a dollop of jam is just perfect!!
Enjoy this for breakfast or dessert.
If you prefer a traditional rice pudding, skip the baking part and just simmer on a low heat on the stove till creamy and it's ready to serve. Whichever way you make it, you'll will love this rice pudding dish.
Looking for some more dessert recipes? Check out these Dessert and Cake recipes - there is plenty there to keep those cravings at bay while still sticking to the plan.

Baked White Chocolate Rice Pudding
Total Time:
1 hour
10 minutes
This recipe is vegetarian and Weight Watchers friendly
WW Smart Points - 8
Ingredients
1 cup (180g) of uncooked short grain/pudding or calrose rice
3.75 cups (900ml) of 1% Milk
40g (1.4oz) of Options White Chocolate Powder
1 large egg
4 tablespoons of brown granulated sweetener
1 vanilla pod (or use 1 teaspoon of vanilla extract)
Instructions
Preheat oven to 180c or 350f (gas mark 4)
Add the rice to a saucepan filled with 2 cups (480ml) of water, bring to a boil, then reduce heat to low and cover with a lid, simmer until all water is almost absorbed.
Whisk in ¾ of the milk, the white chocolate options, 3 tbs of sukrin:gold (add one tbs at a time and taste test for sweetness)and scrape some seeds from the vanilla pod until no visible lumps.
Whisk the egg together with the remaining milk.
Add this into the rice with the vanilla pod.
Heat on a low heat for a couple of mins stirring until creamy.
Place the rice in an oven proof dish
Sprinkle over the top with the remaining sukrin:gold
Bake in the oven for approx 45 mins until rice is set and lightly golden on top.
Serve as is or with your choice of fruit.
If you prefer a traditional style unbaked rice pudding. You can skip the oven process and instead just gently warm in a saucepan until creamy.
Notes
Please see below for full nutritional info and additional details about recipe:
Calories - scroll down to nutritional info box
WW Points and other Slimming or Weight Loss programs -   due to plans regularly changing and updating, we recommend calculating with the official tools you get as a member to those plans to ensure accuracy of values. 
If you wish to share this recipe, then please do so by using the share buttons provided at top of this post.
DO NOT COPY AND/OR PASTE FULL RECIPES OR SCREENSHOTS OF ANY CONTENT FROM SLIMMING EATS TO ANY SOCIAL MEDIA OR WEBSITE, IT IS STRICTLY PROHIBITED.
ALL IMAGES AND CONTENT ON SLIMMING EATS ARE COPYRIGHT PROTECTED
Nutritional information etc are an estimate and are to be used for informational purposes only. Ingredients can vary in values from brand to brand and therefore it would be impossible to give accurate information. It is always advised that you calculate values yourself by the ingredients you use and the tools provided to you as a member of the programme you are following.
It is the responsibility of the Reader to assure the products or ingredients they use in any recipes from Slimming Eats are allergen-free (gluten-free, egg-free, soy-free and/or dairy-free, for example). Slimming Eats assumes no liability for inaccuracies or misstatement about products, opinions or comments on this site. 
Check Legal section, for Full Disclaimer, Disclosure and Privacy Policy.
Nutrition Information
Yield

6
Serving Size

1 SERVING
Amount Per Serving
Calories

218
Total Fat

4g
Saturated Fat

2g
Cholesterol

69.5mg
Sodium

180mg
Carbohydrates

36g
Fiber

0.5g
Sugar

11g
Protein

9g
Disclosure: This post may contain affiliate links. As an Amazon Associate and member of other affiliate programs, I earn from qualifying purchases. We are a participant in the Amazon Services LLC Associates Program, an affiliate advertising program designed to provide a means for us to earn fees by linking to Amazon.com and affiliated sites." Check Legal section, for Full Disclaimer, Disclosure and Privacy Policy.