This delicious Spicy Eggplant and Tomato Soup is a perfect winter warmer. Lovely flavours with a spicy kick. 
Eggplant (Aubergine) is such an underrated vegetable, but it seriously is delicious in a variety of different recipes.
I love it in curry as it adds a lovely silkiness to the sauce as it cooks. This Eggplant (Aubergine), Sweet Potato and Lentil Curry and this Chicken and Eggplant Curry are two of my absolute faves.
Eggplant (Aubergine) is also a speed food, so adding it to any dish is going to increase the speed foods on your plate.
As a vegetable, it is traditionally used in Moussaka and of course, I have a delicious Low Syn Moussaka Recipe on the blog.
If you love moussaka, there is also this delicious recipe for Moussaka Meatballs. Which has all the amazing flavours of moussaka, but instead of layering it all in a dish, this one features juicy Lamb Meatballs in an amazing sauce, with a creamy cheesy topping. It is seriously heaven and one of my kids favourite meatball dishes.
and if that's not enough, we also have all these other delicious Eggplant (Aubergine) recipes:
Making this Spicy Eggplant and Tomato Soup is super easy and most of the ingredients are items we all have in the store cupboard. Meaning all you need is the basic vegetables, such as Eggplant (Aubergine), Leek, onion, ginger, garlic and a couple of fresh tomatoes. I just love to add fresh ripe tomatoes into any tomato-based soup, because fresh tomatoes have a lovely natural sweetness.
If you are wondering how to peel tomatoes easily without having to blanche them in hot water. I can highly recommend a serrated peeler like this one below:
It removes the skin effortlessly, and then all you have to do is chop and add to the pan.
As with any base to a soup, I first saute the onion, leeks etc in a little spray oil, before adding the tomatoes and eggplant. I also add a little bit of stock at this point, just to start to break down the eggplant and tomatoes, then you can add the seasoning/spices and rest of the stock, along with the maple syrup. If you want to keep this soup syn free, you could omit the maple syrup or use sweetener. It's entirely down to preference. I find the sweetness adds a great balance to the spicy kick.
Once cooked you can either blend the whole pot of Spicy Eggplant and Tomato Soup or just blend half. The latter is my preferred method, as it means you get a nice thick creamy soup, but you still get some chunks of vegetables.
To blend I use my Nutri Ninja Blender with Auto IQ. This blender is amazing. The auto IQ technology feature, mean it blends to a set pattern depending on what it is you are making. There is also an optional add-on for a food processor bowl, which is perfect for chopping and grating vegetables. Sauces and soups are literally so smooth, once blended in this amazing kitchen gadget.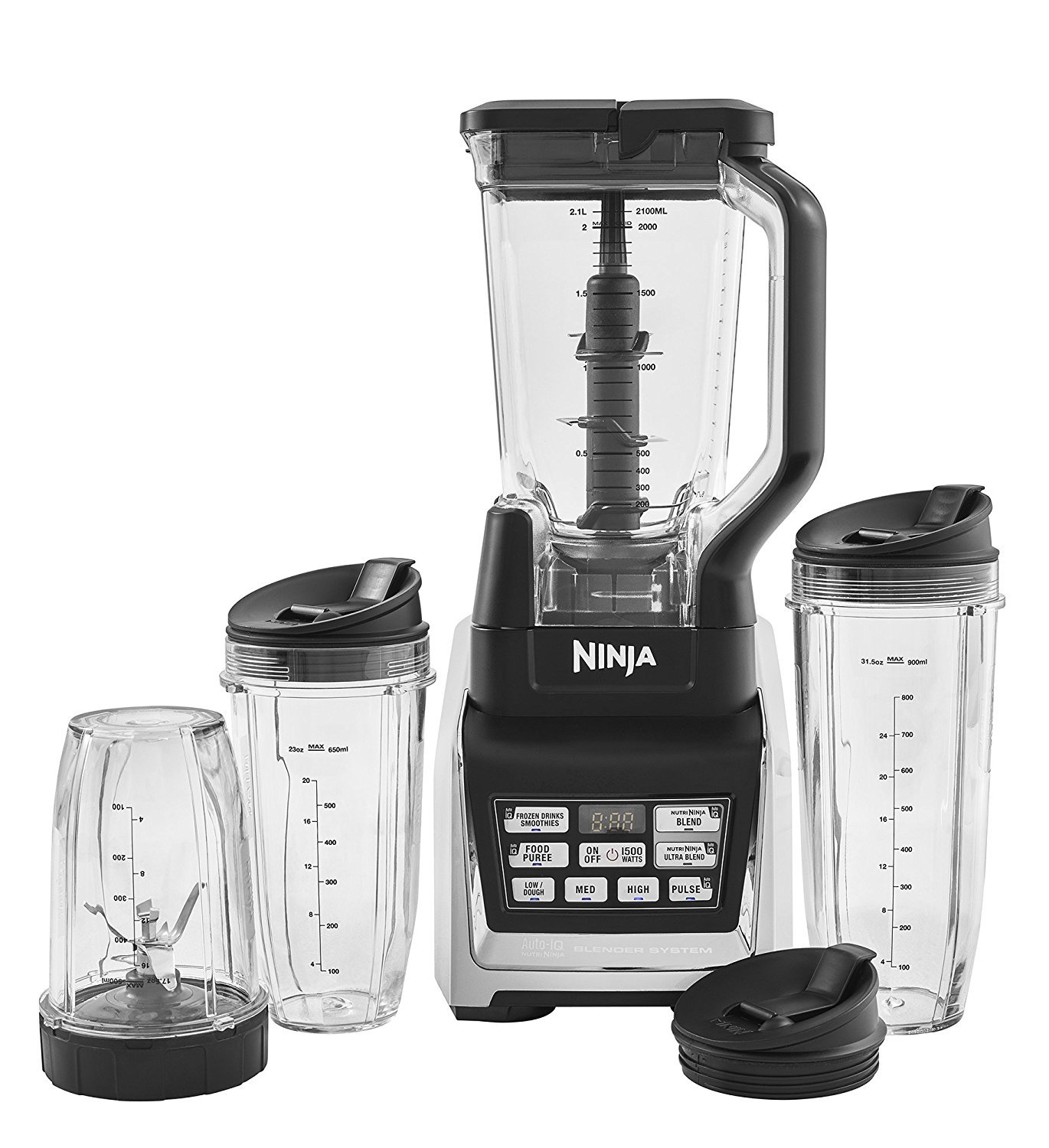 Any blender will do the job, including a handheld immersion blender. I just love my Ninja!!!
As this soup just contain healthy speed vegetables, this recipe is also suitable for vegans and is gluten and dairy free.
Got some leftovers? Just add to a tub with a lid and it will keep in the fridge for about 4 days. It is also suitable for freezing, so great for those batch cooking days.
Wondering what you could serve with this Spicy Eggplant and Tomato Soup? Some of my favs are topping with some chickpeas sauteed in a little spray oil with salt, pepper and a pinch of paprika. A little light coconut milk makes it really creamy and if I have a few syns spare, so chopped avocado is delicious!!.
Of course, you can always have some bread or crackers if you have a Healthy Extra B spare. So many yummy things you could serve with this.
---
Looking for more recipe ideas? Head on over to my FULL RECIPE INDEX where you will find over 500+ delicious Slimming World recipes to choose from and all are searchable by syn value, meal type, ingredients etc.
---
What kitchen items do I need to make this Spicy Eggplant and Tomato Soup?
Spicy Eggplant and Tomato Soup
This recipe is gluten free, dairy free, vegan, Slimming World and Weight Watchers friendlyExtra Easy - 0.5 syns per servingOriginal/SP - 0.5 syns per servingGreen/Vegan - 0.5 syns per servingWW Smart Points - 1
Ingredients
350g of eggplant (aubergine), chopped
1 leek, sliced
1 onion, finely chopped
2 cloves of garlic, crushed
2 tsp of fresh grated ginger
1 tbs of ground cumin 
1 tsp of turmeric
1 tsp of paprika
teeny pinch of cayenne (⅛th to a ¼ of a tsp)
1 cup (240ml) of passata (or crushed tomatoes
2 tablespoons of tomato paste
2 fresh ripe tomatoes, peeled and chopped
4 cups of vegetable stock
1 tbs of maple syrup (2 syns) 
salt and black pepper to season
Spray oil
fresh chopped cilantro (coriander)
Instructions
Spray a large saucepan with spray oil and heat over a medium-high heat.
Add the onion, garlic, ginger, and leek and saute for a few mins, till onion starts to go translucent
Add the eggplant (aubergine), tomatoes and a little bit of the stock, and continue to fry until they start to break down (approx 5 mins)
Stir in the spices.
Add the passata, tomato paste, maple syrup and stock.
Bring to a boil, reduce heat cover and simmer for 30 mins
Add half the soup to a blender and blend until smooth.
Return to the saucepan and stir through till soup is lovely a velvety.
Season as needed with salt and black pepper and top with fresh chopped coriander (cilantro)
Notes
Make this syn free by swapping out the maple syrup for sweetener. 
Nutritional information is an estimate and is to be used for informational purposes only.
Ingredients can vary greatly from brand to brand and therefore it would be impossible to give accurate information. Also, double-check syn values of synned ingredients as different brands can vary. 
All images and content on Slimming Eats are copyright protected.
If you wish to share this recipe, then please do so by using the share buttons provided. Do not screenshot or post recipe or content in full
Check Legal section, for Full Disclaimer, Disclosure and Privacy Policy. 
Nutrition Information
Yield

4
Serving Size

1 serving
Amount Per Serving
Calories

106
Total Fat

0.4g
Saturated Fat

0.1g
Sodium

313mg
Carbohydrates

23.7g
Fiber

5.5g
Sugar

13.7g
Protein

3g
Disclosure: This post may contain affiliate links. As an Amazon Associate and member of other affiliate programs, I earn from qualifying purchases. We are a participant in the Amazon Services LLC Associates Program, an affiliate advertising program designed to provide a means for us to earn fees by linking to Amazon.com and affiliated sites." Check Legal section, for Full Disclaimer, Disclosure and Privacy Policy.