Discover the rich and savoury world of Indonesian cuisine with this tantalizing Nasi Goreng, a flavorful fried rice delight featuring beef mince, enhanced by a sweet and umami-packed soy sauce with a hint of spice.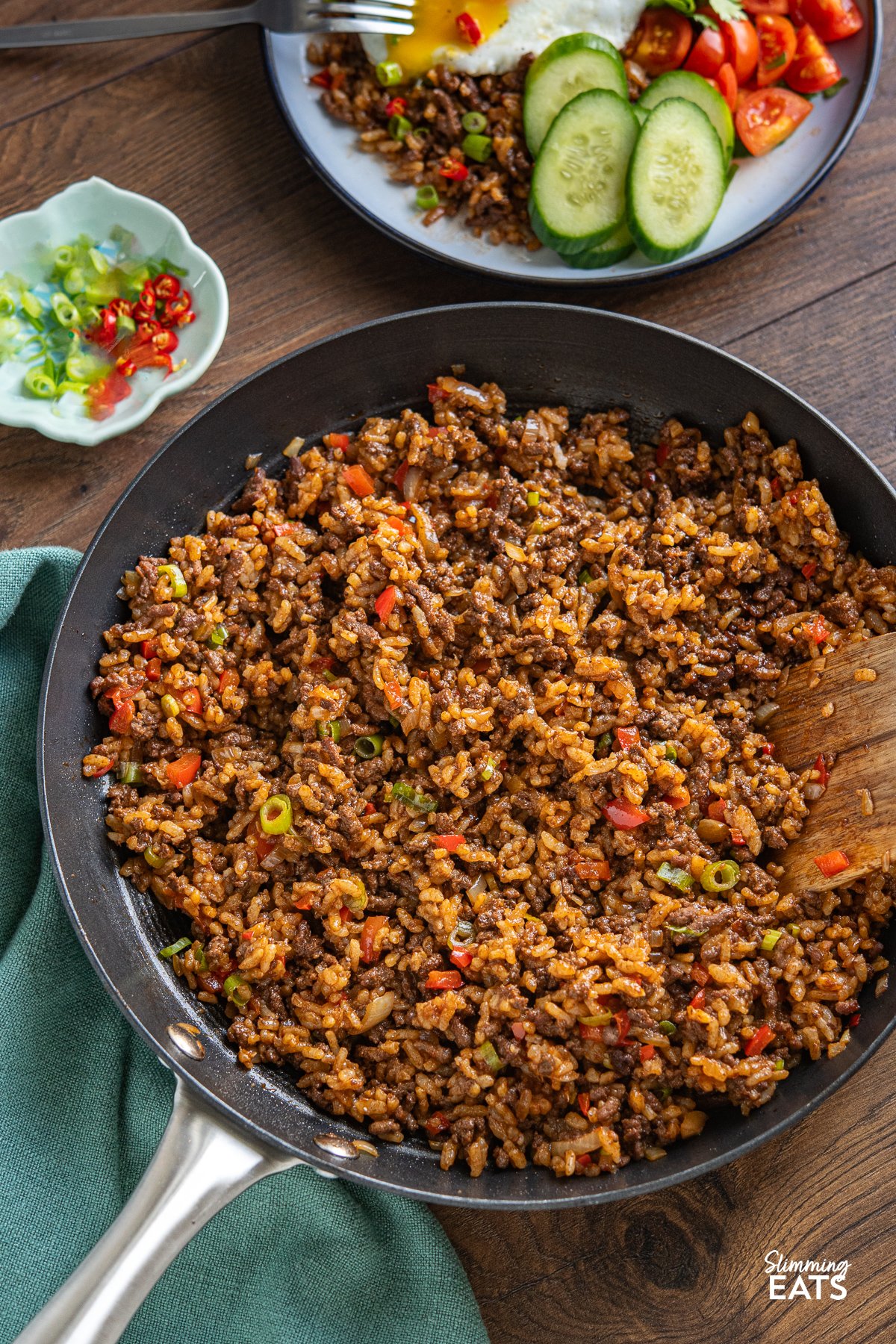 What is Nasi Goreng
Nasi Goreng, a delightful Indonesian dish, is a flavourful fried rice creation that immerses you in the rich and savory world of Indonesian cuisine. It achieves a harmonious blend of sweet, savoury, and umami-rich flavors, featuring a protein, vibrant vegetables, and a soy sauce that delivers both sweetness and umami depth. While traditionally prepared with chicken or shrimp, my personal preference leans towards savouring the indulgent twist of beef mince (ground beef).
I was initially introduced to the culinary delight of Nasi Goreng several years ago. My first encounter with this dish involved thin strips of egg, almost resembling a delicate omelette. However, over time, my family's taste has evolved to embrace the more popular choice of a fried egg crowning the fragrant fried rice, creating a luxurious union of flavours.
Jump to:
Calories in Nasi Goreng
These delicious Nasi Goreng serves four people and has 506 calories per serving (no sides).
If you're looking for more recipes within the same calorie range, you'll find an abundance of options in my dedicated collection of 500+ calorie recipes.
If you're following a calorie-controlled diet or a healthy eating plan, it's important to calculate your daily calorie intake using a reliable calorie calculator. Please note that the calorie counts provided are estimates and can vary based on specific ingredients and serving sizes. Personalizing your calculations is essential to meet your individual needs. By using a calorie calculator, you can make informed choices and stay on track with your dietary goals.
Ingredients for Beef Nasi Goreng
To prepare these yummy Nasi Goreng, here are some notes on the ingredients used:
Beef Mince (Ground Beef): use extra lean 5% fat to keep the calories low.
Onion: I use a regular white onion
Red Bell Pepper: Not usually traditional to the dish, but I like to add it.
Garlic: fresh garlic minced, but lazy or jarred mince garlic is fine also.
Sambal Oelek: This will add some heat to the dish, so omit if you don't like spicy food. You can also use one fresh red chilli, chopped if you can't get this.
Tomato Paste (Puree) - this is concentrated tomato paste
Soy Sauce: In traditional Nasi Goreng, Kecap Manis, a sweet Indonesian soy sauce, is typically used. However, for greater accessibility, I opt for a blend of light and dark soy sauce along with the maple syrup mentioned below.
Maple Syrup: This helps replicated the sweetness in this dish, you can use honey if you prefer or a granulated sweetener (the latter won't create the same gloss or caramelization)
Shrimp Paste: This can be found at most asian grocery stores, if you can't get this a simple swap for fish sauce will work fine.
Cold Cooked Rice: Cold cooked rice is essential for this recipe's success. Avoid cooking it on the same day and using it hot, as it will result in a sticky texture. Instead, prepare the rice a day in advance, cool it, and refrigerate it until you're ready to use it. For the right rice-to-water ratio, start with approximately 1 cup (180g) of uncooked rice. Any type of white rice will work, and I personally prefer Kokuho Rose rice, a short-grain white rice, which might not be traditional for Nasi Goreng but works perfectly for fried rice dishes.
Cooking Oil: Cooking oil choice is flexible, but opting for one with a high smoke point is ideal. While a low-calorie spray can suffice if you prefer a lighter option, for the best fried rice experience, a touch of regular oil is well worth it.
Spring Onions (Green Onions) - this are for colour and are added at the end.
Eggs - fried preferably with a soft yolk and served on top
Once you've gathered all the ingredients and prepared them accordingly, you're all set to create this easy and delightful recipe.
See the recipe card for specific quantities and instructions.
What is Umami?
Wondering what Umami is? It's often called the 'savoury taste' and is one of the five fundamental flavors, alongside sweet, sour, salty, and bitter. It's that rich, meaty savoriness that adds depth to dishes, found in ingredients like tomatoes, mushrooms, soy sauce, and aged cheeses. It's the secret ingredient that makes food taste incredibly delicious.
This delicious Nasi Goreng is packed with umami flavor, making it a family-favourite dish.
Sides for Nasi Goreng
Nasi Goreng is traditionally served with a side of sliced cucumber and tomatoes, adding a refreshing contrast that complements the bold flavors of the fried rice.
The other star of the show is typically a fried egg, but for those who aren't fans of fried eggs, thin strips of seasoned omelette make an excellent alternative.
If you're looking to dial up the heat, consider garnishing your Nasi Goreng with sliced red chili. For an extra burst of flavor, I personally enjoy adding a small handful of fresh coriander (cilantro), although it's not a traditional component of the dish.
To introduce a delightful crunch, stir-fried bean sprouts are another fantastic side option that pairs perfectly with this flavorful dish. The beauty of Nasi Goreng lies in its versatility, allowing you to customize your meal to suit your taste preferences.
More Rice Recipes
Are you in search of more low calorie recipes with rice? Look no further! Here are some great choices below:
or if you would like more recipe ideas or sides to make with this recipe - head on over to the FULL RECIPE INDEX where you will find over 900 delicious recipes with calories and you can search by meal type, ingredients, course, diet and more.
All recipes on Slimming Eats have estimated nutritional information for your convenience.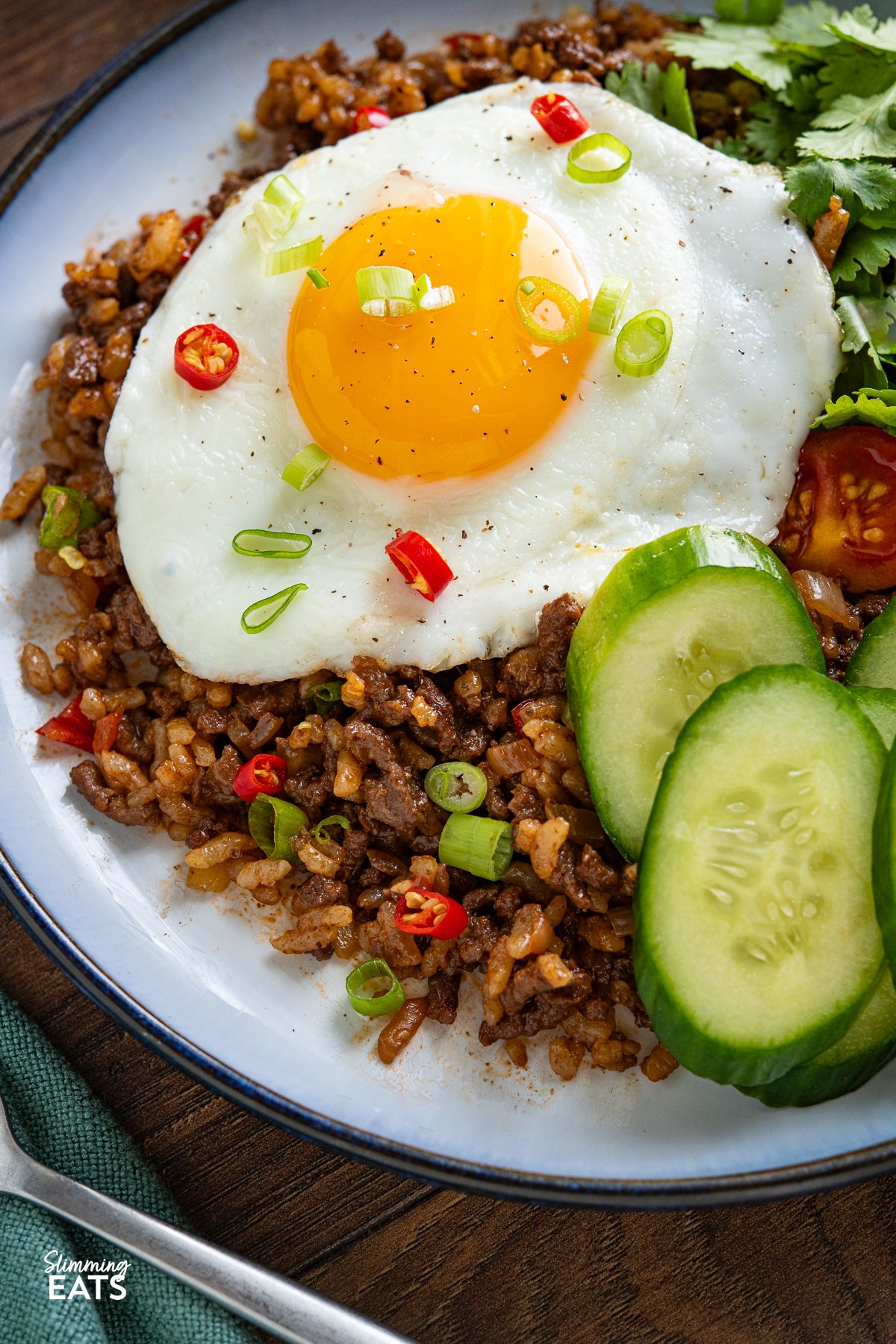 ---
LET'S CONNECT!
Beef Nasi Goreng (Indonesian Fried Rice)
Discover the rich and savory world of Indonesian cuisine with this tantalizing Nasi Goreng, a flavorful fried rice delight featuring beef mince, enhanced by a sweet and umami-packed soy sauce with a hint of spice.
Ingredients
180g (1 cup) of uncooked white rice
450g (1lb) of extra lean ground beef (mince) - 5% fat
1 small onion, finely diced
1 small red pepper, finely diced
2 cloves of garlic, crushed
2 teaspoons of shrimp paste (or use fish sauce)
2 teaspoon of sambal oelek - or use 1 red chilli, deseeded and finely chopped
1 tablespoon of tomato paste (puree)
2 tablespoons of dark soy sauce
2 tablespoons of light soy sauce
1.5 tablespoons of maple syrup (or honey)
pinch of black pepper
2 teaspoons of oil
4 large eggs
4 spring onions, finely chopped
to serve:
4 baby cucumbers, sliced
4 medium tomatoes or 16 cherry tomatoes, quartered
Instructions
Preparing the rice:
Cook the rice the night before by adding it to a saucepan with 480ml of water.
Bring it to a boil and let it simmer until most of the liquid is absorbed.
Put a lid on the saucepan, turn off the heat, and let it sit for 12 minutes. This ensures perfectly cooked rice.
Once the rice has cooled, chill it in the fridge overnight. (The rice must be cold and pre-cooked for this recipe.)
Cooking the Main Dish:
In a large deep frying pan, heat the oil over medium heat.
Add the onion and garlic, and fry them until they become softened.
Add the ground beef (mince) and red bell pepper, and cook until the beef is browned. Use the back of a wooden spoon to break up any large lumps.
Stir in the sambal oelek, shrimp paste, tomato paste, soy sauce, and maple syrup until the beef is well coated and glossy from the sauce.
Retrieve the chilled rice from the fridge, and lightly spray it with low-calorie spray. Separate any large clumps of rice in the bowl.
Add the chilled rice into the pan with the beef mixture and Fry until everything is well combined and coated in the sauce.
Finally, stir in the spring onions.
Serve the dish with fried eggs cooked to your preference and sliced tomato and cucumber on the side.
Enjoy your meal!
Notes
Please see below for full nutritional info and additional details about recipe:
Calories - scroll down to nutritional info box
WW Points and other Slimming or Weight Loss programs -   due to plans regularly changing and updating, we recommend calculating with the official tools you get as a member to those plans to ensure accuracy of values. 
Dairy Free Friendly
Optional additions: handful of coriander (cilantro) and a slice red chilli for extra heat.
If you wish to share this recipe, then please do so by using the share buttons provided at top of this post.
DO NOT COPY AND/OR PASTE FULL RECIPES OR SCREENSHOTS OF ANY CONTENT FROM SLIMMING EATS TO ANY SOCIAL MEDIA OR WEBSITE, IT IS STRICTLY PROHIBITED.
ALL IMAGES AND CONTENT ON SLIMMING EATS ARE COPYRIGHT PROTECTED
Nutritional information etc are an estimate and are to be used for informational purposes only. Ingredients can vary in values from brand to brand and therefore it would be impossible to give accurate information. It is always advised that you calculate values yourself by the ingredients you use and the tools provided to you as a member of the programme you are following.
It is the responsibility of the Reader to assure the products or ingredients they use in any recipes from Slimming Eats are allergen-free (gluten-free, egg-free, soy-free and/or dairy-free, for example). Slimming Eats assumes no liability for inaccuracies or misstatement about products, opinions or comments on this site. 
Check Legal section, for Full Disclaimer, Disclosure and Privacy Policy.
Recommended Products
As an Amazon Associate and member of other affiliate programs, I earn from qualifying purchases.
Nutrition Information
Yield

4
Serving Size

1 SERVING
Amount Per Serving
Calories

506
Total Fat

15g
Saturated Fat

5g
Trans Fat

0g
Unsaturated Fat

10g
Cholesterol

250mg
Sodium

1055mg
Carbohydrates

52g
Fiber

3g
Sugar

14g
Protein

37g
Nutritional information and values etc are an estimate and is to be used for informational purposes only. Ingredients can vary greatly from brand to brand and therefore it would be impossible to give accurate information. It is always advised that you calculate by the ingredients you use.
Disclosure: This post may contain affiliate links. As an Amazon Associate and member of other affiliate programs, I earn from qualifying purchases. We are a participant in the Amazon Services LLC Associates Program, an affiliate advertising program designed to provide a means for us to earn fees by linking to Amazon.com and affiliated sites." Check Legal section, for Full Disclaimer, Disclosure and Privacy Policy.