Creamy Beef Roasted Red Pepper Pasta Bake - Indulge in the ultimate comfort food with our creamy ground beef pasta recipe. This delectable dish features trofie pasta, roasted red peppers, and a heavenly blend of torn mozzarella and Parmesan. Baked to perfection, each bite is a symphony of flavors that will leave you craving more. Get ready to experience a mouthwatering culinary delight like no other.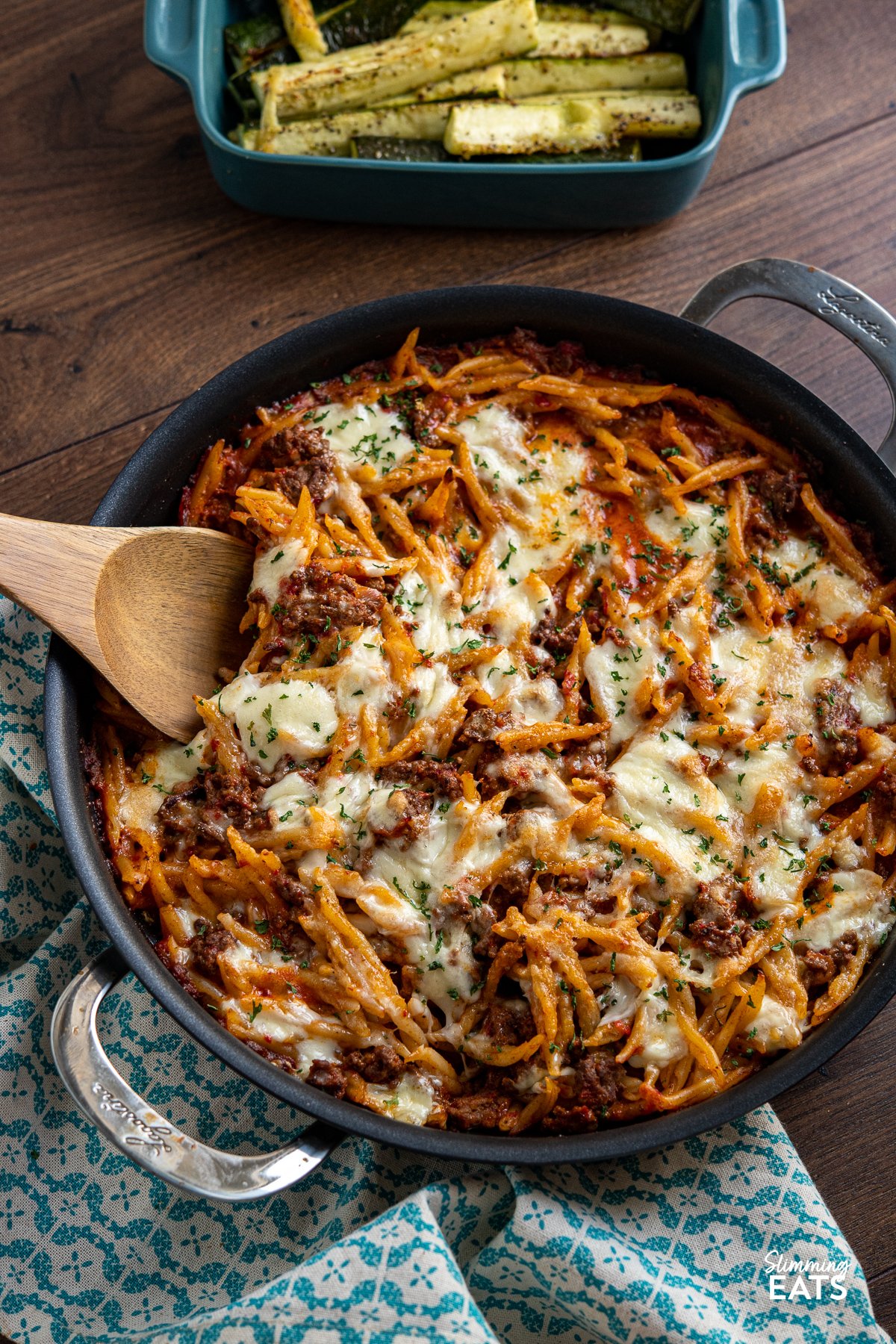 There's something undeniably irresistible about the combination of pasta and a hearty meat sauce turned into a delicious pasta bake. Imagine a bubbling casserole dish, brimming with layers of mouthwatering goodness, proudly displayed at the center of our table.
As a family, we value the time spent together at the dinner table, and I believe that enjoying a healthy, low-calorie meal doesn't mean sacrificing the joy of sharing the same foods. That's why I always make sure to include nutritious sides that encourage healthy eating habits for everyone. By incorporating wholesome ingredients and smart choices, we can all indulge in the same delicious spread while maintaining a balanced lifestyle.
Trust me, once you experience the magic of this dish, it will become an absolute favourite, and you'll be inspired to recreate it again and again. So gather around the table, savour the delightful flavors, and revel in the knowledge that a healthy meal can be both satisfying and enjoyed by the whole family.
Jump to: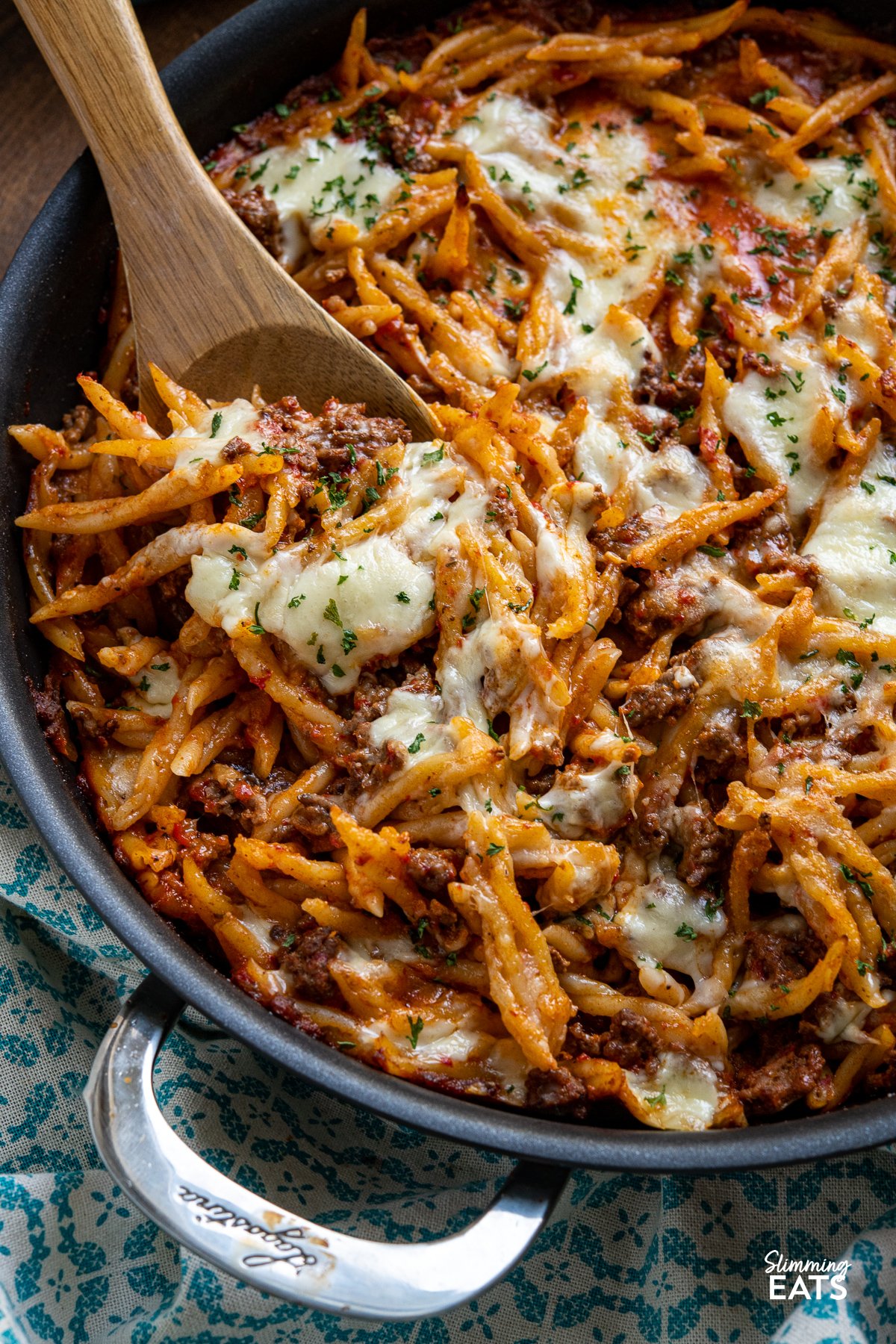 Calories in Creamy Beef Roasted Red Pepper Pasta Bake
Prepare to enjoy this delicious pasta bake, which serves four people and has 547 calories per serving.
If you're looking for more recipes within the same calorie range, you'll find an abundance of options in my dedicated collection of 500+ calorie recipes.
If you're following a calorie-controlled diet or a healthy eating plan, it's important to calculate your daily calorie intake using a reliable calorie calculator. Please note that the calorie counts provided are estimates and can vary based on specific ingredients and serving sizes. Personalizing your calculations is essential to meet your individual needs. By using a calorie calculator, you can make informed choices and stay on track with your dietary goals.
Ingredients for Creamy Beef Roasted Red Pepper Pasta Bake
To prepare the mouthwatering Creamy Butternut Squash Mac and Cheese, gather the following ingredients:
Pasta - Select the pasta shape of your preference. I opted for Trofie pasta which is the perfect bite-sized option but feel free to use your favourite variation. If you prefer gluten-free pasta, it is also suitable for this recipe.
Onions - Regular onions work perfectly for this recipe.
Garlic - It's best to use fresh garlic instead of jarred minced garlic to avoid any potential bitterness.
Extra Lean Beef Mince/Ground Beef - I use 5% fat
Roasted red peppers - These can be found in a jar with brine at most major grocery stores. Make sure to drain them from the brine before adding them to the blender for the sauce.
tomato puree/paste - It is a concentrated tomato paste that comes in a tube or a small can.
Chicken stock - I prefer to use chicken stock in this recipe as it provides the flavour I like, but you can use beef or even vegetable if you prefer.
Sweetener of choice - My preferred choice is erythritol-based sweetener. However, you can use honey or maple syrup if you prefer, although they will increase the calorie content slightly.
Seasonings - Add a pinch of optional chili flakes if you enjoy a touch of heat. I also recommend adding a little paprika, along with a generous seasoning of salt and pepper. Adjust the seasonings according to your preferred taste.
Reduced-fat single cream - In the UK, you can use Elmlea light single cream, while in the US/Canada, half and half is a suitable alternative.
Mozzarella: A fresh ball of mozzarella is a must-have for this recipe. Tear it into small pieces to enjoy its melty goodness as it blends into the dish.
Parmesan - I prefer using fresh finely grated Parmesan, but if you prefer, you can also use mature cheddar
Olive oil spray - I prefer to use olive oil spray without any added emulsifiers for a healthier option.

These ingredients will combine to create a mouthwatering pasta bake that will delight your family.
Variations on the the Recipe
Bring your own unique twist to the classic Creamy Beef Roasted Red Pepper Pasta Bake with these creative variations. Customize the dish to suit your preferences and add an exciting burst of flavor to your culinary creation. Here are a few ideas to get you started:
Vegetarian Option: Embrace a vegetarian lifestyle or simply explore meat-free alternatives by swapping the ground beef with plant-based ground meat. The plant-based version will provide a delicious and satisfying vegetarian option, without compromising on taste or texture.
Different Mince/Ground Meat: Experiment with various types of mince or ground meat to suit your preferences. Turkey, chicken, or pork mince can be excellent alternatives to beef, bringing their unique flavors and characteristics to the dish. Each variety will lend a distinct taste and create a delightful variation.
Additional Spicy Kick: For those who enjoy a fiery culinary adventure, amplify the heat level by adding a dash of hot sauce, such as Tabasco. This extra kick will infuse your pasta bake with an irresistible zing, tantalizing your taste buds with every bite.
Additional Flavor: Explore the depths of flavor by substituting sweet regular paprika with smoky paprika. The smoky variation will impart a rich, smoldering essence, adding complexity and a touch of intrigue to the dish. However, if you prefer a milder flavor, stick to sweet paprika for a more delicate taste.
Herbaceous Twist: Elevate the freshness of your pasta bake by incorporating fragrant herbs like basil, thyme, or oregano. The addition of these aromatic herbs will infuse the dish with a burst of natural flavors, enhancing its overall appeal and providing a delightful herbaceous twist.
Added Vegetables: Amp up the nutritional value and add vibrant colors to your dish by including additional vegetables. Choose vegetables that complement the flavors of the pasta bake, being mindful of their water content. Spinach, bell peppers, mushrooms, or any vegetable of your choice can be sautéed or lightly cooked before being added to the pasta bake, ensuring they retain their texture and flavor.
Unleash your culinary creativity with these variations, allowing you to personalize the Creamy Beef Roasted Red Pepper Pasta Bake to your liking. Whether you're exploring different protein sources, enhancing the spice level, or infusing fresh herbs and vegetables, these modifications will elevate your dining experience and create a dish that truly reflects your unique tastes.
Tips for Freezing
To enjoy this scrumptious pasta bake on a busy weeknight or store leftovers for later, follow these freezing suggestions. Keep in mind that not everyone finds frozen, defrosted, and reheated pasta appealing due to its slightly overcooked texture. However, if you're content with the outcome of frozen pasta dishes, you can confidently freeze this particular dish.
Here are the freezing tips:
Ensure the pasta bake is completely cooled before freezing. Alternatively, you may choose to freeze the recipe before the baking stage.
Divide the pasta bake into individual airtight containers or tightly wrap it in aluminum foil.
Label and date the containers or foil packets for effortless identification.
When it's time to reheat, thaw the pasta bake in the refrigerator overnight. Then, either bake it in a preheated oven until thoroughly heated or warm it in stages in the microwave until it reaches the desired temperature.
Healthy Vegetable Sides
Balance the richness of the Creamy Beef Roasted Red Pepper Pasta Bake with a nutritious vegetable side dish. I recommend pairing this indulgent pasta bake with roasted zucchini/courgette batons that have been seasoned with a generous amount of salt, black pepper and a pinch of dried mixed herbs, garlic powder, and onion powder. Simply spray them with olive oil and roast at 375°F (190°C) for 30 minutes until tender and slightly caramelized. Add these delectable roasted vegetables to the oven 10 minutes before adding in the pasta bake for a perfectly coordinated and flavourful meal.
Alternatively here are some other suggestions for sides to pair with this dish:
Grilled or Roasted Asparagus: Give asparagus spears a light coating of olive oil spray, then sprinkle them with salt and pepper. Grill or roast them until tender, resulting in a delightful crunch and vibrant green color that complements the pasta bake perfectly.
Sautéed Spinach: Heat a pan over medium-high heat, spray it with olive oil spray, and add fresh spinach leaves. Sauté them until wilted, and season with salt, pepper, and a squeeze of lemon juice for a nutritious and flavorful side that adds a pop of freshness to your meal.
Classic Vegetable Medley: Prepare a medley of roasted or sautéed vegetables, such as eggplant, zucchini, bell peppers, and tomatoes. Spray them with olive oil spray, season with salt and black pepper, and cook them until they become softened and slightly caramelized. The vibrant and hearty flavours of this medley will wonderfully complement the creamy pasta bake.
Steamed Broccoli Florets: Steam broccoli florets until they reach the desired tender-crisp texture and maintain their bright green color. Toss them with a sprinkle of garlic powder, a squeeze of lemon juice, and a light coating of olive oil spray for a simple yet nutritious side dish.
Simple Mixed Salad: Create a refreshing salad by combining mixed greens, red onion, sliced cherry tomatoes, cucumbers, and shredded carrots. Drizzle with your preferred low-calorie dressing. I recommend trying it with this Homemade Yoghurt Ranch Dressing for a delicious twist.
Remember, these vegetable side dishes not only add substance to your plate, making it more filling and balanced, but they also bring a fresh and vibrant element that complements the indulgent flavours of the pasta bake.
More Beef Pasta Recipes
Looking for some more beef pasta recipes you can enjoy with the whole family, while still keeping within your calorie goal? Check out these other recipes:
or if you would like more recipe ideas or sides to make with this recipe - head on over to the FULL RECIPE INDEX where you will find over 900 delicious recipes with calories and you can search by meal type, ingredients, course, diet and more.
---
LET'S CONNECT!
Creamy Beef Roasted Red Pepper Pasta Bake
Creamy Beef Roasted Red Pepper Pasta Bake - This delectable dish features trofie pasta, roasted red peppers, and a heavenly blend of torn mozzarella and Parmesan. Baked to perfection, each bite is a symphony of flavors that will leave you craving more. Get ready to experience a mouthwatering culinary delight like no other.
Ingredients
olive oil spray
1 onion, finely diced
3 cloves of garlic, crushed
455g (1lb) of extra lean ground beef (mince)
1 teaspoon of sweet paprika
salt and black pepper
pinch of red chilli flakes (optional)
200g (7oz) of roasted red peppers (jarred in brine), drained
1 cup (240ml) of chicken stock
2 tablespoons of tomato paste (puree)
1 tablespoon of granulated sweetener
80ml of reduced fat single cream or half and half
240g of trofie pasta, uncooked - or use your preferred pasta shape)
90g (3oz) of fresh mozzarella, torn into pieces
30g (1oz) of freshly finely grated parmesan
2 teaspoons of dried parsley
Instructions
Spray a deep ovenproof frying pan with olive spray
Add the onion and fry for a few minutes until softened.
Add in the mince and garlic and fry until browned.
Season well with salt and black pepper and stir in the paprika and pinch of chilli flakes if using.
Add the drained roasted red peppers, tomato paste, stock and sweetener to a blend and pulse until sauce like.
Pour this into the mince along with the cream , and simmer for 10 minutes. Taste the meat sauce and season as needed to your desired taste with salt and black pepper
Cook the pasta in a pot of salted boiling water until al dente, reserve a ⅓ cup (80ml) of the cooked pasta water, then drain the pasta, spray with olive oil spray and toss to coat to prevent it from sticking together.
Preheat oven to 170c fan, 190c, 375f or gas mark 5
Add to the meat sauce, along with the reserved pasta water and stir until all combined and coated.
Scatter with the torn fresh mozzarella and sprinkle inbetween with the parmesan.
Bake in the oven for 20 minutes until cheese on top is melted and lightly golden
Sprinkle with the dried parsley and enjoy!!
Notes
Please see below for details about recipe:
Calories - scroll down to nutritional info box
WW Points and other Slimming or Weight Loss programs:  due to plans regularly changing and updating, we recommend calculating with the official tools you get as a member to those plans to ensure accuracy of values
Gluten Free Friendly - use gluten free pasta and stock
Suitable for Freezing ❄️
If you wish to share this recipe, then please do so by using the share buttons provided at top of this post.
DO NOT COPY AND/OR PASTE FULL RECIPES OR SCREENSHOTS OF ANY CONTENT FROM SLIMMING EATS TO ANY SOCIAL MEDIA OR WEBSITE, IT IS STRICTLY PROHIBITED.
ALL IMAGES AND CONTENT ON SLIMMING EATS ARE COPYRIGHT PROTECTED
Nutritional information etc are an estimate and are to be used for informational purposes only. Ingredients can vary in values from brand to brand and therefore it would be impossible to give accurate information. It is always advised that you calculate values yourself by the ingredients you use and the tools provided to you as a member of the programme you are following.
It is the responsibility of the Reader to assure the products or ingredients they use in any recipes from Slimming Eats are allergen-free (gluten-free, egg-free, soy-free and/or dairy-free, for example). Slimming Eats assumes no liability for inaccuracies or misstatement about products, opinions or comments on this site. 
Check Legal section, for Full Disclaimer, Disclosure and Privacy Policy.
Recommended Products
As an Amazon Associate and member of other affiliate programs, I earn from qualifying purchases.
Nutrition Information
Yield

4
Serving Size

1 SERVING
Amount Per Serving
Calories

547
Total Fat

13g
Saturated Fat

7g
Trans Fat

0g
Unsaturated Fat

10g
Cholesterol

66mg
Sodium

521mg
Carbohydrates

54g
Fiber

2g
Sugar

4g
Protein

39g
Nutritional information and values etc are an estimate and is to be used for informational purposes only. Ingredients can vary greatly from brand to brand and therefore it would be impossible to give accurate information. It is always advised that you calculate by the ingredients you use.
Disclosure: This post may contain affiliate links. As an Amazon Associate and member of other affiliate programs, I earn from qualifying purchases. We are a participant in the Amazon Services LLC Associates Program, an affiliate advertising program designed to provide a means for us to earn fees by linking to Amazon.com and affiliated sites." Check Legal section, for Full Disclaimer, Disclosure and Privacy Policy.