Indulge in the ultimate comfort food with this delicious Honey Buffalo Meatball Pasta Bake. Featuring extra lean ground beef, sautéed vegetables in place of breadcrumbs, and a lower calorie homemade honey buffalo sauce, this recipe takes a classic dish to new heights. Get ready to satisfy your cravings with a flavour-packed and melted cheesy-topped delight that will leave you craving more
Enjoy every bite of this piping hot delight—tender meatballs, perfectly cooked pasta, and a melty mozzarella topping. It's a flavour explosion that takes the classic pasta bake to a whole new level. Get ready to satisfy your cravings and bring smiles to the whole family. 😍🍝🧀
Jump to:
Calories in Buffalo Meatball Pasta Bake
This delicious Buffalo Meatball Pasta Bake serves 4 and is 570 calories per serving, which is perfect for a family friendly meal when paired with some additional sides.
There are lots more recipes around this calorie value in my 500+calories recipe section.
If you're following a calorie-controlled diet or a healthy eating plan, it's important to calculate your daily calorie intake using a reliable calorie calculator. Please note that the calorie counts provided are estimates and can vary based on specific ingredients and serving sizes. Personalizing your calculations is essential to meet your individual needs. By using a calorie calculator, you can make informed choices and stay on track with your dietary goals.
Ingredients for Buffalo Meatball Pasta Bake
To create the tantalizing flavors of our Cheesy Buffalo Meatball Pasta Bake, you'll need the following ingredients:
Lean ground beef (beef mince) - I use 5% fat beef mince, I don't recommend any leaner than this for meatballs or they can become a little try, you can swap the beef for any ground meat you like. For example, turkey, chicken or pork mince.
Baking soda (bicarb of soda) - a small amount of this is added to keep the meatballs tender and help browning.
Onion, Carrot, Garlic - these are sauteed until softened and are added to the meatballs in place of breadcrumbs to keep tender.
Fresh parsley - you can use dried if you prefer, but 1 tablespoon instead of two.
Uncooked pasta - I use rigatoni, but any pasta you like is fine.
Passata - also known as sieved tomatoes, if you can't get this canned tomato sauce (sugar free) or crushed tomatoes will work in it's place.
Tomato paste (puree) - this is concentrated and comes in a squeezy tube or small can.
Hot sauce - most popular brand is Franks. I don't recommend substitute with sriracha, as it's much spicier and has a different flavor profile. Franks Red Hot Sauce is available at most grocery stores.
Honey - this adds some sweetener to balance the heat, maple syrup or sweetener can be used if you prefer. However the honey or maple syrup with yield a better sauce.
Seasonings Garlic powder, Onion powder, Paprika and Salt and Pepper - use for additional flavour. Feel free to swap or adjust to any seasonings you like.
Green onions - also called scallions or spring onions.
Mozzarella - For the perfect melt-in-your-mouth experience, I recommend using a fresh ball of mozzarella torn into small pieces for this pasta bake. However, if you prefer, you can also opt for block mozzarella. Just remember to avoid pre-grated mozzarella, as it sometimes has a starch coating that hinders proper melting. Let's ensure that every cheesy bite of this dish is absolutely irresistible! 🧀😋 . Now, if you're a fan of blue cheese, which is the traditional choice for anything buffalo-style, feel free to swap out some of the mozzarella. Personally, I'm not a fan, so I prefer sticking with the mozzarella. After all, the goal is to create a dish that perfectly suits your taste buds and satisfies your cravings. So go ahead and customize it to your liking, ensuring each mouthful is a cheesy masterpiece!
Low Calorie Spray - I prefer to use one without added emulsifiers, usually olive oil spray
Feel free to make substitutions based on your preferences and dietary needs.
How to Make Tender Meatballs
When it comes to crafting mouthwateringly tender meatballs, forget the traditional breadcrumbs and turn to sautéed vegetables instead. In this recipe, we take things to the next level by using carrots and onions to enhance both the moisture and texture of the meatballs.
The carrots bring a natural sweetness and juiciness to the meat mixture, ensuring each bite is packed with flavor. Meanwhile, the onions contribute a delightful depth of flavor that elevates the taste profile of the meatballs.
By incorporating these beautifully sautéed vegetables into the meat mixture, along with a touch of baking soda for enhanced browning and caramelization, you'll achieve meatballs that are simply irresistible. The baking soda aids in creating a rich golden crust while maintaining a tender and juicy interior.
Don't miss out on this secret to culinary perfection! Prepare yourself for a tantalizing explosion of flavours as you enjoy my Buffalo Meatball Pasta Bake recipe.
Making it Gluten-Free
If you follow a gluten-free diet or have gluten sensitivities, you can easily adapt this recipe to meet your needs. Since we don't use breadcrumbs in the meatballs, they are already gluten-free.
To further accommodate your dietary preferences, substitute regular pasta with gluten-free pasta and ensure that the pasta is cooked al dente for the best texture. With these simple adjustments, you can savor the deliciousness of this Cheesy Buffalo Meatball Pasta Bake while adhering to your dietary preferences.
The Best Hot Sauce for Buffalo-Style Dishes
When it comes to Buffalo-style dishes, choosing the right hot sauce is key to achieving that iconic flavor. In my opinion, Frank's RedHot Sauce stands out as the perfect choice. Not only is it widely available at most grocery stores, but its tangy and slightly vinegar-forward profile adds the ideal balance of heat and flavor.
While Sriracha sauce has gained immense popularity, it's essential to understand that it offers a different flavor experience compared to other hot sauces. Sriracha is known for its thicker consistency and intense heat, which can overpower the delicate balance in Buffalo-style dishes. Using the same quantity of Sriracha as you would with Frank's RedHot Sauce can result in an overwhelming level of spiciness, making the dish almost inedible. It's worth noting that Franks RedHot Sauce typically ranks around 450 on the Scoville scale, while Sriracha can range from 1000 to 1500 on the Scoville scale.
To achieve that classic Buffalo-style flavour, reach for a bottle of Frank's RedHot Sauce and savor the delightful tang and heat it brings to your favorite dishes. With the right hot sauce, you'll be able to master the art of creating delicious and authentic Buffalo-style meals.
Delicious Sides to Compliment this Buffalo Meatball Pasta Bake
Compliment this Buffalo Meatball Pasta Bake with the perfect sides. Here are some enticing ideas to enhance the flavors and add variety to your meal:
Crisp Garden Salad: Prepare a vibrant salad featuring mixed greens (crisp or baby leaves), juicy cherry tomatoes, refreshing cucumber slices, red onion slices, grated carrot, sliced cooked beetroot, sliced peppers, olives and more
Roasted, steamed or sauteed Vegetables: Elevate your plate with a medley of your favourite vegetables such as courgette (zucchini), bell peppers, broccoli, cauliflower etc
Coleslaw: Prepare a tangy coleslaw with shredded cabbage, crisp carrots, and a light dressing. There are two delicious recipes to choose from on Slimming Eats such as Creamy Lighter Coleslaw or Apple Coleslaw.
Ranch Dressing - buffalo anything is not complete without some ranch dressing. Check out my Homemade Yoghurt Ranch Dressing
When it comes to selecting sides to pair with this recipe, it's important to take into account both your personal preferences and your calorie allowance. While I enjoy combining this dish with low-calorie, nutrient-dense options like fresh salads or vegetables, it's crucial to find the right balance that suits your needs.
If you or your family prefer something more substantial, such as potato wedges, that's perfectly fine, as long as it fits within your calorie allowance. To meet everyone's dietary needs, I often prepare a side that the family loves alongside a healthier, low-calorie choice.
Embrace your creativity and explore unique twists to craft a well-rounded meal that satisfies both your cravings and nutritional requirements. Whether you opt for lighter options or heartier accompaniments, the choice is yours. Enjoy the freedom to personalize your meal and relish a delightful dining experience that perfectly aligns with your tastes and calorie goals.
More Pasta Bakes
Looking for more low calorie pasta bake recipes for your family to enjoy? Check out these:
or if you would like more recipe ideas or sides to make with this recipe - head on over to the FULL RECIPE INDEX where you will find over 900 delicious recipes with calories and you can search by meal type, ingredients, course, diet and more.
---
LET'S CONNECT!
Slimming Eats Made in the Air Fryer Cookbook
Looking for some more air fryer recipes? My new cookbook with 80+ Brand New and Delicious Recipes is out now and can be purchased from all UK major retailers including Amazon (will be released January 2024 in North America including Canada and Australia).
This is the ONLY air fryer cookbook you need in your life. Let me show you all the Amazing meals you can make in your air fryer.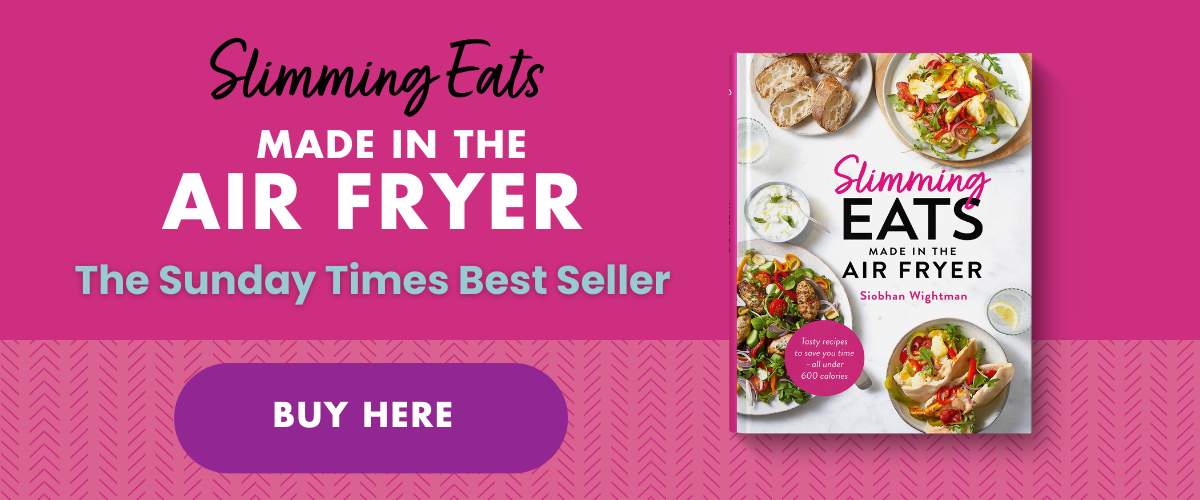 Honey Buffalo Meatball Pasta Bake
Ingredients
For the meatballs
1 onion, finely diced (approx 80g
1 medium carrot, finely diced (approx 100g/3.5oz)
3 cloves of garlic, crushed
455g (1lb) of 5% fat beef mince (ground beef), raw
¼ tsp of baking soda
2 tablespoons of water
2 tablespoon of fresh parsley, chopped
¾ teaspoon of salt
½ teaspoon of black pepper
For the pasta bake:
250g of pasta of choice, uncooked
300g of passata
1 tablespoon of tomato paste (puree)
⅓ cup (80ml) of hot sauce (Franks)
3 tablespoons of honey
1 teaspoon of garlic powder (granules)
1 teaspoon of onion powder (granules)
1 teaspoon of paprika (not smoked)
salt and black pepper
150g of fresh mozzarella, broken into pieces
2 green onions (spring onions), sliced (green part only)
olive oil spray
Instructions
Spray a frying pan over a medium high heat with olive oil spray. Add the onion, carrot and garlic and saute until really softened. Set aside to cool slightly.
Preheat oven to 180c fan, 200c or 400f (gas mark 6)
Add the beef mince to a bowl with the baking soda, water, sauteed veggies, parsley and salt and black pepper and mix until combined. Spray hands with olive oil spray and then form into 20 equal sized meatballs
Place on a tray lined with parchment paper and bake for 8-10 minutes, just to very lightly brown. (they don't need to be cooked all the way through)
Cook the pasta according to package directions until al dente, reserve ⅓ cup (80ml) of the cooked pasta water before draining. Once drained spray. the pasta with olive oil spray and toss to coat to prevent sticking together.
In a jug mix together the passata, tomato paste, hot sauce, honey, seasonings and reserved pasta water until combined.
Add the pasta and meatballs to a oven proof dish, pour over the sauce and stir until all coated and meatballs are evenly spaced out in the sauce/pasta
Scatter with the mozzarella and season the top with a little salt and black pepper. Cover tightly with foil and bake for 20 mins, then uncover and bake for an additional 10 mins until cheese is all melted and lightly golden.
Sprinkle with the green onions (spring onions)
Enjoy!!
Notes
Please see below for details about recipe:
Calories - scroll down to nutritional info box
WW Points and other Slimming or Weight Loss programs:  due to plans regularly changing and updating, we recommend calculating with the official tools you get as a member to those plans to ensure accuracy of values
Gluten Free Friendly - use gluten free pasta
Side suggestions: Delicious served just as it is or with a side salad or vegetables, see recipe write up for more suggestions.
Suitable for Freezing ❄️
Cooking the meatballs in an Air Fryer - preheat air fryer to 190c/375f for 3 minutes, line the air fryer basket with parchment paper or use the grill pan insert, add the meatballs (ensure they are well spaced out), spray over the top with low calorie spray and air fryer for 7-8 minutes, just until lightly golden.
If you wish to share this recipe, then please do so by using the share buttons provided at top of this post.
DO NOT COPY AND/OR PASTE FULL RECIPES OR SCREENSHOTS OF ANY CONTENT FROM SLIMMING EATS TO ANY SOCIAL MEDIA OR WEBSITE, IT IS STRICTLY PROHIBITED.
ALL IMAGES AND CONTENT ON SLIMMING EATS ARE COPYRIGHT PROTECTED
Nutritional information etc are an estimate and are to be used for informational purposes only. Ingredients can vary in values from brand to brand and therefore it would be impossible to give accurate information. It is always advised that you calculate values yourself by the ingredients you use and the tools provided to you as a member of the programme you are following.
It is the responsibility of the Reader to assure the products or ingredients they use in any recipes from Slimming Eats are allergen-free (gluten-free, egg-free, soy-free and/or dairy-free, for example). Slimming Eats assumes no liability for inaccuracies or misstatement about products, opinions or comments on this site. 
Check Legal section, for Full Disclaimer, Disclosure and Privacy Policy.
Nutrition Information
Yield

4
Serving Size

1 SERVING
Amount Per Serving
Calories

570
Total Fat

13g
Saturated Fat

7g
Trans Fat

0g
Unsaturated Fat

8g
Cholesterol

49mg
Sodium

857mg
Carbohydrates

71g
Fiber

4g
Sugar

20g
Protein

40g
Nutritional information and values etc are an estimate and is to be used for informational purposes only. Ingredients can vary greatly from brand to brand and therefore it would be impossible to give accurate information. It is always advised that you calculate by the ingredients you use.
Disclosure: This post may contain affiliate links. As an Amazon Associate and member of other affiliate programs, I earn from qualifying purchases. We are a participant in the Amazon Services LLC Associates Program, an affiliate advertising program designed to provide a means for us to earn fees by linking to Amazon.com and affiliated sites." Check Legal section, for Full Disclaimer, Disclosure and Privacy Policy.