Cheesy Taco Salsa Spaghetti Bake - Are you looking for a scrumptious and hassle-free family meal that will have everyone at the dinner table asking for seconds? Look no further! We have a mouthwatering treat for you - Imagine flavourful taco meat sauce, tangy salsa, and al dente spaghetti baked together to perfection, topped with a generous layer of gooey melted cheese and colorful bell peppers. It's a delightful blend of Tex-Mex flavors that will instantly become a family favourite.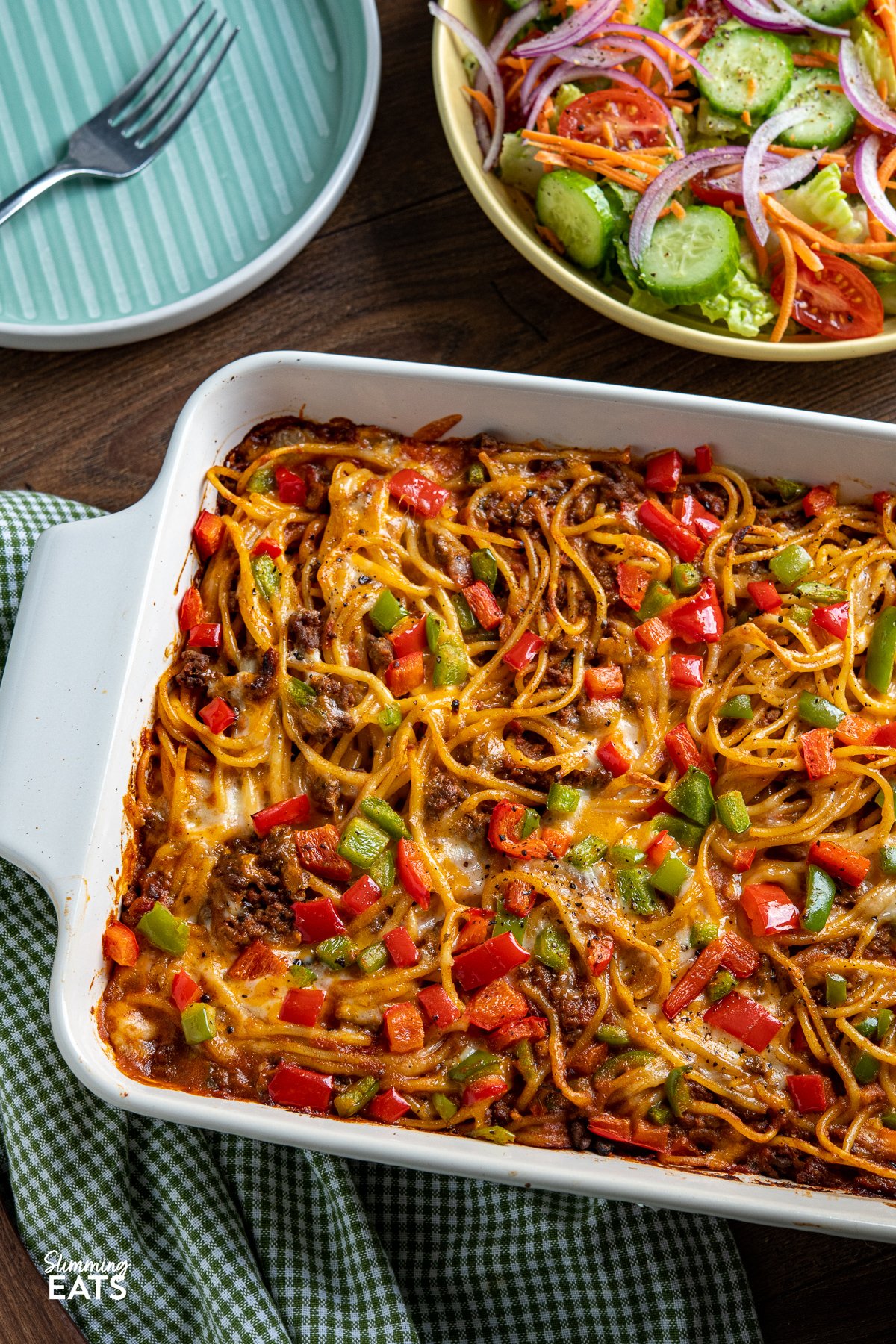 The magic of this Baked Cheesy Taco Spaghetti lies in its incredible flavor fusion. When it comes to satisfying my family's taste buds, there's nothing quite like a variety of tacos—they simply adore the delicious combinations. With this recipe, I aimed to bring a fresh twist to the table by blending the best elements of a taco with the comfort of pasta. It's a delightful fusion dish that promises to be a new family favourite!
Jump to:
Calories in Cheesy Taco Salsa Spaghetti Bake
Enjoy this cheesy taco pasta bake, which serves four people and has 542 calories per serving.
If you're looking for more recipes within the same calorie range, you'll find an abundance of options in my dedicated collection of 500+ calorie recipes.
If you're following a calorie-controlled diet or a healthy eating plan, it's important to calculate your daily calorie intake using a reliable calorie calculator. Please note that the calorie counts provided are estimates and can vary based on specific ingredients and serving sizes. Personalizing your calculations is essential to meet your individual needs. By using a calorie calculator, you can make informed choices and stay on track with your dietary goals.
Ingredients for Cheesy Taco Salsa Spaghetti Bake
To prepare this delectable Taco Spaghetti Bake, here are some notes on the ingredients used:
Ground Beef (beef mince) - Opt for 5% fat extra lean beef mince for a healthier option, but any ground meat will work just as well. Feel free to switch to turkey or chicken if you prefer.
Garlic and Onion - Essential base ingredients for enhancing the flavour of most recipes. For the best taste, use fresh ingredients.
Taco Seasoning - You can either my suggested blend of spices for taco seasoning or a ready-made taco spice mix for convenience.
Fresh Salsa - For optimal flavor, choose a mild fresh salsa from a tub. However, jarred salsa works fine too. If you enjoy spicier dishes, you can swap for a medium or hot version instead of mild.
Chicken Stock - In this recipe, chicken stock is preferred over beef stock for its well-balanced flavour. Feel free to use any stock of your choice, but remember to check the packaging for the correct ratio of liquid to stock cubes or concentrate.
Spaghetti - While the recipe suggests using spaghetti, feel free to substitute it with any pasta of your liking.
Soured Cream - Opt for the reduced-fat version for a lighter option without sacrificing taste. Avoid swapping soured cream for yogurt, as it may split in hot sauces and won't yield the same creamy result.
Cheese - For the delightful cheesy topping, a combination of mozzarella and cheddar works wonders. If you want a colourful appearance, consider using red Leicester or similar cheese to achieve that Tex-Mex cheese color.
Bell Peppers - Add a vibrant burst of colour to the dish. The recipe recommends a mix of red and green bell peppers, but you can use any colours you prefer.
Salt and Pepper - Basic yet essential flavour enhancers; season the dish to taste.
Low Calorie Spray - I use an olive oil spray without added emulsifiers.
Once you've gathered all the ingredients and prepared them accordingly, you're all set to create this easy and delightful recipe. Enjoy the mouthwatering Taco Spaghetti Bake with your family and savour the incredible fusion of flavours! See the recipe card for specific quantities and instructions. Happy cooking!
Family-Friendly and Easy to Prepare
Preparing a hearty family meal shouldn't be complicated, and this Baked Cheesy Taco Spaghetti is a testament to that. The beauty of this dish lies in its simplicity, allowing you to spend more quality time with your loved ones and less time in the kitchen. Whether it's a busy weeknight or a relaxed Sunday evening, you can rely on this recipe to deliver a satisfying meal that will keep everyone coming back for more.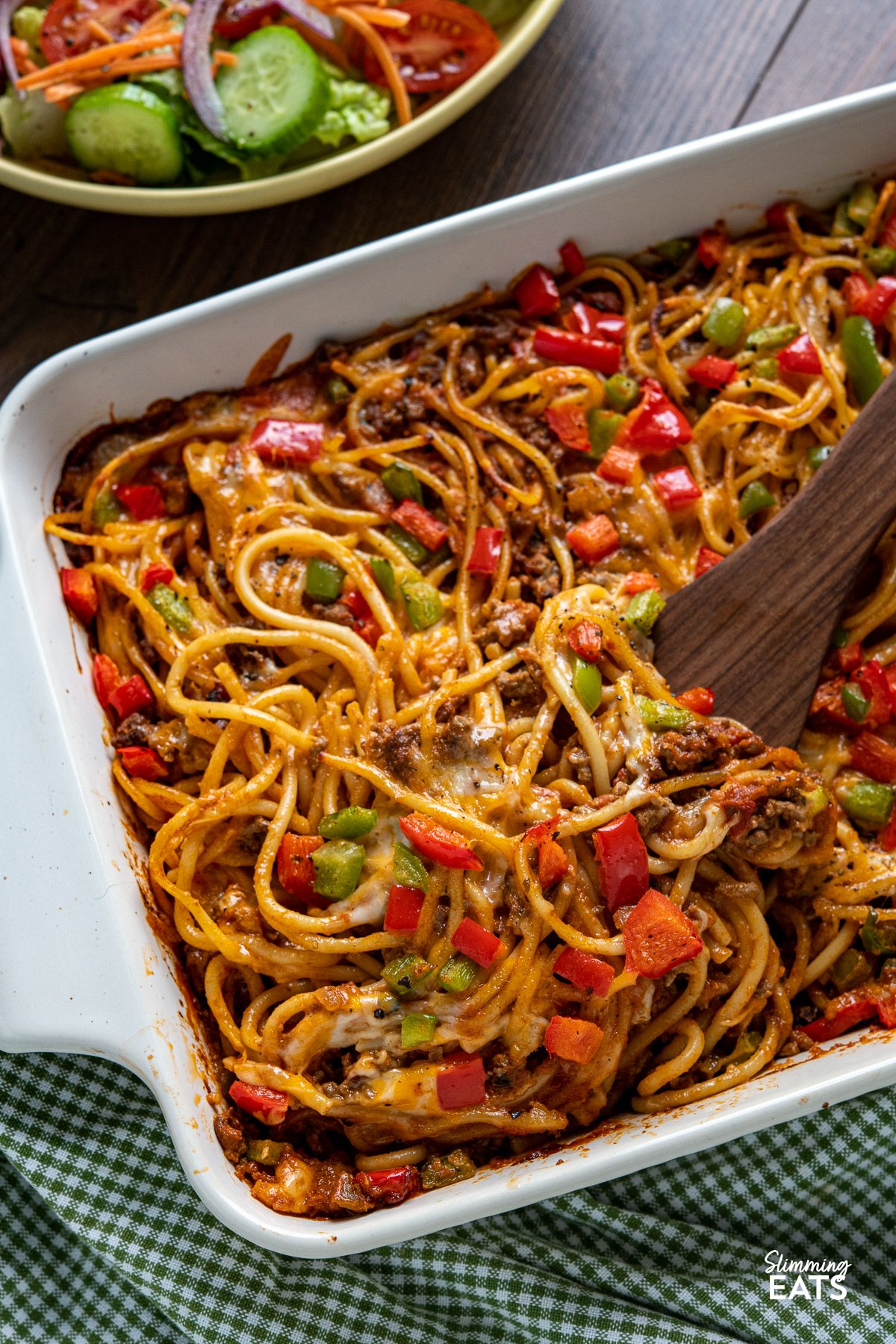 Variations on the Recipe
Here are some delicious variations you can try for the ingredients in the Taco Spaghetti Bake:
Meat Variations:
Diced Chicken: Swap the ground meat for some diced uncooked chicken and fry it in the taco spices. Chicken thigh will offer better flavor, but chicken breast is fine too.
Vegetarian Option: Substitute the meat with plant-based alternatives like crumbled tofu, cooked lentils, or black beans for a flavorful vegetarian version.
Pasta Variations:
Whole Wheat or Gluten-Free Pasta: Use whole wheat spaghetti or gluten-free pasta to make the dish healthier or suitable for those with gluten sensitivities.
Lower Carb Ideas: If you are trying to reduce the carbs or calories, you could also try swapping out the pasta for some spiralized vegetables or spaghetti squash if it is available.
Spice Level:
Extra Spicy: If you love heat, add chopped fresh or pickled jalapeños or red pepper flakes to the taco meat sauce and use hot salsa for an extra kick.
Cheese Variations:
Pepper Jack Cheese: Swap the cheddar cheese with pepper jack cheese to add a spicy and zesty flavor to the dish.
Monterey Jack: Use Monterey Jack cheese for a milder and creamier cheesy topping.
Vegetable and Bean Additions:
Corn: Add sweet corn kernels to the taco meat sauce for extra texture and sweetness.
Zucchini or Spinach: Incorporate grated zucchini or chopped spinach to sneak in some extra veggies.
Beans: Half the ground meat used and instead add in some black beans to bulk out the dish.
Soured Cream Alternatives:
Coconut Milk: Use coconut milk instead of soured cream for a unique and slightly tropical flavor profile.
Low-Fat Single Cream or Half and Half: If you prefer a creamier dish, you can swap the soured cream for some single cream or half and half.
Light Cream Cheese: Light cream cheese is also a great addition instead of soured cream. However, if you opt for this, you may need to stir in a little more stock.
Yoghurt: If you prefer to use yoghurt instead, I recommend skipping the step of stirring it into the sauce to prevent curdling. Instead, serve a dollop on top of the dish once it's dished up.
Seasoning Experimentation:
Homemade Taco Seasoning: Create your own custom taco seasoning blend using your favorite spices and adjust the flavors to your liking.
Chipotle or Smoked Paprika: Introduce a smoky element by adding chipotle powder or smoked paprika to the seasoning mix.
Remember to adjust the quantities and cooking times accordingly when making these variations to ensure a well-balanced and delicious Taco Spaghetti Bake that suits your preferences. Enjoy experimenting and creating your perfect family meal!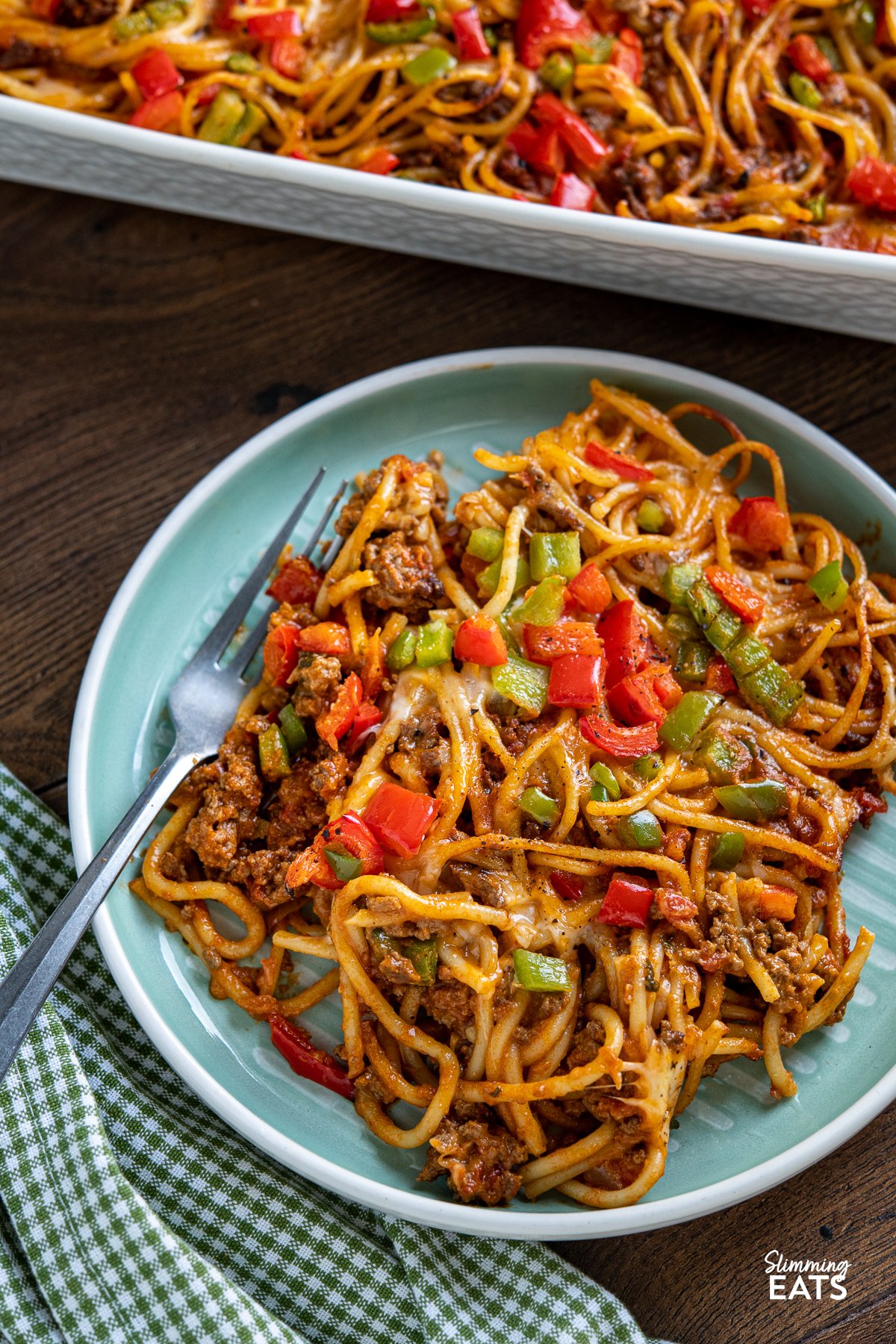 Sides for Taco Spaghetti Bake
For a family meal centered around Taco Spaghetti Bake, you can complement the main dish with a variety of delicious sides. Here are some ideas to serve in the middle of the table:
Mixed Salad - this is my preferred choice as it's so quick and easy to prepare and can combine any salad items you like. For my mixed salad I use crisp romaine lettuce, halved grape tomatoes, red onion slices, baby cucumber, and shredded carrot. Add it to a big bowl and place in the middle of the table with the spaghetti bake.
Mexican Corn Salad: A refreshing and colourful salad made with grilled corn kernels, finely diced bell peppers, cherry tomatoes, red onions, and chopped cilantro, dressed with a little lime juice and salt and pepper. This side adds a burst of freshness and balances the richness of the bake.
Cilantro-Lime Coleslaw: Prepare a tangy coleslaw with shredded cabbage, carrots, and a dressing made with plain fat free yoghurt, lime juice, cilantro, honey, and a dash of hot sauce. The crisp and refreshing coleslaw complements the rich and cheesy bake.
Grilled or Roasted Vegetables: Lightly grilled or roasted vegetables, such as courgette (zucchini), bell peppers, and onions, add a healthy touch to the meal and bring a burst of natural sweetness to counterbalance the spices in the bake.
Remember, the key to a balanced and filling meal is to pair the main dish with some low-calorie sides, such as vegetables, which will bulk out your plate and add extra nutritional value.
With this diverse selection of sides, your Taco Spaghetti Bake family meal is sure to be a hit, satisfying everyone's taste buds and creating a memorable dining experience. Enjoy!
More Pasta Bake Recipes
Are you in search of more pasta bake recipes to elevate your cooking experience and savour delightful flavours? Look no further! Explore these delicious Pasta Bake recipes that will not only make your cooking easier but also bring a burst of flavour to your table.
or if you would like more recipe ideas or sides to make with this recipe - head on over to the FULL RECIPE INDEX where you will find over 900 delicious recipes with calories and you can search by meal type, ingredients, course, diet and more.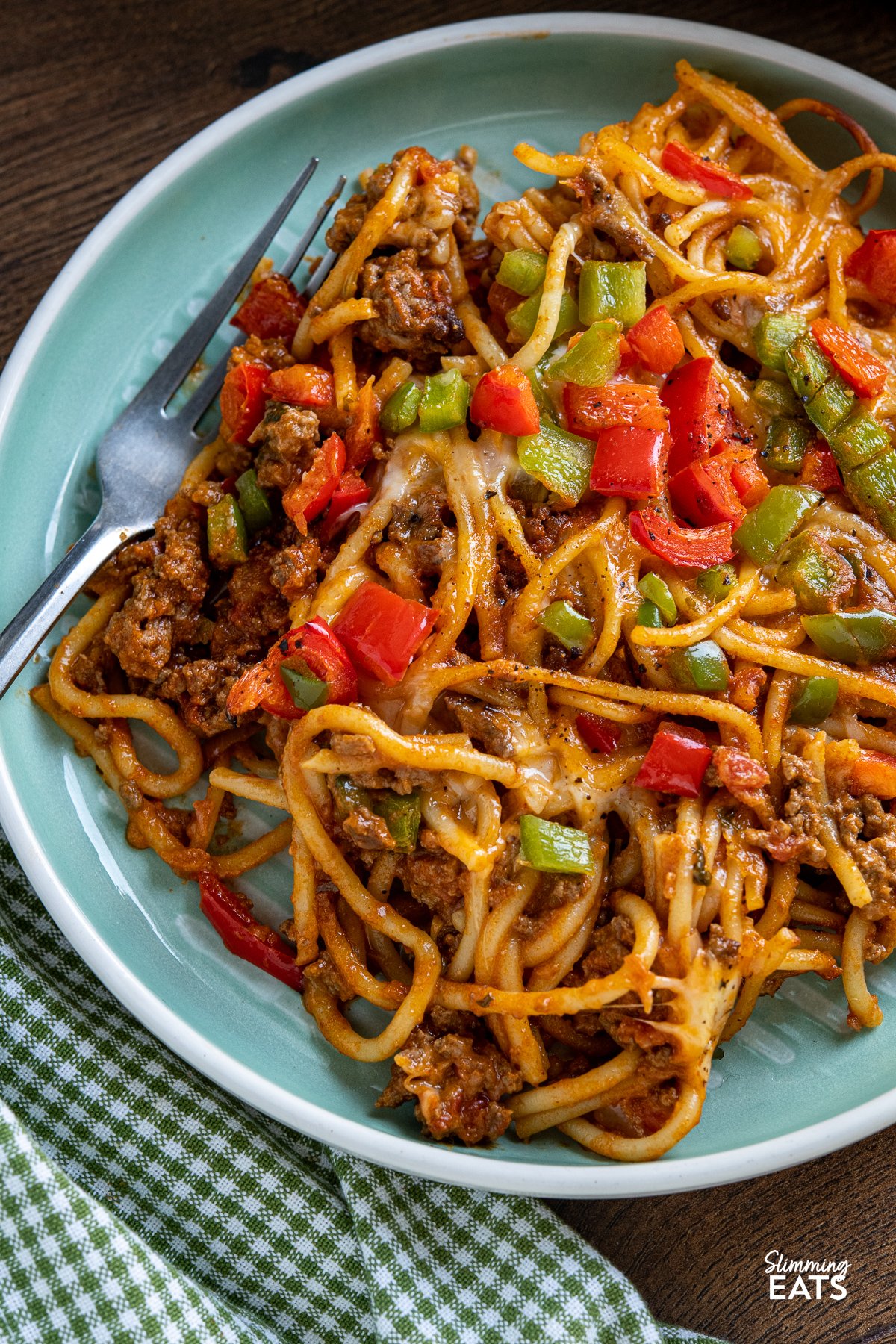 ---
LET'S CONNECT!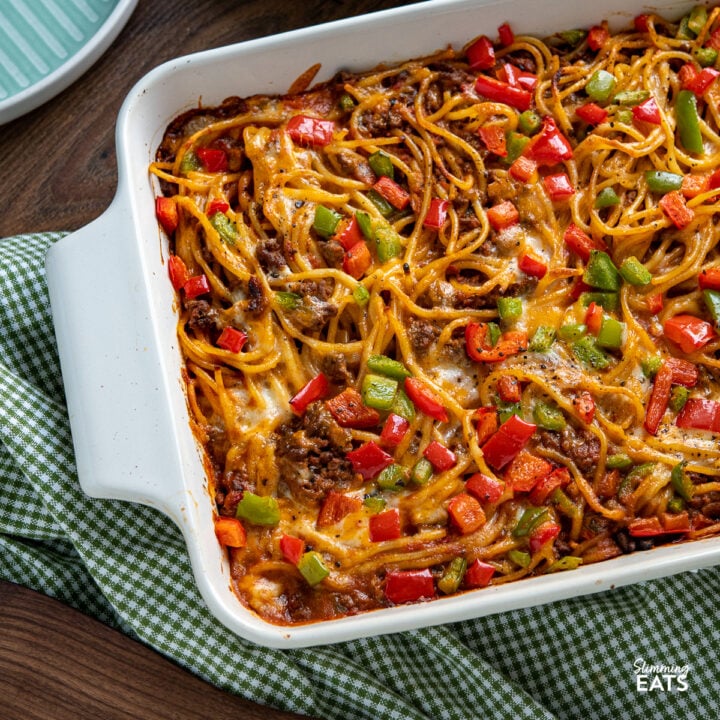 Cheesy Taco Salsa Spaghetti Bake
Cheesy Taco Salsa Spaghetti Bake - flavourful taco meat sauce, tangy salsa, and al dente spaghetti baked together to perfection, topped with a generous layer of gooey melted cheese and colourful bell peppers. It's a delightful blend of Tex-Mex flavors that will instantly become a family favourite.
Ingredients
455g (1lb) of extra lean ground beef (mince)
1 onion, finely diced
2 cloves of garlic, crushed
250g (8.5oz) of uncooked spaghetti
4 tablespoons of tomato paste
1 cup (250g) of salsa (mild of medium)
1 cup (240ml) of chicken or beef stock
6 tablespoons of reduced fat soured cream
50g (1.8oz) of mozzarella, grated
50g (1.8oz) of cheddar or red leicester, grated
½ red bell pepper, finely diced
½ green bell pepper, finely diced
salt and pepper
olive oil spray
For the Taco seasoning:
1 tablespoon paprika (not smoked)
1.5 teaspoon of cumin
1.5 teaspoon mild chilli​ powder
½ teaspoon of oregano
½ teaspoon garlic powder
½ teaspoon onion powder
¼ teaspoon of cayenne pepper (can add more or less depending on your preferred spice level)
Instructions
Combine the taco seasoning ingredients in a small bowl
Heat a frying pan over a medium high heat, add the mince, onion and garlic and fry until mince is browned and onion is softened.
Add in the taco seasoning, tomato paste, salsa and stock, bring to a boil and then simmer for 10 mins
Cook spaghetti in boiling salted water as per package directions, reserve ⅓ cup (80ml) of pasta water, drain, spray spaghetti with olive oil spray and toss to coat.
Add the pasta to the meat mixture with the soured cream and reserved pasta water and mix to combine. Taste and season with salt and black pepper as needed.
Preheat oven to 190c, 170c fan, 375f or gas mark 5
Add spaghetti mixture to an ovenproof dish and top with cheese, add diced bell peppers
Cover tightly with foil and bake for 20 mins then remove foil and bake uncovered for an additional 10 minutes until cheese is melted and golden.
Serve and enjoy
Notes
Please see below for details about recipe:
Calories - scroll down to nutritional info box
WW Points and other Slimming or Weight Loss programs:  due to plans regularly changing and updating, we recommend calculating with the official tools you get as a member to those plans to ensure accuracy of values
Gluten Free Friendly - use gluten free pasta and stock
Suitable for Freezing ❄️
If you wish to share this recipe, then please do so by using the share buttons provided at top of this post.
DO NOT COPY AND/OR PASTE FULL RECIPES OR SCREENSHOTS OF ANY CONTENT FROM SLIMMING EATS TO ANY SOCIAL MEDIA OR WEBSITE, IT IS STRICTLY PROHIBITED.
ALL IMAGES AND CONTENT ON SLIMMING EATS ARE COPYRIGHT PROTECTED
Nutritional information etc are an estimate and are to be used for informational purposes only. Ingredients can vary in values from brand to brand and therefore it would be impossible to give accurate information. It is always advised that you calculate values yourself by the ingredients you use and the tools provided to you as a member of the programme you are following.
It is the responsibility of the Reader to assure the products or ingredients they use in any recipes from Slimming Eats are allergen-free (gluten-free, egg-free, soy-free and/or dairy-free, for example). Slimming Eats assumes no liability for inaccuracies or misstatement about products, opinions or comments on this site. 
Check Legal section, for Full Disclaimer, Disclosure and Privacy Policy.
Recommended Products
As an Amazon Associate and member of other affiliate programs, I earn from qualifying purchases.
Nutrition Information
Yield

4
Serving Size

1 SERVING
Amount Per Serving
Calories

542
Total Fat

16g
Saturated Fat

8g
Trans Fat

0g
Unsaturated Fat

7g
Cholesterol

56mg
Sodium

427mg
Carbohydrates

56g
Fiber

5g
Sugar

6g
Protein

41g
Nutritional information and values etc are an estimate and is to be used for informational purposes only. Ingredients can vary greatly from brand to brand and therefore it would be impossible to give accurate information. It is always advised that you calculate by the ingredients you use.
Disclosure: This post may contain affiliate links. As an Amazon Associate and member of other affiliate programs, I earn from qualifying purchases. We are a participant in the Amazon Services LLC Associates Program, an affiliate advertising program designed to provide a means for us to earn fees by linking to Amazon.com and affiliated sites." Check Legal section, for Full Disclaimer, Disclosure and Privacy Policy.