The Whole family will love this delicious One Pan Spicy Beef, Beans and Rice - on Slimming Eats and just perfect for a quick dinner.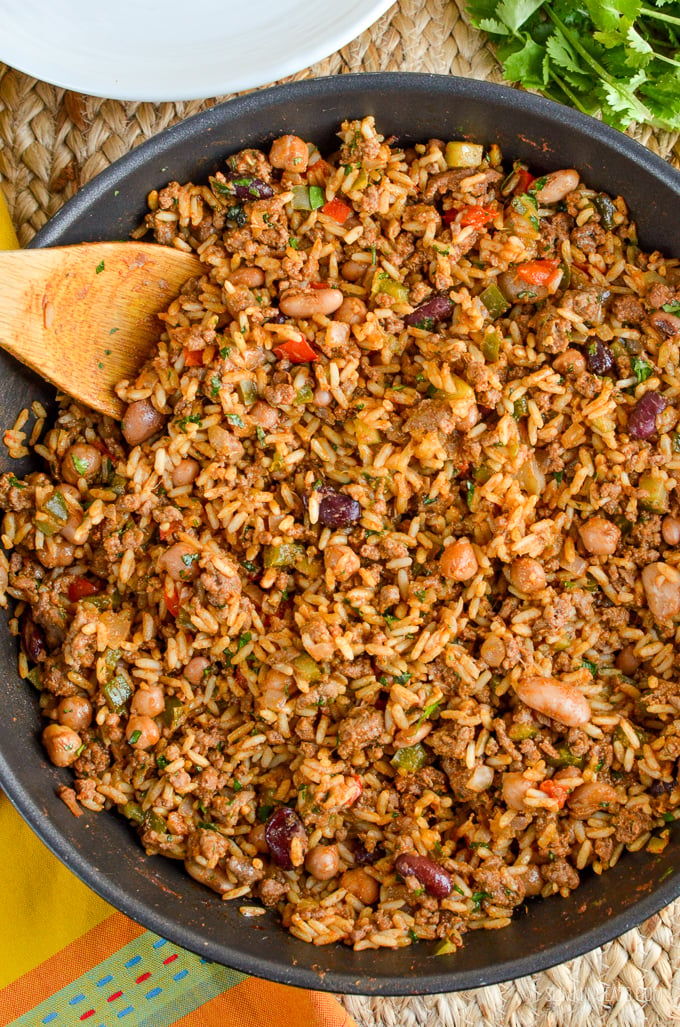 This Spicy Beef, Beans and Rice dinner is the kind of meal we all love when we want something healthy on the table, but don't want heaps of pots and pans to wash up afterwards.
Sometimes when you have had a busy day, you just want something easy and quick and this definitely ticks all those boxes.
It's got all the things most kids love too - ground beef, beans and rice, meaning it really is a family-friendly meal.
There is a spicy kick to it from the power of Cayenne Pepper, but you can totally adjust that level of spice to make it suitable to your taste.
Did you know you can freeze chopped peppers, onion and zucchini etc? You can totally save yourself, even more, time, if you buy those ingredients in bulk when on offer, chop and freeze in ziplock bags, and they are ready to throw into meals like this Spicy Beef, Beans and Rice.
I've made this in the past with both fresh and veg I have frozen, and really it tastes delicious either way. So it's a great time-saving tip.
We are lucky that we have an awesome fruit and veg market, that is great for buying stuff like that cheap. It sometimes isn't as fresh as what you get from a farmer's market or good quality supermarket, but it's perfectly fine so long as you either use it within a couple of days or chop it up to freeze.
When I am planning one of my batch cooking days, where I make up some soups, chilli or bolognese etc. I always go there for the vegetable part to the dishes. Another great thing I love about there is that they always have a wide selection of different vegetables that you sometimes will not find at the regular grocery store.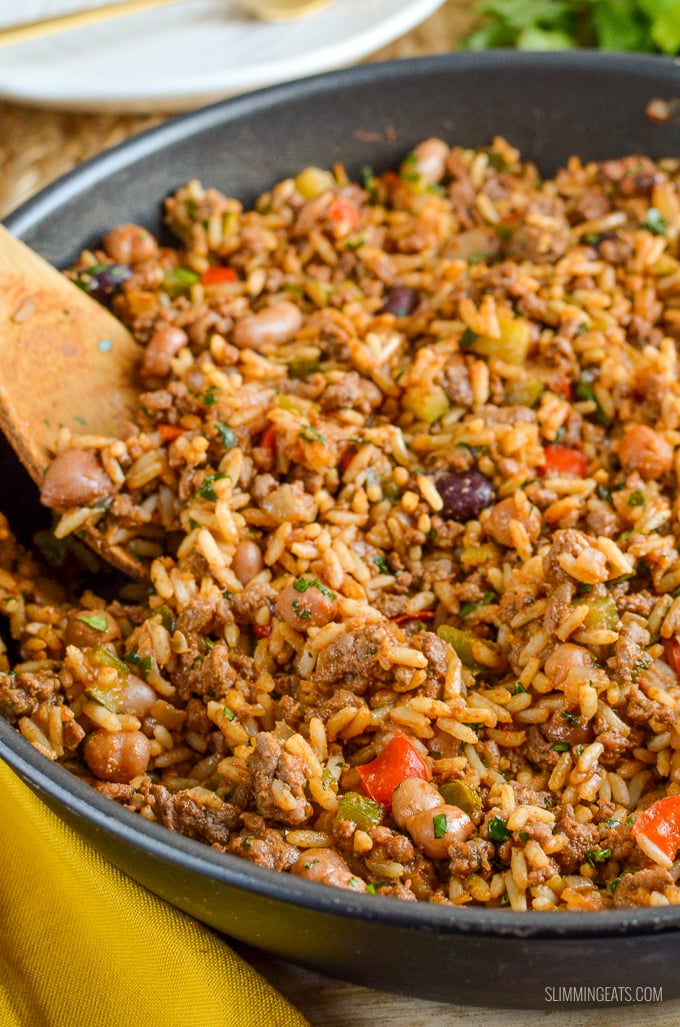 Stuff like Plantains, Asian Eggplant, Jicama, various different varieties of chilli's and in the fall a wide selection of squash - like spaghetti squash, acorn squash, delicata squash etc.
They also sell bulk bags of pulses, lentils and rice etc. So it is perfect for stocking up my pantry.
When I first moved to Canada, it took me a while to adjust to where I could find certain ingredients. Especially because some things have different names.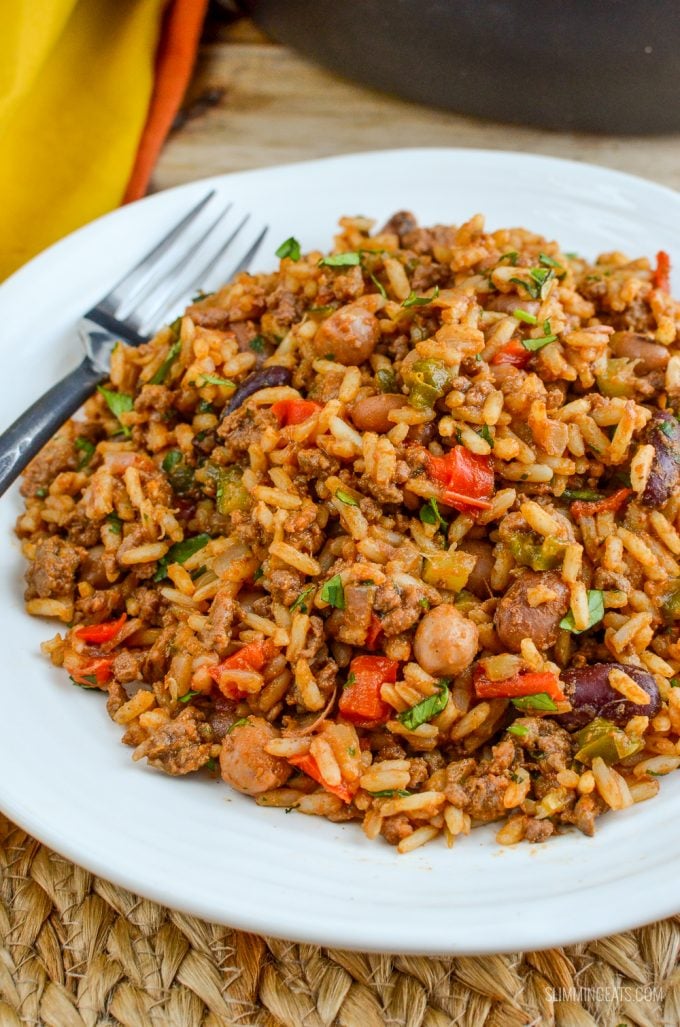 But now I know all the neat little places to go - like the fruit and veg market when I want some bulk fruit or veg.
The fruit and veg stalls scattered around the county in the summer when I want seasonal produce.
Then the Asian market if I want an ingredient that is particular to Asian style cooking or if I am making a typical Indian Fakeaway and need a certain spice, I know the Indian Grocer will have exactly what I need.
It is actually worth sourcing out places like that where ever you may live because specific ingredients like that are the majority of the time much cheaper at those places compared to the regular grocery store. It's a great way to save some money too if you are on a budget. Check out these other budget-friendly tips.
My kids will often come with me to the Asian Supermarket, as they love looking at the imported Candy (typical), although they are not too keen smell wise when we get close to the dried shrimp aisle and fish counter. I actually find it a great way to educate them on different cultures and ways of cooking too and usually when they come with me, I will let them pick something unusual to try, not always candy wise, either.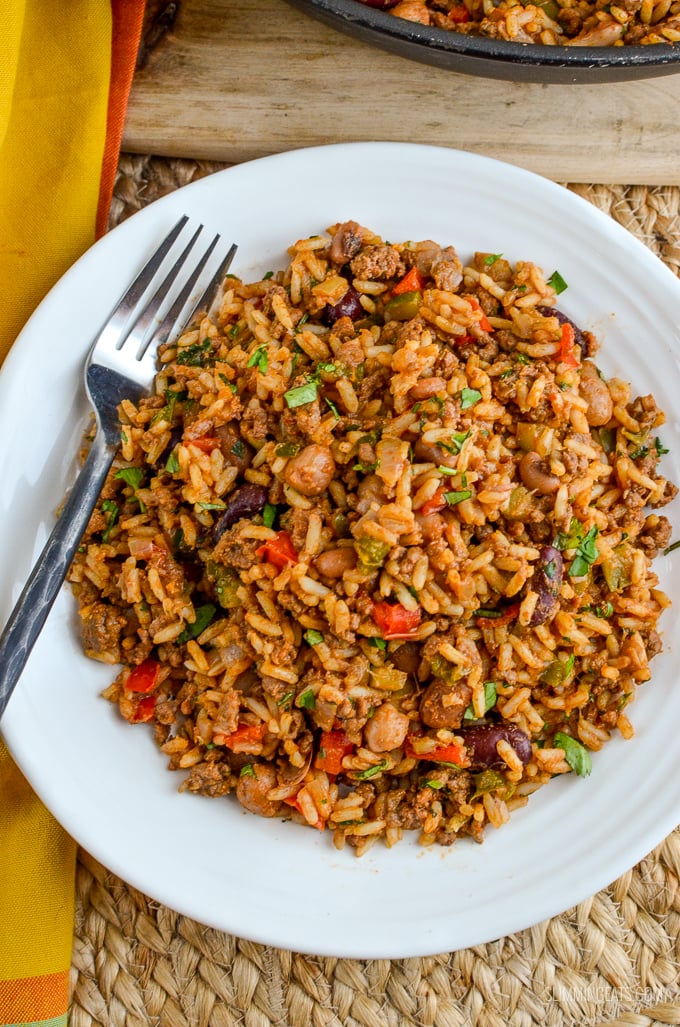 Last time I went to the Indian Grocery, I picked them out a selection of Indian Sweets to try - which are not in the least bit Slimming Eats friendly, but it was fun for them to sample them.
I actually remember a school trip back to London when I was at Primary School (many years ago now) - our teacher had stopped and picked some Indian Sweets for the class to try. It brought back many memories, doing the same kind of thing with my kids.
Once all the ingredients are ready, this yummy Spicy Beef, Beans and Rice do not take much longer than 25 mins to cook.
I just used canned beans - a six bean blend, so they can also go straight in the pan too. I love the six bean blends, as you get a nice variety of different beans in the dish. Beats just kidney beans or black beans.
You can enjoy this Spicy Beef, Beans and Rice just as it is, or if you have a healthy extra A spare, a sprinkling of grated cheddar on top, takes it up just that extra notch. We all love a bit of cheesy goodness on Spicy Beef, Beans and Rice.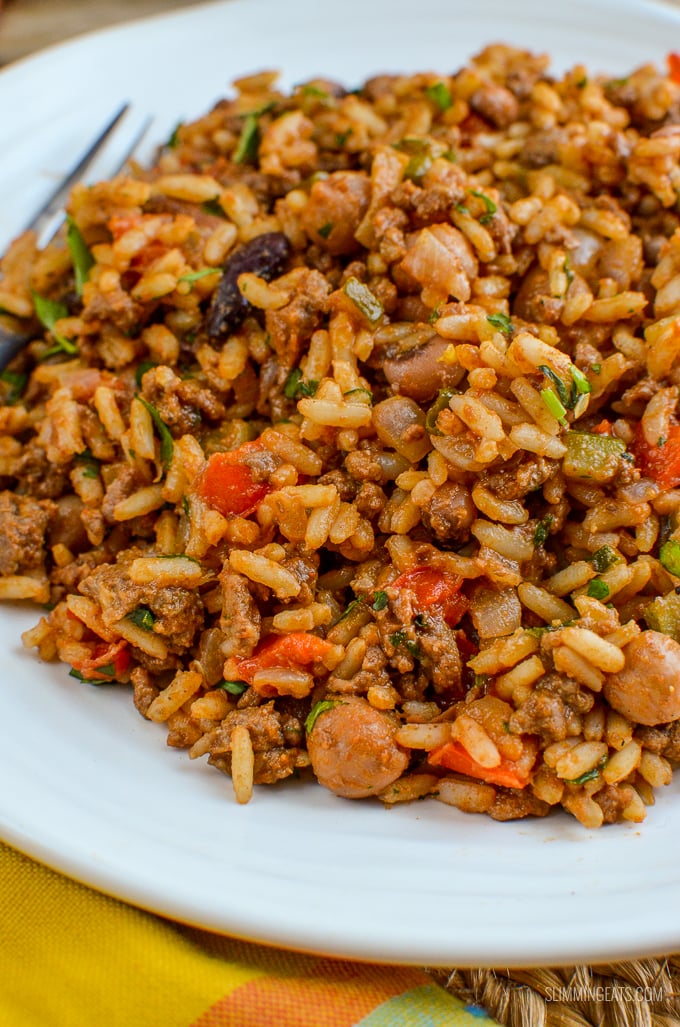 What Kitchen Items Do I Need to Make this Spicy Beef, Beans and Rice?
Don't forget to subscribe to Slimming Eats to keep up to date on all new recipes.
IF YOU TRY THIS RECIPE, LET US KNOW! LEAVE A COMMENT, RATE IT AND DON'T FORGET TO TAG US IN YOUR PHOTOS @SLIMMINGEATS ON INSTAGRAM AND DON'T FORGET TO FOLLOW SLIMMING EATS ONFACEBOOK | INSTAGRAM | PINTEREST | TWITTER | and YOUTUBE TO MAKE SURE YOU KEEP UP TO DATE ON ALL NEW RECIPES 🙂
HOW TO MAKE SPICY, BEEF, BEANS AND RICE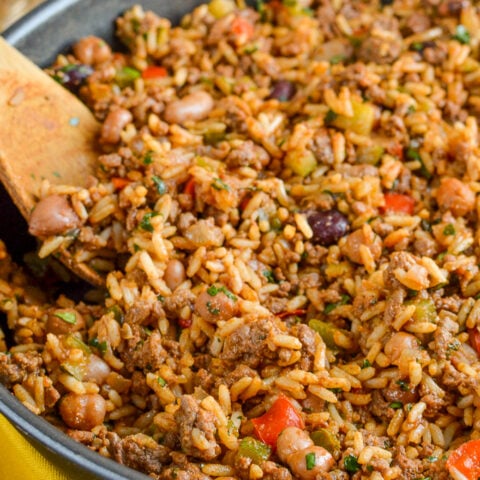 Spicy Beef, Beans and Rice | Slimming Eats
This recipe is gluten free, dairy free, Slimming Eats and Weight Watchers friendly
WW Smart Points - 9
*Suitable for freezing 
Ingredients
450g/11lb extra lean beef mince
1 cup (240ml) of long grain rice
1 onion, finely chopped
2 cloves of garlic, crushed
2 cups (480ml) of beef  stock (I use low sodium)
2 heaped tbs of tomato paste (puree)
½ green pepper, finely chopped
½ red pepper, finely chopped
1 small courgette, chopped
1 cup (240ml) of six bean medley (canned), drained
1 tablespoon of chilli powder
1 tablespoon of paprika
1 tablespoon of cumin
pinch of cayenne pepper
salt and black pepper to season
spray oil
freshly chopped cilantro (corinader), to serve
optional: cheddar
Instructions
Spray a large frying pan over a medium high heat with some spray oil.
Add the beef mince, onion and garlic and fry until browned
Add in remaining vegetables, tomato paste, spices, season with salt and black pepper and mix to combine.
Add the rice, beans and stock and bring to a boil, reduce heat, cover and simmer for 10 mins.
Turn off heat, leave covered for additional 10 mins.
Stir through some chopped cilantro (coriander)
Serve and enjoy!!
This is great served with a sprinkle of grated cheddar on top.
Notes
Please see below for full nutritional info and additional details about recipe:
Calories - scroll down to nutritional info box
WW Points and other Slimming or Weight Loss programs -   due to plans regularly changing and updating, we recommend calculating with the official tools you get as a member to those plans to ensure accuracy of values. 
If you wish to share this recipe, then please do so by using the share buttons provided at top of this post.
DO NOT COPY AND/OR PASTE FULL RECIPES OR SCREENSHOTS OF ANY CONTENT FROM SLIMMING EATS TO ANY SOCIAL MEDIA OR WEBSITE, IT IS STRICTLY PROHIBITED.
ALL IMAGES AND CONTENT ON SLIMMING EATS ARE COPYRIGHT PROTECTED
Nutritional information etc are an estimate and are to be used for informational purposes only. Ingredients can vary in values from brand to brand and therefore it would be impossible to give accurate information. It is always advised that you calculate values yourself by the ingredients you use and the tools provided to you as a member of the programme you are following.
It is the responsibility of the Reader to assure the products or ingredients they use in any recipes from Slimming Eats are allergen-free (gluten-free, egg-free, soy-free and/or dairy-free, for example). Slimming Eats assumes no liability for inaccuracies or misstatement about products, opinions or comments on this site. 
Check Legal section, for Full Disclaimer, Disclosure and Privacy Policy.
Nutrition Information
Yield

4
Serving Size

1 serving
Amount Per Serving
Calories

409
Total Fat

5.3g
Saturated Fat

1.7g
Cholesterol

66mg
Sodium

508mg
Carbohydrates

57.8g
Fiber

6.5g
Sugar

4.3g
Protein

34.5g
Disclosure: This post may contain affiliate links. As an Amazon Associate and member of other affiliate programs, I earn from qualifying purchases. We are a participant in the Amazon Services LLC Associates Program, an affiliate advertising program designed to provide a means for us to earn fees by linking to Amazon.com and affiliated sites." Check Legal section, for Full Disclaimer, Disclosure and Privacy Policy.