Gochujang Chicken Drumsticks - tender oven baked chicken drumsticks coated in a delicious Korean Gochujang marinade.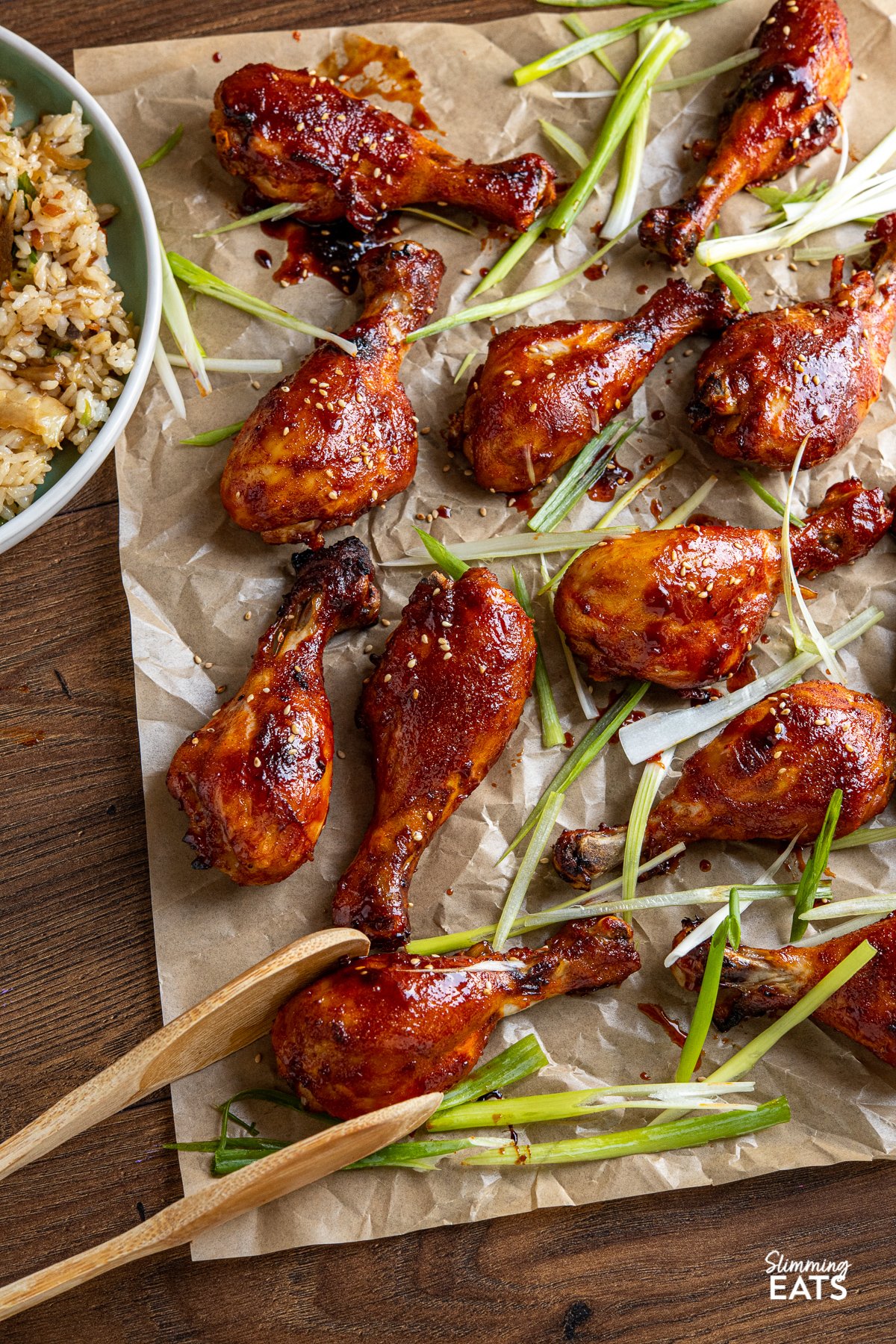 Korean Chicken Drumsticks
If you love Korean food as much as me, you will love these spicy flavoursome Drumsticks which are marinated in a simple blend that is packed with flavour - gochujang, soy sauce, sesame oil and garlic.
Baked in the oven in just 30 minutes, they are perfect with a variety of sides.
How to remove skin from Chicken Drumsticks
My family love Chicken drumsticks, they are great for coating in different marinades and usually budget friendly too.
If you are wondering how to remove the skin easily to make these lower in calories. All you need is a clean kitchen towel or kitchen paper to grab the skin on the drumstick from the thicker end and then you can easily remove.
What is Gochujang Paste?
This is the ingredient in this recipe that you may find hard to source and so you may be wondering what actually is Gochujang Paste?
Gochujang Paste is a pretty important ingredient in Korean Cooking. It is a thick and spicy red paste usually made from fermented soybean, chili powder, glutinous rice, malt powder, and salt. It adds a great umami taste to recipes and is well worth sourcing if you can.
Substitutes for Gochujang Paste
There isn't really a like for like replacement for these delicious paste. But if you have searched high and low and can't find it anywhere but really want to use this recipe, then my suggestion would be a mixture of tomato paste (puree) and some sriracha.
How much you want to use will depend on your spice level. I like 2 tablespoons of the paste, but for kids who can't handle too much heat, you may want to just go for one.
So i would use a mix of equal amounts of tomato paste and sriracha.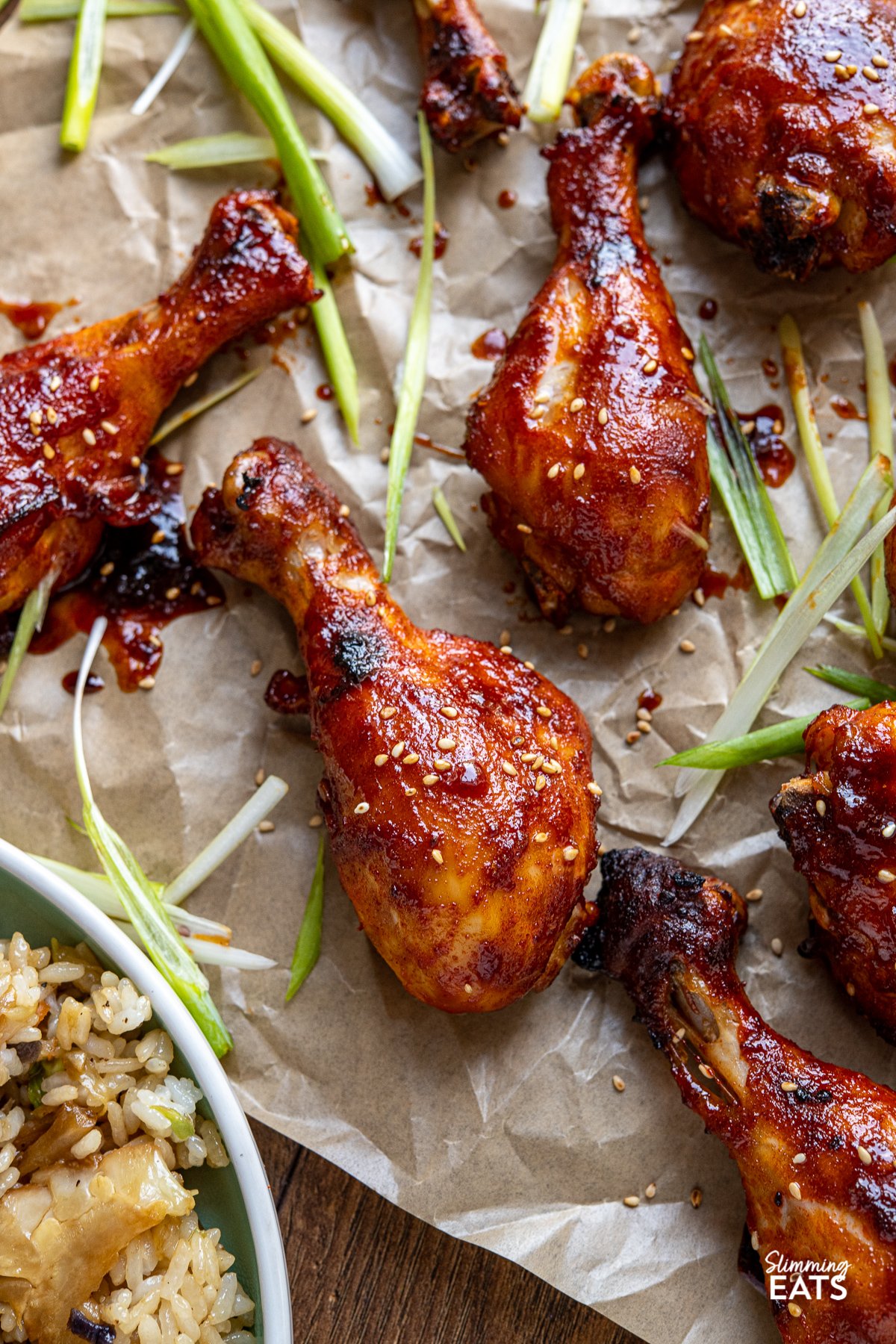 Do I have to use Chicken Drumsticks?
If you really don't like Chicken on the bone, then you can substitute for boneless skinless chicken thighs. I personally don't recommend chicken breasts, as you won't get the same result and tenderness.
Sides for Gochujang Chicken Drumsticks
This is where you can get really adventurous and turn this simple recipe into a delicious bowl with lots of yummy components.
I like to serve this with some homemade fried rice with some mixed in sauteed cabbage, then slices of cucumber which balance the heat from the gochujang. It is the perfect combination.
For the fried rice I follow the basic of my egg fried rice recipe, but don't add the egg or peas, instead added some stir fried cabbae.
Some other favourites are as follows:
White Rice (I love the Kokuho Rose brand)
Carrot Stick
Spicy Garlic Napa Cabbage (click for recipe)
Pickled Daikon Radish (the bright yellow item in my bowl) - this is a popular Korean item. Look for it at Asian grocers that specialize in Korean foods. You can also make your own if you can source some daikon radish.
Kimchi - this is another great item to serve with this. I didn't have any on this occasion as I had cooked the garlic napa cabbage instead.
Nori Seaweed - crumble a few small sheets and sprinkle onto your rice for some added flavour. Yummy!!
If you want a lower carb side, you could make this Egg Fried Cauliflower Rice.
Wondering how you cook perfect Jasmine Rice?
Simply just rinse 1 cup of jasmine rice, then add to a pan with 2 cups of water, bring to a boil,and when water is just about absorbed, turn off heat, add lid and leave for 10 minutes (do not stir or touch until then) - the result is perfect fluffy rice every time.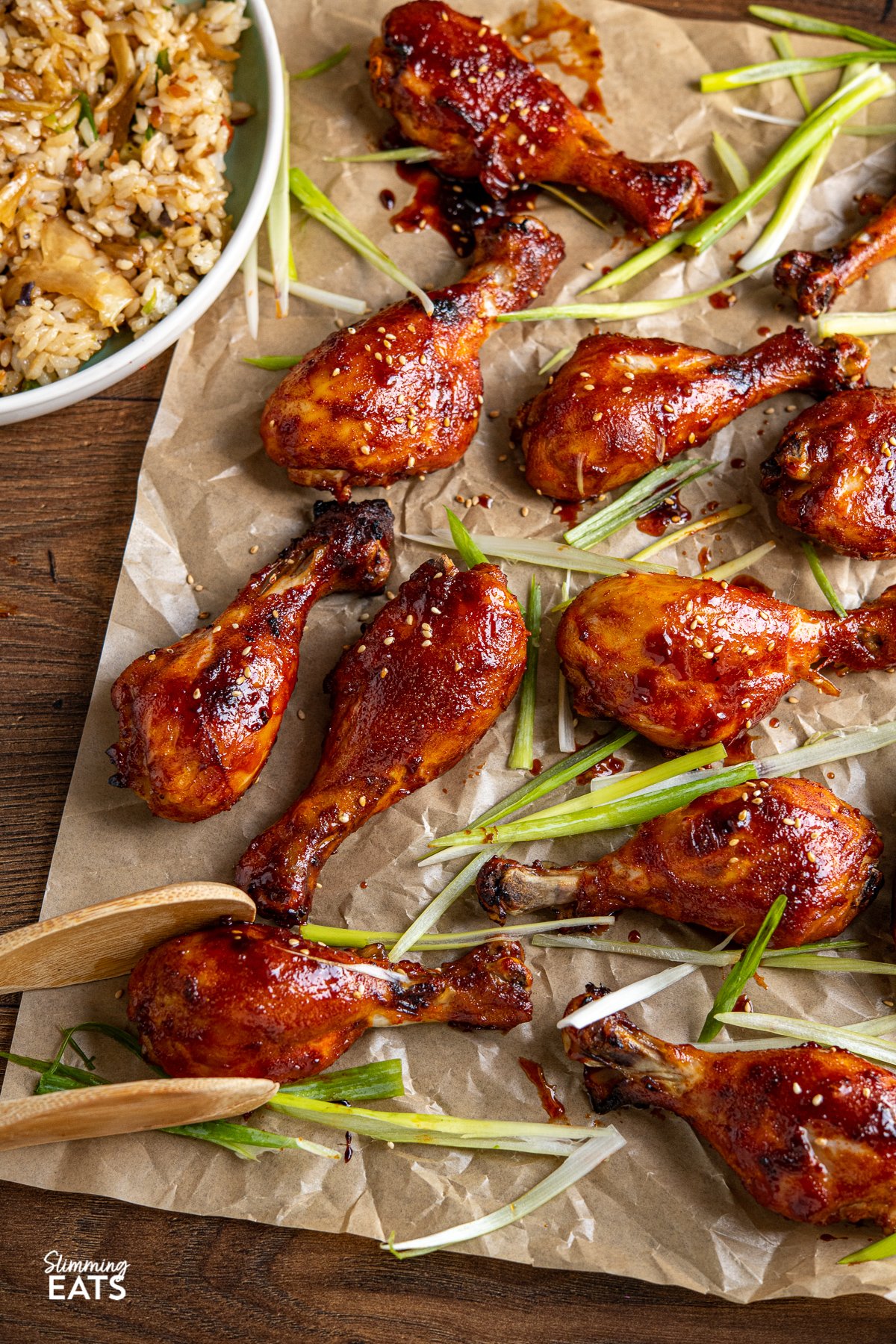 More Asian Recipes
Love Asian food? Check out these other recipes:
or if you would like more recipe ideas - head on over to the FULL RECIPE INDEX where you will find over 900 delicious recipes and can search by ingredients, course, diet and more.
All with estimated calories, Slimming Eats and Weight Watchers Smart Points values.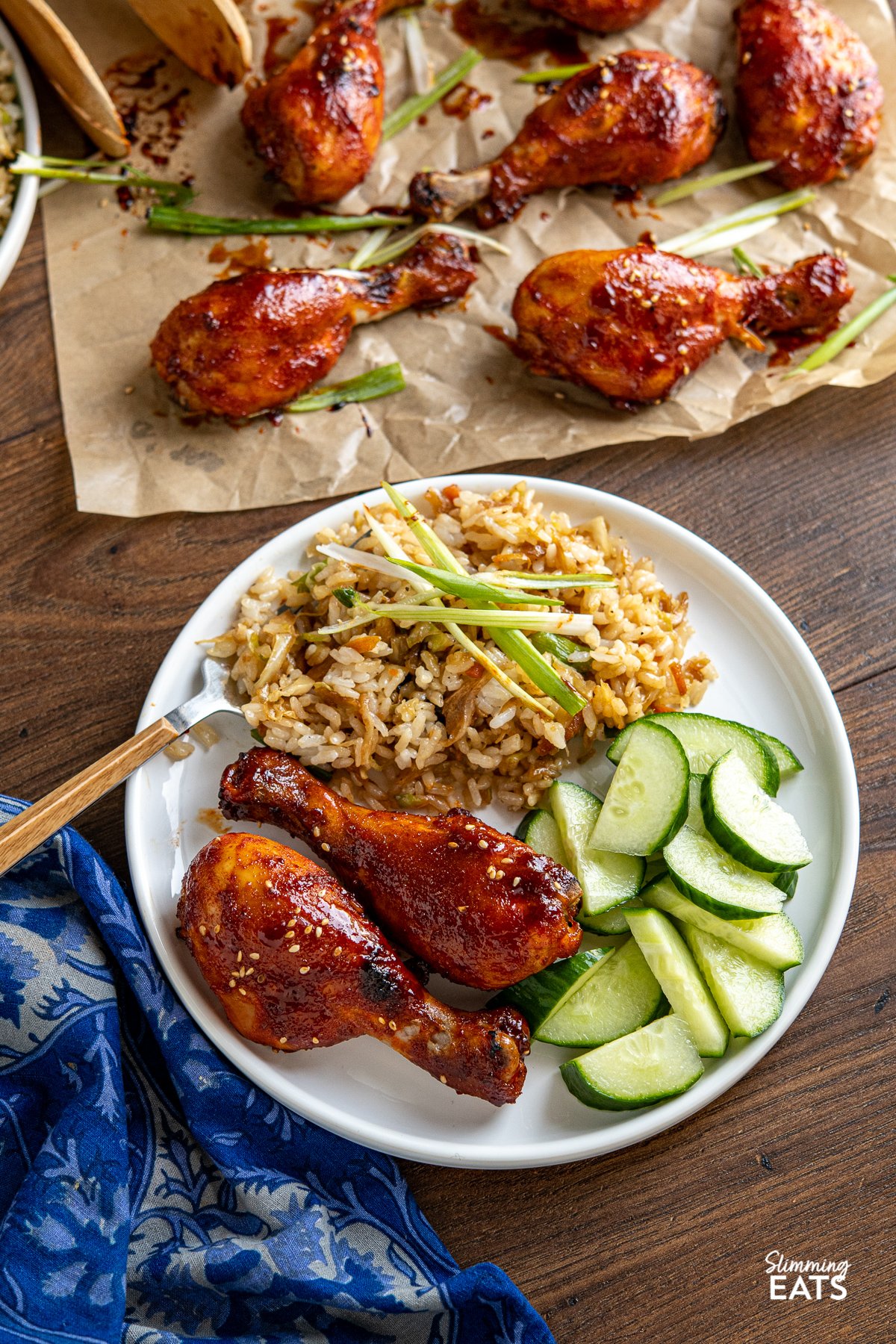 ---
LET'S CONNECT!!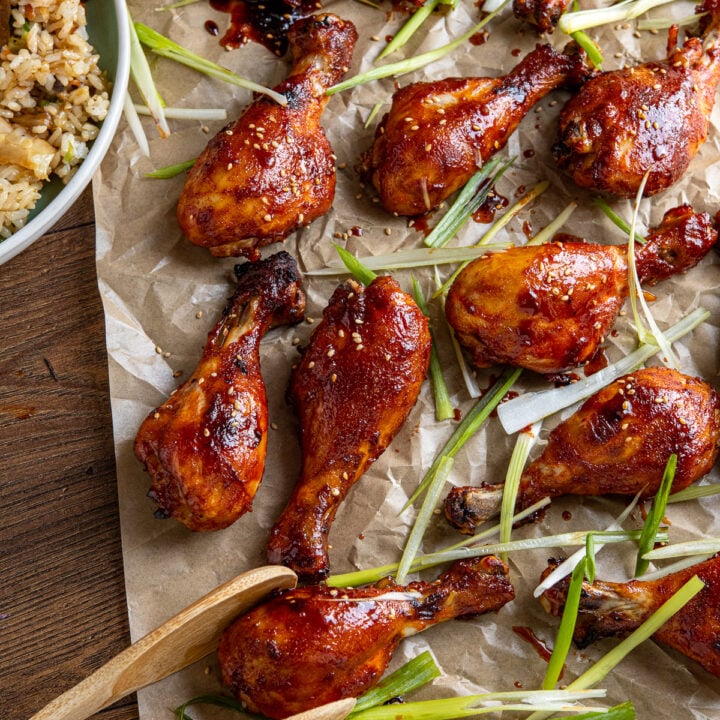 Korean Gochujang Chicken Drumsticks
Yield:
12 Chicken Drumsticks
Gochujang Chicken Drumsticks - tender oven baked chicken drumsticks coated in a delicious Korean Gochujang marinade.
Ingredients
12 skinless chicken drumsticks
3 tablespoons of gochujang
3 tablespoons of all purpose soy sauce
3 tablespoons maple syrup or honey
3 cloves of garlic, crushed
1 teaspoon of sesame oil
low calorie cooking spray
2 spring onions, sliced thinly
pinch of sesame seeds
Instructions
Whisk together the gochujang, soy sauce, maple syrup, garlic and sesame oil in a large bowl or dish.
Add in the chicken drumsticks and let marinate for at least 1 hour in the fridge (or you can do this overnight if you prefer)
Preheat oven to 215c, fan 195c, 420f (gas mark 7)
Add the marinated drumsticks to a baking tray lined with parchment, spray over the top with low calorie cooking spray.
Bake for 15 minutes, then remove and brush with the juices and bake for another 15 minutes until cooked through and tender.
Scatter with the spring onion and pinch of sesame seeds.
Serve with your choice of sides and enjoy!!
Notes
Please see below for full nutritional info and additional details about recipe:
Calories - scroll down to nutritional info box
WW Points and other Slimming or Weight Loss programs -   due to plans regularly changing and updating, we recommend calculating with the official tools you get as a member to those plans to ensure accuracy of values. 
If you wish to share this recipe, then please do so by using the share buttons provided at top of this post.
DO NOT COPY AND/OR PASTE FULL RECIPES OR SCREENSHOTS OF ANY CONTENT FROM SLIMMING EATS TO ANY SOCIAL MEDIA OR WEBSITE, IT IS STRICTLY PROHIBITED.
ALL IMAGES AND CONTENT ON SLIMMING EATS ARE COPYRIGHT PROTECTED
Nutritional information etc are an estimate and are to be used for informational purposes only. Ingredients can vary in values from brand to brand and therefore it would be impossible to give accurate information. It is always advised that you calculate values yourself by the ingredients you use and the tools provided to you as a member of the programme you are following.
It is the responsibility of the Reader to assure the products or ingredients they use in any recipes from Slimming Eats are allergen-free (gluten-free, egg-free, soy-free and/or dairy-free, for example). Slimming Eats assumes no liability for inaccuracies or misstatement about products, opinions or comments on this site. 
Check Legal section, for Full Disclaimer, Disclosure and Privacy Policy.
Nutrition Information
Yield

12
Serving Size

1 DRUMSTICK
Amount Per Serving
Calories

142
Total Fat

4g
Saturated Fat

1g
Trans Fat

0g
Unsaturated Fat

0g
Cholesterol

125mg
Sodium

422mg
Carbohydrates

6g
Fiber

0g
Sugar

5g
Protein

22g
Nutritional information etc are an estimate and is to be used for informational purposes only. Ingredients can vary greatly from brand to brand and therefore it would be impossible to give accurate information. It is always advised that you calculate by the ingredients you use.
Disclosure: This post may contain affiliate links. As an Amazon Associate and member of other affiliate programs, I earn from qualifying purchases. We are a participant in the Amazon Services LLC Associates Program, an affiliate advertising program designed to provide a means for us to earn fees by linking to Amazon.com and affiliated sites." Check Legal section, for Full Disclaimer, Disclosure and Privacy Policy.