Egg Fried Cauliflower Rice - The perfect speed packed side dish for your Chinese Fakeaway dishes
Cauliflower is the perfect ingredient for a healthier low carb option to regular rice. So if you need something that feels like rice to mop up the delicious sauces from your Chinese Fakeaway dishes, then this is the Egg Fried Cauliflower Rice perfect recipe for you.
Many are put off using cauliflower as it can be rather pungent when raw or even with cooking. But me perfect method for cooking cauliflower rice will totally change your mind. There are many methods out there for making cauliflower rice from steaming to microwave. But the real game changer for me when it came to cauliflower rice, is to cook it by roasting.
We've all had roasted cauliflower right? and you know how amazingly tasty that is, so why on earth would you not want to cook cauliflower rice the same way too.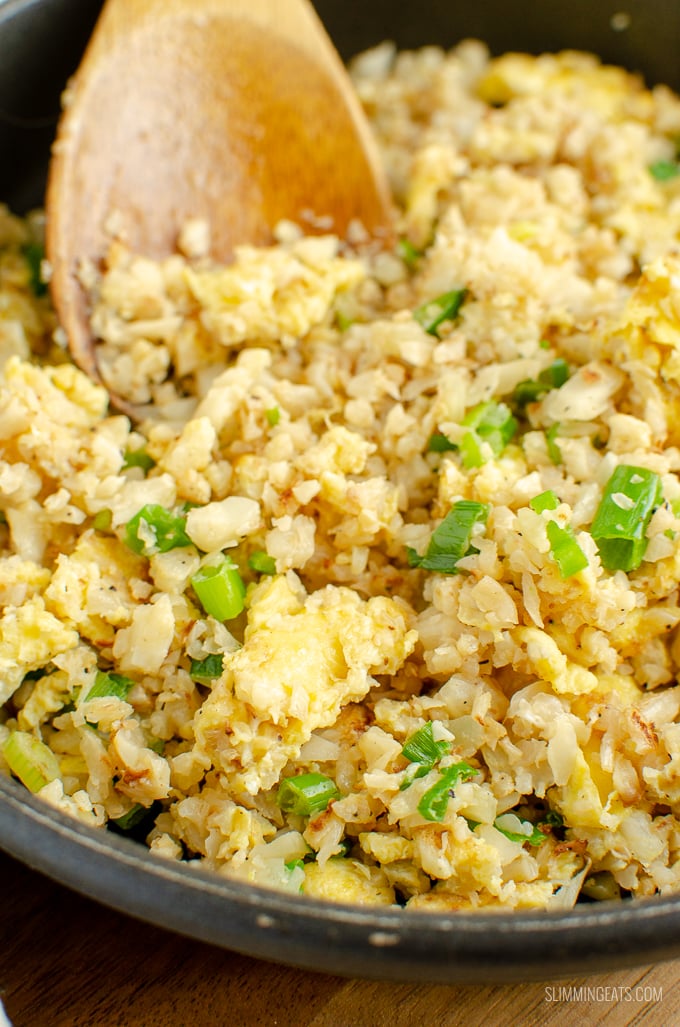 Most grocery stores will now even sell bags or ready grated cauliflower that you can grab and throw in your shopping cart. But sometimes they tend to be super expensive just for the convenience.
Whenever I spot cauliflower on sale at my grocery store I will grab at least 3. As I can easily make up a few batches of cauliflower rice and freeze it in handy portions, that I can then grab and use in dishes like this Egg Fried Cauliflower Rice
I've also worked out a method for prepping the cauliflower into rice, that means minimal mess and we all like less mess to clean up afterwards.
I will never forget the first time I attempted cauliflower rice, it was everywhere, the floor, the kitchen units, some stuck to my slippers - in fact, every surface that the cauliflower rice could fall to, it fell.
and then I cooked it in the microwave which seems to be one of the popular choices for cauliflower rice. OMG, never again will I cook cauliflower rice in the microwave. As if the mess I had just created wasn't enough, I now had the most awful sulfur stench throughout my kitchen.
It put me off attempting cauliflower rice again for a while. Until I finally succumbed, but the next time made sure that cauliflower never went anywhere near a microwave.
My failproof method for a limited mess is to make sure you prep the cauliflower on an extra large baking sheet lined with parchment. I place the baking sheet right next to my Ninja Food Processor and work in batches. You can break into florets on the tray first, add some to the food processor, pulse a few times till it resembles grains of rice and dump on a clear section of the tray, before adding some more and repeating.
Then all you have to do is spread the cauliflower rice out on the tray in an even layer, season, spray over the top with cooking oil spray and roast in the oven - simple!! No mess all over the floor, or the kitchen units. Once it's all cooked it's ready to be turned into this delicious Egg Fried Cauliflower Rice.
Wonder what yummy Chinese Fakeaway Dishes you could serve this Egg Fried Cauliflower Rice with? Check out some of these recipes.
or head on over to my FULL RECIPE INDEX with over 800+ delicious Slimming Eats Recipes all fully searchable by meal type, ingredients etc
What Kitchen Items do I need to make this Egg Fried Cauliflower Rice?
---
LET'S CONNECT!
Find me ON FACEBOOK | INSTAGRAM | PINTEREST | TWITTER | and YOUTUBE, come and follow me TO MAKE SURE YOU KEEP UP TO DATE ON ALL NEW RECIPES 🙂
You can also subscribe to Slimming Eats to keep up to date with all new recipes.
IF YOU TRY THIS RECIPE, LET US KNOW! LEAVE A COMMENT, RATE IT AND TAG US IN YOUR PHOTOS @SLIMMINGEATS ON INSTAGRAM
Egg Fried Cauliflower Rice
This recipe is gluten free, dairy free, paleo, vegetarian, Slimming Eats and Weight Watchers
Gluten Free - use a gluten free soy sauce
Ingredients
1 head of cauliflower
salt and black pepper
2 eggs, whisked
2 spring onions
1-2 tbs of soy sauce (not dark)
cooking oil spray
Instructions
Preheat oven to 180c or 350f (gas mark 4)
Line a large baking tray with some parchment paper.
Place the cauliflower on the tray and break up into smaller florets, (this is so that is any small pieces that fall off when doing this, will remain on the tray and mean less mess on the floor)
Place a few florets at a time, in a blender or food processor and pulse the blade a couple of times, until it resembles grains of rice, dump that onto the tray, before continuing with the next batch, until all cauliflower is riced.
Spread out on the tray in a thin even layer and season well with salt and black pepper.
Spray over the top with some cooking oil spray, place in the oven and bake for approx 30 mins, it will start to have browned on the edges. Remove from the oven and set aside.
Just Like when making regular egg fried rice, I find it best if you let the cauliflower rice completely cool or even better cook it the day before, so it is chilled in the fridge before proceeding with the next steps.
Spray a frying pan over a medium high heat with cooking oil spray.
Add the cauliflower rice and stir fry for a minute or so, add in the soy sauce and toss to coat.
Make a gap in the centre, spray with a little more cooking oil spray, and then pour in the whisked eggs, let it begin to set and then break up the egg into pieces with a wooden spoon and toss it through the cauliflower rice.
Sprinkle in the chopped spring onions and season with black pepper.
Serve and enjoy this healthy Egg Fried Cauliflower Rice.
Notes
If you wish to share this recipe, then please do so by using the share buttons provided. Do not screenshot or post recipe or content in full
Nutritional information is an estimate and is to be used for informational purposes only. Ingredients can vary greatly from brand to brand and therefore it would be impossible to give accurate information.
All images and content on Slimming Eats are copyright protected.
Check Legal section, for Full Disclaimer, Disclosure and Privacy Policy. 
Nutrition Information
Yield

4
Serving Size

1 serving
Amount Per Serving
Calories

95.3
Total Fat

2.8g
Saturated Fat

0.9g
Cholesterol

93mg
Sodium

550mg
Carbohydrates

12.3g
Fiber

5.5g
Sugar

4.3g
Protein

8g
Disclosure: This post may contain affiliate links. As an Amazon Associate and member of other affiliate programs, I earn from qualifying purchases. We are a participant in the Amazon Services LLC Associates Program, an affiliate advertising program designed to provide a means for us to earn fees by linking to Amazon.com and affiliated sites." Check Legal section, for Full Disclaimer, Disclosure and Privacy Policy.